I love makeup. I love discovering new products, trying out new methods, and experimenting with new looks. And just like we change our hair, it's fun to switch up our makeup routines every once in a while — especially with new seasons. It can be really easy to stick to what we know and what we're good at, but just like with anything, stepping outside of the box is important (and fun!).
One of the more challenging looks for many people is actually the "no makeup" look. How do you make yourself look like you're not wearing any makeup when you really are? Sounds like an oxymoron for sure, but it is possible, and probably easier than you think. It's just about knowing the basics of what you need and can do away with. You don't need a lot of products (and obviously less is better when trying to go au natural), but you should know the right products to use.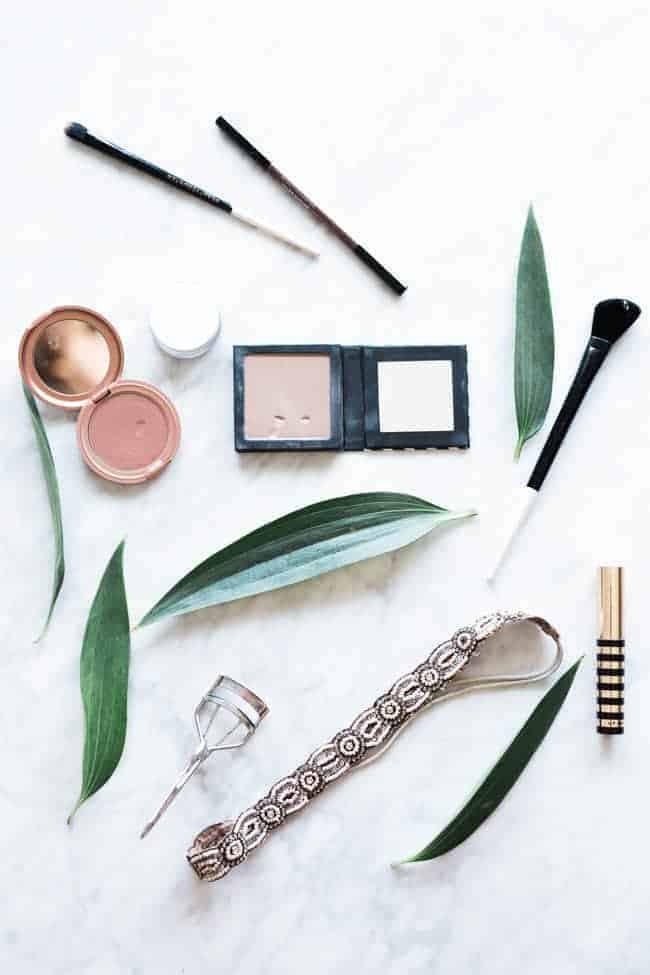 The main things to think about when applying a natural look is covering up blemishes, highlighting the right areas, and avoiding using too much of anything. Here are some basic steps for a "no makeup" look, along with some product suggestions.
1. Exfoliate 
Since you're not going to be wearing a lot of makeup, it's best to start with the smoothest foundation possible so your skin looks its best. You can use a gentle exfoliating scrub or an electronic exfoliator, depending on your skin's needs.
I'm obsessed with my Clarisonic, but recommend only using a brush like that every other day to avoid irritation. If you're looking for a non-electric brush on the cheaper side, Sephora makes a great two-sided brush that can be used on all skin types.
2. Moisturize
Naturally after exfoliating and cleansing, you'll need a good moisturizer to start your base for a "no makeup" look. In the warmer weather, it's best to go with a light day cream. If you go too heavy, you'll end up with a greasy face by noon, and no one wants that!
I really love the Yes To brand, which has easy-to-read natural ingredients, paraben-free, and is never tested on animals (even Leaping Bunny certified). The different lines use specific veggies known to take care of certain skin issues. The tomato line is awesome for beating acne, but I really love the cooling cucumber products during summer.
3. Conceal
Here's where you really want to invest. Find a good concealer, like Amazing Cosmetic's Perfection Stick, that will fix any blemishes while keeping you as au naturel as possible. I tend to focus around the eyes and any lingering zits.
Unless you really feel the need, it's not necessary to go crazy all over (hence why it's just a stick). When selecting a concealer, also make sure to read the reviews and make sure it's really creaseless. In the hot sun, concealer can easily crease and build up in areas like the forehead and eyes, which is definitely not a good look!
4. Bronze
Whether you've actually been in the sun a lot this summer or not, now's the time to go for that bronzed look. Don't go crazy with it — just lightly dust on a little powder all over, focusing a bit more on the crown of your forehead and nose. That's where your face catches the most sun, so it will look more natural if you mimic what the sun would do to you.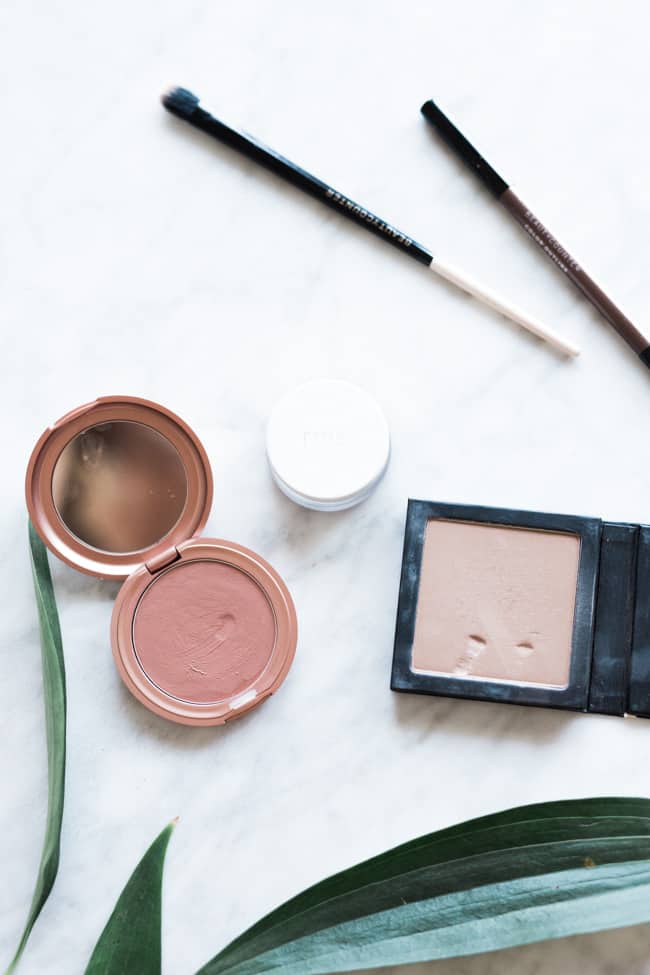 I love BeautyCounter's Matte Bronzer and Physician's Formula bronzers, which are very moderately priced and easily found in any drug store or Target.
5. Brows
It's easy to forget about the brows even when applying a night look, let alone trying the whole "no makeup" thing. The reality is, however, that our brows really define our face and can make our eyes pop. And if you're a natural blonde like me with super light eyebrows, it can sometimes look like I don't even have eyebrows (annoying!). But even if you have darker brows, you'll still want to make sure they're polished.
Give yourself a good touch-up pluck and use a brow pencil to fill in any gaps, focusing on the arch of your brow. I use the Anastasia Brow Wiz, which has a pencil on one end and a brush on the other. And, here's a good shaping guide if you're new to the world of eyebrows.
6. Lashes
Often times, lashes will give away the "no makeup look" if they're too clumpy or too dark. There are a million great mascaras out there, but in the summer, I opt for lengthening, waterproof mascaras in dark brown shades. You never know when you may be tempted to just hop in a pool, so going waterproof is a smart idea.
Plus, it helps in the heat to avoid smudging if you accidentally wipe your eyes like I always absent-mindedly do when I'm wearing eye makeup. Clinique always makes reliable mascaras, and I love their Lash Power Mascara Long-Wearing Formula.
7. Cheeks
Pink blushes are a best bet for the summer, and look great on just about every skin color. Right now, I love NARS' blush in Super Orgasm. It's one of the highest rating blushes at Sephora and is worth every penny. It's long-lasting and has a beautiful gold shimmer for the summer.
If you suffer from dry skin, however, I'd go for a cream blush like Tarte's Cheek Stain or this DIY cream blush. Don't go crazy with your blush, but do brush on a few long strokes on your cheekbones, starting on your apples moving toward your temples. Make sure your pick is build-able so you can control the color throughout the day.
8. Lips
Your summer lip care should go along with your cheeks — not too heavy or dark. I tend to swap out the burgundy colors for nude shades that give my lips just enough boost while still passing for natural.
I've recently discovered Buxom's Full-on Lip Polish, which has almost 50 beautiful shades for you to choose from. This gives you just the right amount of shine while gently plumping your lips. Just make sure you exfoliate your lips before applying! Gels are great, but certainly aren't a flakey lip's best friend.
6