Who else is ready to get into full-on gift mode? I'm all about homemade gifts, which means I gotta start early. I would much rather give (and receive) something with a personal touch. It just feels more special, doesn't it? And homemade candy with Nutella – who could possibly be disappointed in a present like that?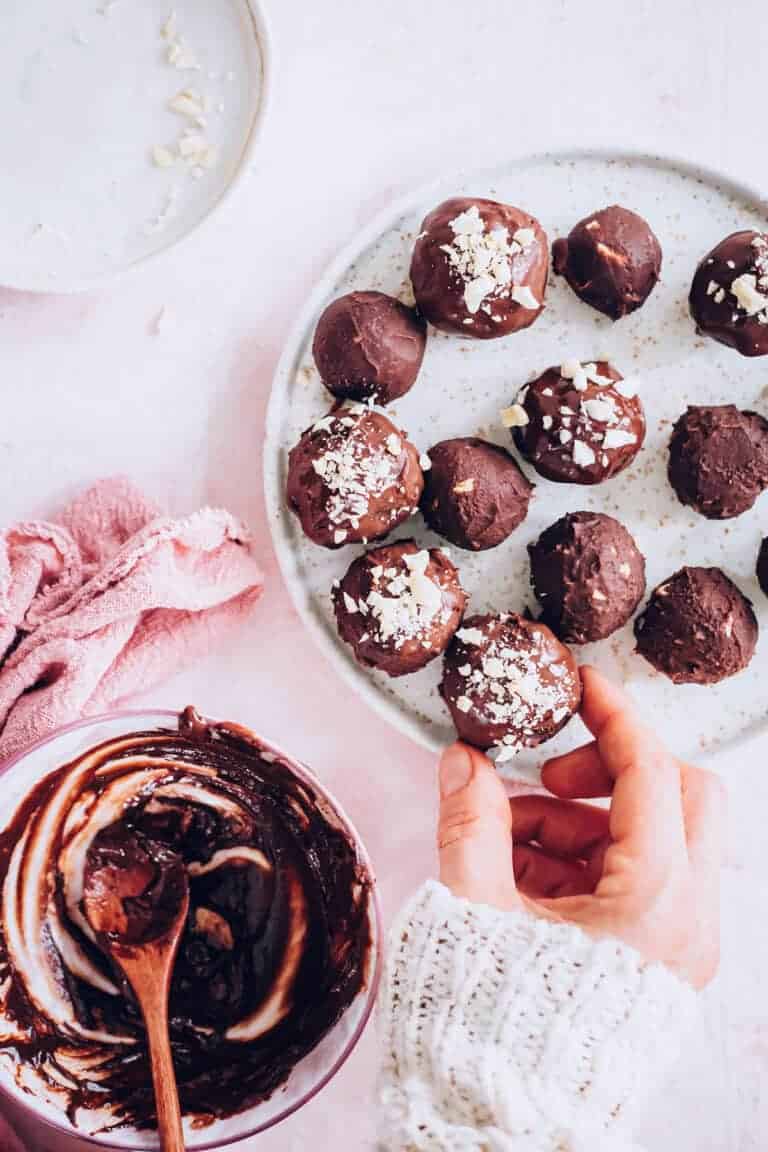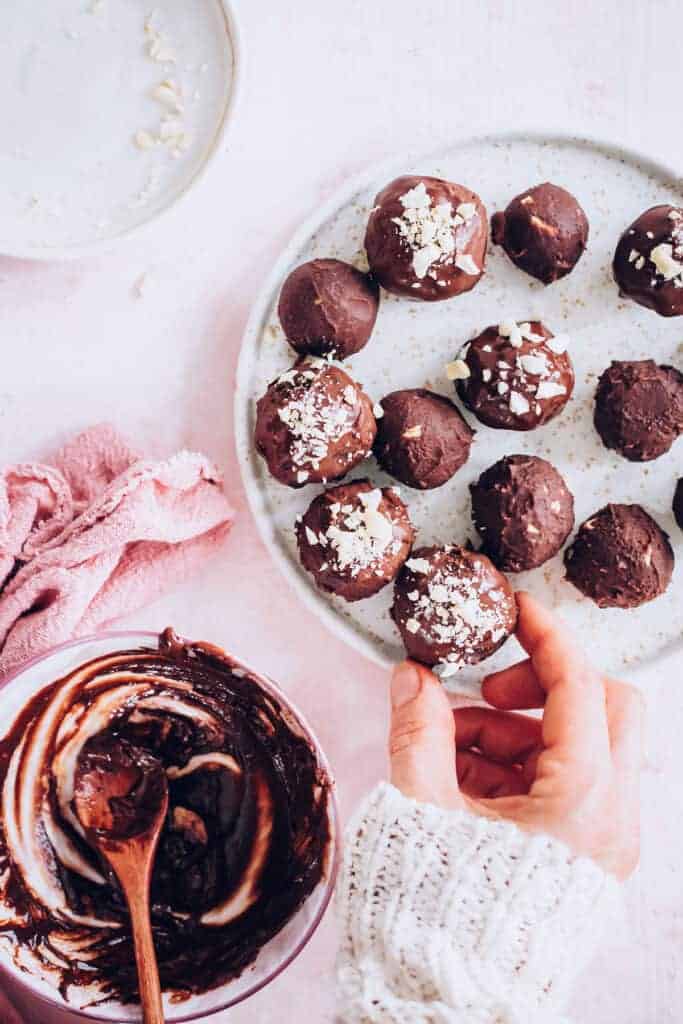 These Nutella truffles are jazzed up with Frangelico, a hazelnut liqueur, making them the perfect foodie gift for the Italian folks at my favorite gelato shop. I hoped they'd appreciate these nuggets of goodness, which are very similar to Italian Baci Perugina candy. And I was right! They loved them. Trust me, you really can't go wrong with Nutella, chocolate and booze.
They're relatively quick and easy to make and you don't need any special candy making equipment. Here's how I made them!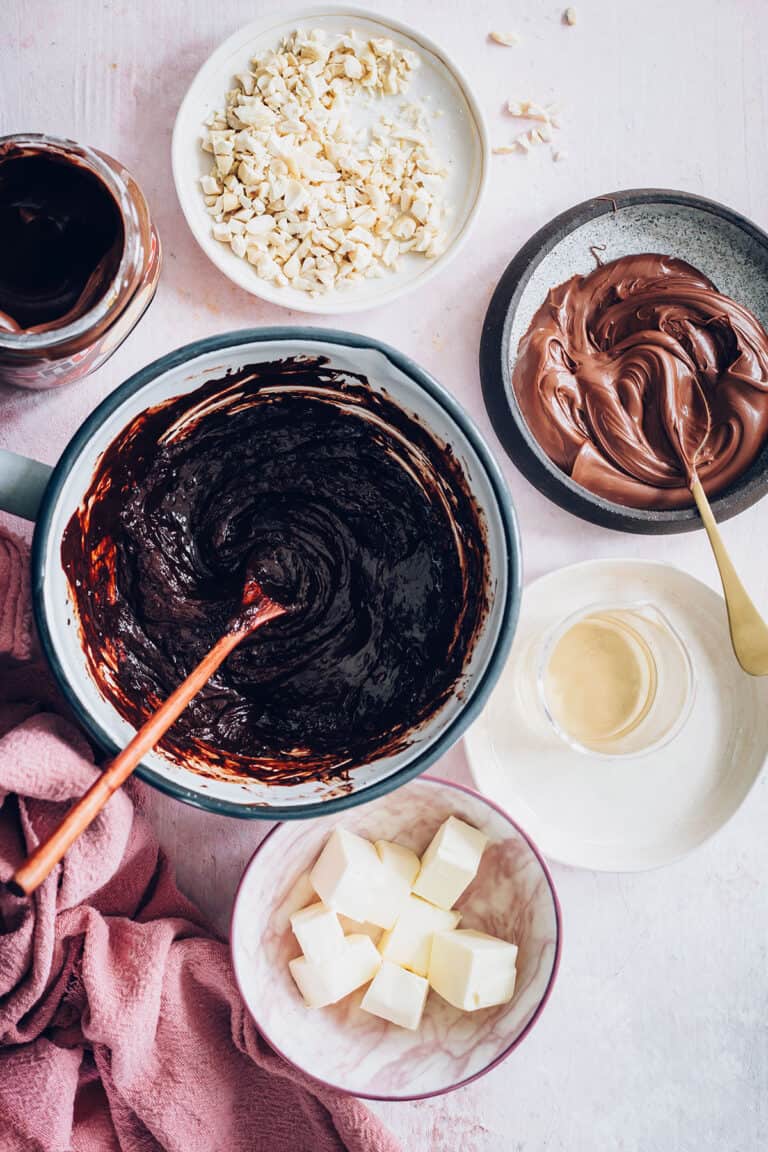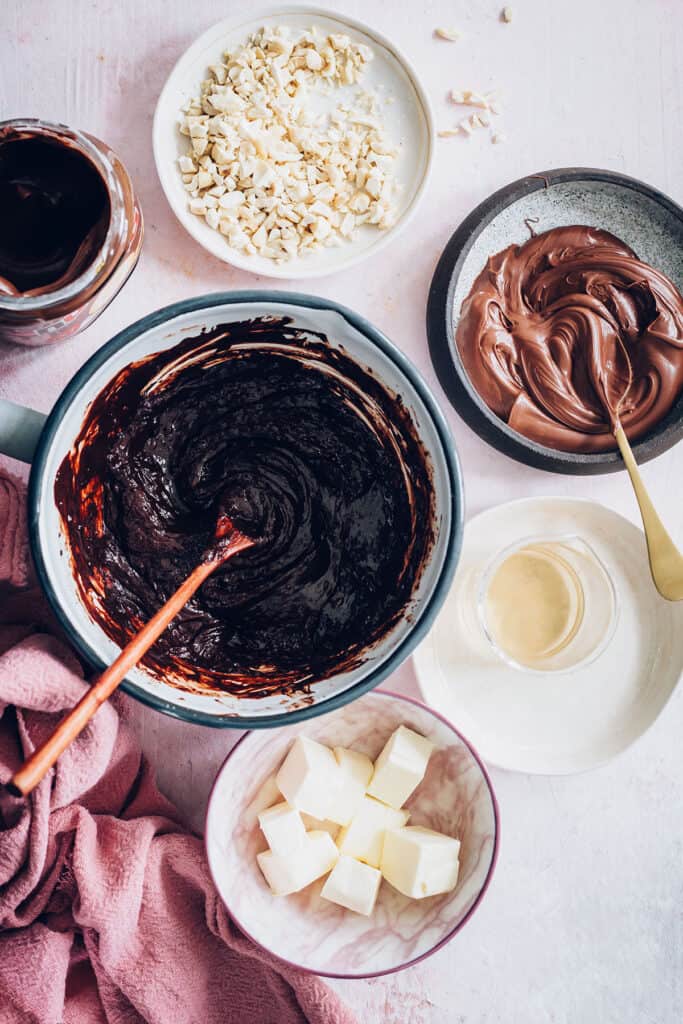 In a microwave safe bowl, at 50% power, melt 6 ounces semi-sweet chocolate chips (or chopped chocolate) along with 1 tablespoon of butter. Start with 30 seconds, stir and repeat until the chocolate is completely melted.
Stir the mixture thoroughly to make sure there aren't any little chunks of chocolate. It should be completely smooth. Add to the chocolate:
3.5 ounces roasted, chopped hazelnuts
9 ounces Nutella (this is a little less than 1 cup)
1/4 cup cream (heavy cream or whipping cream is fine)
1/4 cup Frangelico. If you don't want to use Frangelico, you can use 1 – 2 teaspoons of vanilla extract.
Stir until well combined. Then line a baking sheet with a piece of parchment paper or a Silpat. Don't worry about the size because you're just letting the mixture cool. But the thinner the layer of chocolate, the faster it will cool.
Spread the mixture over the parchment paper. Don't worry about making it level – it doesn't really matter here. Refrigerate the pan with the chocolate mixture for 30 – 40 minutes or until the truffle mixture has set just enough so that it's easy to handle. If you don't wait long enough, it will be difficult to roll into balls. If you wait too long, the chocolate will be too set, and it will get very messy when you roll the balls out.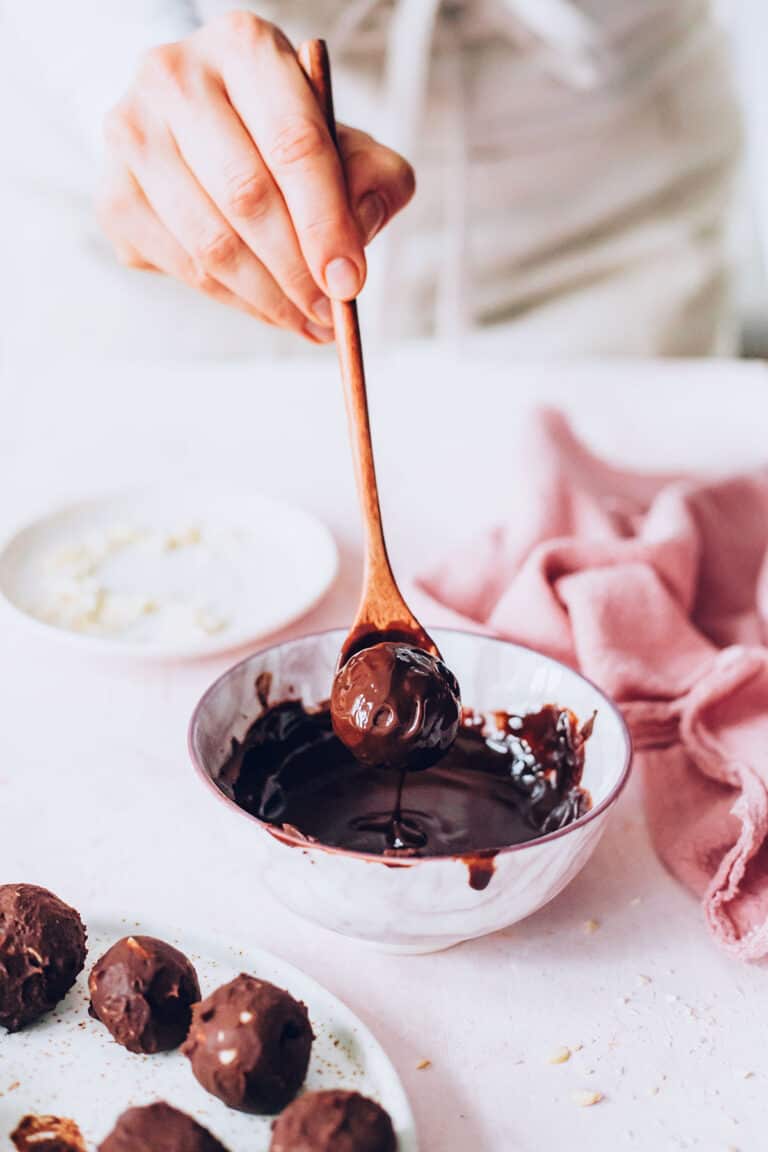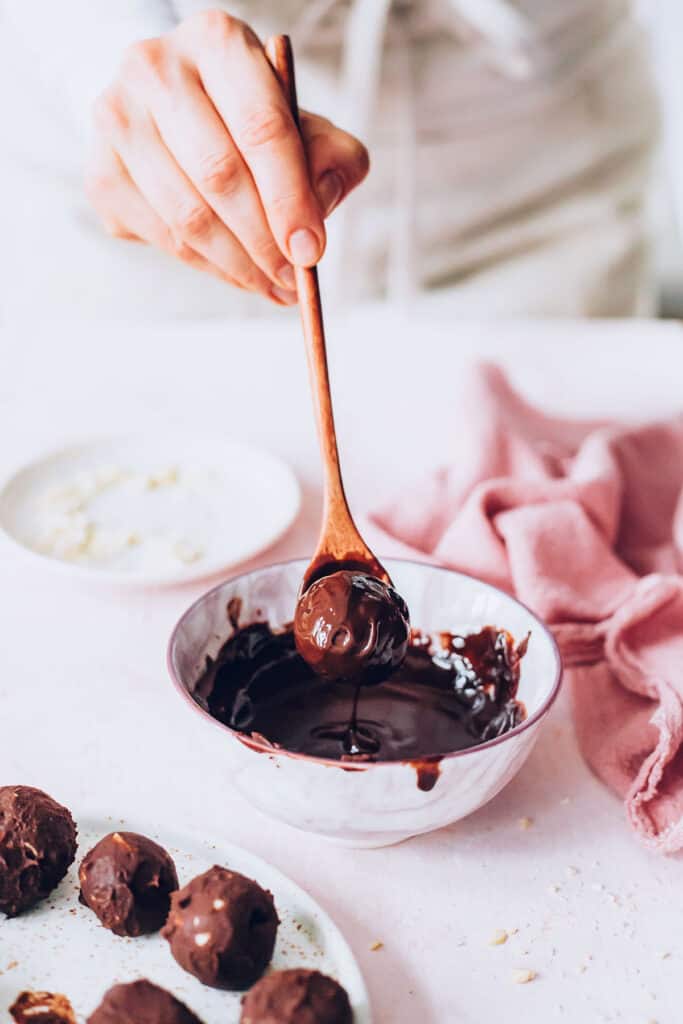 Using a melon baller or spoon, roll the truffle mixture into 1-inch balls. I got about 28 balls. At this point, you can roll the balls in more chopped hazelnuts, cocoa powder, powdered sugar or whatever coating you like. I prefer to dip mine in chocolate. To dip them in chocolate, melt 6 ounces of chocolate the same way you did at the beginning. Dip the balls into the chocolate and set them on a Silpat or piece of parchment paper.
You can also place the balls on a wire cooling rack like I did but they can be tricky to remove! I recommend just placing them directly on the Silpat. After you've placed them on the Silpat, sprinkle the truffles with more chopped hazelnuts if desired. Let the truffles sit at room temperature for about an hour or in the refrigerator for 15 – 20 minutes to let the chocolate harden.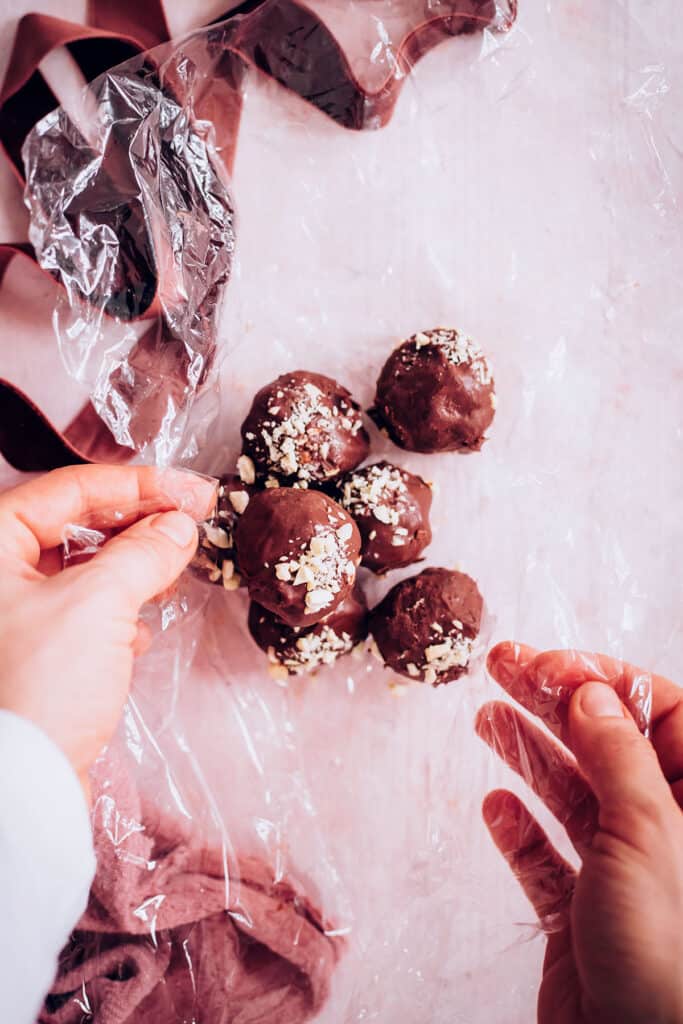 Be careful to let your truffles completely set before packaging them. I was way too excited to take these off to the recipients and didn't wait as long as I should have. So just be patient! These truffles don't need to be refrigerated, which makes them an excellent gift!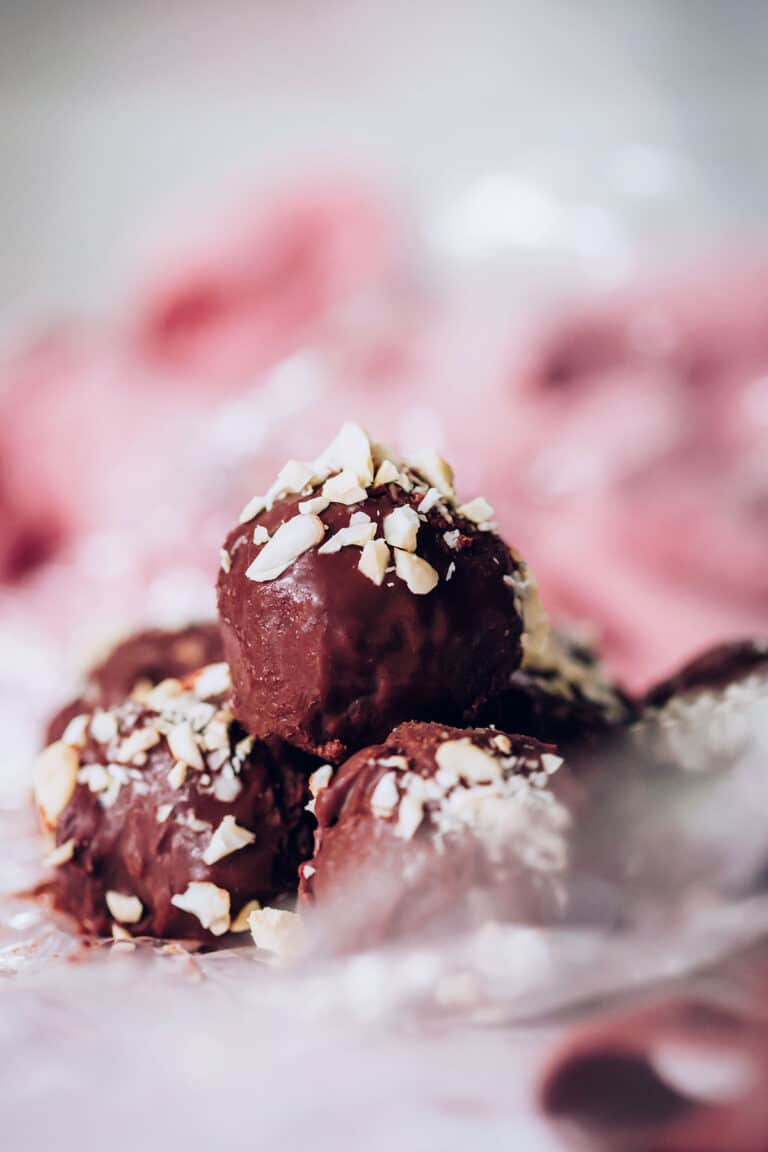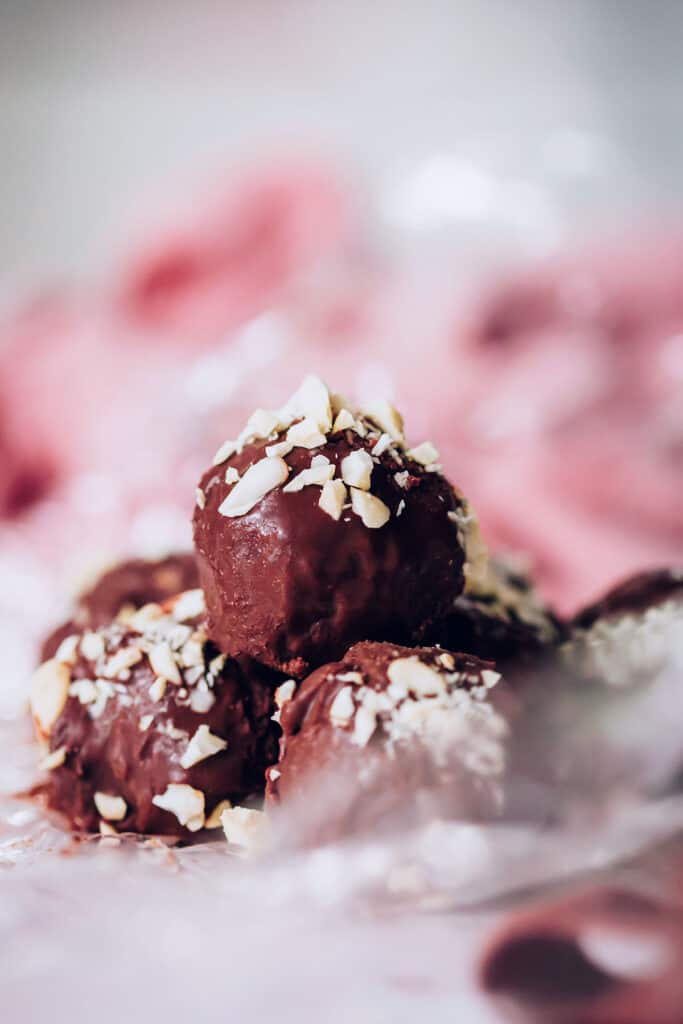 Photos by Ana Stanciu
18