Eating out can seem a bit daunting if you've got dietary restrictions, are following a special diet, or are trying to eat healthier. Not to worry, we've taken the guess work out of it! We've given the menus at a handful of popular restaurants a thorough scouring and come up with the best picks for those who are following vegetarian (and vegan) diets, those counting carbs, and those who are simply trying to eat a bit lighter.
Here are some of the best nutritionist-approved restaurant meals from Starbucks, Panera Bread, Chipotle and Noodles & Company.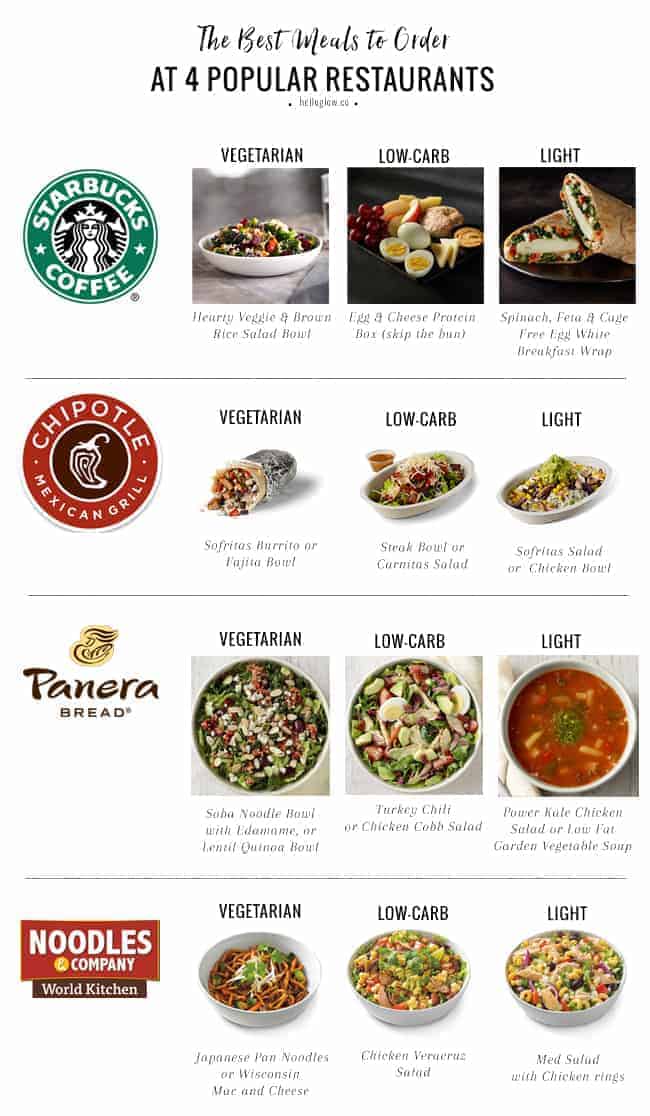 What to eat at Starbucks
Best pick for vegetarians:
Give the Hearty Veggie and Brown Rice Salad Bowl a go. With roasted butternut squash, beets, kale, broccoli, peas, and roasted tomatoes with brown rice and a lemon tahini dressing, this bowl is vegan, gluten-free, and full of veggies and plant-based protein.
Best pick if you're watching your carb intake:
If you're watching your carb intake, go for the Egg and Cheese Protein Box (but skip the bun). It contains cage-free hardboiled eggs, apples, grapes, and white cheddar and rings in at 23 grams of protein per box.
Best pick if you're eating light:
Go for the Spinach, Feta & Cage Free Egg White Breakfast Wrap. Cage-free egg whites, spinach, feta, and tomatoes are snuggled up in a whole-wheat wrap. High in protein and low in calories, this is suitable for vegetarians (if you eat eggs) and calorie counters alike.
What to eat at Chipotle
Best pick for vegetarians:
The world is your vegetarian oyster at Chipotle. Choose from their extensive menu of tacos, burritos, bowls, or salads and layer on the vegetarian proteins. They've got beans (black or pinto) and organic tofu (sofritas) that can be mixed and matched into pretty much any item on the menu. Try a Sofritas Burrito or a Fajita Bowl.
Best pick if you're watching your carb intake:
If you're counting carbs, skip the rice, tortillas, and wraps and head straight for the salads and bowls. Try a Steak Bowl or Carnitas Salad.
Best pick if you're eating light:
Since you can load up on fajita veggies or salad at Chipotle, eating light is easy enough. You'll want to avoid really calorie dense ingredients like chorizo, sour cream, and cheese, and go easy on things like guacamole and white rice. Try a Sofritas Salad or Chicken Bowl for lighter options.
What to eat at Panera Bread
Best pick for vegetarians:
There are tons of vegetarian options at Panera depending on whether or not you eat dairy, and a handful of vegan options as well. If you're vegan go for the Soba Noodle Bowl with Edamame, or the Lentil Quinoa Bowl (vegans can skip the cage-free egg).
Best pick if you're watching your carb intake:
Panera has a good selection of low carb options. Try the All-Natural Turkey Chili  or the Chicken Cobb Salad.
Best pick if you're eating light:
For those watching their calorie intake, try the Power Kale Chicken Salad or a bowl of Low Fat Garden Vegetable Soup.
What to eat at Noodles and Company
Best pick for vegetarians:
There are a number of good vegetarian options here. Vegans can tuck into Japanese Pan Noodles which contain caramelized udon noodles in a sweet soy sauce, broccoli, carrots, shiitake mushrooms, Asian sprouts, black sesame seeds and cilantro. Add some seasoned tofu for extra protein. If you eat dairy the Wisconsin Mac and Cheese looks mighty fine as well.
Best pick if you're watching your carb intake:
Try the Chicken Veracruz Salad. Mixed greens topped with Roma tomato, red onion, chili-lime chicken, bacon crumbles, fresh-cut corn, tossed with jalapeño ranch dressing and crispy jalapeños, fresh avocados and cilantro. To keep things completely gluten-free skip the crispy jalapeños.
Best pick if you're eating light:
If you're eating light, The Med Salad with Chicken rings in at only 370 calories per regular-sized serving. It contains grilled chicken, romaine, mixed greens, tomato, cucumber, red onion, Kalamata olives, cavatappi pasta, spicy yogurt dressing, and feta, making it a filling meal. To keep it vegetarian either hold the chicken or swap it out for seasoned tofu. This can also be made gluten-free by subbing in gluten-free fusilli.
21