If you're still looking for holiday gifts for everyone on your list, you better get shopping! And if you're coming up short on ideas, well, we've got them. We rounded up 20 of our favorite stocking stuffers and small gifts for the holidays below: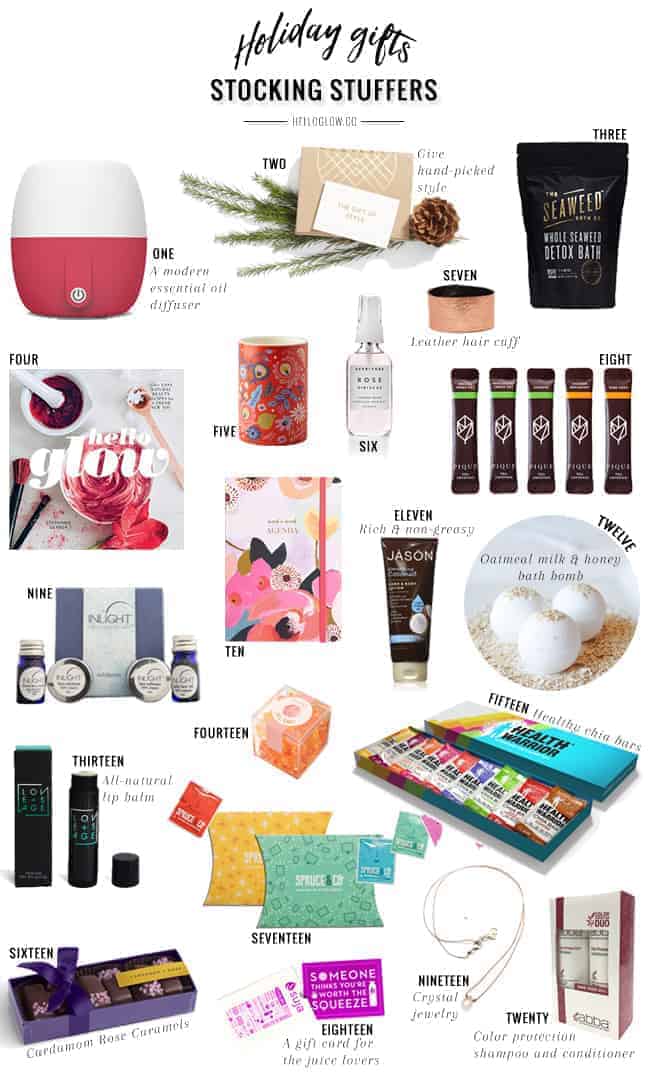 1. Pilgrim Portable Essential Oil Diffuser // An essential oil diffuser that's small enough to bring to the office—because we all need a little calming lavender diffused at work, right?
2. Stitch Fix Gift Card // Who wouldn't want a box of stylist-curated clothes and accessories delivered to their doorstep?!
3. The Seaweed Bath Co. Seaweed Detox Bath // Don't live near the beach? This seaweed detox soak is the next best thing.
4. Hello Glow: 150+ Easy Natural Beauty Recipes for a Fresh New You // Everyone loves getting a good read in their stocking and hey, this happens to be a great one! (Not that we're biased or anything.)
5. Rifle Paper Co. Candle // Inspired by locations like Marrakech and the Adirondack, these whimsical candles smell as good as they look.
6. Herbivore Botanicals Rose Hibiscus Hydrating Face Mist // Use this hydrating facial mist all day long to keep dry skin at bay.
7. Leather Hair Cuff // A rose gold hair cuff dresses up any post-gym ponytail.
8. Pique Tea Variety Pack // Because Pique tea is made with crystals rather than a traditional tea bag or infuser, they're perfect for keeping in your desk at work for afternoon pick-me-ups.
9. Inlight Organic Indulgence Collection // Try an assortment of organic artisan skincare products with this gift collection from Inlight.
10. Painted Petals Planner // Stay organized with this pretty floral planner by artist Katy Smail.
11. Jason Coconut Hand and Body Lotion // Virgin coconut oil and shea butter combine to vanquish dry skin.
12. Oatmeal Milk and Honey Bath Bomb // Bath bombs are perfect for tucking into stockings and this one is made with soothing oatmeal and honey.
13. Love + Sage Mint Condition Lip Balm // This lip balm is totally crush-worthy. Mint, eucalyptus and sage helps soothe dry winter lips, while shea butter, avocado oil and vitamin E add much-needed moisture.
14. Sugarfina Rosé Roses // Now you can get your rosé fix in gummy form!
15. Chia Rainbow Sampler Box // A rainbow of chewy chia bars for those who favor healthy treats over chocolates and candy canes.
16. Vosges Cardamom Rose Caramels // Vosges chocolate is amazing and these floral-scented caramels are no exception.
17. Spruce & Co Screen Cleaning Wipes // Good-bye greasy phone screens! These wipes clean them without harsh chemicals.
18. Suja Gift Card // Suja juice is one of our obsessions (hello Mango Magic!) and their gift cards allow recipients to choose their favorite flavors for home deliveries.
19. Energy Muse For the Love Junkie Necklace // We adore this handmade rose quartz necklace from Energy Muse.
20. ABBA Color Protection Holiday Duo // ABBA's Color Protection Holiday Duo is 25% off—with quinoa, sage, and coconut, it's a moisturizing shampoo for damaged winter hair.
5