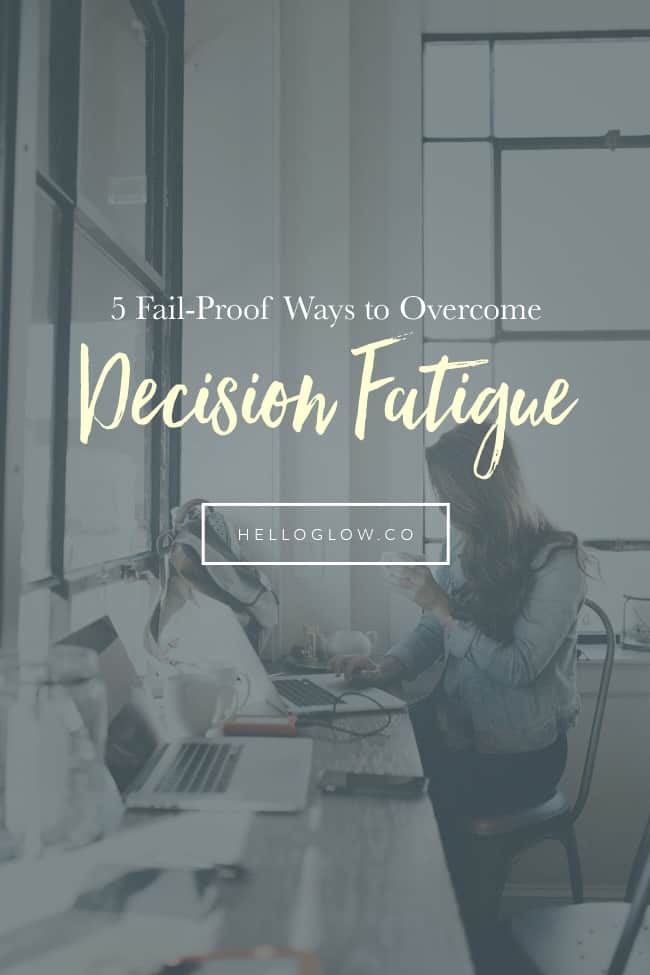 Every day we are faced with making hundreds of decisions–and it gets exhausting. Even small decisions such as deciding what to wear each day can be mentally draining when compounded with bigger, more stressful choices. In addition to causing fatigue, research suggests being overwhelmed by choices could impair our self-control, making it harder to stick to healthy habits.
Reduce overwhelm and streamline your day by implementing these tips to overcome decision fatigue.
Plan Ahead
It helps to map your day out as much as you can the night before. Whether that's writing down your to-do list (so you don't have to decide what to focus on the next day), picking out your clothes, or preparing your breakfast so it's waiting for you–having small decisions already checked off as you start your day will help your mind stay fresh.
Do the Hard Stuff First
You are probably familiar with the expression called "eating the frog." This term was coined by Mark Twain, who said, "If it's your job to eat a frog, it's best to do it first thing in the morning. If your job is to eat two frogs, eat the biggest one first." Essentially, that means tackle the biggest, hardest stuff at the beginning of the day when you are freshest so the task or decision isn't hanging over your head for the rest of the day.
Tackle Smaller Decisions Later in the Day
Along the same lines, try to take on smaller decisions later in the day, when you don't have as much energy to devote to them. You'll feel less strain not trying to make big, important decisions when your energy is waning for the day.
Stick to a Routine
How structured is your daily routine? Having a set of seamless routines you can follow throughout the day (i.e. an energizing morning routine or a relaxing night routine) helps automize your daily habits, leaving you more energy to take on important decisions instead of focusing on small daily tasks.
Simplify, Simplify, Simplify
Always be on the lookout for ways to simplify your day. Often times, the more choices you have available to you, the more exhausting the decision-making process will be. Are there repetitive decisions you constantly find yourself struggling with? Can you eliminate some of the choices to make this decision easier? Even something as simple as revamping your closet can make the decision of what to wear each morning less stressful.
Photo by Andrew Neel on Unsplash
0