With summer in full swing, all I can think about these days is getting my hands on a light, fruity summertime sangria. Sangria is usually synonymous with warm nights on the patio and festive backyard gatherings, and it's easy to see why. Not only is it super easy to make but it serves a large crowd and it's nearly impossible to mess up.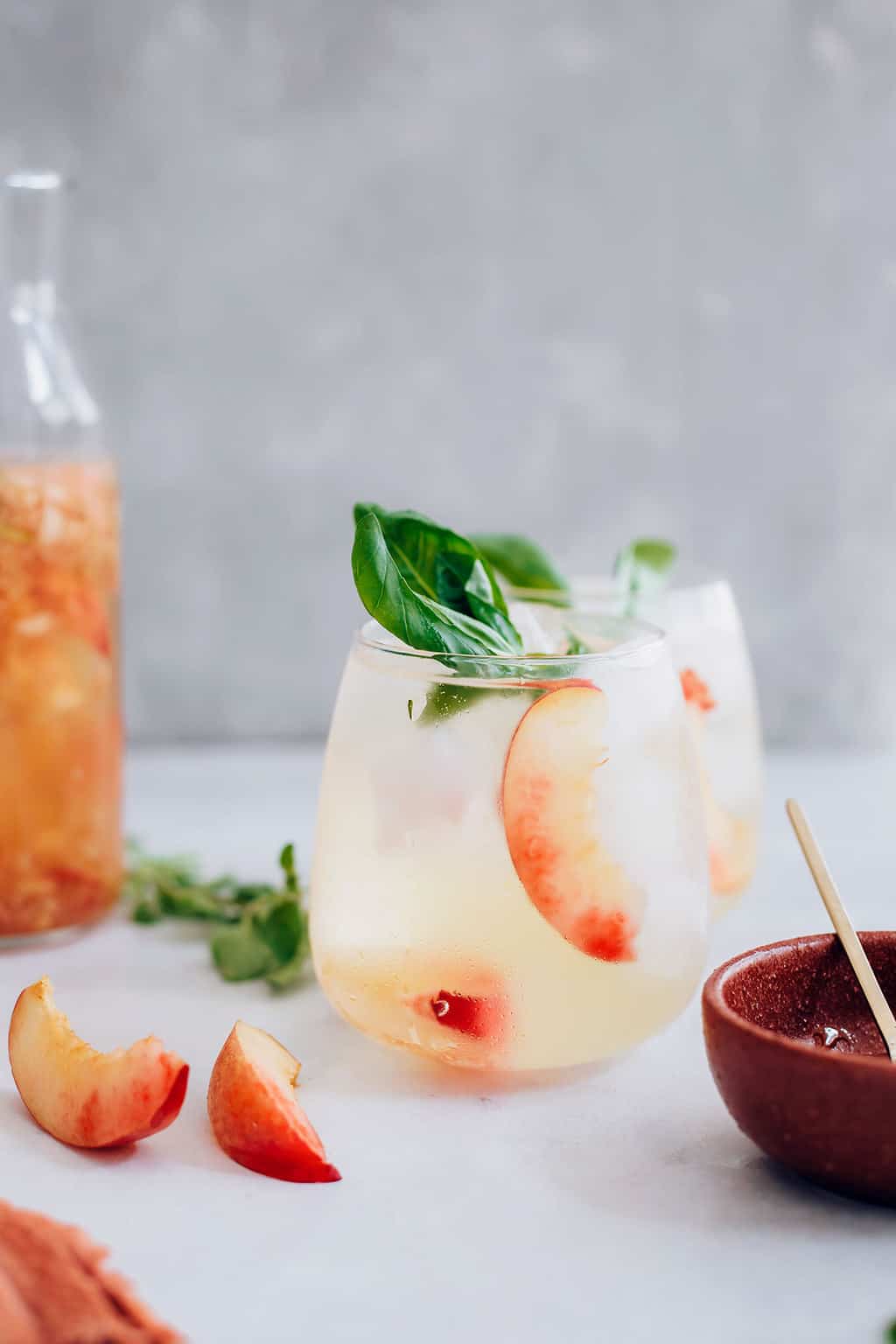 Now that peaches have started hitting the grocery store shelves, I was inspired to give my grandmother's traditional sangria recipe an overhaul. Usually made with red wine, apples and oranges, I lightened up my favorite sangria by swapping out the red wine for white, then I added just a hint of honey and basil and topped it all off with a dash of kombucha for bubbles.
It's perfectly fizzy without the syrupy taste of those soda-laden sangrias and even has a subtle herb-y taste, which I love. Just make sure to choose the ripest peaches you can find (the juicier the better!) to really take advantage of the peach flavor.
Summery Peach Kombucha Sangria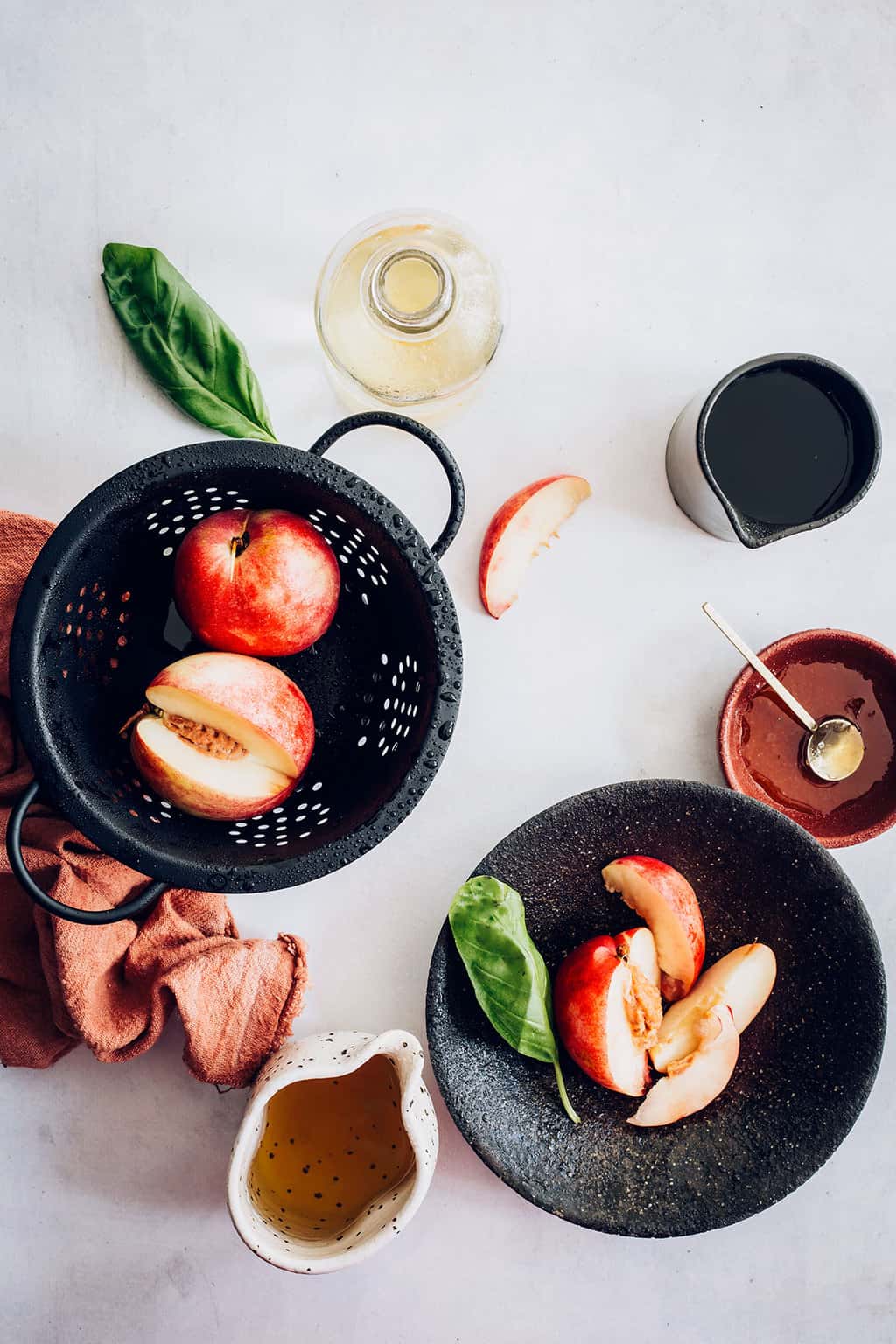 Unlike most cocktails, it's best to make sangria ahead of time and let it sit for a few hours to really bring out the different flavors. I typically let mine sit in the refrigerator overnight to infuse as much fruit flavor as I can and to give the peaches time to absorb some of the wine (because, let's be honest, eating the fruit is the best part).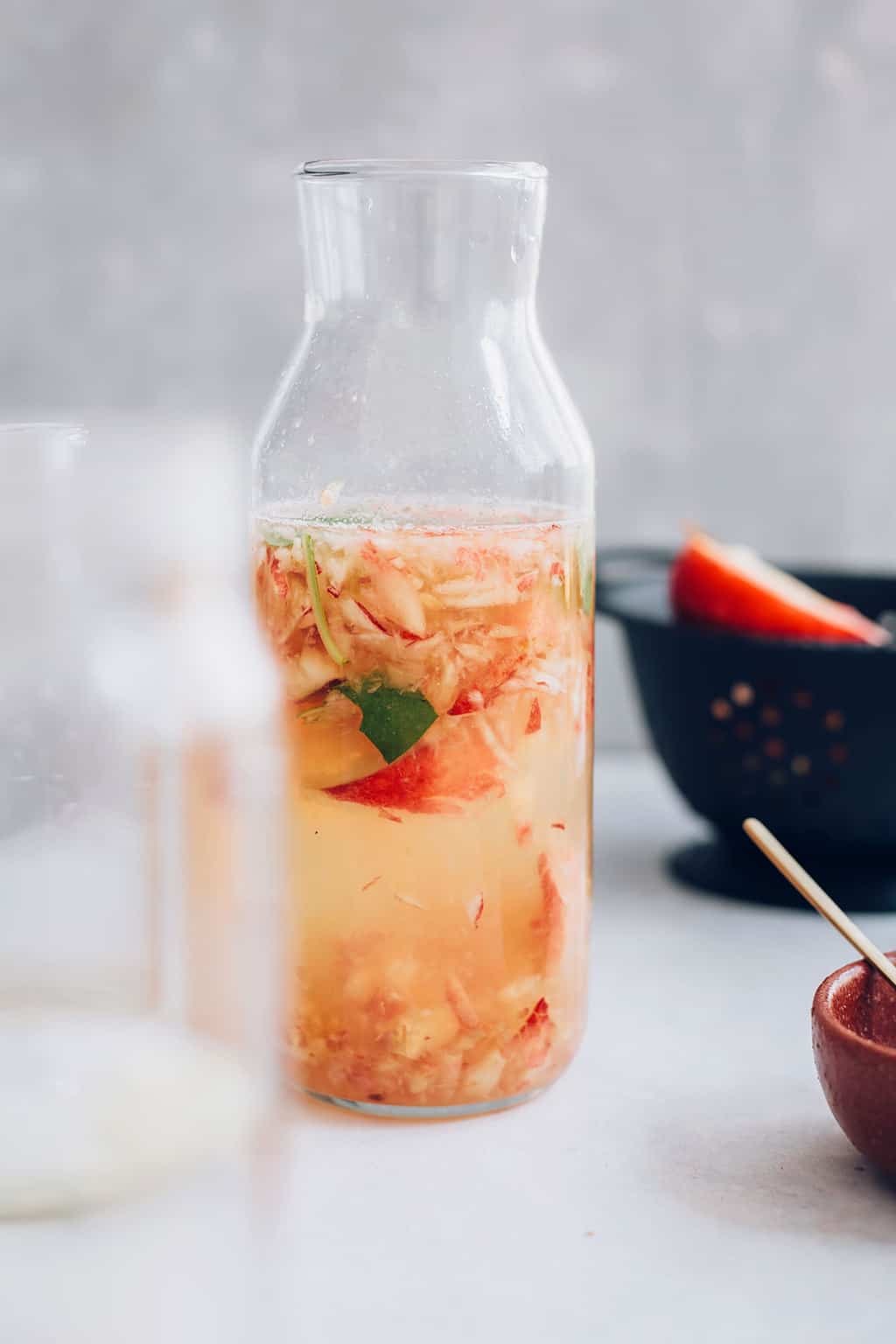 But if you're a fan of the bubbles, don't add the kombucha until the last minute–otherwise you might be left with a dull, lifeless fizz.
Since are there are no added sugars, aside from a small dollop of honey, this peach kombucha has just the right amount of sweetness without being too sweet, if you know what I mean.
And the addition of kombucha really makes it feel like less of a cocktail and more like a fruit tonic. So don't be afraid to whip up a large batch and pour yourself another glass or two. We won't judge.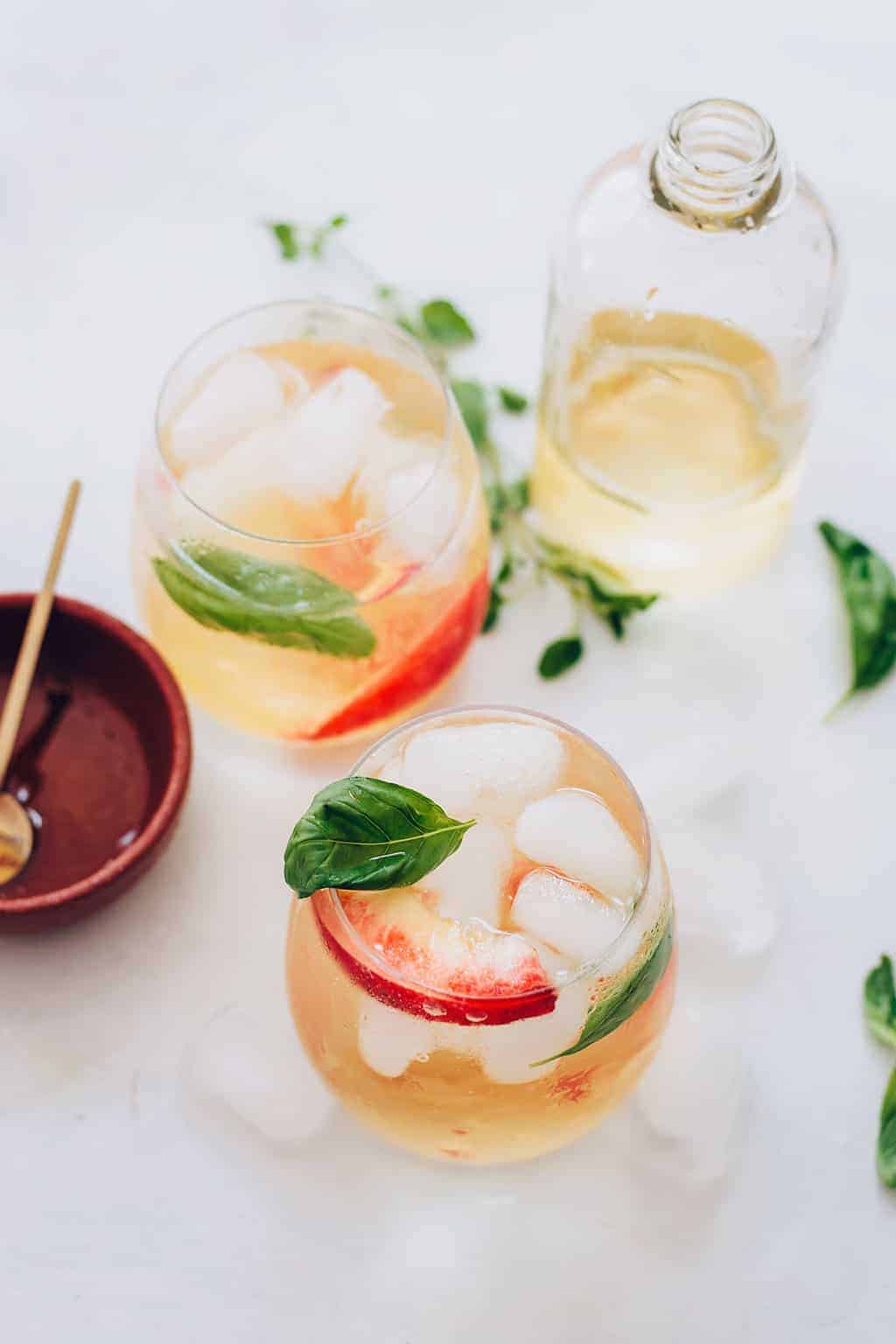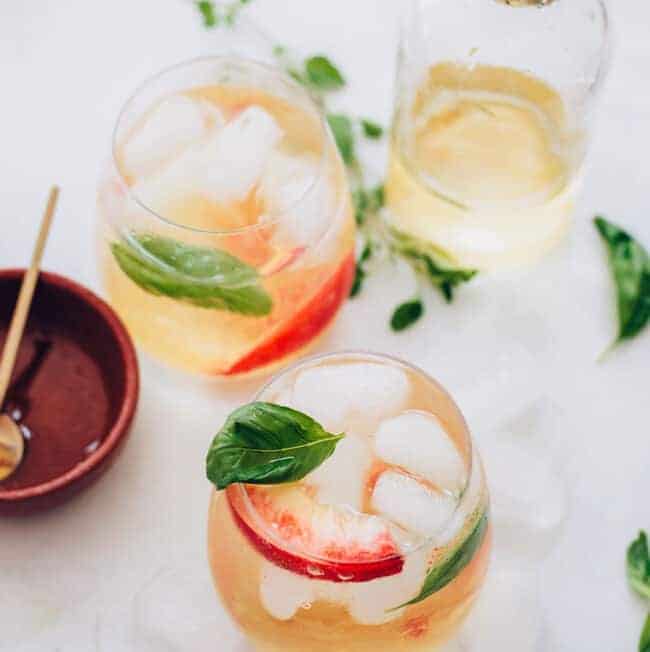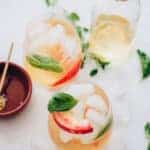 Print Recipe
3 Summery White Wine Sangria Recipes
Everyone loves a summer sangria, and these 3 versions are enough for the entire season.
Ingredients
Peach Kombucha Sangria
2

peaches

3

sprigs basil

2 ½

tablespoons

raw honey

1

bottle chilled white wine

1 12

oz

bottle plain kombucha
Pineapple Mango Sangria
6

cups

assorted fruit

mango, pineapple, cantaloupe and apricot

1/4

cup

ginger

peeled, thinly sliced

1-1 1/2

cup

fresh mint

1/2

lemon

juice only

1/2

cup

orange flavored liquor

1

bottle

dry white wine

chilled
Cucumber-Melon White Sangria
1

bottle

dry white wine

try Riesling, Pinot Grigio or Sauvignon Blanc

1/2

small

cantaloupe/honeydew melon

peeled and sliced or diced

1/4

seedless cucumber

sliced, plus more for garnish

4

leaves

mint

splash

of juice

Limoncello or Midori (if desired)

club soda/sparkling water
Instructions
Peach Kombucha Sangria
Cut the peaches into wedges and remove the basil leaves from the stems.

Combine the basil and peaches in a small bowl and drizzle with the honey. Mix everything together and use the back of a spoon to gently mash the peaches and release some of the juice.

Put the fruit mixture into a glass pitcher and add the wine. Give it a stir and refrigerate for at least 4 hours.

Just prior to serving, add the kombucha and give it one last stir. Serve over ice (or frozen peaches if you would rather not water down your sangria) and garnish with extra basil.
Pineapple Mango Sangria
Combine everything but the wine in a large pitcher. Gently mash the ingredients together using a wooden spoon.

Once the fruit has released some of its juice, add the wine.

Give it a stir and refrigerate overnight.

Serve over lots of ice with a mint garnish.
Cucumber-Melon White Sangria
Mix all ingredients except for club soda in a pitcher or punch bowl.

Refrigerate 2-4 hours, removing the mint about 30 minutes in.

Pour sangria into glasses over ice (if desired) and top off with a splash of sparkling water or club soda.

Garnish with cucumber and/or lime slices.
Photos by Ana-Maria Stanciu
3