One of my favorite summer pastimes is going on a picnic. It doesn't even have to be far away – sometimes the backyard or the nearest park will do the trick! I love the preparation, the packing and of course, the leisurely eating, cup of lemonade at hand. There's something about eating outside in summer that just makes food taste better! So start with a few healthy, transport-friendly recipes, a sturdy picnic bag, and a lightweight blanket. Then scroll down for a checklist of picnic essentials you shouldn't miss: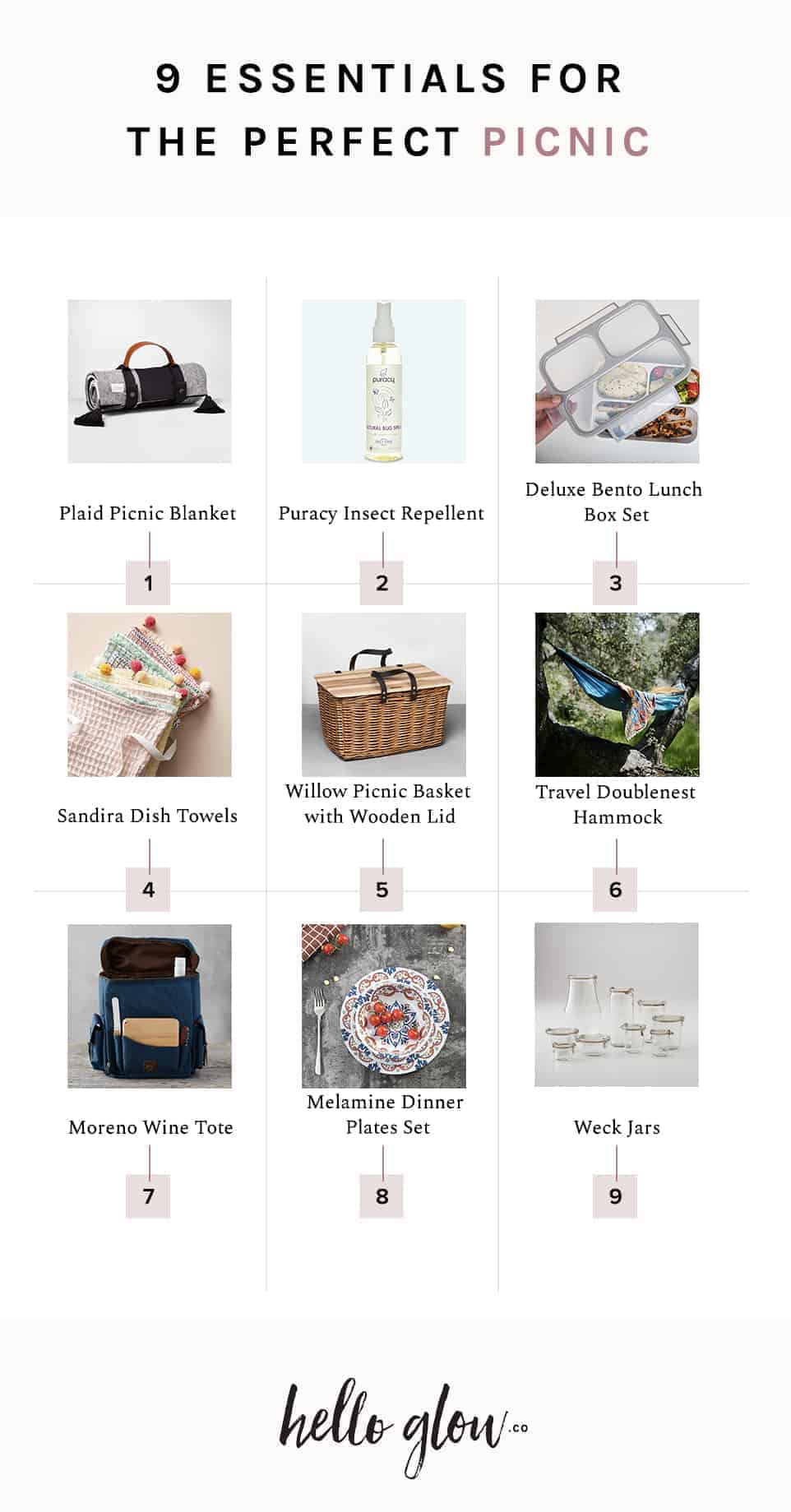 1. Plaid Picnic Blanket // A good picnic blanket is a must, and this one is affordable, durable, designed in a classic summer print, as well as easy to carry thanks to the snap closure straps.
2. Puracy Insect Repellent // Don't let ticks and mosquitos ruin the fun for you and the family! A natural bug-repellant belongs in your picnic gear.
3. Deluxe Bento Lunch Box Set // Keep sauces, salads, and main dishes separate in a leak-proof bento box you won't be afraid to toss into your backpack!
4. Sandira Dish Towels // Absorbent and machine-washable, these towels are a pretty, eco-friendly alternative to disposable paper napkins.
5. Willow Picnic Basket with Wooden Lid // This flat-bottom woven basket is perfect for packing sandwiches and snack, plus the wooden lid doubles as a cutting board!
6. Travel Doublenest Hammock // Take advantage of the trees nearby and take your picnic to the next level with a comfy two-person hammock.
7.Moreno Wine Tote // For a grown-up picnic, you'll love this all-in-one tote that comes with a cheese service, a stainless steel corkscrew, and insulated pockets for three bottles of wine.
8. Melamine Dinner Plates Set // A complete set of plates for four, made of lightweight melamine, which you can use over and over. No plastic plates in the trash!
9. Weck Jars // No household is a home without resealable Weck jars! They'll safely transport your salads, sauces, cakes and more to your picnic location.
2