Ready to liberate your toes after all those months in boots? No? Ok, you might want to start with a foot treatment. But while the nail polish dries, you might already be thinking about a new pair of sandals to show them off. That's exactly what we're thinking! We've picked 12 beautiful styles that would fit in with a natural lifestyle: ethically made, vegan options, or brands that give back. Which one would you take?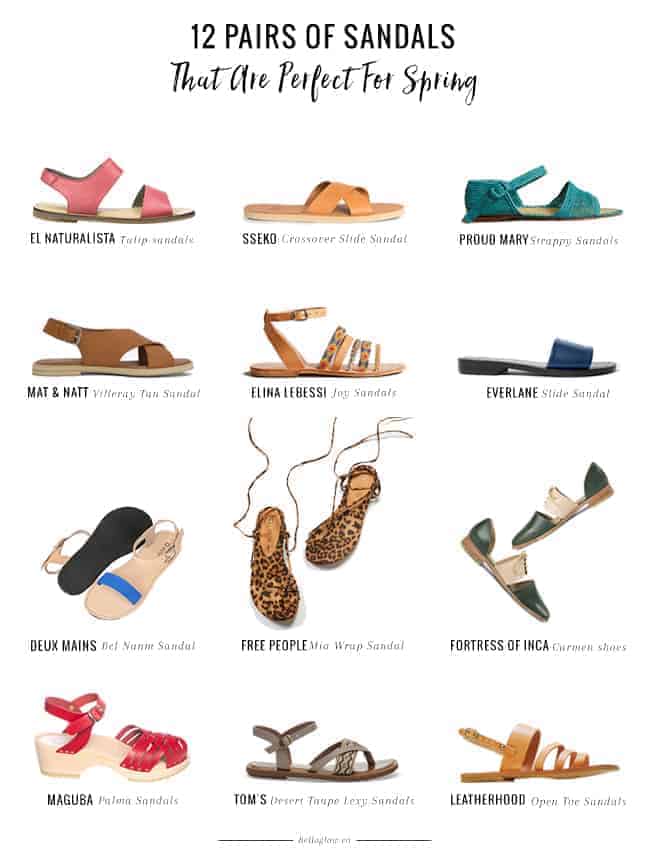 1. El Naturalista Tulip sandals // Water repellent, flexible leather sandals in a stylish rose shade. Moreover, they're eco-friendly and ethically produced in Spain and Morocco.
2. SSeko Caramel Crossover Slide Sandal // Mules might just be the biggest trend of spring! This stylish sandal is designed in Portland, and ethically produced by women in Africa.
3. Proud Mary Strappy Sandals // These teal-colored beauties are made by local artisans in Morocco. They're stylish and breathable in raffia.
4. Mat & Natt Villeray Tan Sandal // A minimalist, criss-cross strap sandal with an adjustable buckle, made from vegan leather and recycled materials.
5. Elina Lebessi Joy Sandals // The Greek designer combines traditional techniques with modern trends to make these pretty boho sandals. Manufactured by local artisans.
6. Everlane Slide Sandal // A great chance to purchase Italian-made slide sandals that will last a lifetime: Everlane lets you choose what you pay on overstock items like this one!
7. Deux Mains Designs Women's Bel Nanm Leather Sandal // These stylish sandals in 'Caribbean Sea' blue feature soles made of repurposed tires and they're handmade in Haiti.
8. Faryl Robin + Free People Mia Wrap Sandal // Show your wild side with a pair of strappy animal print sandals made of vegan suede, perfect for an urban safari.
9. Fortress of Inca Carmen Shoes // Combine a classic oxford with some well-placed cutouts and you get an office-appropriate spring shoe! These beauties are handmade in Peru.
10. Maguba Palma Sandals // Sustainable Swedish clogs made with a natural leather upper in popping red and a comfy wooden sole.
11. Tom's Desert Taupe Lexy Sandals // With every sale they make, Tom's helps a person in need. You get a stylish sandal perfect for everyday wear and they do the rest.
12. Leatherhood Open Toe Sandals // You will feel like a Greek goddess in these handmade sandals with simple, minimalist design that will last through the trends.
0