Summer is officially here! Okay, not officially officially, but by Memorial Day weekend, it's safe to say that the cooler weather is behind us and we can look forward to warm sunny days, trips to the beach, and picnics at the park. Is there a better way to spend a weekend afternoon than laying out on the grass with a basket full of food and the sun warming your skin? I don't think so! And to get ready for picnic season, we've put together some essentials for a perfect weekend picnic.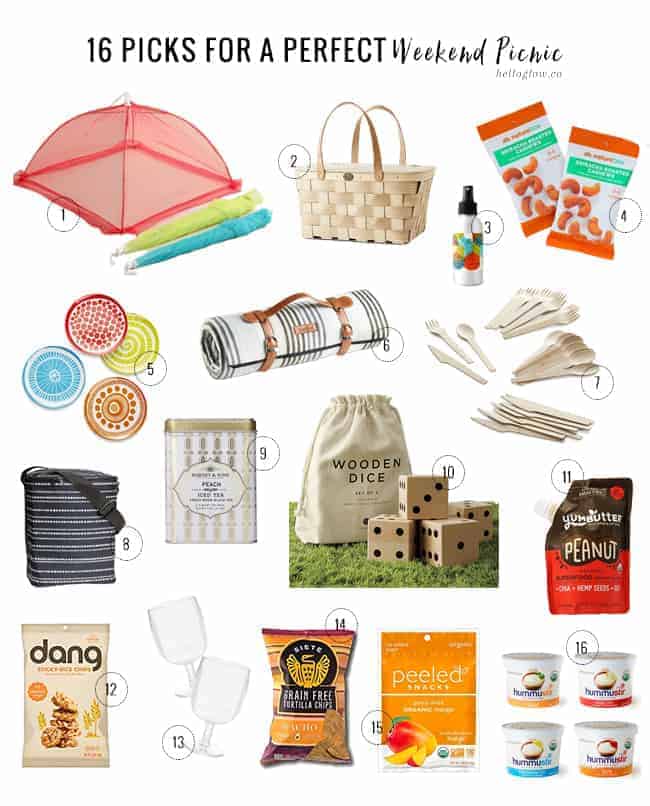 1. Mesh Food Tents // Keep bugs and stray leaves out of your food with these collapsible food tents.
2. Leather-Handled Picnic Basket // If you're a serious picnicker, you need to invest in a good basket like this handcrafted one made from New England white ash.
3. Meow Meow Tweet All-Natural Herbal Insect Repellent Lavender, lemongrass, and cedar keep mosquitos away without the chemicals. You can even use it on your dog!
4. NatureBox Snacks // We're a little bit obsessed with NatureBox—healthy snacks made without artificial flavors or colors delivered right to your door, for 40% off.
5. Medallion Melamine Plates // Paper plates are convenient, but so wasteful! Melamine is a fun, reusable alternative.
6. VonShef Fleece Picnic Blanket // The best picnic blanket—it's big, it has handles so you can carry it easily, and it has a waterproof lining to keep moisture and dew from seeping in.
7. Bambu Flatware // This organic bamboo flatware is much more stylish—and green—than plastic forks and knives.
8. Patterned Cooler Bag // Fill this cute insulated bag with cold drinks and fresh fruit.
9. Harney & Sons Peach Iced Tea // Another picnic essential? Iced tea! This peach flavored one is perfect for welcoming summer.
10. Wooden Yard Dice Game Set // Lugging a bocce ball or croquet set to the park is a pain—these lawn dice come in a convenient pouch, making them ideal for toting to your picnic.
11. Yumbutter Superfood Peanut Spread // Give those PB&Js a nutritional boost with this healthier peanut butter, made with chia, hemp, and goji.
12. Dang Sticky-Rice Chips // Forget the potato chips, Dang Sticky-Rice chips are so much better, with flavors like Coconut Crunch and Sriracha. They're non-GMO, gluten-free, and soy-free too.
13. Stacking Acrylic Wine Glasses // You don't want to bring glass to a picnic, but drinking wine out of a red Solo cup doesn't quite feel right either. These acrylic glasses are the perfect solution.
14. Siete Grain-Free Tortilla Chips // We always bring chips and salsa to a picnic and my family likes these gluten-free, grain-free tortilla chips better than the ones made with corn.
15. Peeled Snacks // I love bringing dried fruit to a picnic—no mess and no chilling required!
16. Hummustir Hummus // Hummus that doesn't need to be refrigerated! And it's made with simple, organic ingredients too.
2