Have you noticed that pineapples are all over lately? It's honestly no wonder – pineapple is tasty, it's healthy, and it's good looking. We love using pineapple in homemade beauty treatments, and we certainly don't mind a piña colada every now and then!
From clothes that make you feel like you're on vacation to skincare products that take advantage of the fruit's amazing properties, here are some of our favorite pineapple picks for the season: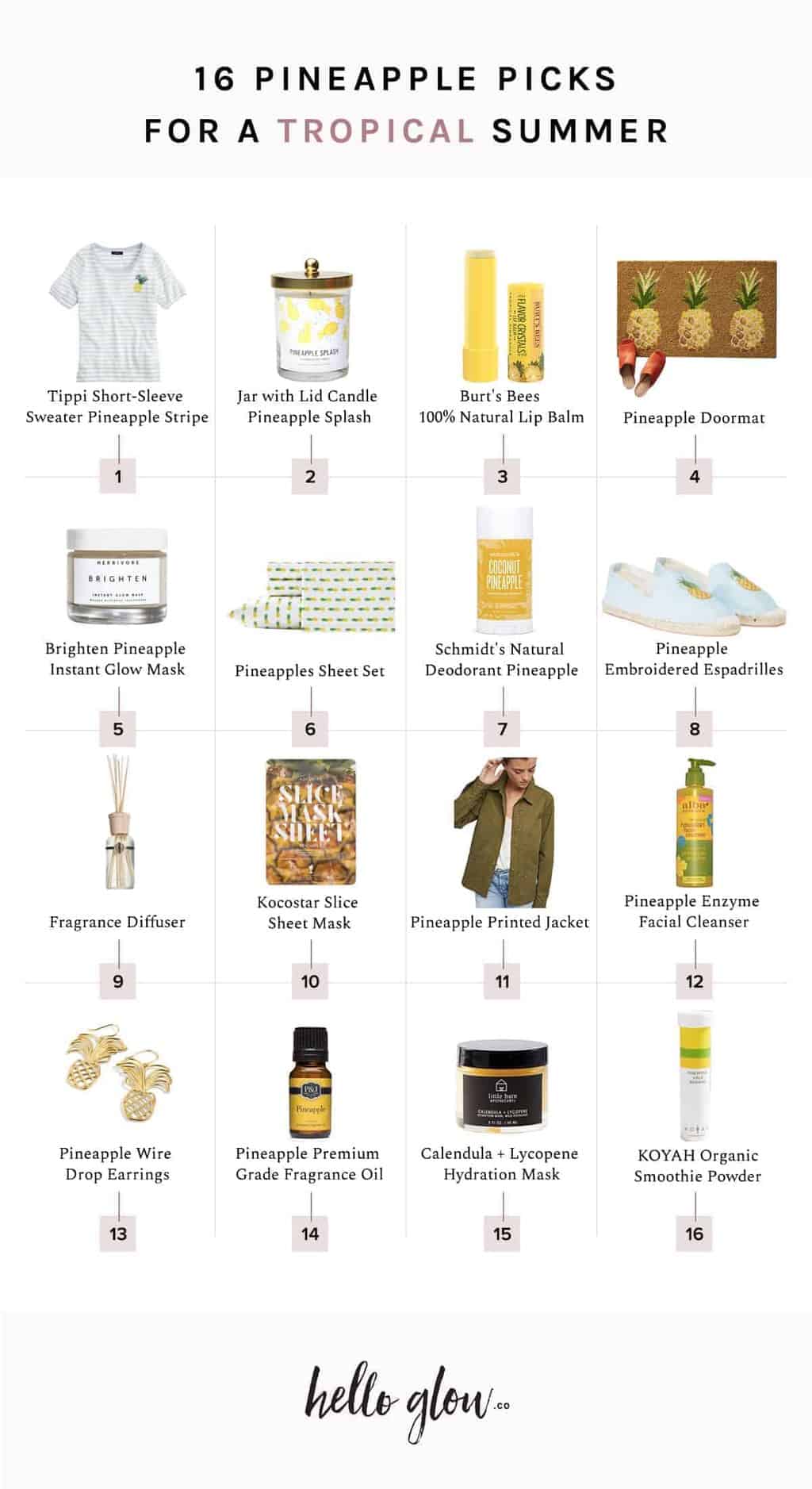 1. Tippi Short-Sleeve Sweater in Pineapple Stripe // This easy t-shirt will have you ready for summer in no time! Hint: it's now 50% off! 
2. Jar with Lid Candle Pineapple Splash // The aroma of orange, pineapple, and creamed coconut will make any room smell like a tropical dream. 
3. Burt's Bees Flavor Crystals 100% Natural Lip Balm // Refresh your lips with the tropical pineapple flavor of Burt's Bees crystals lip balm.
4. Pineapple Doormat // Nothing says "welcome" like a pineapple doormat! The bright colors will instantly cheer up the entryway.
5. Brighten Pineapple Enzyme + Gemstone Instant Glow Mask // Gentle pineapple enzymes combine with micronized tourmaline gemstone and rice powder in this brightening radiance mask from Herbivore Botanicals.
6. Pineapples Sheet Set // A good night's sleep surrounded by pineapples! These 100% cotton sheets couldn't be cuter! 
7. Schmidt's Natural Deodorant Coconut Pineapple // Schmidt's deodorant formula works to effectively neutralize odor and naturally absorb wetness, all in a pleasant coconut pineapple scent.
8. Pineapple Embroidered Espadrilles // Embroidered espadrilles are the ideal lightweight shoe for summer! Wear them to the beach or while you're running errands for chic comfort.
9. Fragrance Diffuser // The combination of yuzu, pineapple, and ginger, with just a touch of coconut, is fresh and fun, making your home smell amazing. 
10. Kocostar Slice Sheet Mask // This Korean sheet mask features pineapple slices that are a pleasure to use, leaving the skin hydrated and youthful-looking.
11. Pineapple Printed Jacket // The classic army jacket gets an upgrade with the aid of tiny pineapple embroideries. Such a good choice for summer nights!
12. Alba Botanica Pineapple Enzyme Facial Cleanser // Minimize the appearance of pores with this facial cleanser enriched with pineapple and papaya enzyme.
13. Pineapple Wire Drop Earrings // You're set for vacation with these golden pineapple drop earrings! They're just large enough to be visible, without outshining the rest of your outfit.
14. Pineapple Premium Grade Fragrance Oil // Diffuse pineapple oil at home or in the car for an instant mood boost!
15. Calendula + Lycopene Hydration Mask // Hydrate and lightly exfoliate the skin with this aloe vera, pineapple and calendula face mask from Little Barn Apothecary.
16. KOYAH Organic Smoothie Powder // Pineapple, kale and banana give you an extra health boost in this single-serving smoothie powder from Koyah.
3