Pink Himalayan salt is everywhere lately and we've been using it in a lot of our DIY projects, from homemade salt candle diffusers to an electrolyte-balancing pink salt drink. Its high mineral count makes it a standout among salts and the negative ions it emits helps purify the air—take note, allergy sufferers!
Here are some of the many ways you can reap the benefits of Himalayan salt: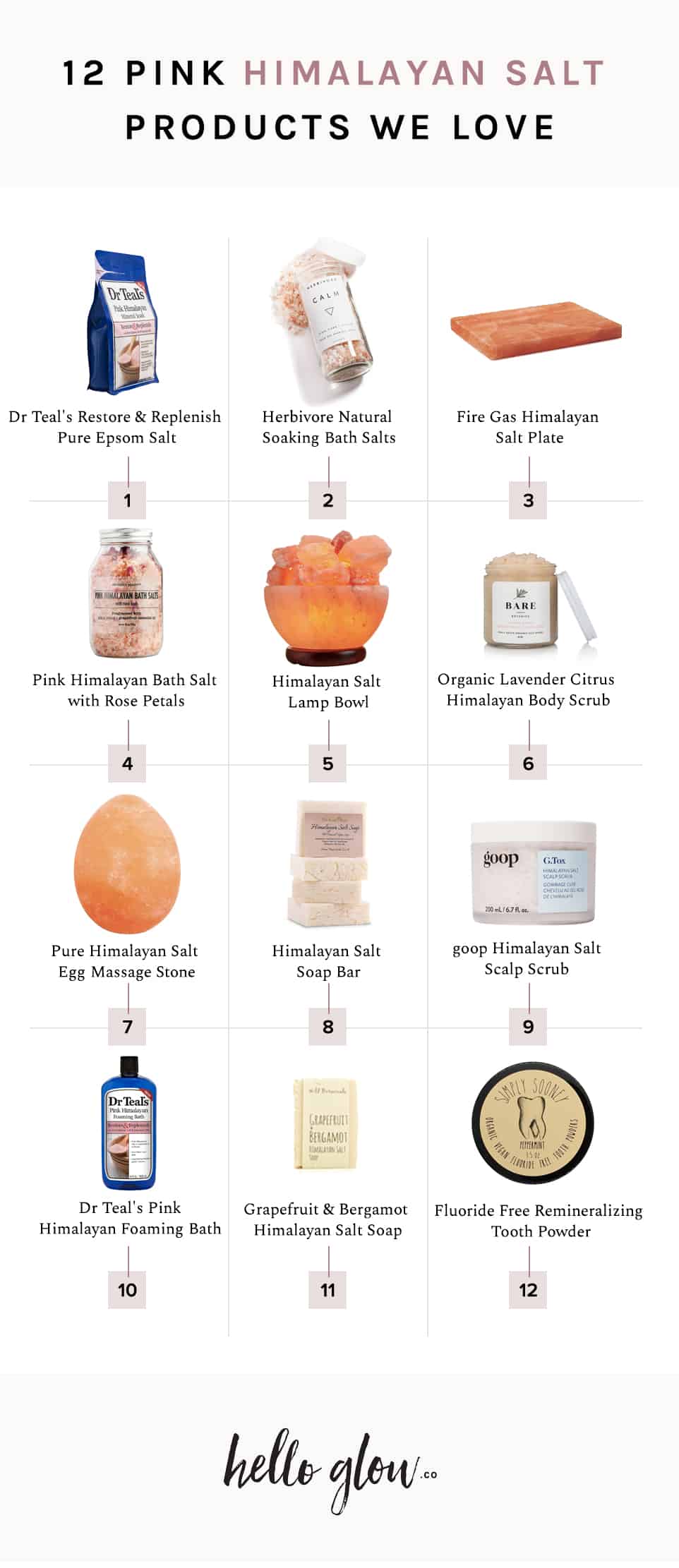 12 Pink Himalayan Salt Products We Love
1. Dr. Teal's Restore & Replenish Pink Himalayan Mineral Soak // If you're a DIYer, this salt is a great base for making your own bath salts – the possibilities are endless!
2. Herbivore Botanicals Calm Dead Sea Bath Salts // And if you're not a DIYer, we love these bath salts from Herbivore Botanicals, a classic when it comes to bath salts.
3. Himalayan Salt Cooking Tile // Cooking food on a salt tile doesn't only add flavor—it also adds minerals to your food. It's no wonder so many chefs use these!
4. Pink Himalayan Bath Salt with Rose Petals // Mixed with rose buds, this pink Himalayan bath salt is the perfect way to relax. And how pretty does it look?
5. Himalayan Salt Lamp // We couldn't do a Himalayan salt roundup without including a salt lamp, could we? If you're still in doubt, here's everything you need to know about buying one.
6. Organic Lavender Citrus Himalayan Body Scrub // Scrub away the dead skin and toxins with a lavender, orange and grapefruit scented (read: divine-smelling) body scrub.
7. Pure Himalayan Salt Egg Massage Stone // The pink Himalayan stone is ideal for massage, to help reduce stress and tension or relief pain. It can be used cold or hot, or even wet as a deodorant or scrub.
8. Himalayan Salt Soap Bar // All-natural and handmade in the US, this soap bar is anti-bacterial and perfect for dry to normal skin. The coconut oil and shea butter base is super moisturizing, too.
9. goop Himalayan Salt Scalp Scrub Shampoo // The whipped-mousse shampoo removes product buildup, dirt, and oil and leaves hair looking healthy and shiny.
10. Dr. Teal's Pink Himalayan Foaming Bath // Transform an ordinary bath into a moment to really unwind and feel good. Doesn't a foaming bath sound like a good idea right about now?
11. Grapefruit and Bergamot Himalayan Salt Soap // This scrubby soap will help you wake up in the morning with invigorating grapefruit and bergamot essential oils.
12. Organic Fluoride-Free Tooth Powder // Salt is added to this natural, organic, fluoride-free tooth powder to help detox the mouth.
80