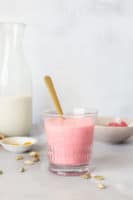 Pink Velvet Latte
Yield 8 oz dry latte mix
This vibrant latte is naturally sweet and chock full of chai spices that help warm the body from the inside out.
Ingredients
For the Dry Latte Mix
1/2 cup beetroot powder
2 tablespoons turmeric powder
2 teaspoons ground ginger
1 teaspoon ground cardamom
1 teaspoon ground cinnamon
Pinch black pepper
Pinch cayenne pepper
To make
1 cup nut milk of your choice
Honey to taste (optional)
Instructions
Combine all the spices in a small bowl and whisk well. Transfer to an airtight glass jar until ready to drink (or for up to 2 months).

To make the latte, place a splash of nut milk and 2 teaspoons of velvet latte mix in a small pot. Whisk to combine. 

Add the remaining nut milk, whisk to combine and heat over medium-high heat until steaming.

Carefully pour into a mug, add honey and enjoy!
Recipe by Hello Glow at https://helloglow.co/pink-velvet-latte/