When we were looking for a house, my husband and I vowed to find one with a kitchen that we (okay, that I) loved because we didn't want to have to do any work. And then we ended up finding the right house in the right neighborhood at the right price…but with a kitchen that wasn't great.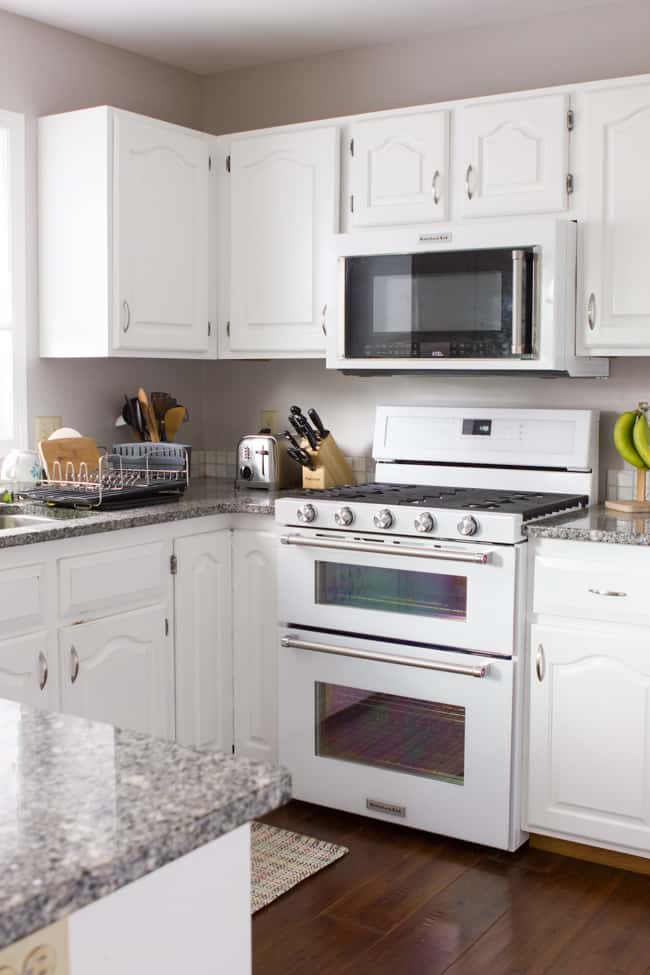 It looked fine, from a distance. But the honey oak cabinets had been painted white without being sanded or primed first, so it was peeling off in large chunks. Plus, the paint proved to be almost impossible to clean—stains just seep in there and no amount of Magic Eraser-ing can fix it.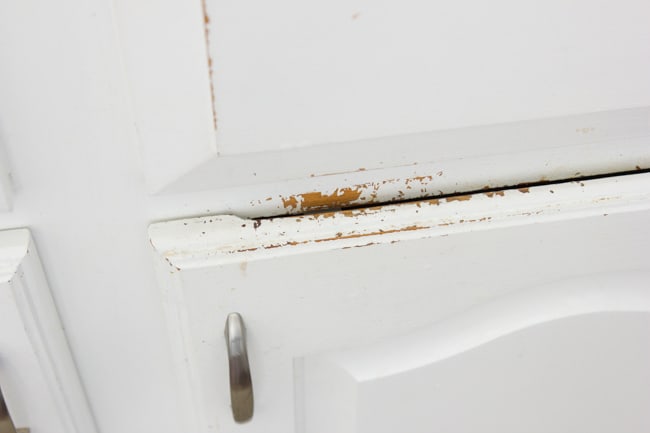 (Eek.)
We put in eco-friendly, low VOC bamboo floors and new appliances before we moved in (you can see them in the first photo), but we were a little stumped on how to deal with everything else. Repaint the cabinets? Put new doors on them? Replace them entirely?
After pricing out our options—and finding out that the doors couldn't be replaced because the cabinet boxes were in such poor shape—we decided to just go for it and put in new cabinets, replace the countertop that I didn't care for, and put in a full backsplash instead of the one we currently have, which only goes about 1/4 up the wall. So much for not doing any work, huh?
Finding Green Kitchen Cabinets
It's important to us that the work we do on our house is green. Of course, the word "green" gets thrown around a lot these days and it means different things to different people—for me, the priority is for materials to be low-VOC and healthy for our household, and ideally they'll also be sustainably sourced and manufactured in a way that has minimal impact on the environment. Kitchen cabinets are usually made with MDF, which contains formaldehyde that off-gasses into your home long after that "new furniture" smell is gone; paint, stain, and conversion varnish finishes also contain VOCs that can trigger headaches, aggravate asthma, and cause irritation to eyes and lungs.
The best way to get green kitchen cabinets is to work with a local cabinet maker directly because they can use the materials and finishes you want. There are also a few larger green cabinet makers out there as well, like Crystal Cabinets, that use nontoxic finishes, FSC hardwoods, and are manufactured in the US. I would have loved to go with either of these options, but our budget wouldn't allow it. Womp womp.
So we ended up evaluating our options and determining that IKEA was the next best thing.
IKEA? Yes! IKEA!
IKEA Sektion kitchen cabinets are manufactured to meet stricter EU requirements for VOC emissions—and, in fact, their furniture emissions are significantly below the government limits for formaldehyde, which is good news because that new furniture smell triggers migraines for me. Shipping in flat packs helps save energy and IKEA is committed to responsible forestry, tracing the origin of wood to ensure that it's not illegally felled. All good things!
People totally give me a side-eye when I mention using IKEA cabinets, but they have a 25 year warranty and they use high quality Blum hardware—the same hardware the local cabinet maker we considered uses.
Because we have white appliances and IKEA's white cabinet finish doesn't quite work with them, we bought Shaker doors for our cabinets from Scherr's and we're having a low VOC conversion varnish that matches our appliances applied locally. So while it's not exactly the greenest cabinet situation, it's definitely greener than most other options.
Green Kitchen Countertop Options
Then it was time to tackle the countertops. Finding a green countertop turned out to be a lot more difficult than I thought. There are a few options made with recycled materials, like Vetrazzo (made from recycled glass), Paperstone and Richlite (both made from paper), and while I liked the way some of them looked, they didn't fit with the aesthetic we were going for in our kitchen.
Another green countertop material is butcherblock—I loved the idea of bringing some warmth to our white kitchen with wood and using a natural oil finish on butcherblock makes it a low- or no-VOC option. The downside of butcherblock is the maintenance required—and since I cook a lot, I was afraid we'd be sanding and re-oiling constantly to deal with the wear and tear.
Ultimately, we ended up going with Zodiaq quartz in London Sky. This was another compromise—Zodiaq isn't the greenest option out there, but it is GreenGuard certified and low VOC. And I also decided to use this as our backsplash as well. I loved the subway tile backsplash in our last kitchen reno, but it's everywhere lately and I wanted to do something a little bit different. Plus, how easy is it going to be to clean a solid surface backsplash without all that grout? So easy! And eliminating the grout—and the sealer needed for it—also eliminates another source of VOCs.
The Design Process
I thought that maybe I could design the kitchen myself using IKEA's kitchen planner tool, but I quickly realized that it was totally beyond my capabilities. So instead, I enlisted the help of Inspired Kitchen Design, who kindly provided a design in exchange for this review. If you're doing an IKEA kitchen renovation, I highly recommend going this route to save your time and sanity. All you need to do is answer some questions and send over your kitchen measurements and the IKD designers will work closely with you to design your IKEA kitchen. Once you check out the IKEA planning tool yourself, you'll see why this is a much better solution—and having a professional designer plan things out helped me feel a lot more confident in our choices.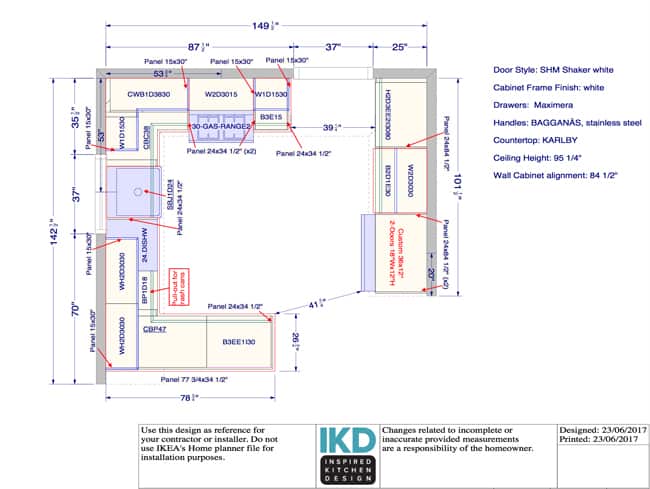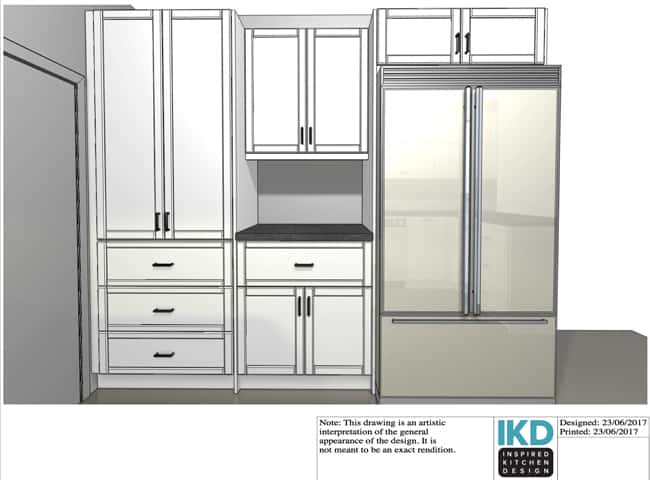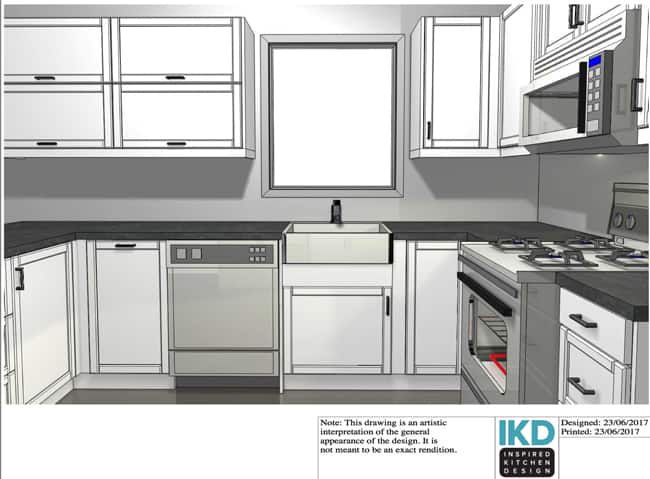 We decided to pretty much keep the same footprint of our current kitchen, extending the cabinets slightly by eliminating the breakfast bar, which we never used because our kitchen table was right next to it anyway. Our designer also pointed out that we could put in a smaller sink, move the dishwasher over slightly, and fit in a pull out cabinet for our garbage and recycling. Is it weird that I'm ridiculously excited about that? Because I totally am.
Planning Our Demo + Installation
In order to waste as little as possible, we decided to have Habitat For Humanity demo our kitchen. There's a fee for it, but it works out to about the same as having a contractor do it—and they'll take everything that's in good condition to sell at our local Habitat reStore.
We briefly considered doing the cabinet installation ourselves, then thought about having a local carpenter do the work, but I happened upon a carpenter who specializes in IKEA kitchens. Because of the quirks in IKEA's Sektion system—and the ways it differs from traditional cabinets—this seemed to be the best possible solution. Andrew also helped us make a few tweaks to our kitchen design, like switching from 30-inch to 40-inch cabinets, and made sure we had everything we needed on our list to take to IKEA.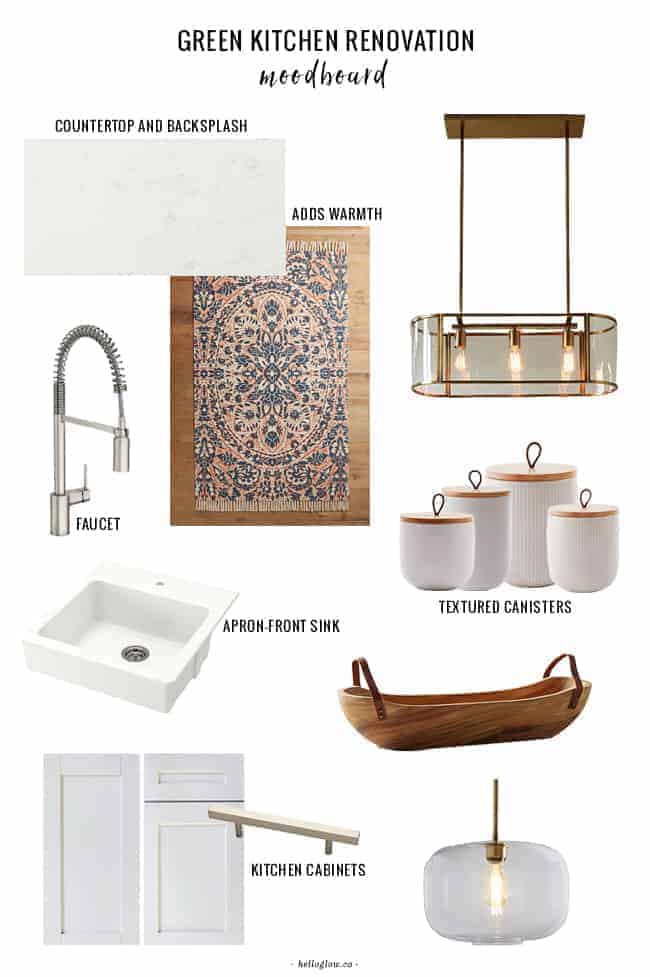 London Sky Quartz Countertop + Backsplash / West Elm Trough Chandelier / Moen Align Faucet / Anthropologie Rug / West Elm Kitchen Canisters / IKEA Apron Sink / Shaker Cabinet Doors / Liberty Square Cabinet Pulls / Anthropologie Woodgrain Bread Bowl / West Elm Glass Pebble Pendant
We're going to be starting the remodel in a few short weeks! I'll share before and after photos when it's done.
Have you done any green home renovations? I'd love to hear about it!
This isn't a sponsored post, but I did receive a design from IKD and a faucet from Moen to write about here.
2