We're used to desserts being packed with cream and eggs… but it doesn't have to be that way. Whether you're on a vegan diet or just looking to cut down on dairy a little, there are plenty of delicious dessert options out there.
Think creamy cheesecakes, refreshing ice creams, and lots of chocolate. Did I grab your attention? There's no deprivation here!
15 Plant-Based Desserts You'll Love
Indulge your sweet tooth (without the guilt) and scroll down to get 15 of the tastiest plant-based desserts:
Cacao, cinnamon and cayenne are mixed with coconut milk and the result is rich and creamy, just like you want your cheesecake to be! It looks amazing, without any dairy or gluten inside.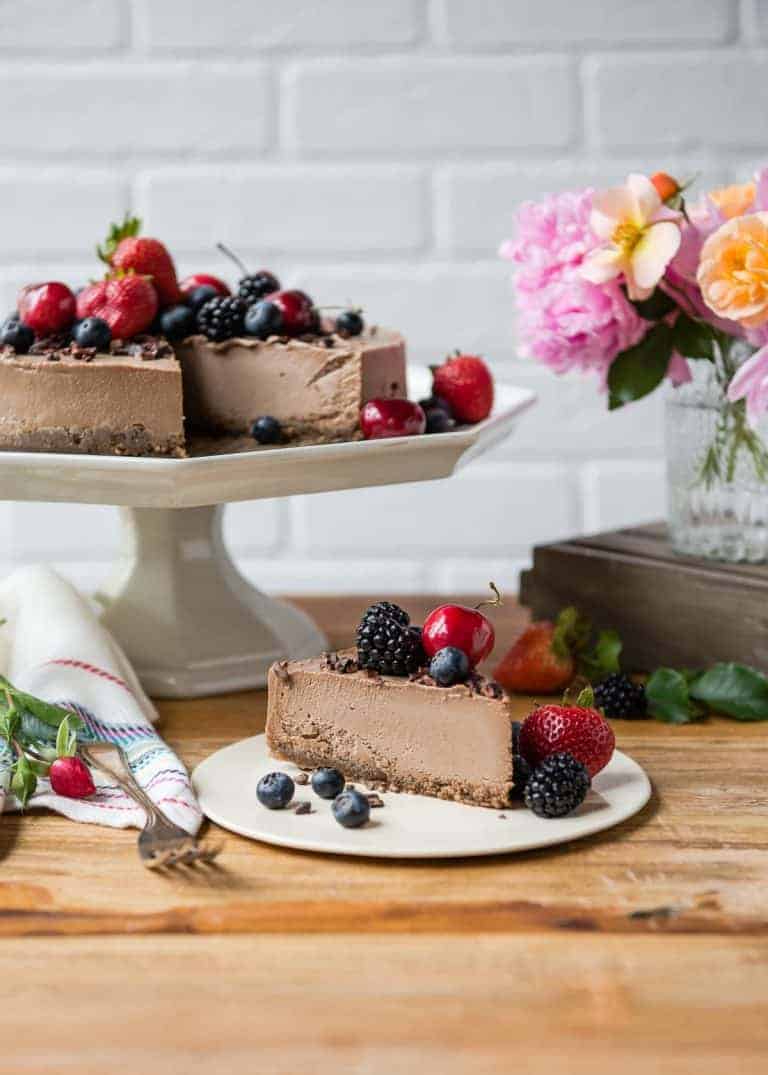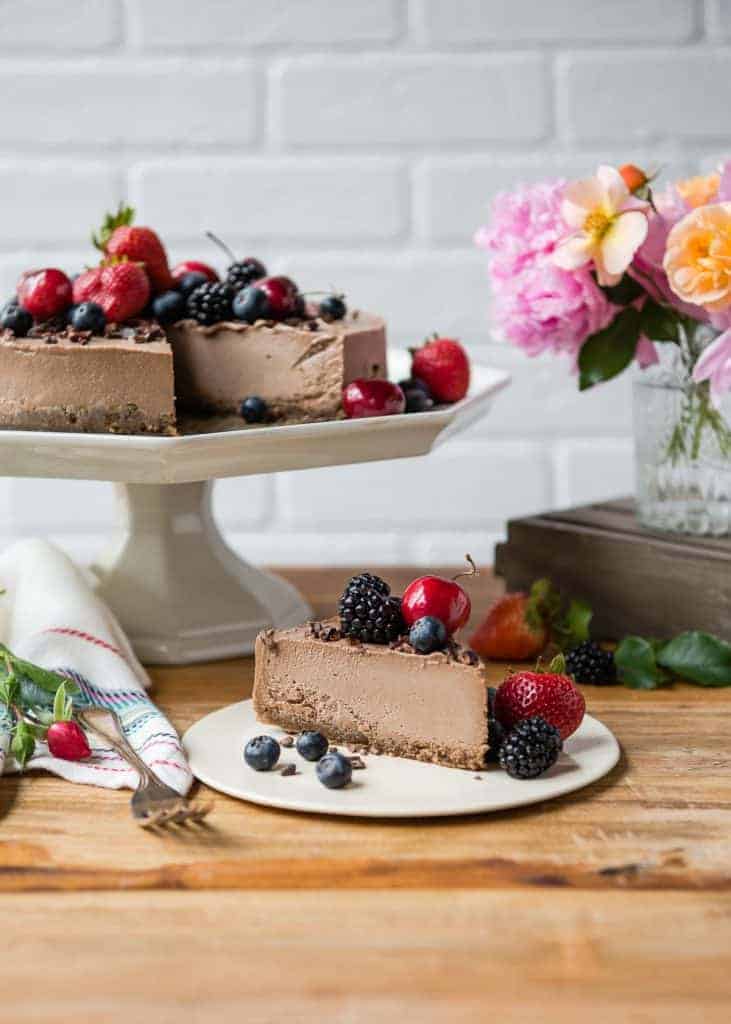 Maclay's Mexican Cheesecake
Reprinted from This Cheese is Nuts: Delicious Vegan Cheese at Home by arrangement Avery, an imprint of Penguin Publishing Group, a division of Penguin Random House LLC. Copyright © 2017, Julie Piatt.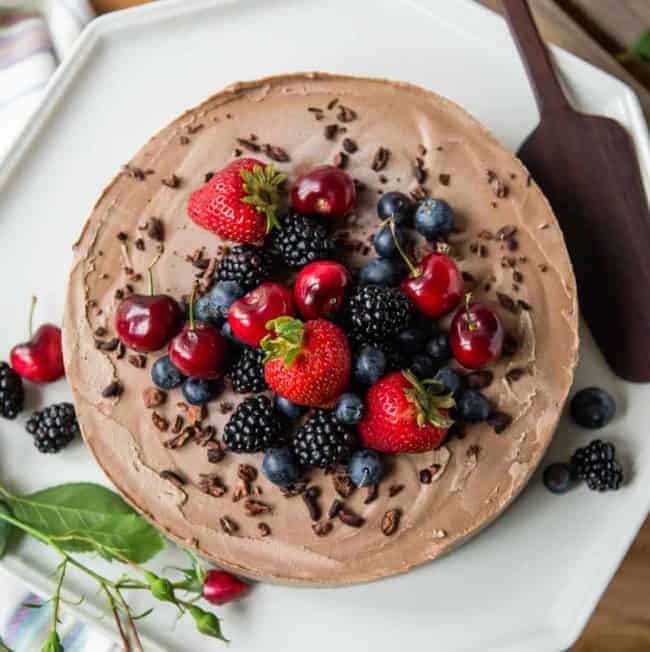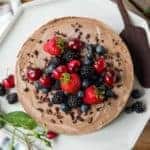 This vegan ice cream is the ultimate creamy, dreamy dessert! With seasonal ingredients such as strawberries, it's as delicious as it is refreshing. This recipe uses coconut milk to make things creamy but you can also use bananas – or both, like in this vegan mint chocolate chip version.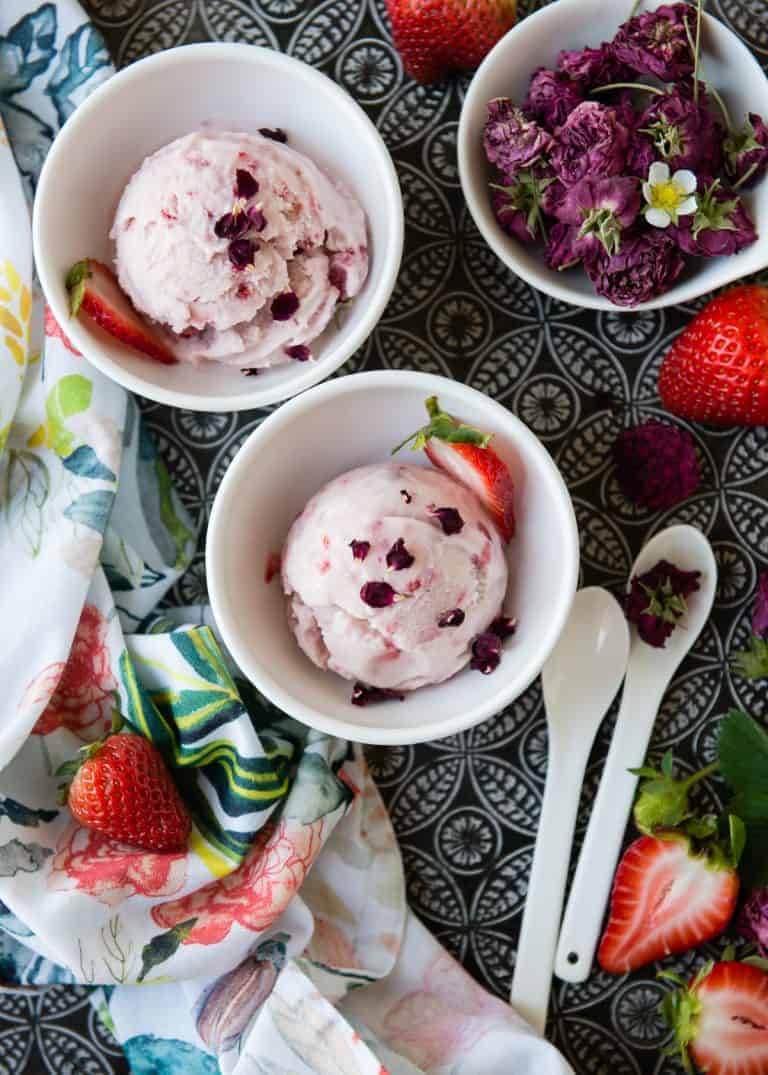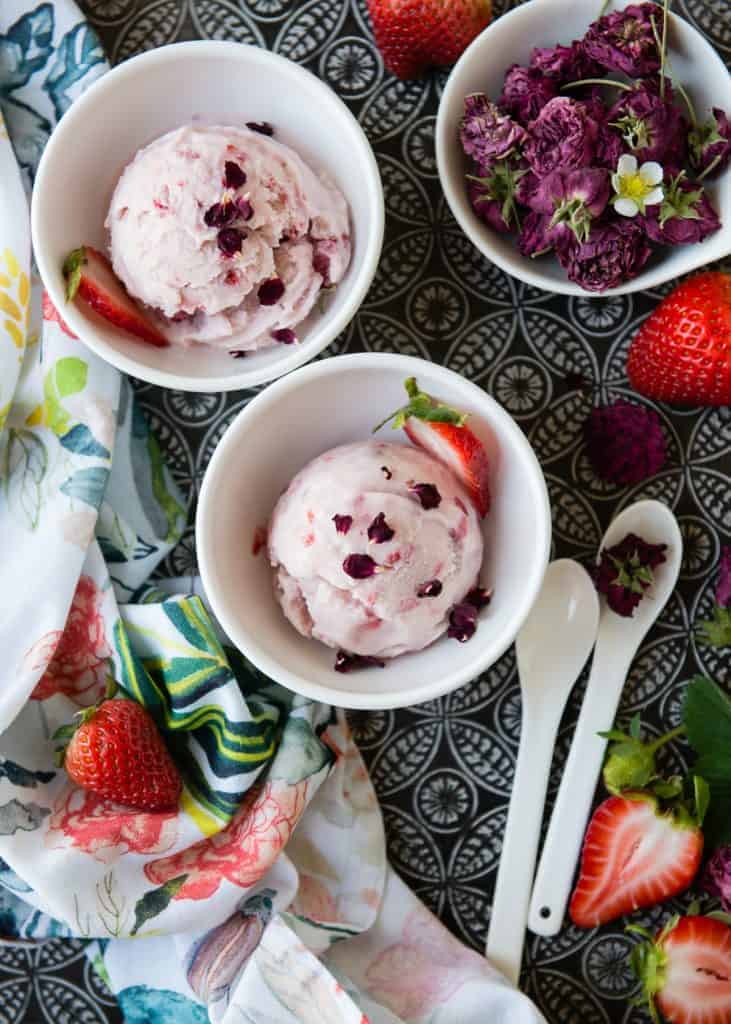 Vegan Strawberry Rosewater Ice Cream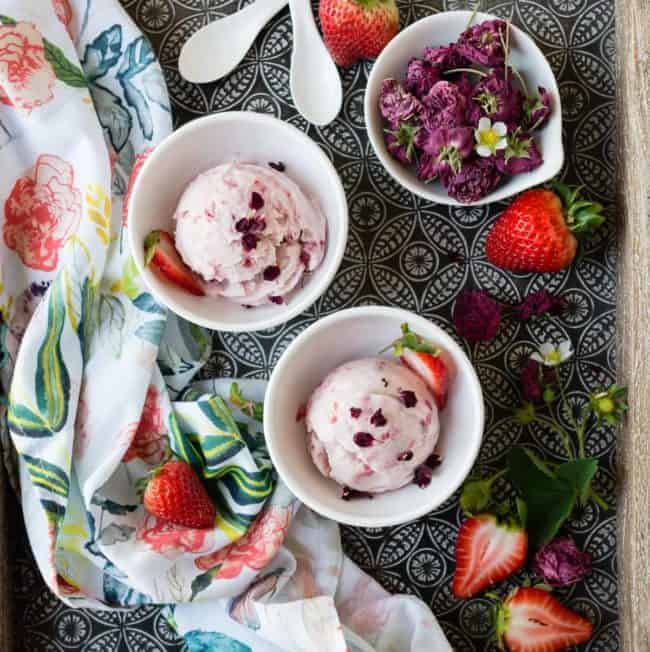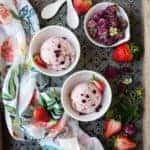 You're only 5 ingredients away from these healthy-yet-decadent treats. The combination of dates and tahini is just short of magic. Combine that with raw cacao powder (packed with vitamins and antioxidants, flavonols, monounsaturated fats, minerals, fiber, and even protein!) and tasty sea salt for a chewy, creamy, chocolate-y treat.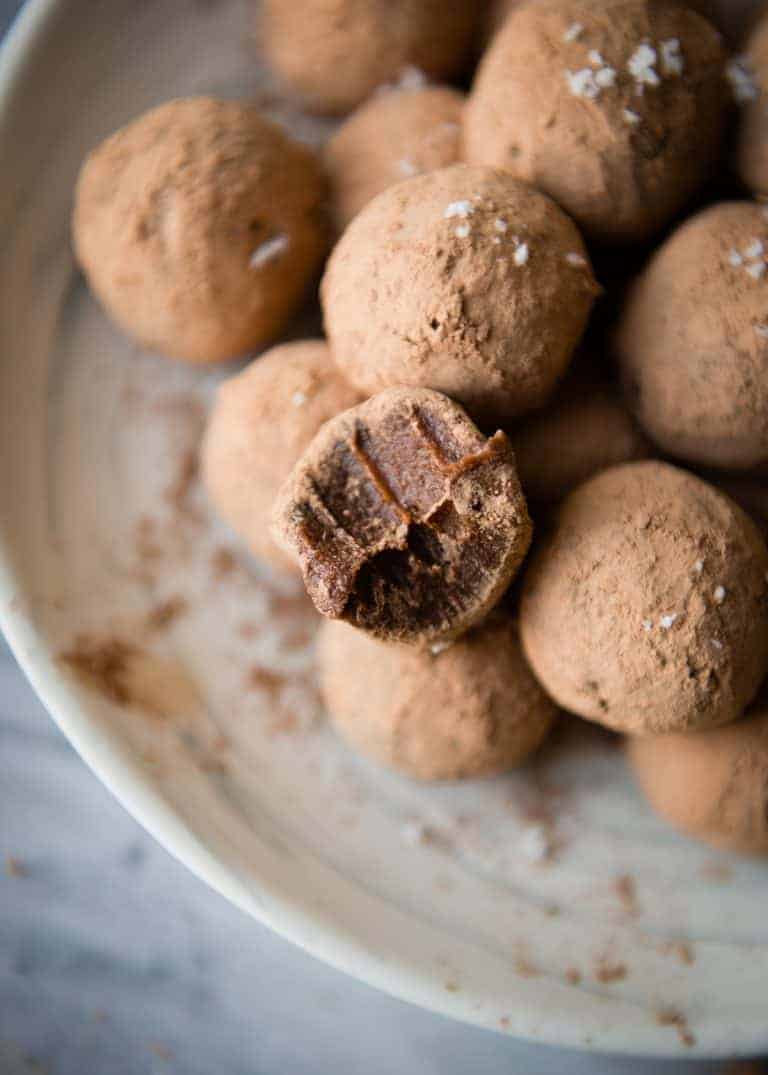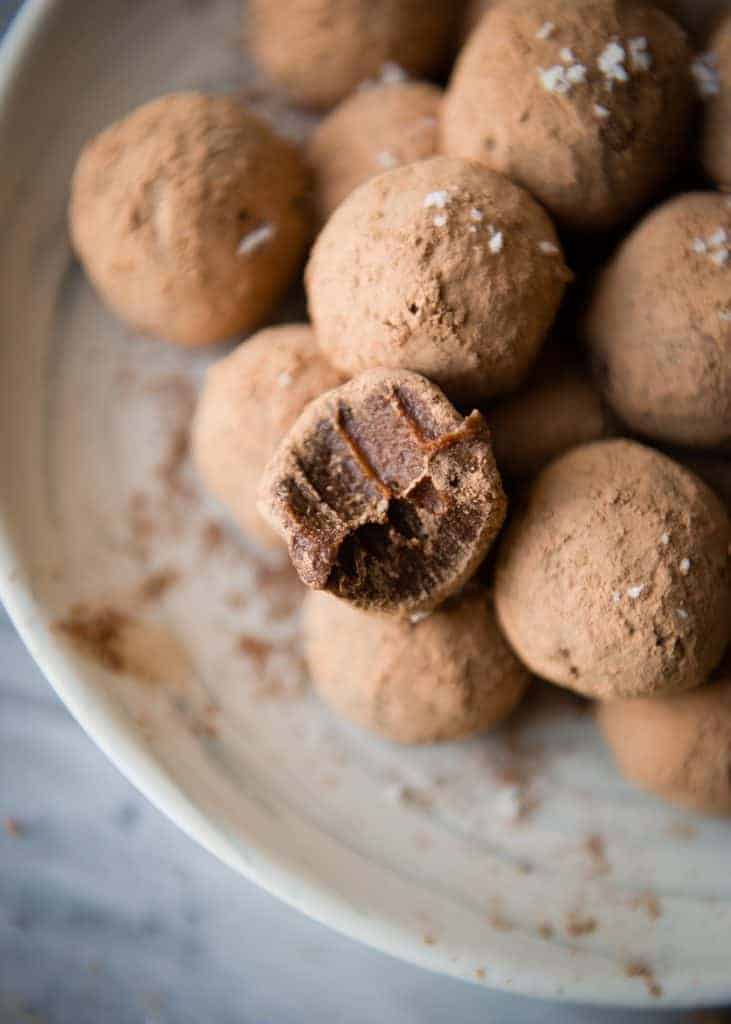 Healthy Sea Salt Caramel Chocolate Truffles
Chewy, caramel-y with a hint of sea salt, these chocolate truffles will satisfy any craving...and they are healthy to boot!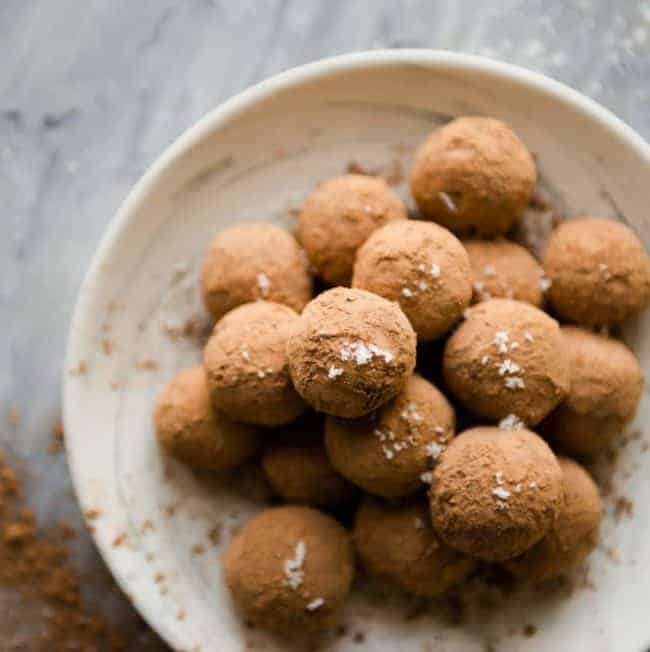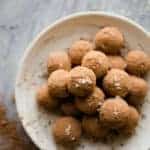 Coconut oil, ripe avocados, full-fat coconut milk, and fresh lime juice make a luxurious, tart filling to this vegan key lime pie. It's super easy to make, given that it doesn't require any baking.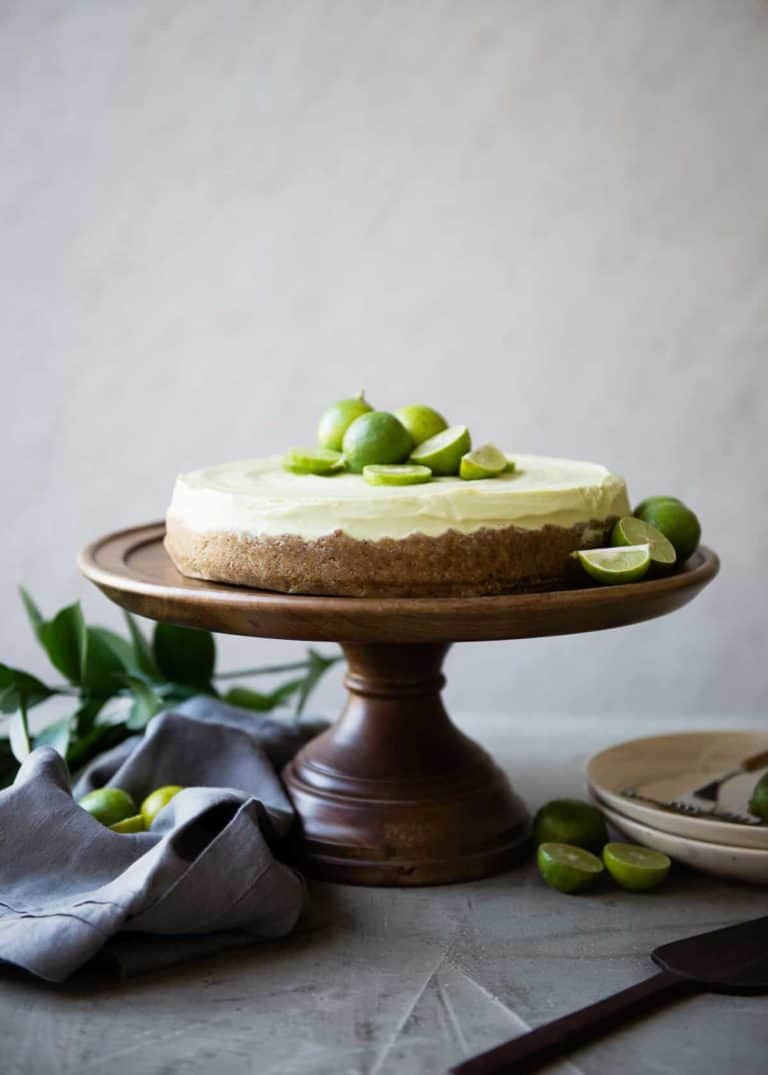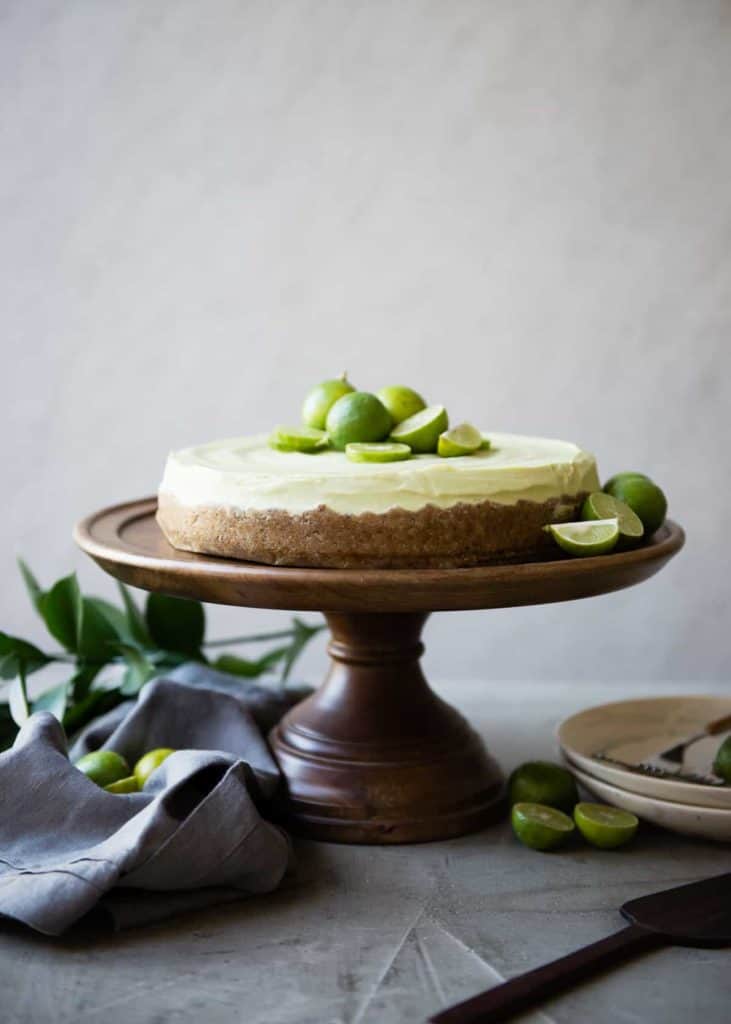 Raw Key Lime Pie
This rich, creamy and all-around delicious Raw Key Lime Pie recipe is from The Blossom Cookbook by Ronen Seri and Pamela Elizabeth.
Check out this recipe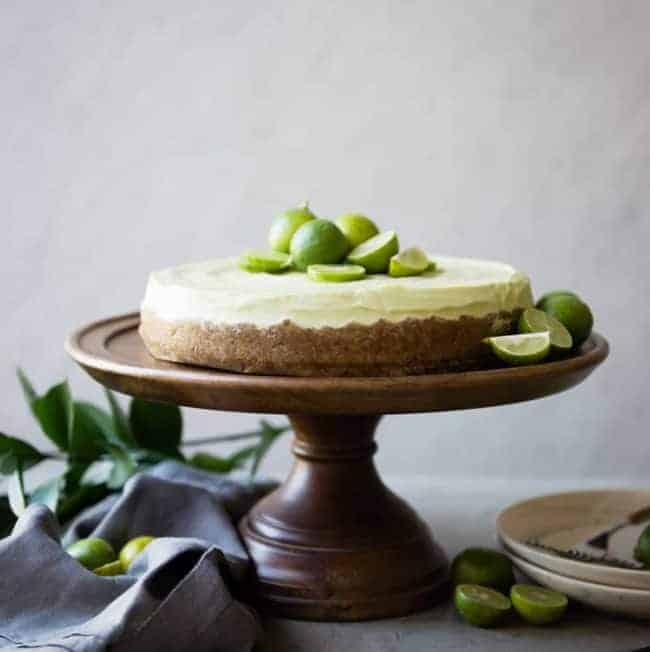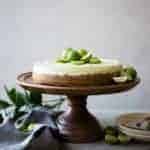 When making an entire cake seems like too much trouble, make cheesecake bars instead! The taste is similar to mint chocolate chip ice cream, except the whole thing is totally healthy and dairy-free, too.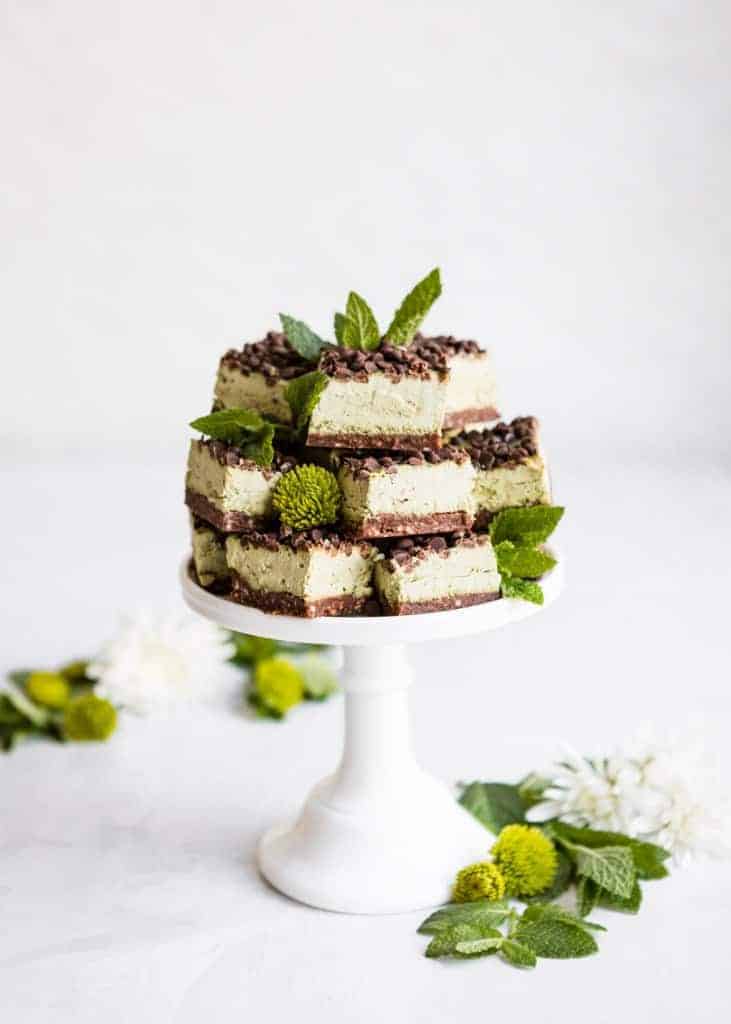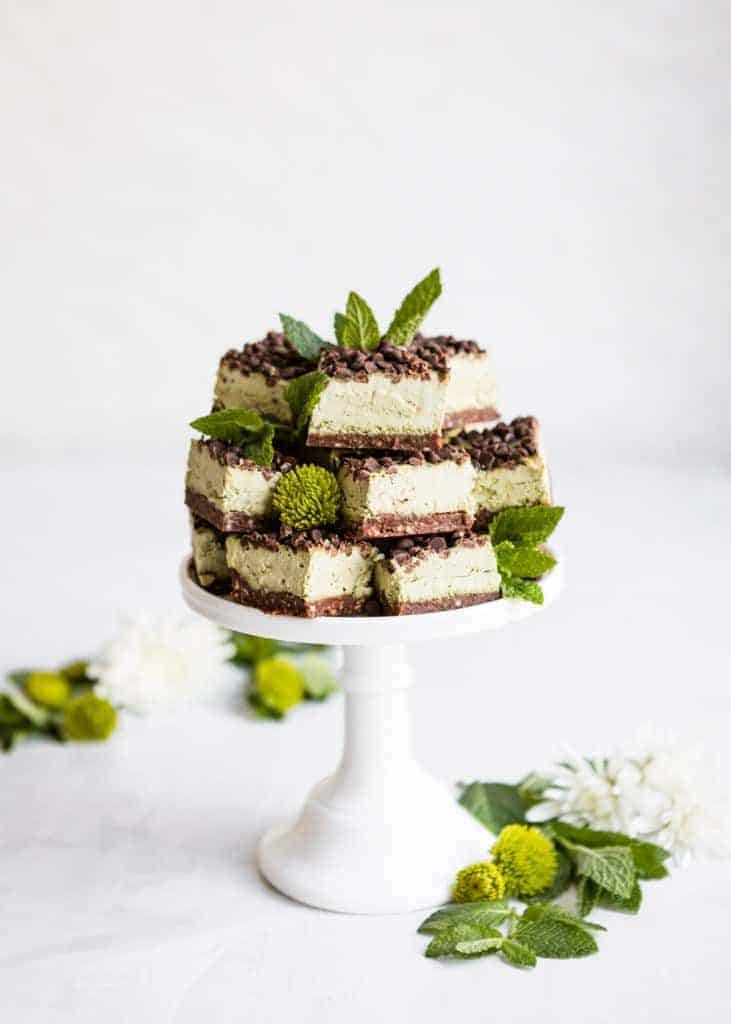 Mint Matcha Chocolate Chip Cheesecake Bars
Even though these rich, creamy cheesecake bars are vegan and gluten-free, they're guaranteed to be a hit with everyone.
Check out this recipe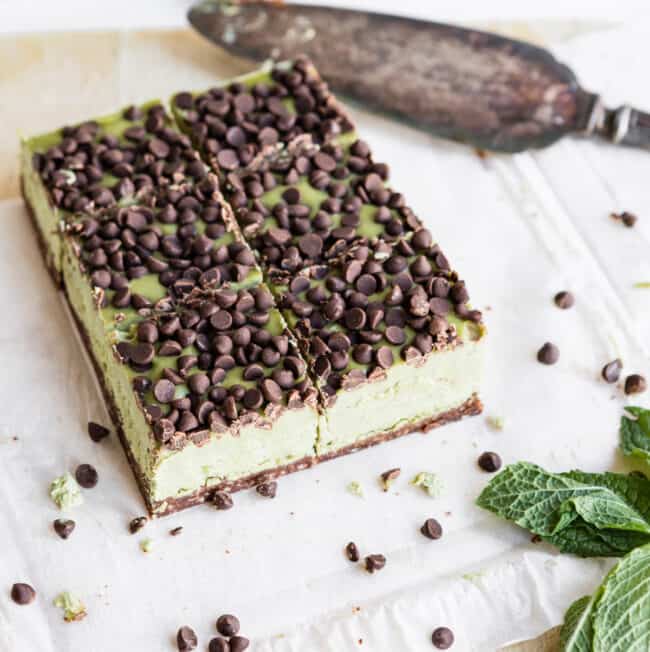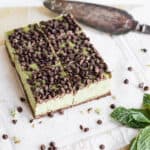 Canned lychees are quite sweet on their own, so for this recipe, you blend basil leaves right into the ice pop mixture. Lime juice adds another layer of flavor and coconut water makes these Basil Lychee Ice Pops super hydrating on a hot summer day.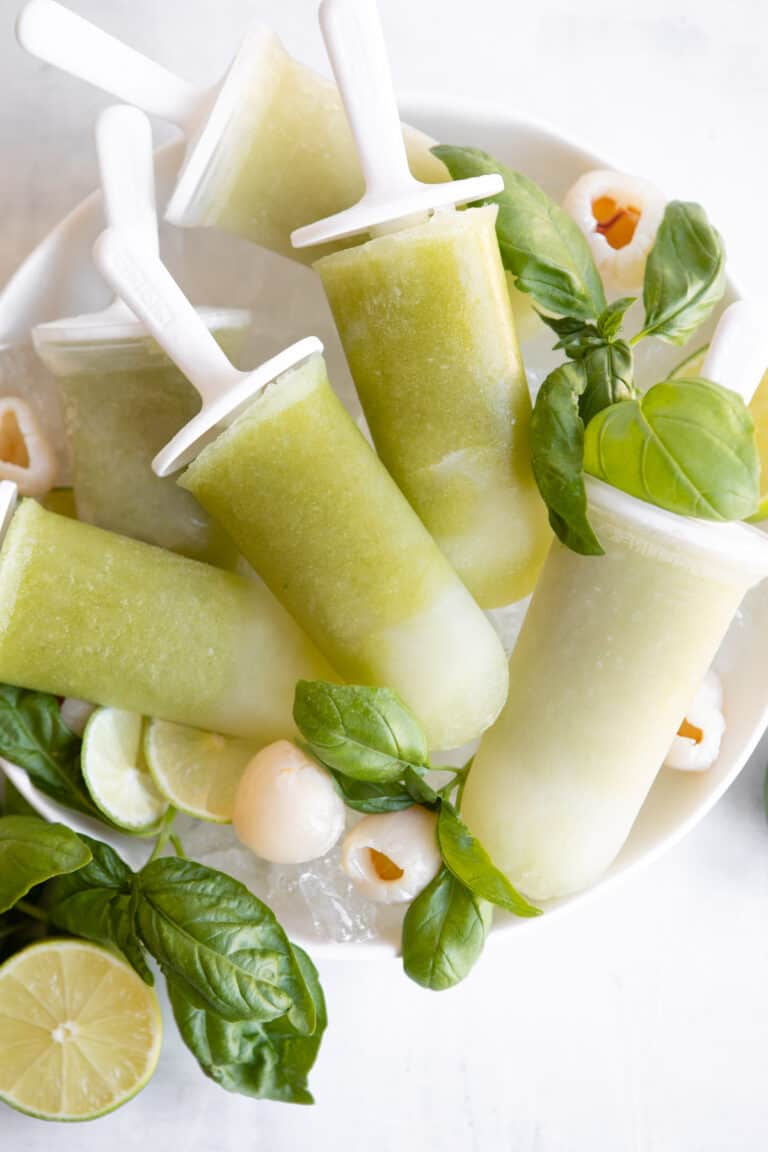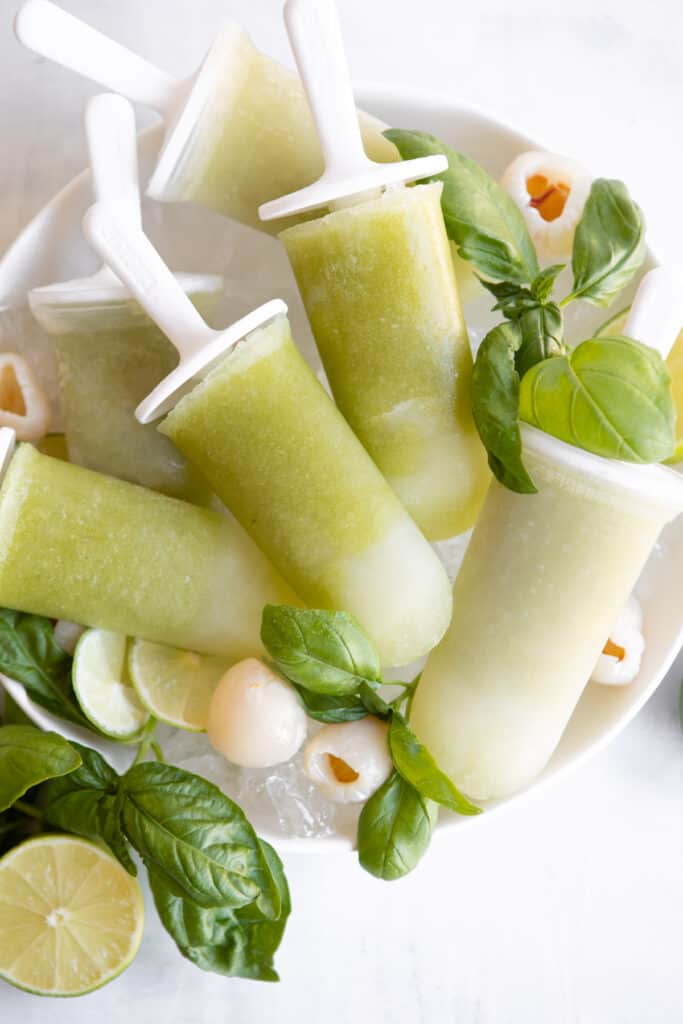 Basil Lychee Ice Pops
Refreshing and hydrating, these Basil Lychee Ice Pops are a cinch to whip up on a hot summer day. Only 4 ingredients needed!
Check out this recipe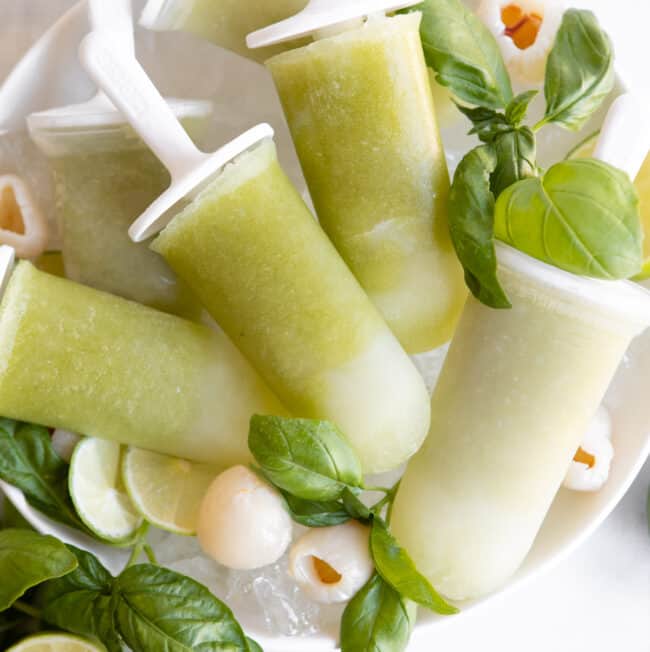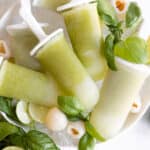 The creamy texture and rich taste of this pudding is absolutely dreamy. All you need is a blender, a few avocados, a splash of almond milk, a touch of maple syrup and vanilla.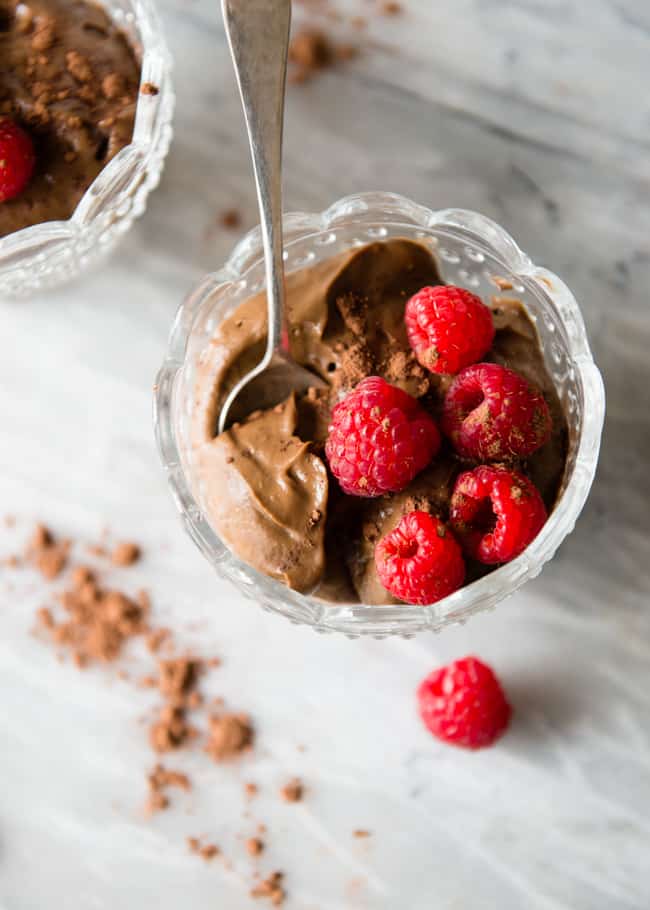 Healthy Dark Chocolate Avocado Mousse
Make a healthy, vegan avocado chocolate mousse fit for a Valentine's dessert. It's as pretty as it is delicious!
Check out this recipe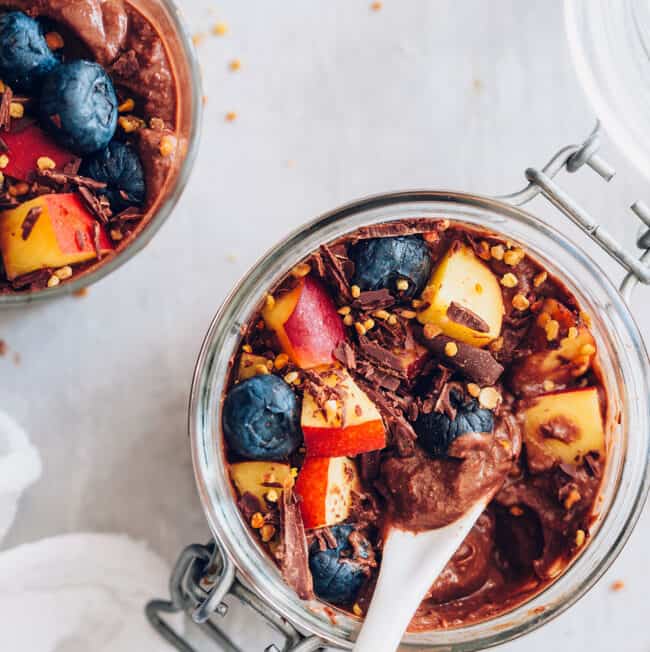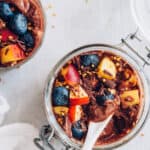 Frying, refined sugars and plain white flour are long gone, while coconut sugar and whole, gluten-free flour turns into a nourishing autumn delight. Canned pumpkin, rather than dairy, makes them moist and tasty!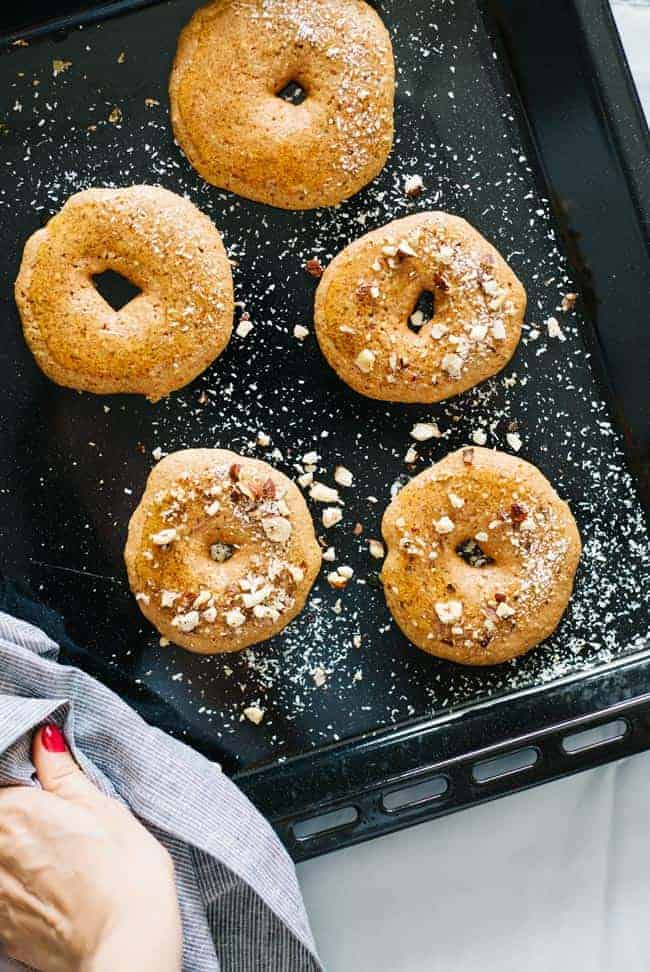 Baked Pumpkin Donuts (Vegan + Gluten-Free)
If you're sensitive to gluten or you're just looking for a healthier version, these doughnuts are definitely a treat for you! Dense and moist, bathed in maple syrup, vegan and gluten-free.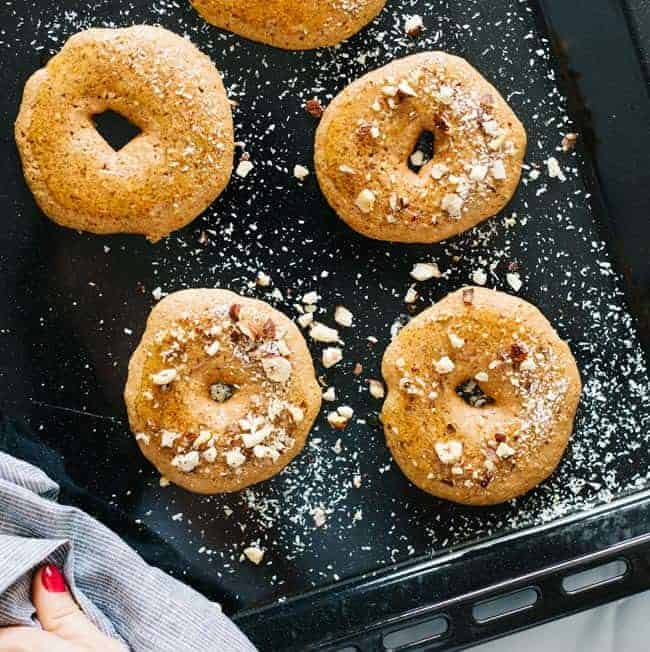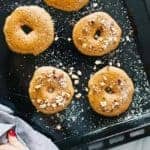 The secret to making vegan fudgesicles with the same kind of chewy texture of the store-bought variety is to add healthy fats–specifically, a blend of coconut milk, coconut oil, and cacao butter, which all solidify when frozen.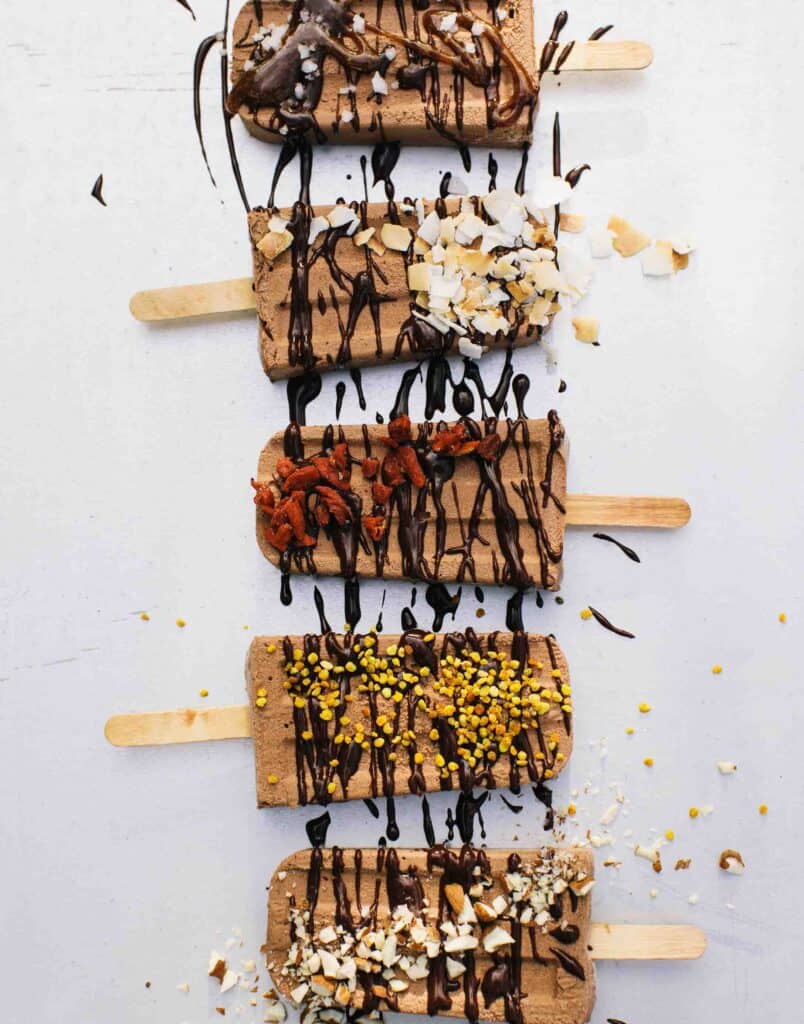 Vegan Fudgesicle
These vegan fudgesicles are just like the ones you remember from your childhood--except they're entirely plant-based and made with healthy ingredients!
Check out this recipe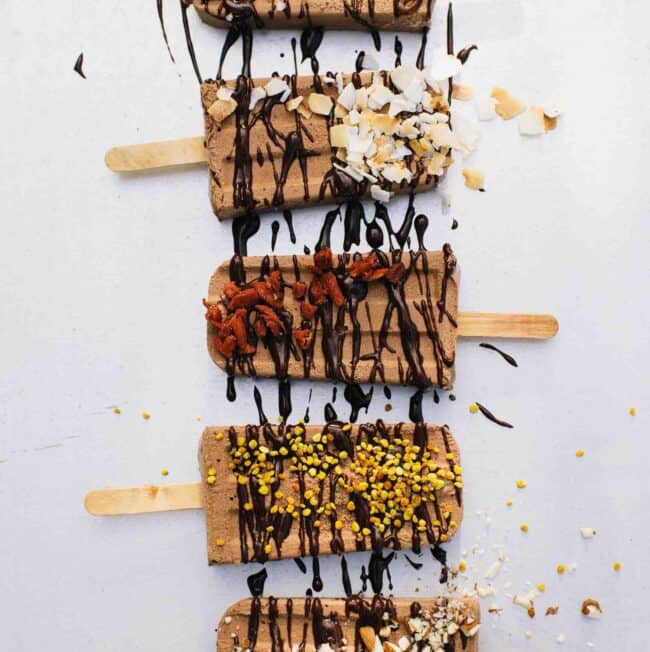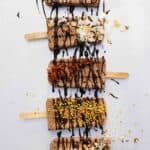 Find out more about lucuma and why our holistic nutritionist recommends it as a low glycemic sweetener – and grab her recipe for chocolate lucuma bark topped with goji berries and .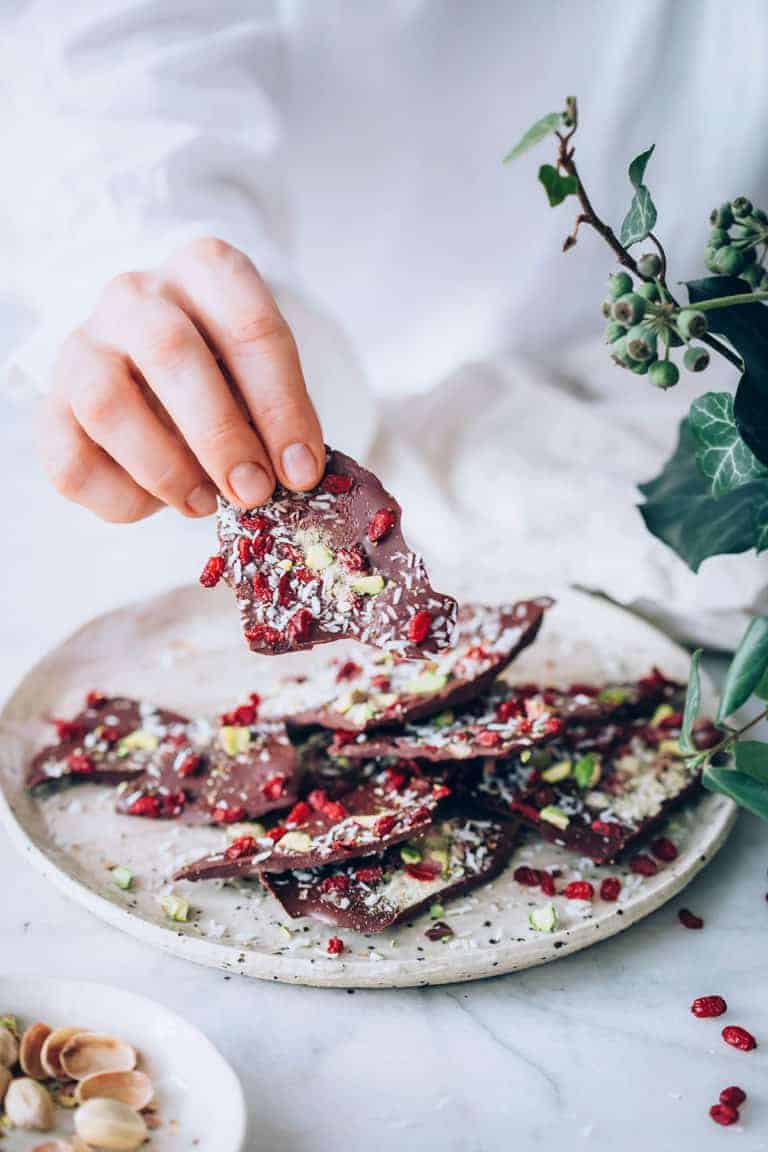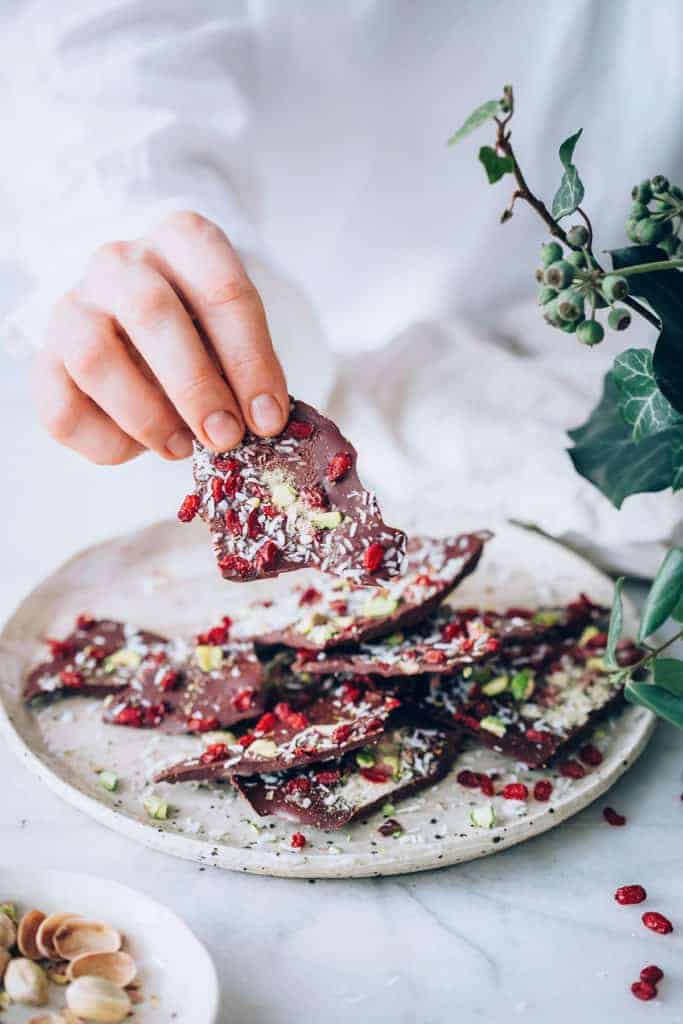 Festive Chocolate Lucuma Bark
This colorful bark is packed with vitamins and minerals.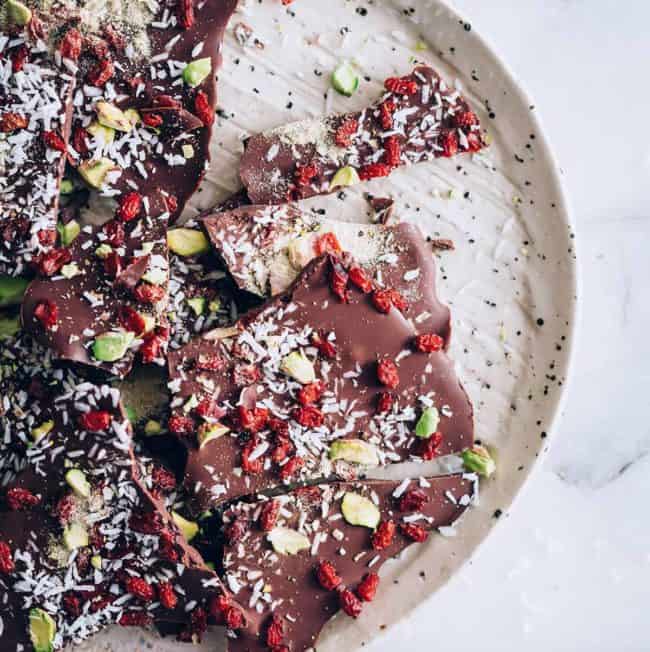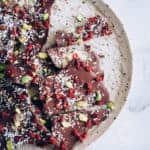 Warm weather and heavy desserts don't mix too well, which is why this lemon cream layer cake from Neurotic Mommy is perfect for the season. Refreshing and light, not to mention free of eggs and dairy!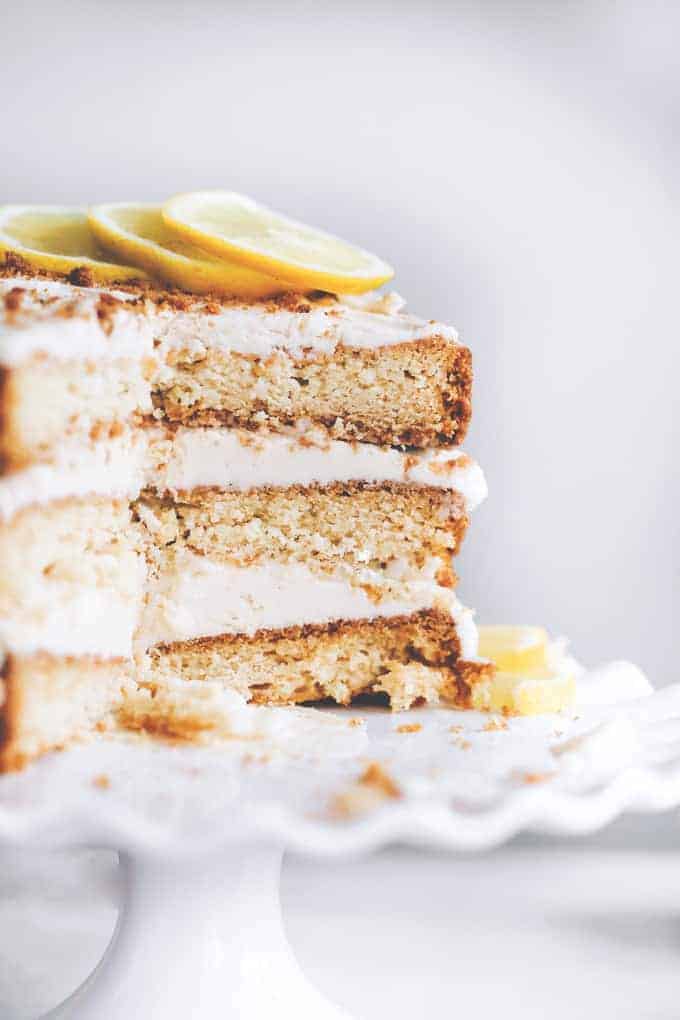 Vegan Lemon Cream Layer Cake
Enjoy the creamy lemon buttercream sandwiched between layers of homemade vanilla cake.
Check out this recipe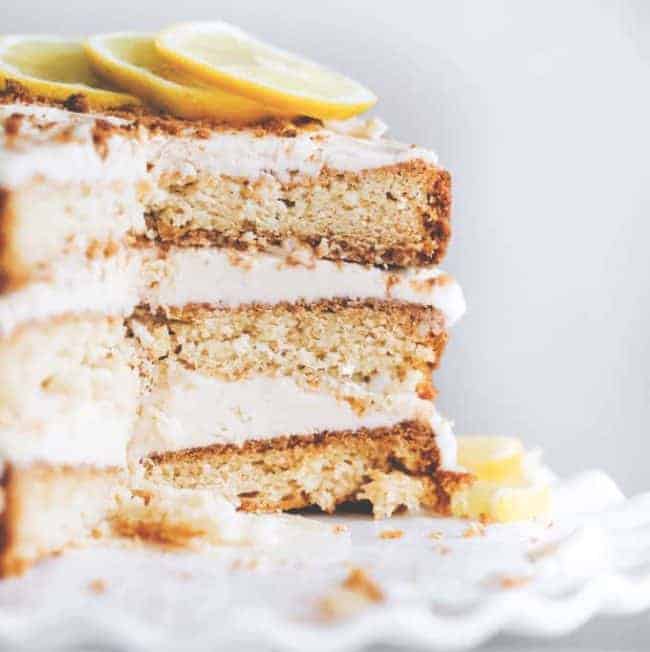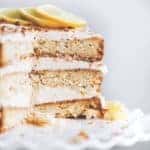 Sometimes you just need to get your chocolate fix. And your peanut butter and jelly fix. For those times, we recommend these delicious no bake vegan tarts from Olive and Mango.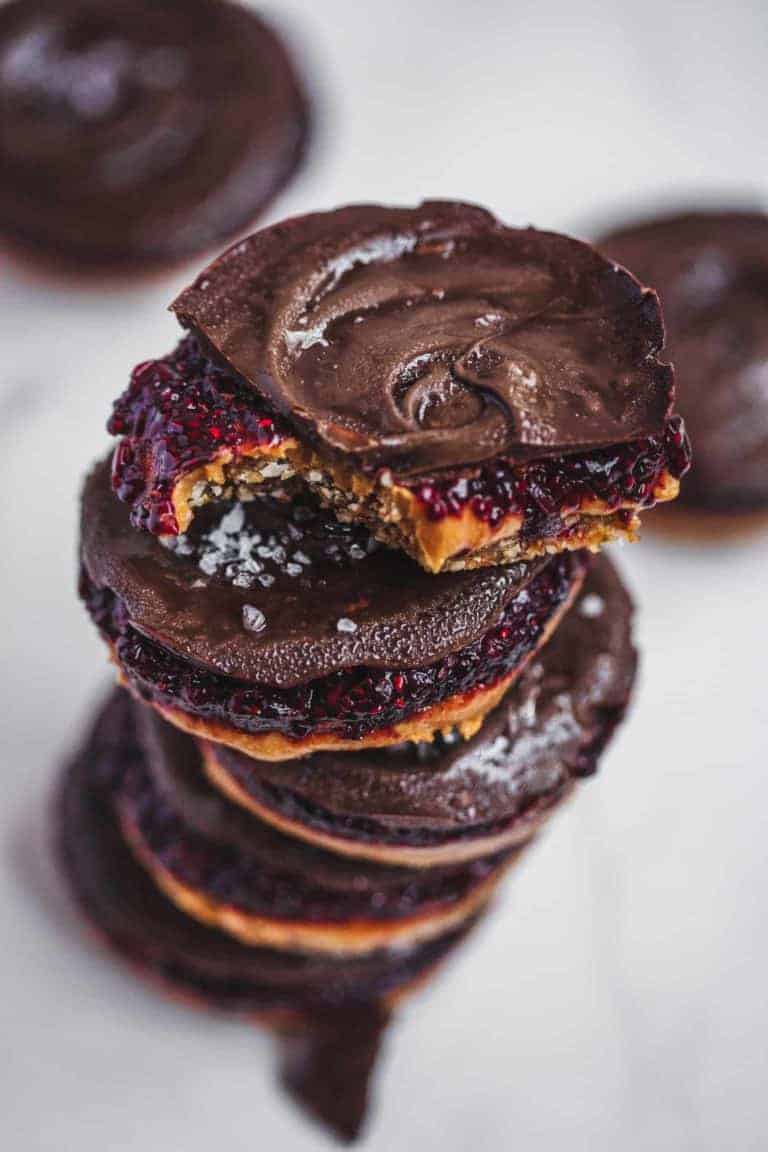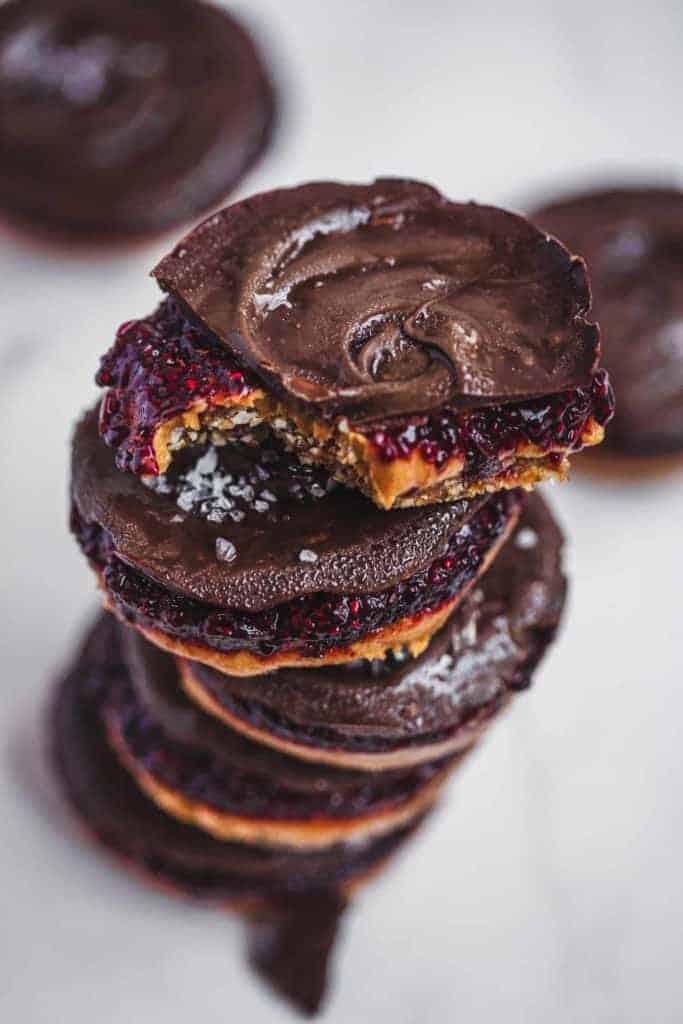 No Bake Vegan Peanut Butter Jelly Tarts
The PB and jam is perfectly gooey and the chocolate layer acts like the perfect lid over the combo.
Check out this recipe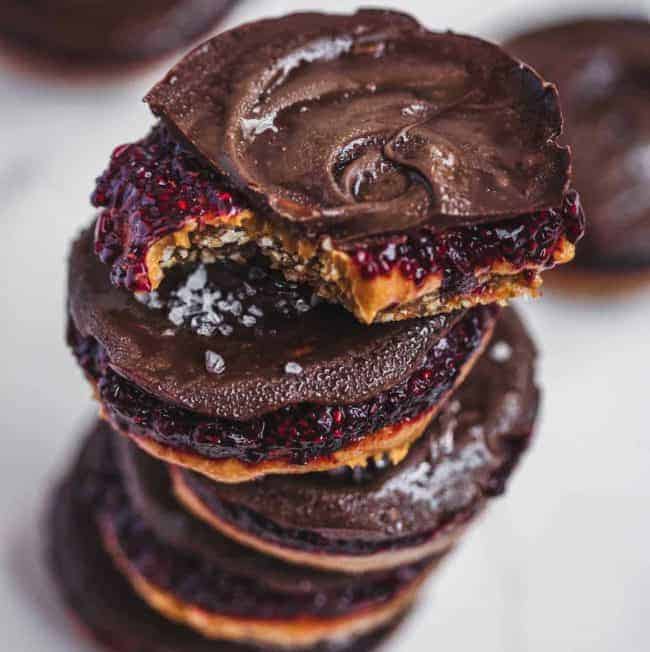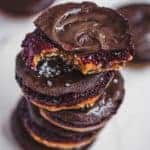 You'll know why they're called "crack bars" after the first bite… Made with coconut, peanut butter and natural sweetener, these vegan bars couldn't be more addictive!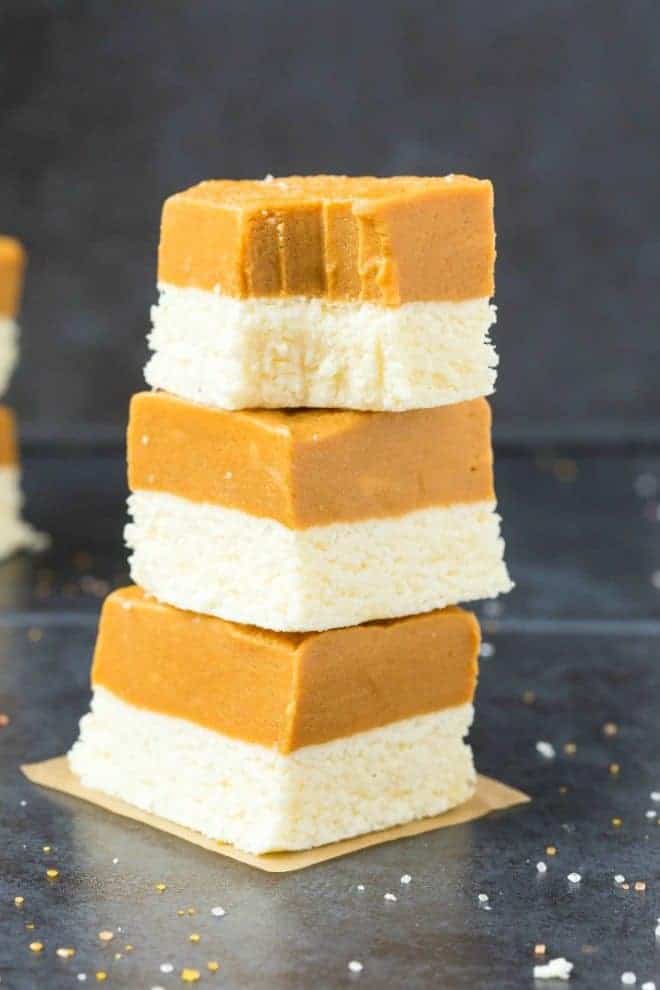 3-Ingredient Paleo Vegan Peanut Butter Coconut Crack Bars
The best and healthy way to enjoy the peanut butter and coconut combination, these no bake peanut butter coconut bars are the best no bake recipe made with just 3 ingredients! An easy 5-minute recipe which is naturally paleo, vegan, and keto friendly.
Check out this recipe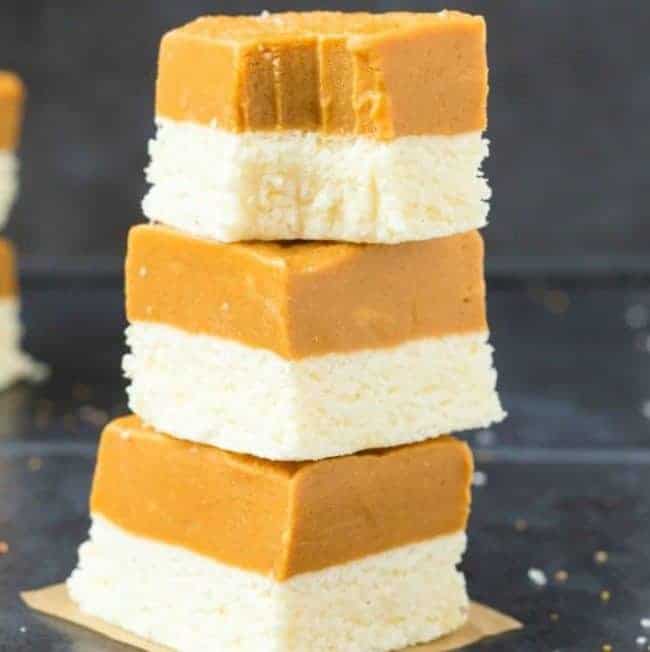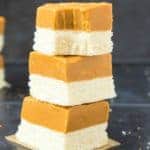 When the smell of spices like nutmeg, cinnamon, ginger, and cloves fill your house, everyone will be waiting in the kitchen for the oven timer to ding.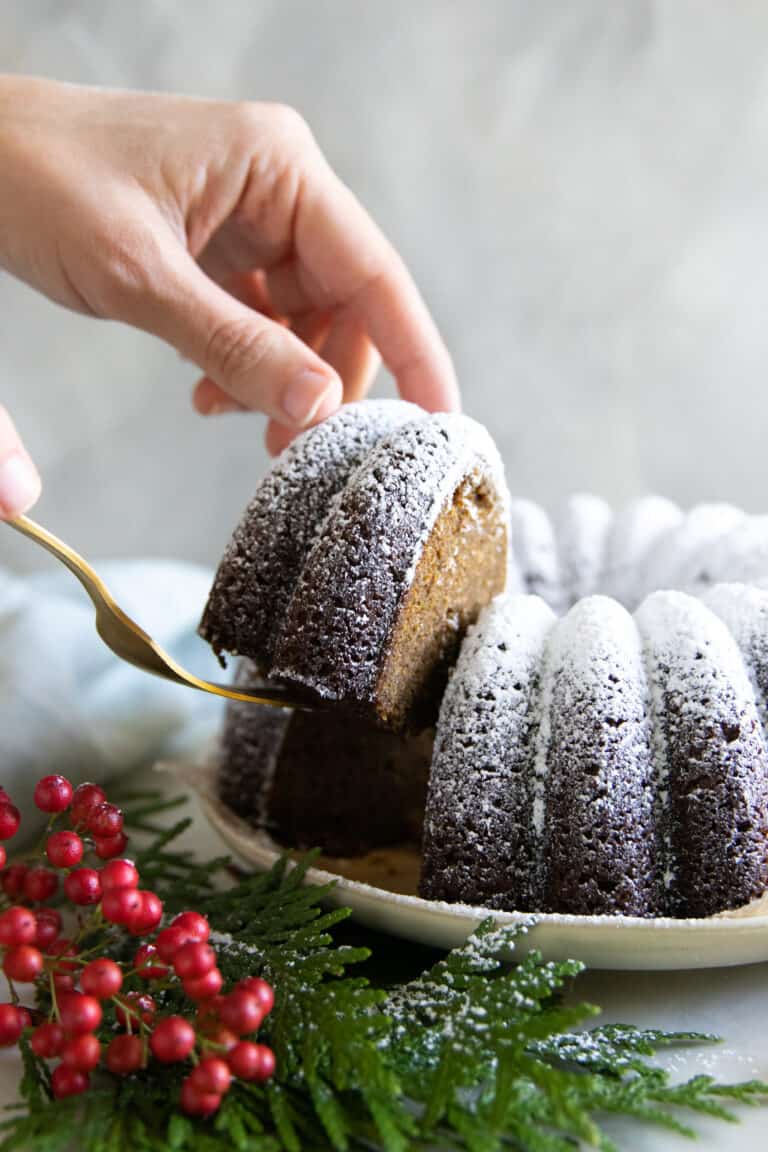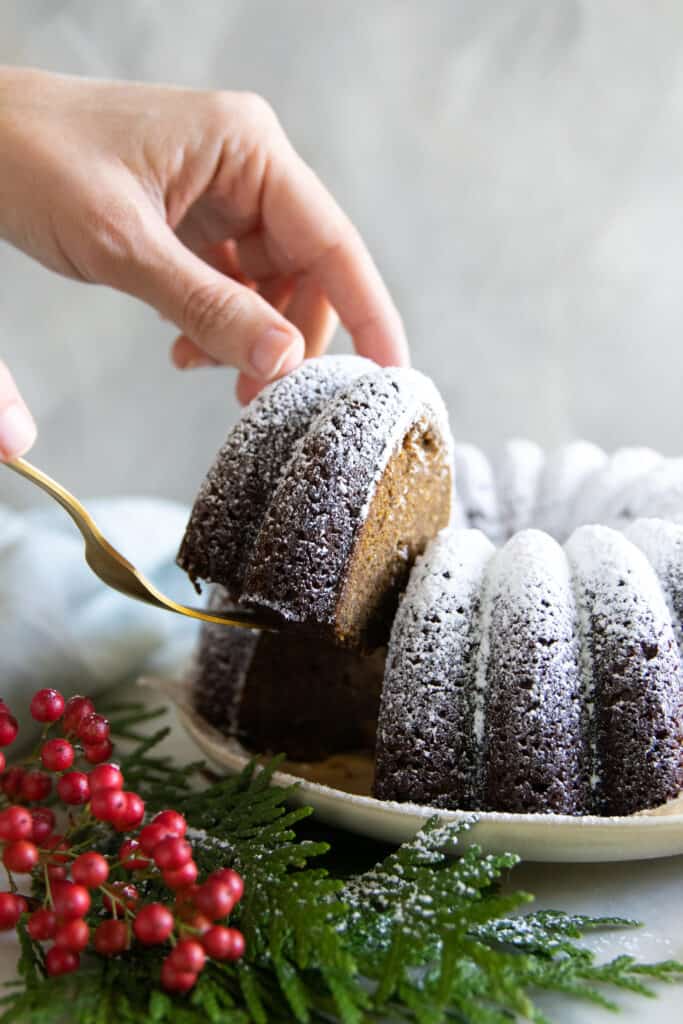 Best Ever Vegan Gingerbread Cake
Nothing embodies the smell and taste of the holidays like gingerbread cake baking in the oven.
Check out this recipe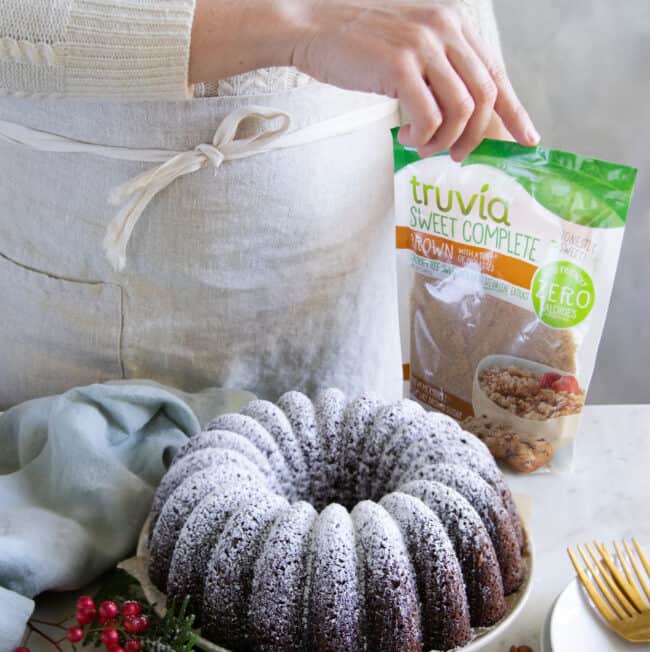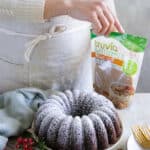 This dip is the easiest way to get your cheesecake fix–whip up a batch and use it for dipping fresh fruit, spreading onto waffles or toast, and smearing onto cookies.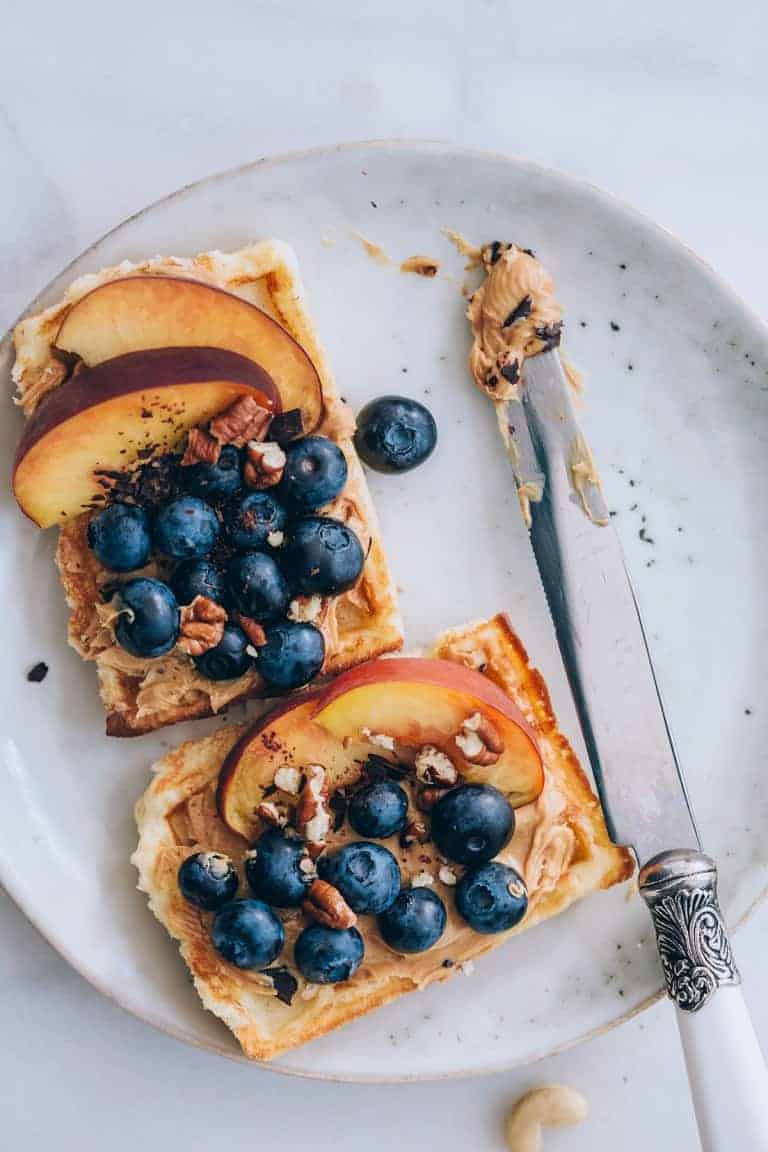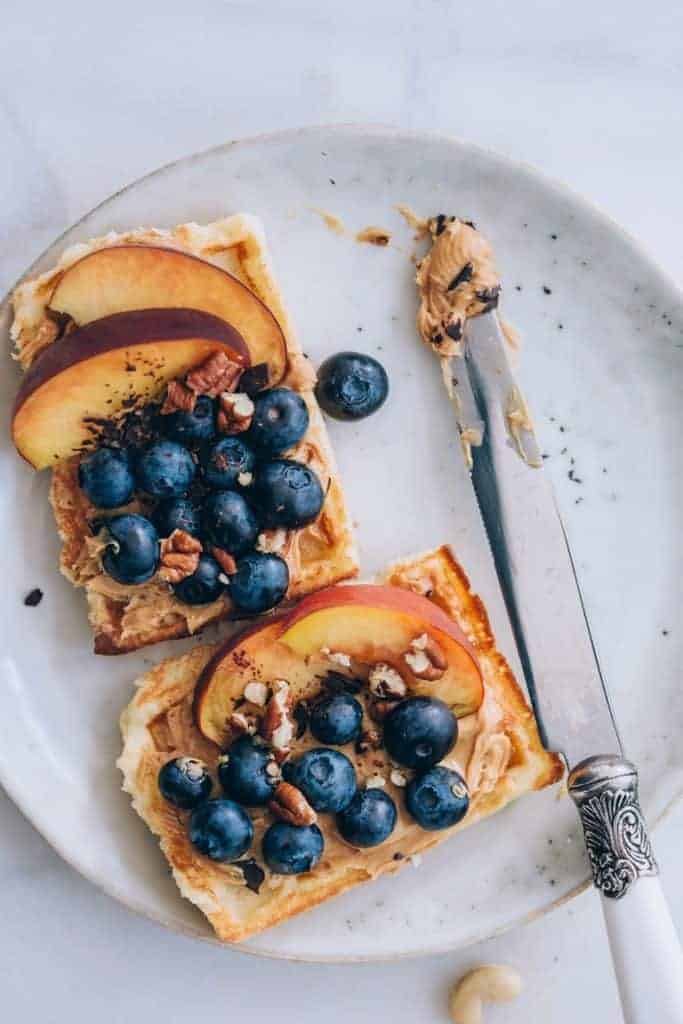 Vegan Chocolate Chip Cheesecake Dip
A cashew-based dip and spread that tastes just like cheesecake - but healthier!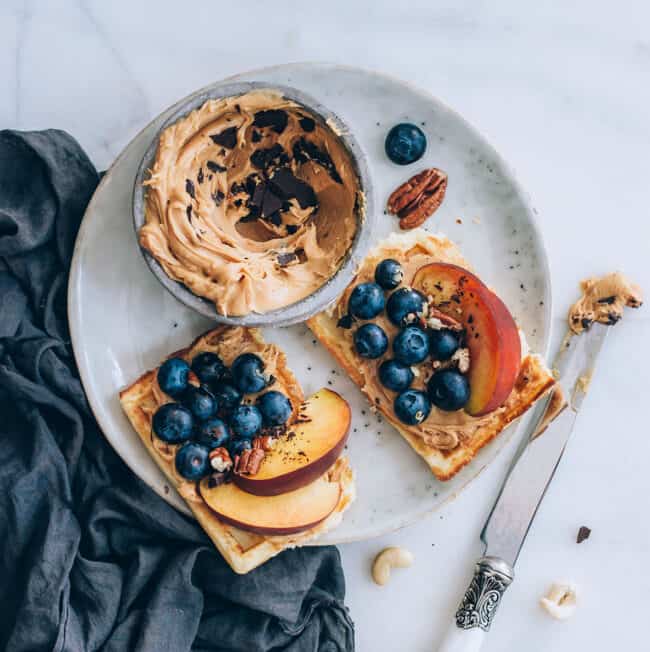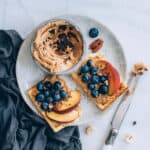 223