Spring will soon be in full bloom, and we will once again be given access to the exceptional plant pharmacy provided by nature. It's time for fresh berries loaded with antioxidants, liver cleanse-promoting fresh greens, and skin radiance-boosting and gut-healing fermented veggies.
There are so many ways to use this free pharmacy for supporting your inner and outer radiance, and this gorgeous beauty breakfast is designed to delight and nourish you from the inside out.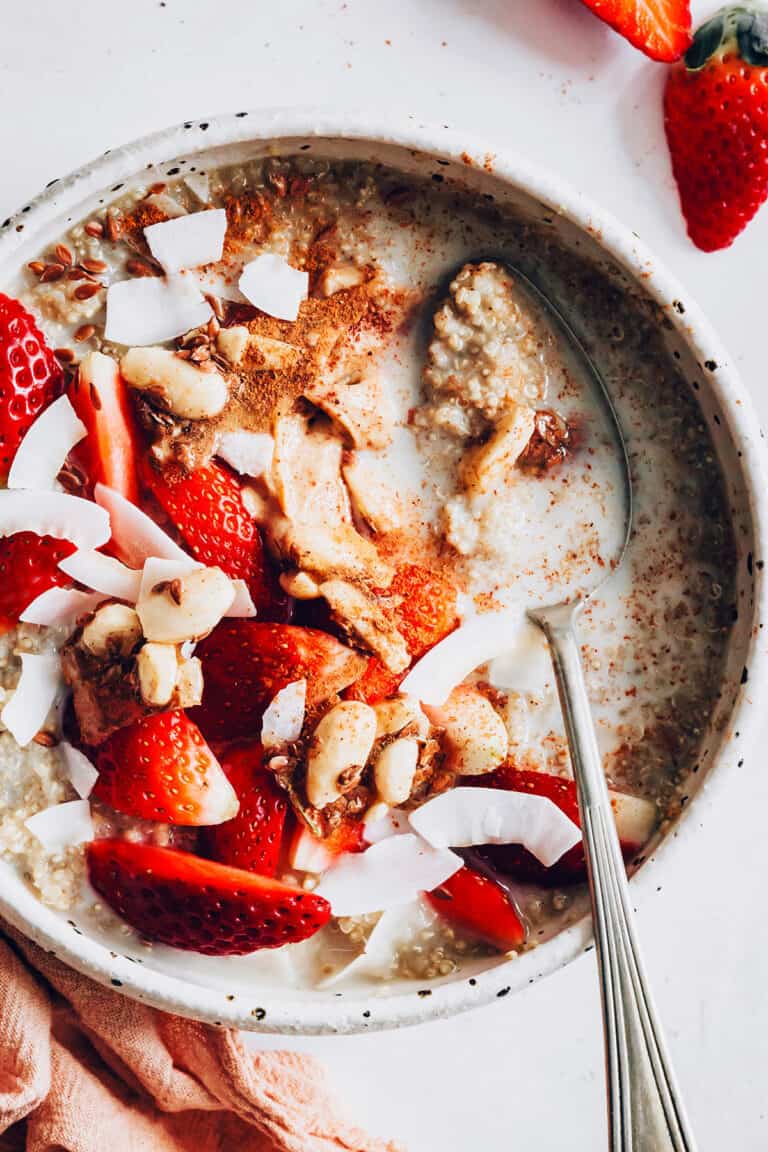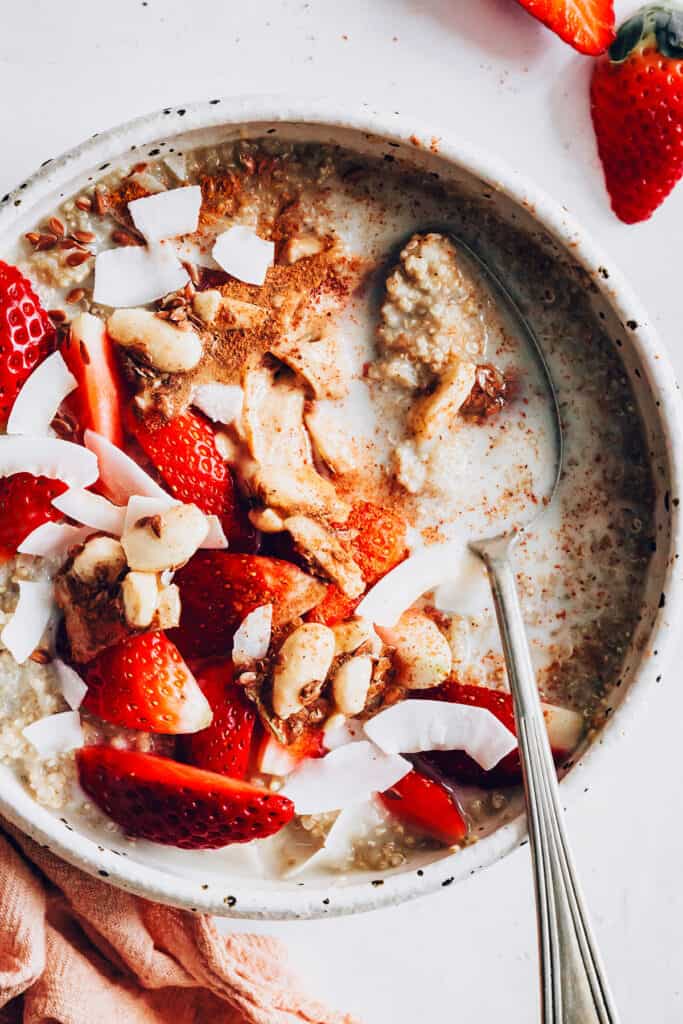 I love packing my breakfast with protein, which keeps me satiated until lunch, and also helps to keep my blood sugar levels in balance for an efficient metabolism. Protein also provides the building blocks for collagen, which is responsible for that firm and glowing skin [source].
This breakfast bowl uses quinoa as a complete protein source, making it not only a comforting way to start your morning, but also a beauty-boosting nutrient package for the upcoming day's events.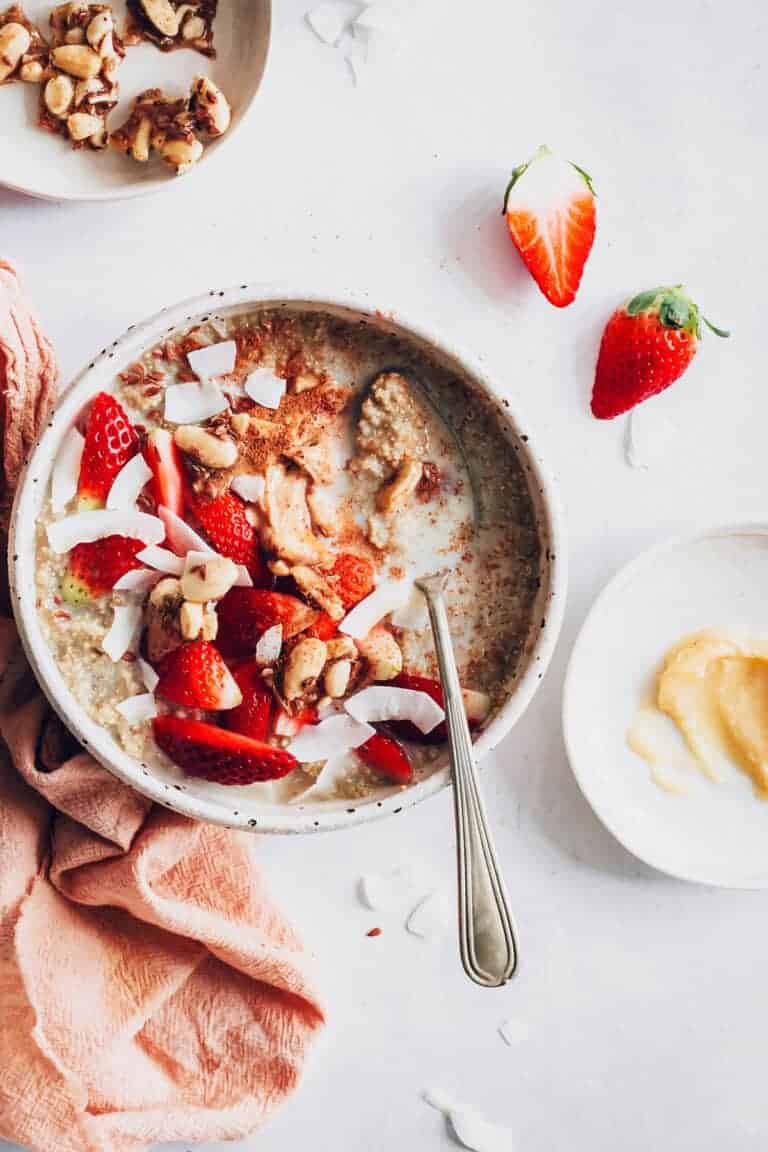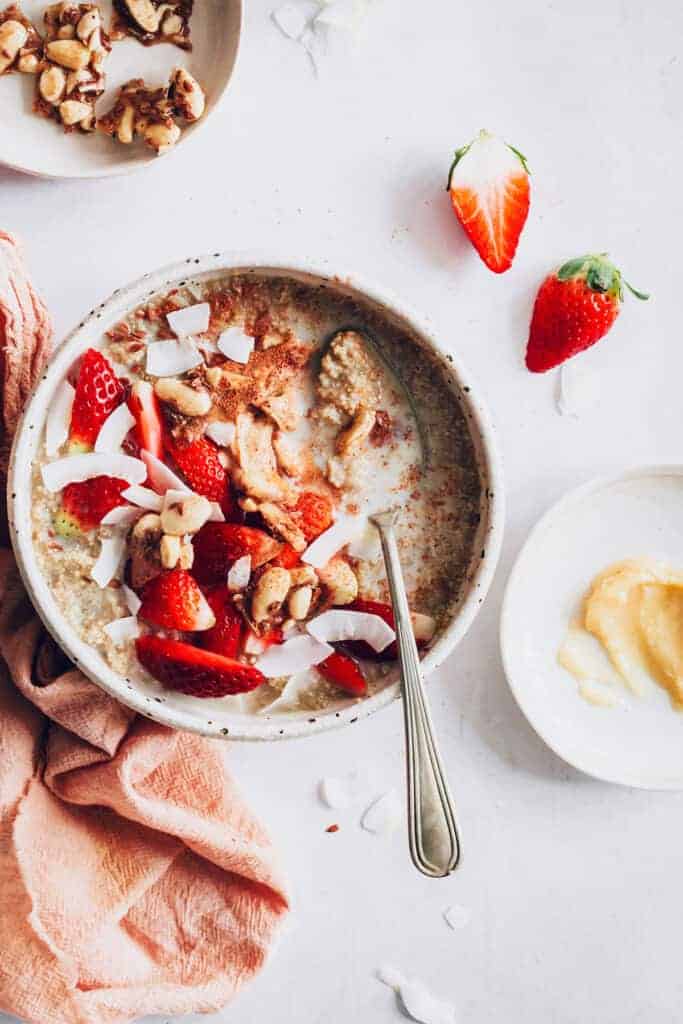 In the search for natural ways to support your beauty from the inside out, make sure you keep in mind the following key ingredients: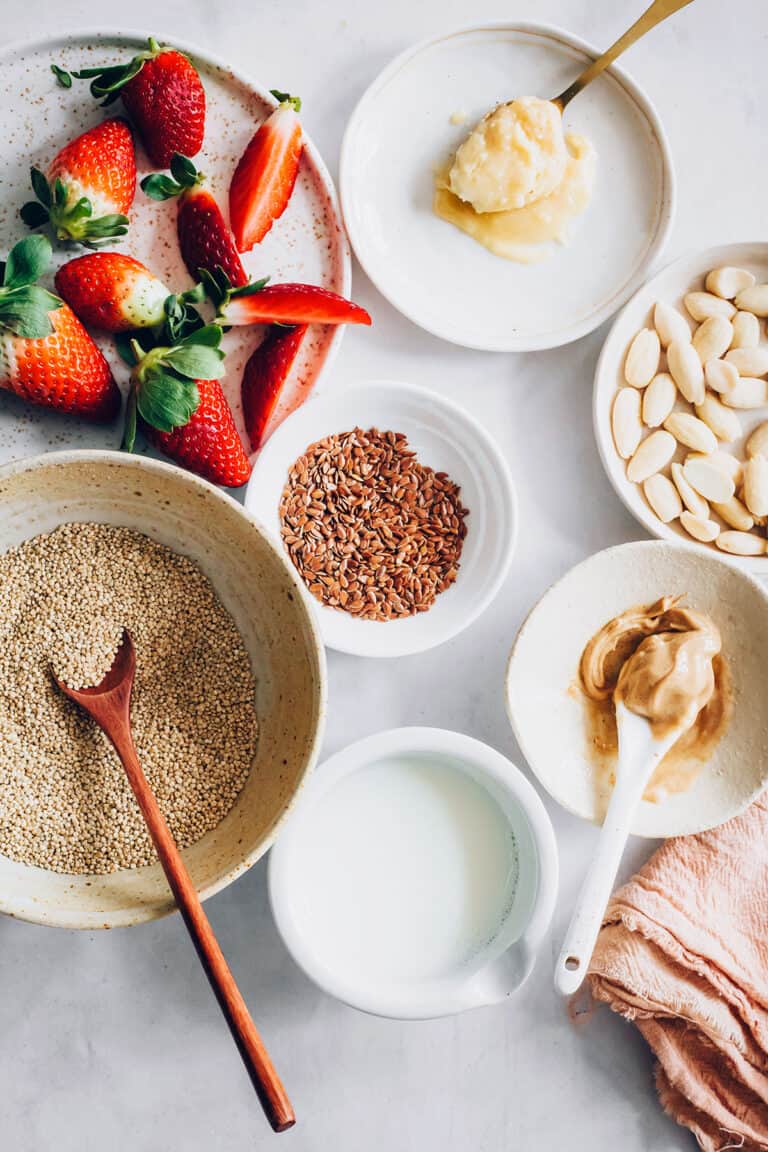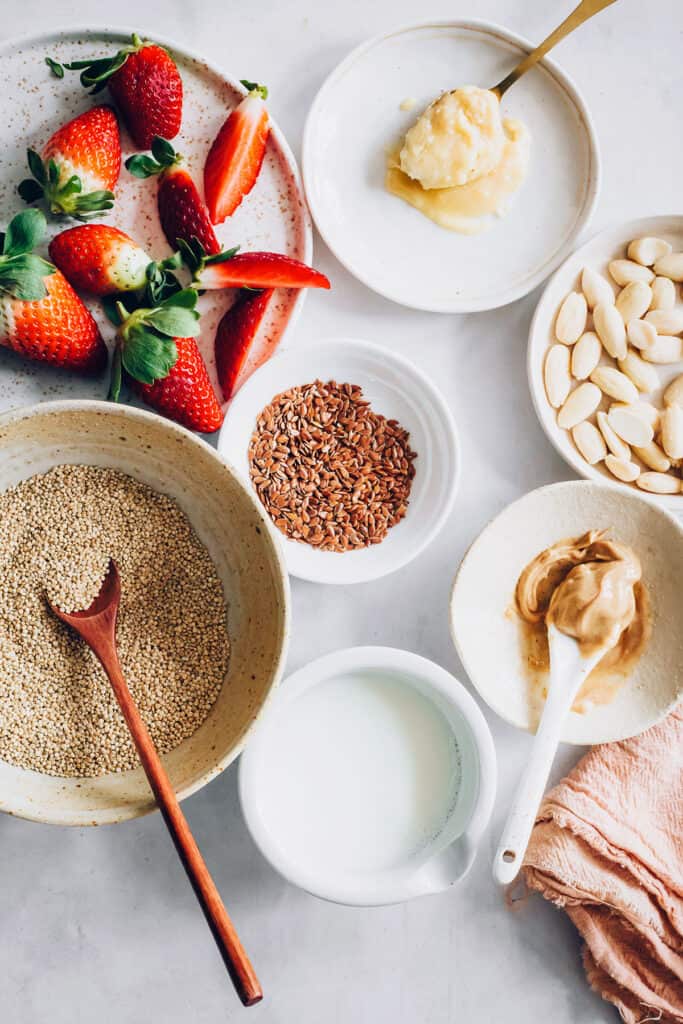 Prebiotics and probiotics
Consider keeping your gut healthy as a passport to overall good health [source]. A happy, replenished microbiome boosts the immune system, improves nutrient absorption, produces serotonin for a good mood, and neutralizes toxins, alleviating the burden on your liver and skin [source].
Honey, oats, and flax are my favorite prebiotics, while cultured veggies and certain brands of natural yogurt are loaded with good bacteria to replenish your microbiome (check the labels to be sure live cultures are included).
Vitamins
While we should feed our body with a diverse range of vitamin-packed ingredients, the focus here is on these three:
vitamin C to balance hormone production and support collagen synthesis
vitamin E fights inflammation, which is the primary cause of premature aging
vitamin D which is linked with calcium absorption, healthy bones, and a balanced mood.
You can find vitamin C in fresh berries and greens, vitamin E in nuts and seeds, and vitamin D in egg yolk and mushrooms.
Omega-3s
These are a great anti-inflammatory ingredient. They help to maintain the cell membrane of skin from the inside, while reducing the marks from oxidative stress on your skin from the outside. Flax and hemp seeds are excellent plant-based omega-3 sources [source].
Key minerals
Magnesium, calcium, zinc, manganese, iron—they are all involved in cell activities, including repair and regeneration, and natural detoxification. Some of my favorite mineral sources are whole grains, nuts and seeds, fresh greens, and dark chocolate.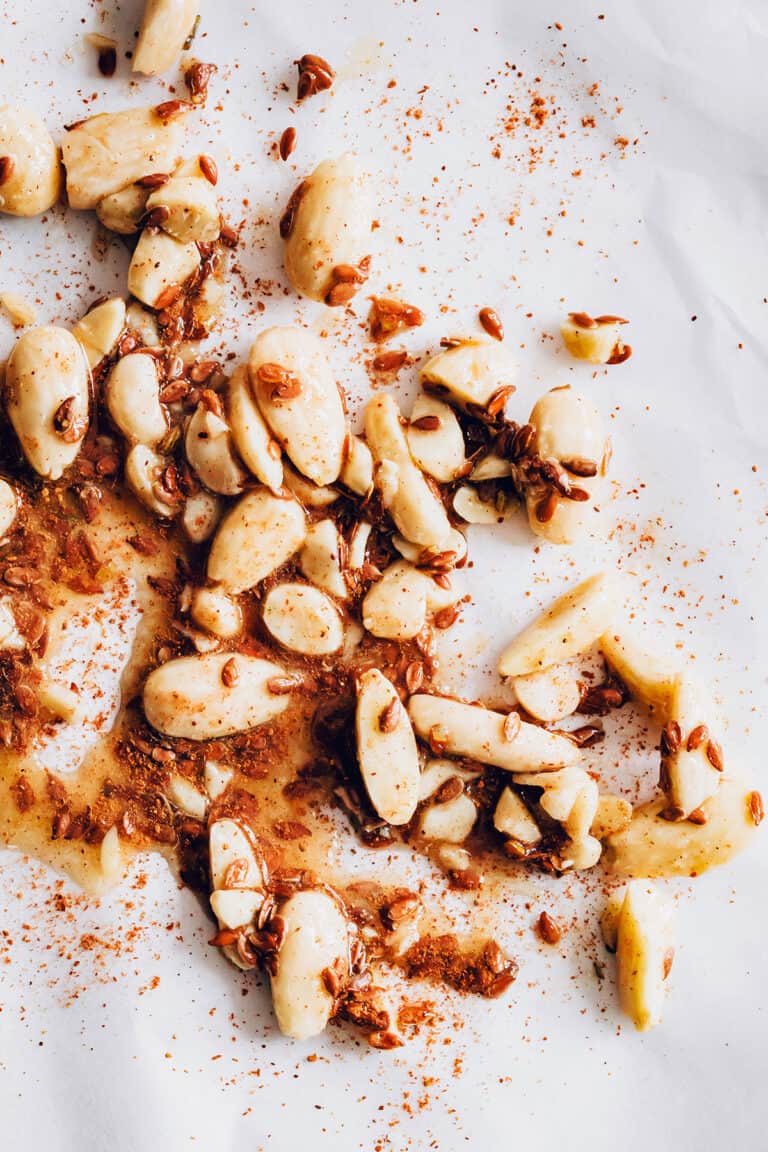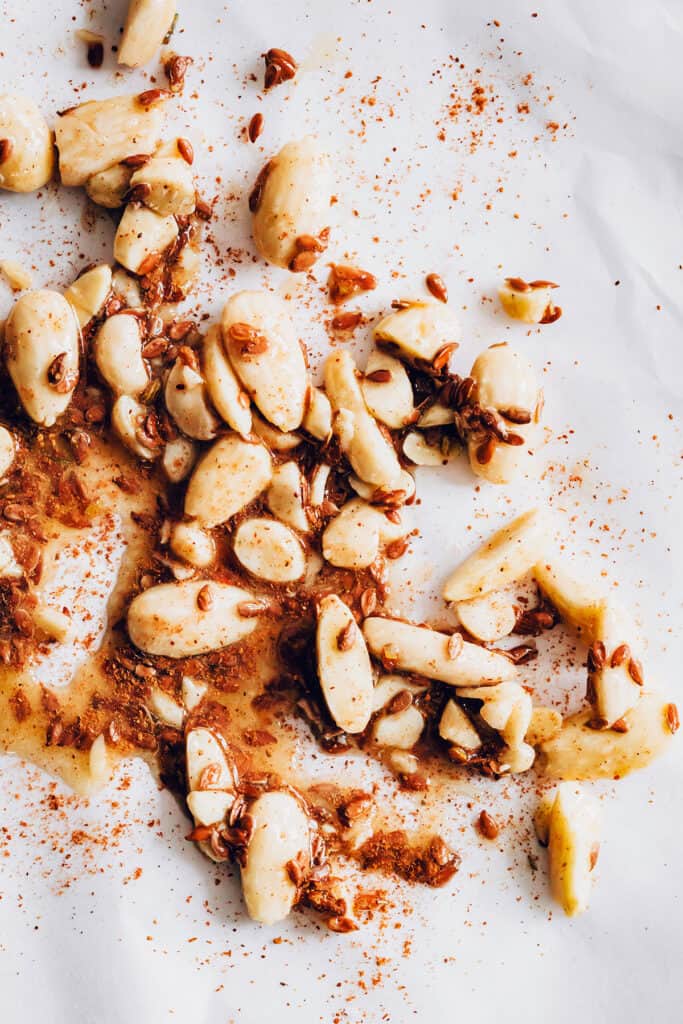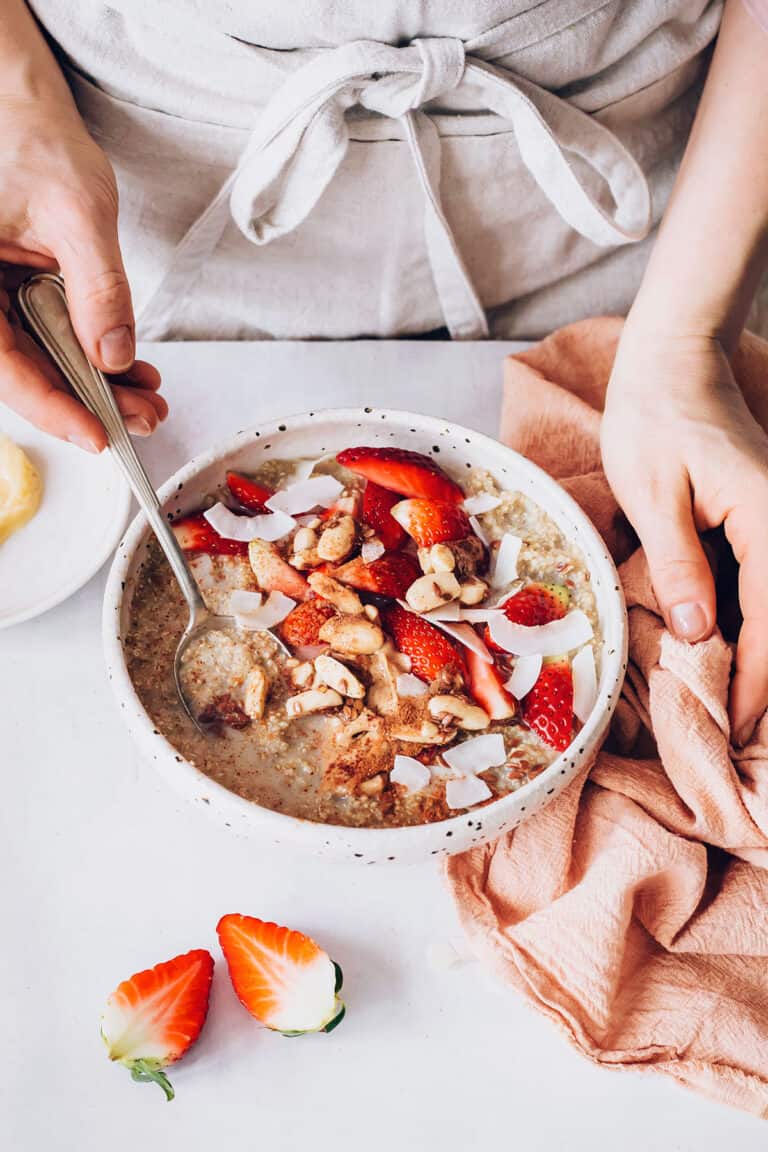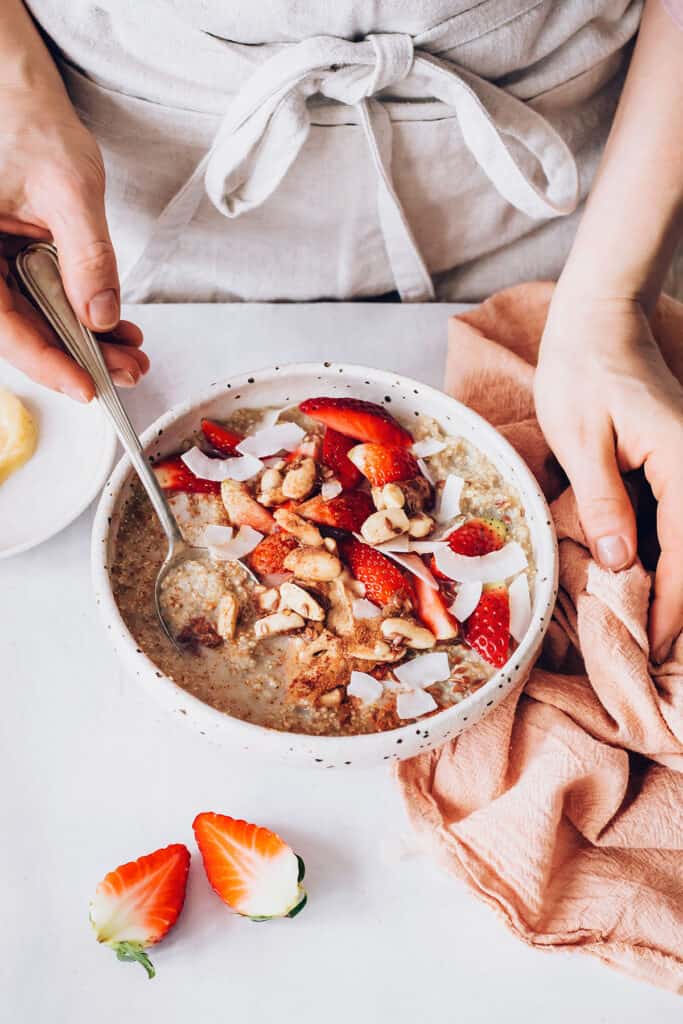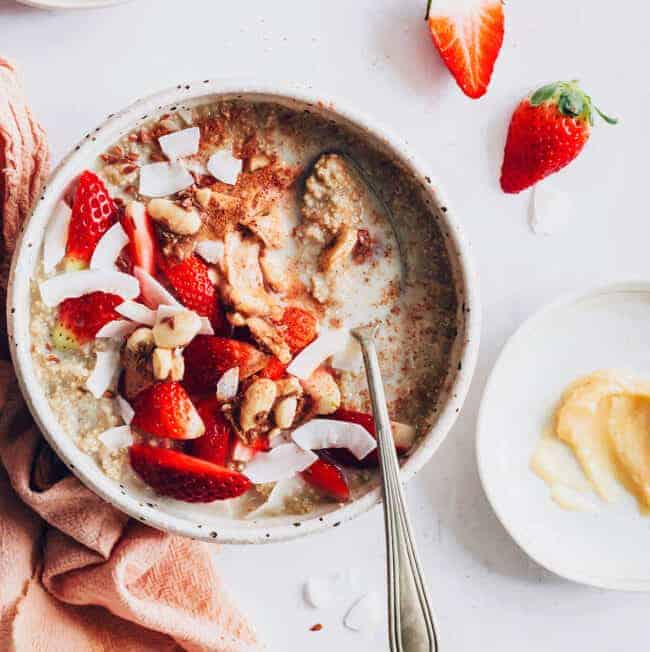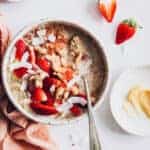 Print Recipe
Quinoa Bowl Recipe with Honey Almond Toffee and Strawberries
Made with quinoa and served with fresh strawberries and a simple almond toffee, this beauty breakfast bowl is everything you need to glow from inside out.
Ingredients
2

cups

cooked quinoa

well drained

5–6

fresh strawberries

diced

1

cup

coconut milk

(or any plant milk you prefer)

1

cup

raw almonds

1

tbsp

flax seed

roughly ground

2

tsp

maca powder

2

tsp

coconut oil

2

tbsp

honey

2

tsp

nut butter

1

tsp

cinnamon

coconut flakes, to garnish
Instructions
Start by making the toffee. Place the almonds and flax into a non-stick skillet and drizzle with honey.

Place over low heat and stir frequently until the honey is caramelized. Add the cinnamon and stir to combine.

Transfer onto a plate lined with parchment paper and refrigerate for 5 minutes, until the toffee thickens.

Break or cut the toffee into chunks and place in a bowl.

Add the quinoa, coconut milk, coconut oil, and maca powder into a pot and place over low heat.

Heat until comfortable to eat, stirring frequently, then divide into serving bowls.

Top with diced strawberries, nut butter, coconut flakes, and toffee chunks. Serve warm.
Nutrition
Serving:
300
g
|
Calories:
382
kcal
This article was medically reviewed by Dr. Gina Jansheski, a licensed, board-certified pediatrician who has been practicing for more than 20 years. Learn more about Hello Glow's medical review board here. As always, this is not personal medical advice and we recommend that you talk with your doctor.
7