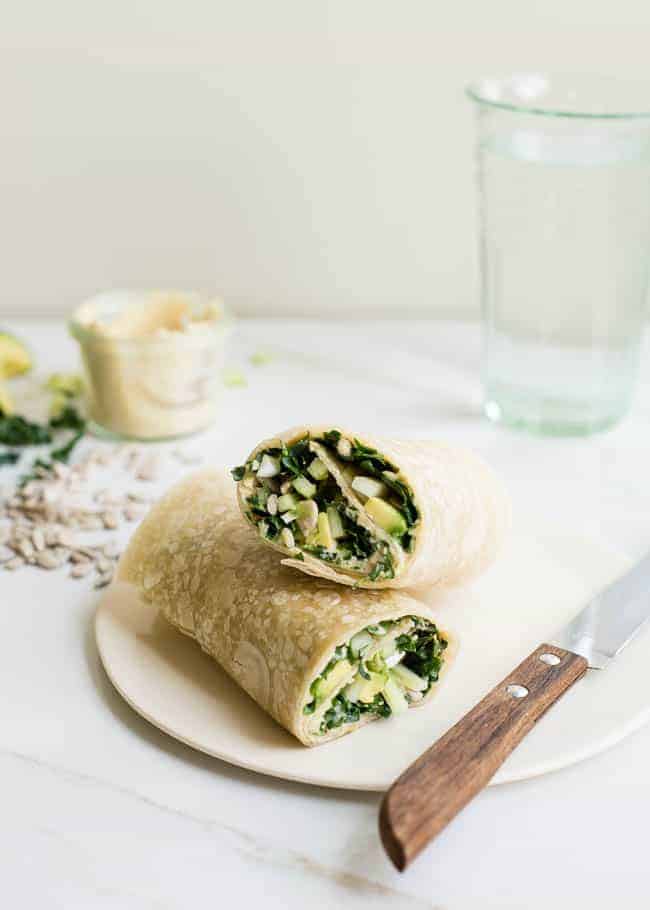 My morning always seem to fly by quickly and I don't notice it's lunchtime until my stomach is growling something fierce. And I'm not going to lie - sometimes chips and salsa sound like a perfectly acceptable quick lunch. But I also know that if I want to avoid an afternoon slump, I need to eat a healthy, filling lunch to keep me going. One packed with protein, veggies and healthy fats is a tried and true way to keep my blood sugar stable and keep me from raiding the candy jar come 4 PM. Enter the Protein-Packed Kale and Hummus Wrap.
Kale + avocado hummus wrap
This wrap is easy to make and stores really well, meaning I can put a few together in advance so I have lunch for several days already planned out. It's also easy to swap out different veggies and greens. You could also add cheese if you want to for a little extra fat and protein.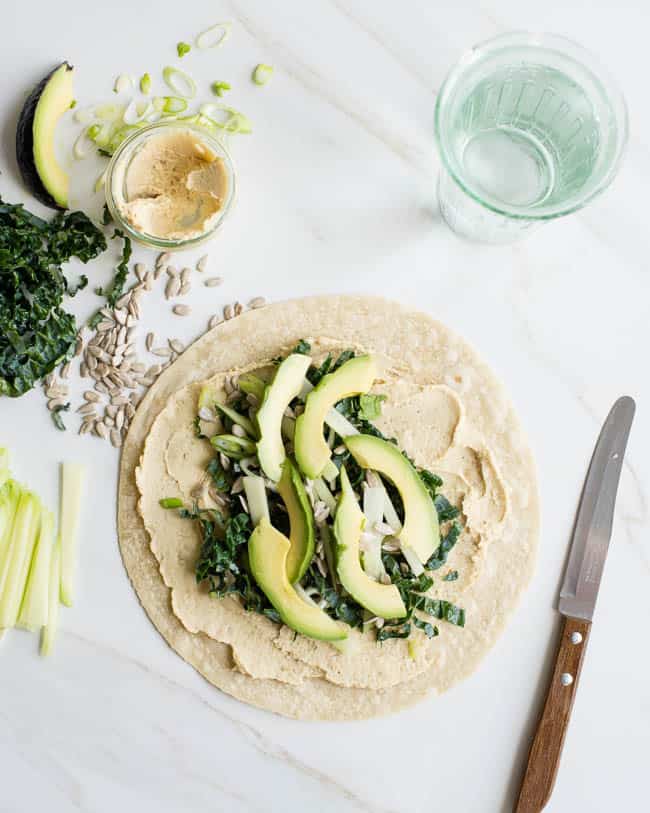 The hummus, kale, sunflower seeds and avocado provide protein and good fats to keep your body satiated.
Kale is loaded with all sorts of vital nutrients that are often missing from our everyday diets. It's chock full of fiber, antioxidants, calcium, and vitamins K and C, among others. Not to mention an abundance of chlorophyll and iron which help nourish the blood. It's also super low in calories, making it one of the most nutrient dense foods on the planet.
Sunflower seeds and avocados are loaded with healthy monounsaturated fats. Avocados in particular contain a lot of oleic acid, the same fatty acid found in olives and olive oil, which has been shown to modulate blood pressure, improve the body's ability to repair itself and protect cells from free radical damage.
Lastly, chickpeas are a high fiber food that helps improve digestion and keep your feeling full longer. They're often featured in Mediterranean diets because they're a good source of protein, carbohydrates and minerals, such as iron, calcium, magnesium, manganese and zinc.
If you're grain-free, you could totally make this using lettuce leaves or collards instead of a flour-based wrap. To make it ahead, keep it wrapped well with plastic wrap to keep it from drying out. Toss the avocados with a little lemon juice to keep them from turning dark brown. (They will turn a little brown, but they're safe to eat.) Store in the fridge until you're ready to eat.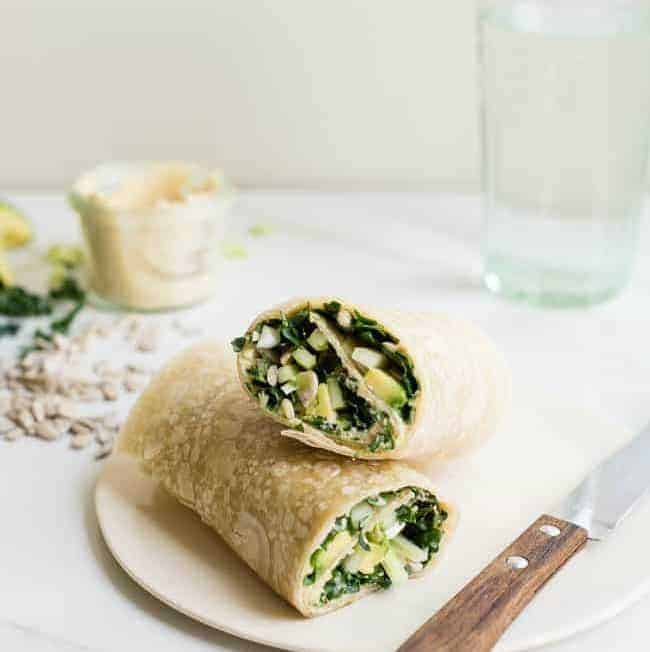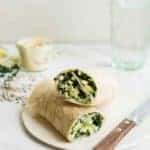 Print Recipe
Kale and Hummus Wrap
Give your afternoon a boost with this yummy, protein-packed wrap made with hummus, kale, avocado, cucumber, green onions, and sunflower seeds.
Ingredients
1

whole grain tortilla

1

tablespoon

hummus

¼

avocado, sliced

¼–½

cup

thinly sliced kale

1

teaspoon

raw sunflower seeds

¼

cup

julienned cucumber

2

teaspoons

thinly sliced green onions
Instructions
Lay the tortilla on a clean flat surface. Spread the hummus over the tortilla in a thin, even layer. Top with the remaining ingredients, leaving extra space on the sides. Start with one edge and roll the tortilla up. Cut in half and eat.
Notes
Store leftovers in the refrigerator for up to 48 hours.
167