After meeting with Herbalife's nutrition expert, Susan Bowerman, I took her suggestions and got to work. She told me I was doing well with my food choices, but I could do better.
Susan's best advice for me was "prep once, eat twice." Since we typically eat leftover dinner for lunch, my goal was to apply this to breakfast, dinner, snacks and drinks.
Here are some easy recipes that work well for my schedule with a one-year-old, and allow me to prep as much as possible in advance to make mealtimes less chaotic.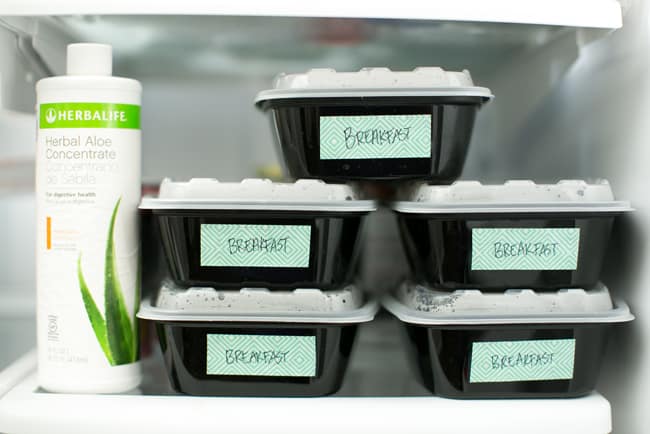 Breakfast
When I wake up, I know I only have a few moments before my daughter starts to fuss. I have to get breakfast going quickly. Below, I've included two of my favorite quick and easy breakfast options for moms on-the-go.
Green Breakfast Shake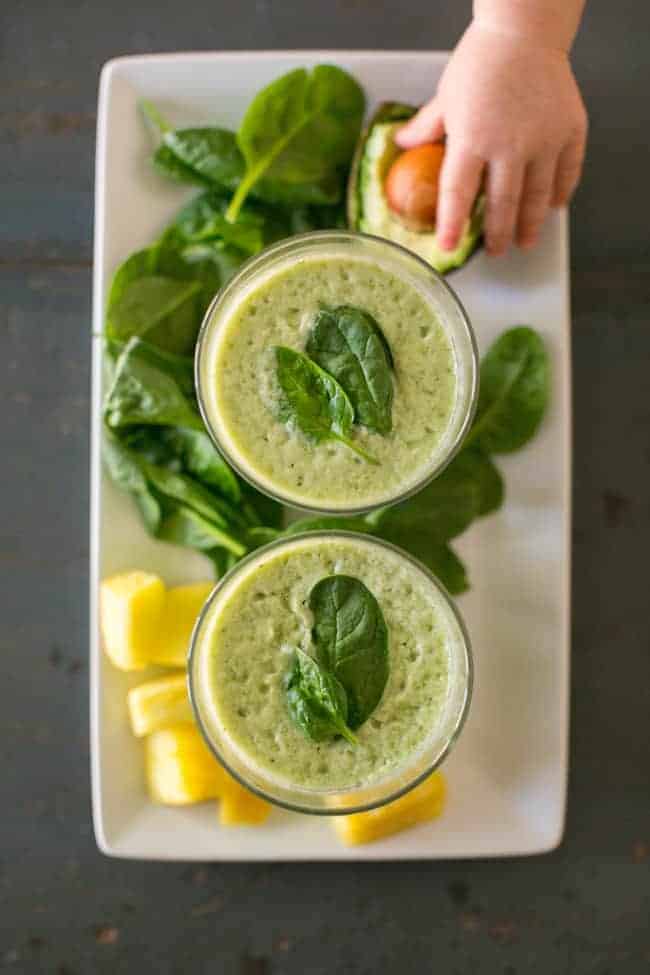 This shake is so easy; you don't need to do any prep. It contains protein and healthy fats to help keep me powered and satisfied until lunchtime.
Ingredients
1 cup milk dairy or soy
2 scoops Herbalife Formula 1 Vanilla
1-2 tablespoons Herbalife Personalized Protein Powder
1 cup fresh or frozen pineapple
½ avocado
2 cups spinach
1 cup ice if you used fresh pineapple
Instructions
Just blend everything together and enjoy.
Breakfast Frittata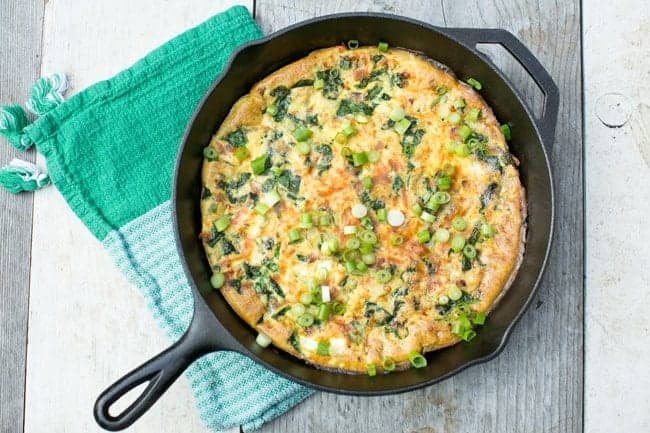 Not only is this frittata incredibly delicious (hello, bacon!), but it also makes 6 days worth of breakfasts. I love that!
Ingredients
4 strips bacon
½ cup diced yellow onion
10 eggs and 1 cup egg whites whisked together
2 cups fresh spinach
½ cup low-fat shredded cheese
Instructions
Heat a large iron skillet over medium heat. Cook bacon until crispy, then remove to paper towels. Chop and set aside.
Add onion to the skillet and cook about 3 minutes, until softened. Add bacon back into the skillet and spread onion and bacon in an even layer, and then add a layer of spinach. Pour in eggs. Sprinkle cheese evenly over the top.
Bake at 350ºF for 15 minutes, then broil for 3-4 minutes more.
Cut into wedges. I cut them into 6 wedges, shared one with my daughter and placed the remainder in the fridge for the rest of the week. This is also a great way to get my daughter to eat spinach!
4 Quick and Easy, Go-To Snacks
Almost like clockwork, my daughter needs a snack a few hours after breakfast. As I'm getting her something to eat, I find myself needing to grab something healthy for me to eat too. Here are several of my favorite, easy snacks.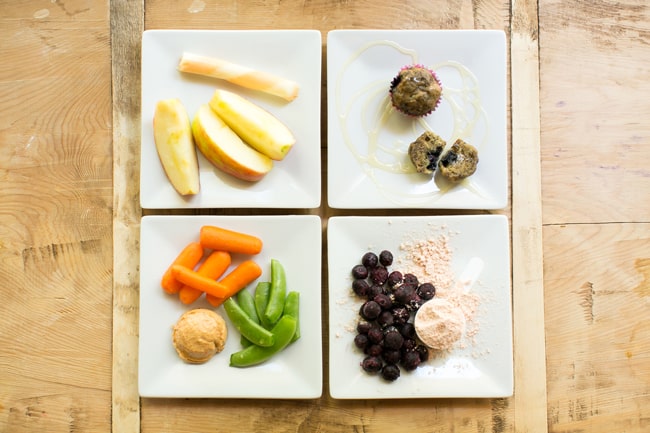 1. My 3 Favorite Herbalife Formula 1 Shakes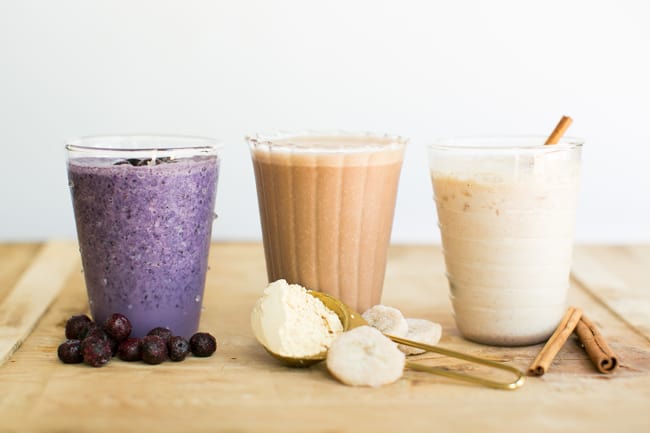 These shakes are easy to whip up and take with you when you need to rush out the door. All that protein makes them so much more filling than the typical fruit-and-spinach smoothie!
Cinnamon Vanilla Shake
1 cup milk (dairy or soy)
2 scoops Herbalife Formula 1 Vanilla
1 teaspoon ground cinnamon
1 cup ice
(Optional: Add in 1 tablespoon of Herbalife Personalized Protein Powder)
Chocolate Peanut Butter Shake
1 cup milk (dairy or soy)
2 scoops Herbalife Formula 1 Chocolate
2 tablespoons peanut butter powder (extra protein!)
1 frozen banana
(Optional: Add in 1 tablespoon of Herbalife Personalized Protein Powder)
Berry Shake
1 cup milk (dairy or soy)
2 scoops Herbalife Formula 1 Wild Berry
1 cup frozen blueberries
(Optional: Add in 1 tablespoon of Herbalife Personalized Protein Powder)
2. Veggies and Hummus
I like to keep cut vegetables on hand in the fridge so I don't need to prep them when I want a snack. You can even portion out the hummus in advance too. Keep the veggies and hummus in airtight containers that you can grab whenever you need them.
3. Low Fat String Cheese and Fruit
Fruit alone isn't the most well-rounded snack. Pairing it with cheese gives you the protein and fat you need to keep hunger at bay until your next meal.
4. Protein Banana Blueberry Muffins

I love these muffins. There's no added sugar! But they're also great drizzled with a little bit of honey.
Ingredients
2 ripe bananas
1 egg lightly beaten
¼ cup milk
1 cup organic whole wheat flour
½ teaspoon baking soda
3 tablespoons Herbalife Personalized Protein Powder
½ teaspoon salt
1 cup frozen or fresh blueberries
Instructions
In a large bowl, mash bananas with a fork or potato masher. Mix in eggs and milk.
In a separate bowl, whisk together flour, baking soda, protein powder and salt.
Add dry ingredients to wet ingredients. Fold in blueberries. Pour mixture into prepared muffin tins (greased or with baking cups).
Bake at 350ºF for 10-11 minutes for mini muffins, or 15-16 minutes for standard muffins.
Dinner
When my husband gets home, he grabs our daughter and gives me a few moments to pull dinner together. It definitely helps if I already have some of the steps completed. These are some great prepped meals that have made our lives so much easier–and healthier too!
With one batch of pre-cooked meat, you can get a total of 4 meals–2 dinners and 2 lunches. Here's how to do it:
Meat Prep for 2 Recipes
In a large Dutch oven or pot, brown 2 pounds of ground beef or ground turkey until the meat is no longer pink. Add 1 cup of chopped yellow onion and cook about 3 minutes. Add in a clove or two of minced garlic and cook for 2 minutes more.
Divide meat equally and refrigerate. Once your meat is cooked, the following recipes take about 10 minutes to prep and 10-15 minutes to cook.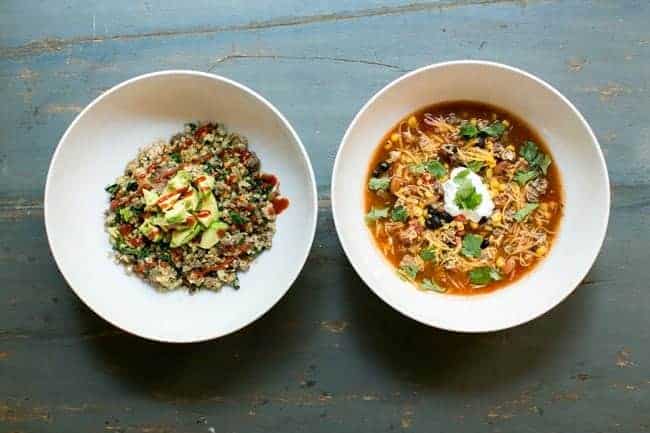 Easy Thyme & Fennel Hash
This is another great way to get some veggies! There's a variety of frozen riced vegetables available at most grocery stores, so feel free to switch things up with your family's favorite.
Ingredients
1 pound pre-cooked lean ground beef or ground turkey with onions and garlic
2 pieces bacon
1 10-ounce bag frozen riced sweet potatoes and cauliflower mixture
2 cups baby spinach
2 teaspoon dried fennel and 2 teaspoons dried thyme crushed together with mortar and pestle
Salt and pepper to taste
Instructions
Cook bacon in a skillet over medium heat until crispy; remove from pan and chop, and reserve fat in pan.
Add in pre-cooked meat mixture to pan. Stir in spinach until wilted (about 2 minutes). Add riced sweet potatoes and cauliflower and bacon, then sprinkle fennel and thyme mixture evenly over the pan. Cook until heated through.
Season with salt and pepper to taste. Mix well and serve.
Taco Soup
This soup is a total crowd-pleaser–and with the cooler weather fall brings, you can't beat a cozy, warm bowl of soup for dinner.
Ingredients
1 pound pre-cooked lean ground beef or ground turkey with onions and garlic
4 cups chicken broth
1 15-ounce bag frozen corn, drained
1 15-ounce can reduced sodium black beans, drained and rinsed
1 15-ounce can chili beans in chili sauce
1 14.5-ounce can fire roasted tomatoes
1 10-ounce can diced tomatoes and green chilies
1 tablespoon chili powder
2 teaspoons cumin
1 teaspoon smoked paprika
1 teaspoon dried oregano
Salt and pepper to taste
Optional Toppings: sour cream or Greek yogurt avocado, shredded cheddar cheese or goat cheese, cilantro, green onions, corn or tortilla chips
Instructions
In a large pot over medium-high heat, add all ingredients except for toppings. Stir. Cover with lid and simmer for 15-20 minutes.
Serve with toppings of choice.
Drinks
I have started prepping my water for the next day, before I go to bed. It makes it easy for me to grab a nice cold bottle of water instead of only drinking the cans of sparkling water that were always my go-to. I add in some Herbalife Aloe Concentrate to help support healthy digestion too.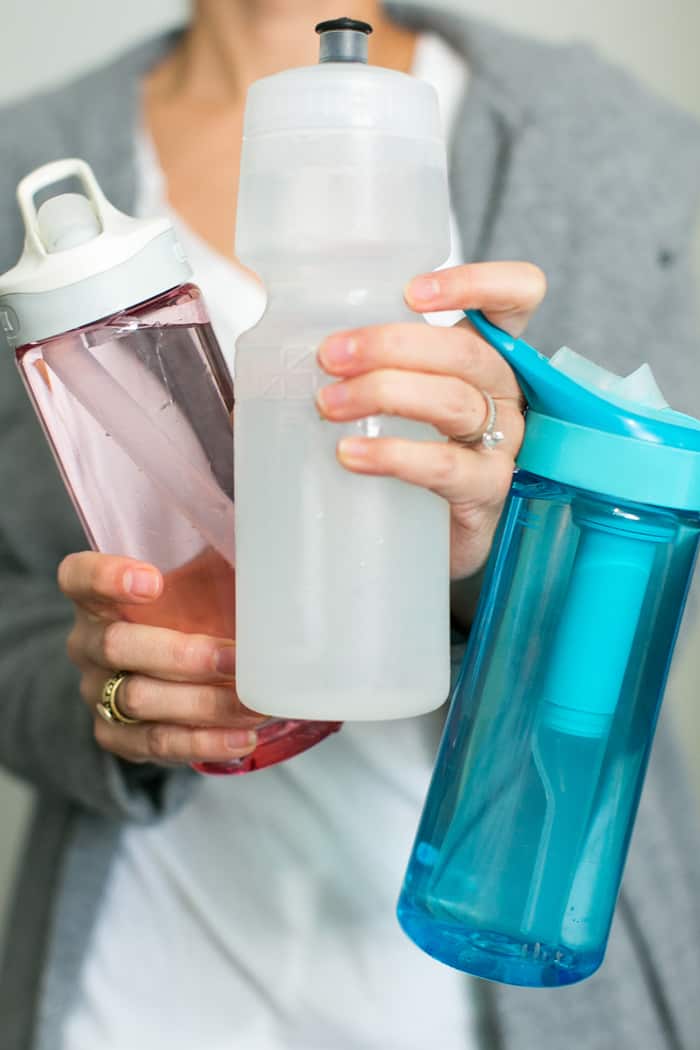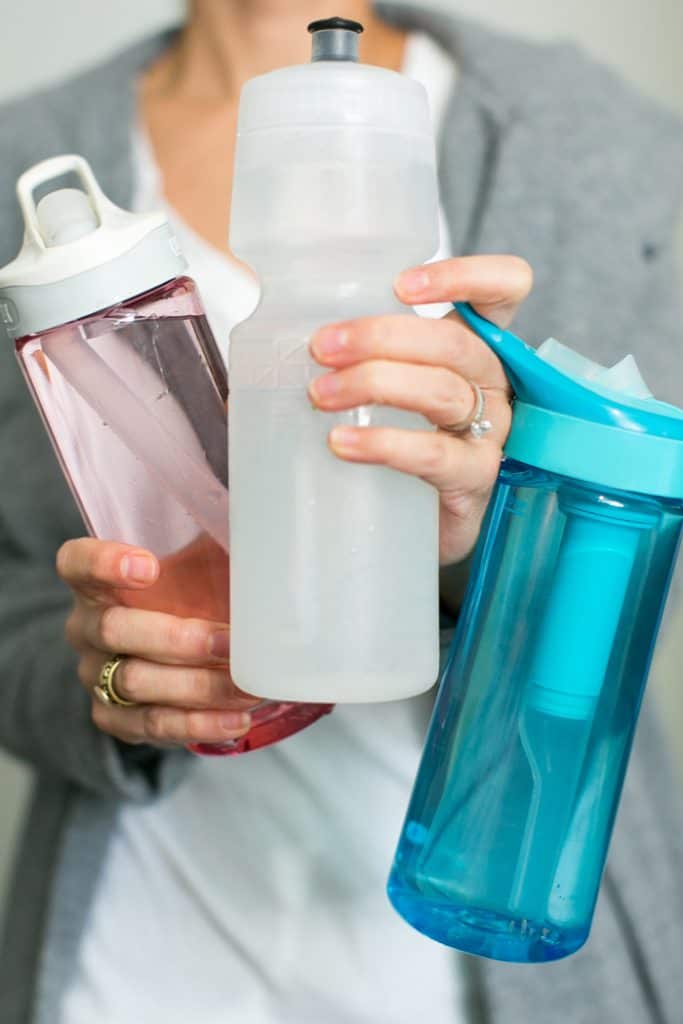 So far, I am really enjoying meal prepping. It absolutely makes my life easier when I have a toddler fussing at my feet–now I can easily grab a snack or a bottle of water or throw dinner together in no time! It's great to have Herbalife Nutrition products to supplement quality nutrition I may be missing on the go and to help me round out my meals and snacks.
This is a sponsored conversation written by me on behalf of Herbalife Nutrition. The opinions and text are all mine.
3