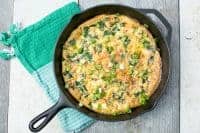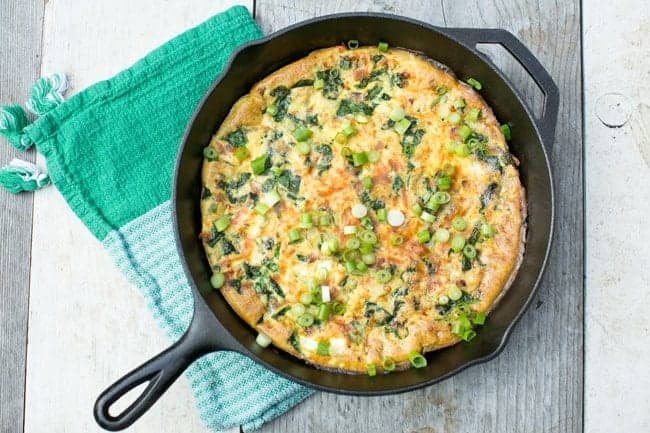 Breakfast Frittata
Ingredients
4 strips bacon
½ cup diced yellow onion
10 eggs and 1 cup egg whites, whisked together
2 cups fresh spinach
½ cup low-fat shredded cheese
Instructions
Heat a large iron skillet over medium heat. Cook bacon until crispy, then remove to paper towels. Chop and set aside.
Add onion to the skillet and cook about 3 minutes, until softened. Add bacon back into the skillet and spread onion and bacon in an even layer, and then add a layer of spinach. Pour in eggs. Sprinkle cheese evenly over the top.
Bake at 350ºF for 15 minutes, then broil for 3-4 minutes more.
Cut into wedges. I cut them into 6 wedges, shared one with my daughter and placed the remainder in the fridge for the rest of the week. This is also a great way to get my daughter to eat spinach!
Recipe by Hello Glow at https://helloglow.co/prep-once-eat-twice-plan/