In my quest for health, I've learned that the bacteria residing in my digestive tract can have an impact on my health. Live and active probiotics are fundamental building blocks for a healthy gut, and a healthy gut can be an integral part of overall health and well-being.
What are probiotics?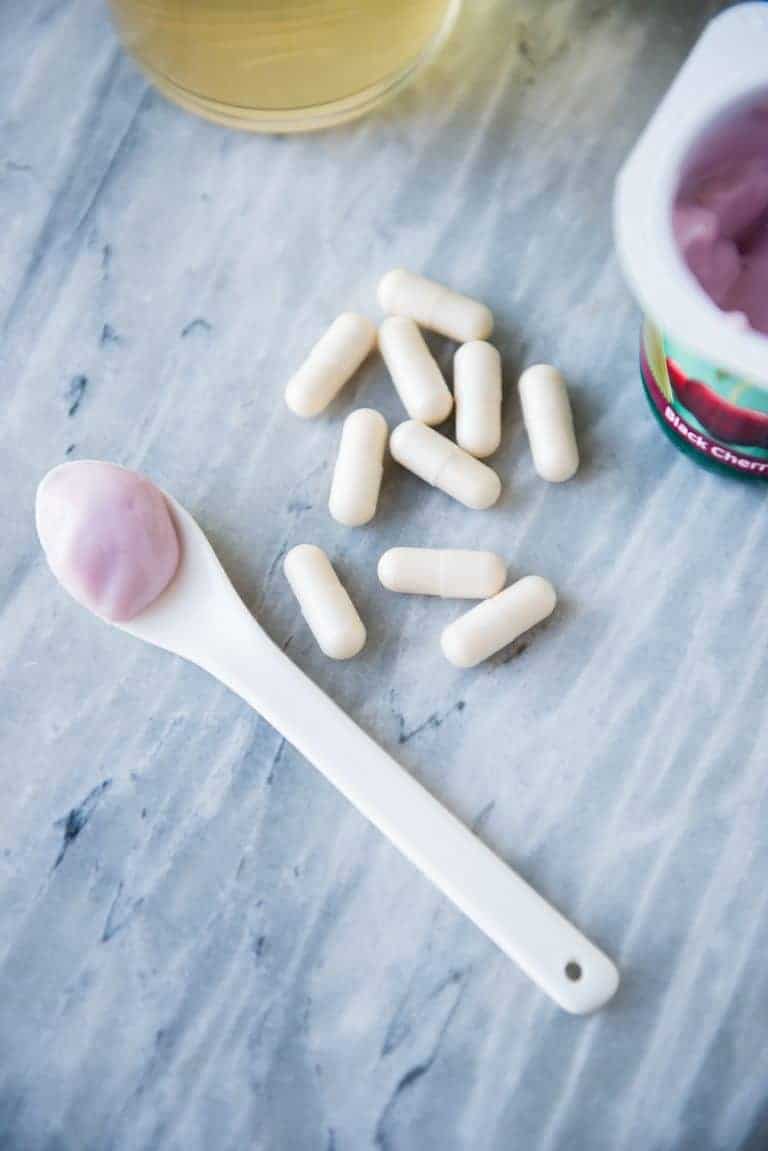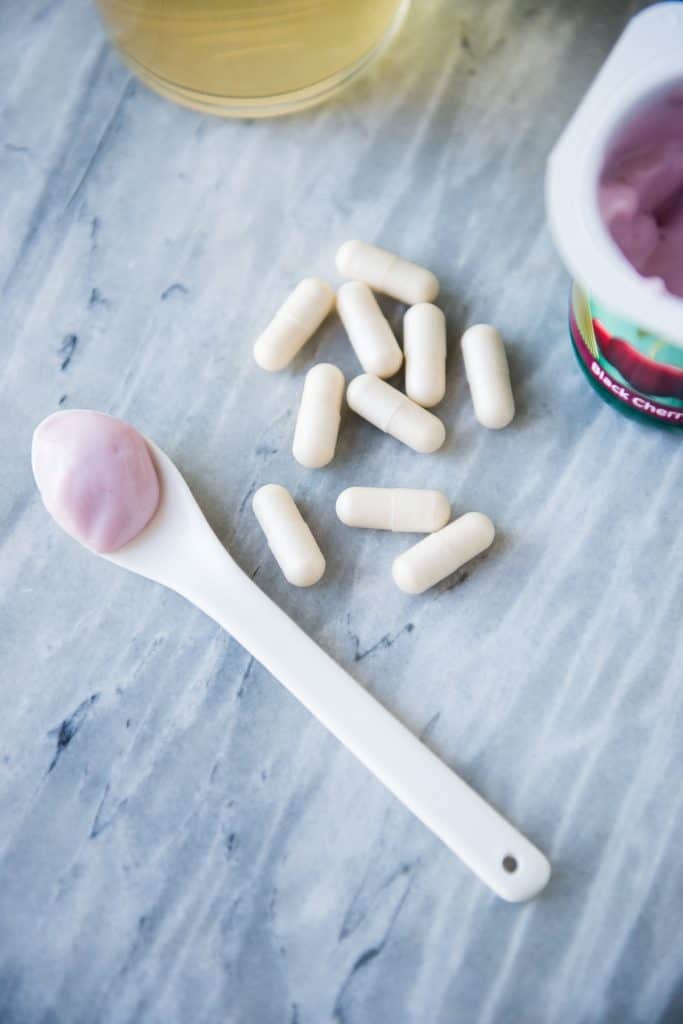 Probiotics are the friendly bacteria that live in our digestive tracts. They do a lot of important work for keeping the gut – and the immune system – healthy and balanced.
There are literally trillions of bacteria that live in the lower digestive tract, from an estimated 500 different species. Everyone has a unique composition of microflora in the gut, which, at times of stress or illness, can get thrown out of balance.
Probiotics help crowd out bad bacteria in the intestines, preventing them from multiplying and causing inflammation or infection. You can think of probiotics as being in charge of crowd control in your intestines.
Probiotics occur naturally in many fermented foods, such as yogurt, kefir, sauerkraut, kimchi, and other lacto-fermented vegetables, as well as in drinks like kombucha. You can also find probiotic supplements in your local health food store, and many foods that are fortified with probiotics as well.
There are countless species of friendly bacteria, but a couple of the most common that you hear about when it comes to probiotics include Bifidobacteria and Lactobacillus.
Bifidobacteria are thought to support the immune system by limiting the growth of harmful bacteria in the intestine, and help break down certain foods into nutrients our bodies are able to use. On the other hand, Lactobacillus bacteria are responsible for producing lactic acid, providing our muscles with fuel, and increasing our ability to absorb certain minerals. Lactobacillus also produce the enzyme lactase, which breaks down lactose, the naturally occurring sugar in milk and other dairy products.
What do probiotics do?
To be honest, current research has really only scratched the surface when it comes to knowing exactly what probiotic bacteria do and how they can help us. Friendly gut bacteria help us do all kinds of things, from properly digesting food to making vitamins.
Many people who suffer from IBS find daily probiotic intake to be helpful, and it's also especially useful in the treatment of diarrhea, whether caused by antibiotic use or infection.
Probiotics are also helpful for oral and vaginal health, and some research shows them to be effective for some skin conditions, such as eczema.
Probiotic Foods versus Supplements: Which is better?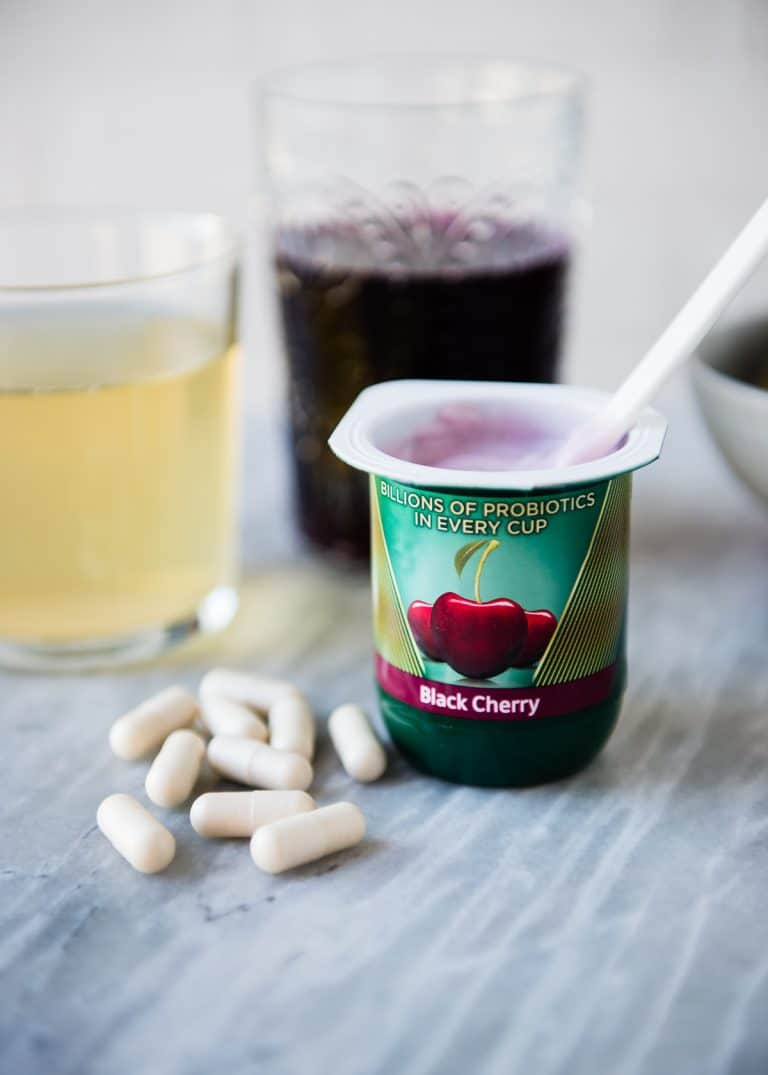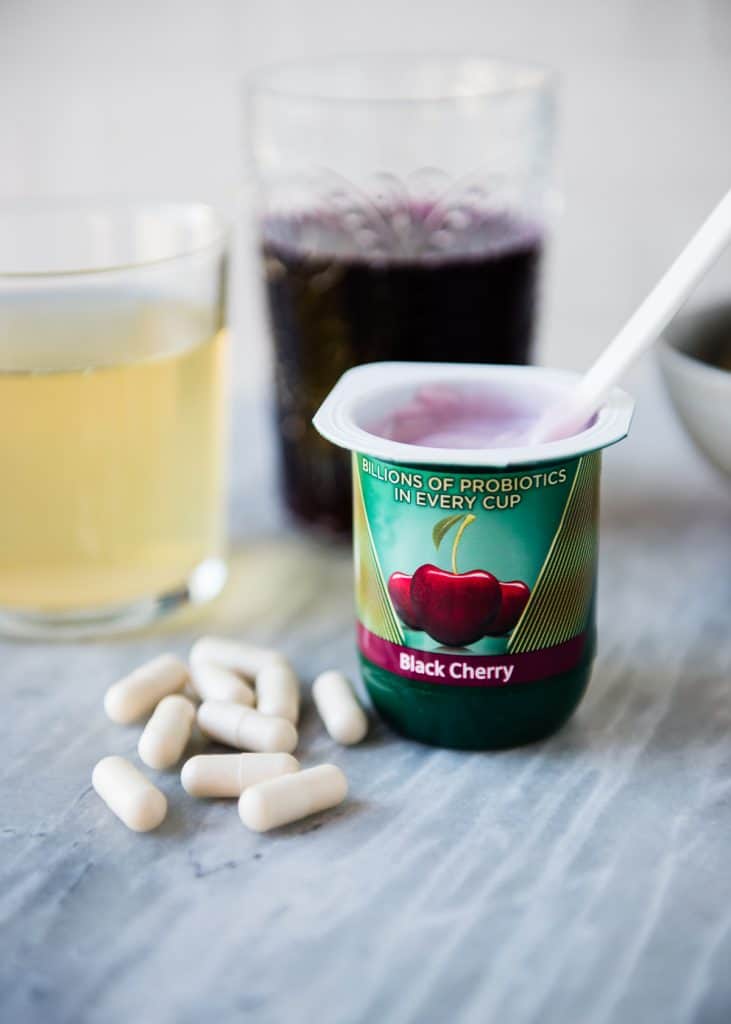 I have tried both supplements and probiotic foods, and I'm here to tell you, when given a choice, I'm always going to lean towards the food versus a pill. Regularly including fermented foods such as yogurt, sauerkraut, kimchi, and tempeh in your diet is one of the easiest, most effective ways to add friendly bacteria to your gut.
Not only are these foods teeming with friendly bacteria, but they have the added benefit of being coupled with other nutrients, which a probiotic supplement would not. More often than not, the fermentation process also "unlocks" certain nutrients, making them more bioavailable and easier to absorb than in non-fermented forms. For example, tempeh contains more bioavailable zinc, calcium, and iron than non-fermented soy products like tofu do.
Additionally, food sources of probiotics often contain a better source of live bacteria than supplements do. Some studies have shown that drinking a tablespoon of liquid from a jar of sauerkraut would provide more probiotics than a supplement would. For example, in a 2006 study, every tablespoon of sauerkraut juice measured contained 1.5 trillion colony forming units (CFU) of probiotic bacteria. Many probiotic supplements containing 50 billion CFU or higher considered "high potency."
The benefit of probiotic supplements, on the other hand, is that you will in general know exactly what you're getting and how much. This is useful when you're trying to target a specific problem and have been advised to supplement with a specific strain of probiotic bacteria. One brand we love is Perfect Pass Probiotic.
Reasons we love probiotic foods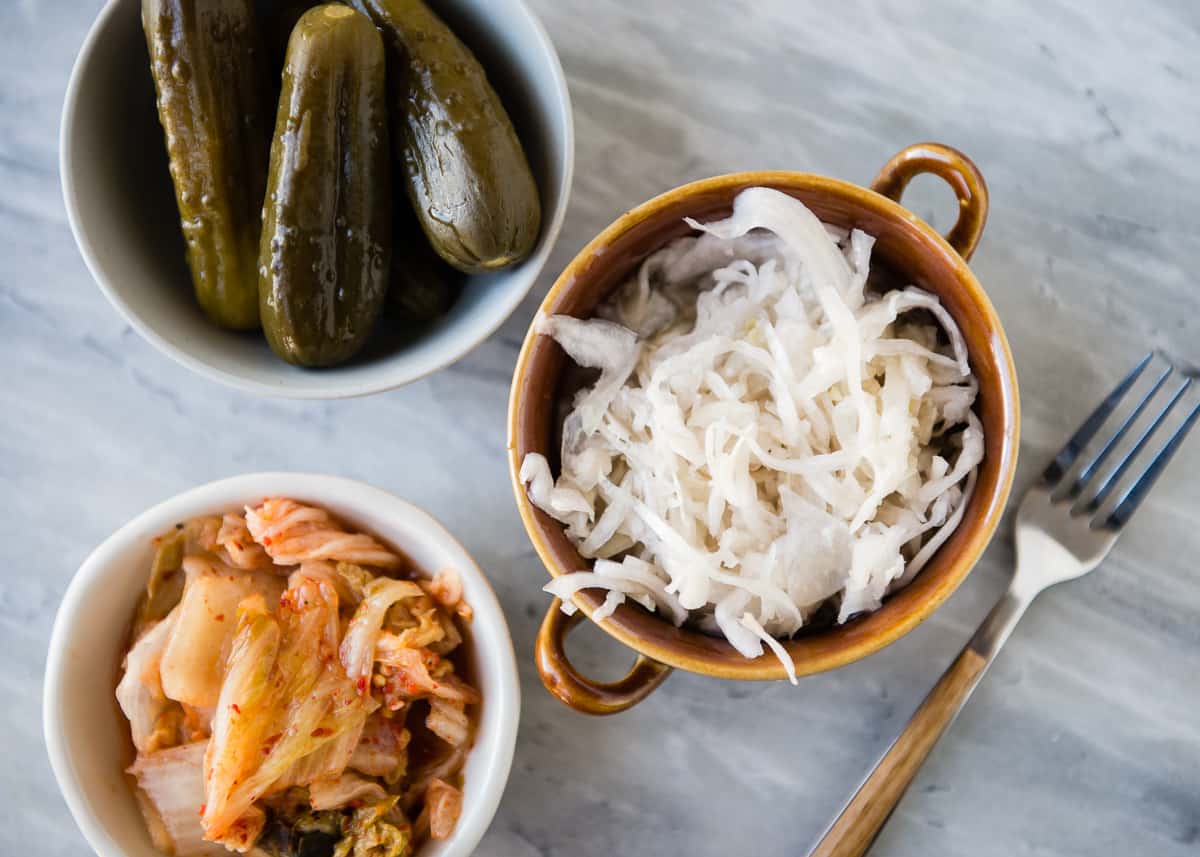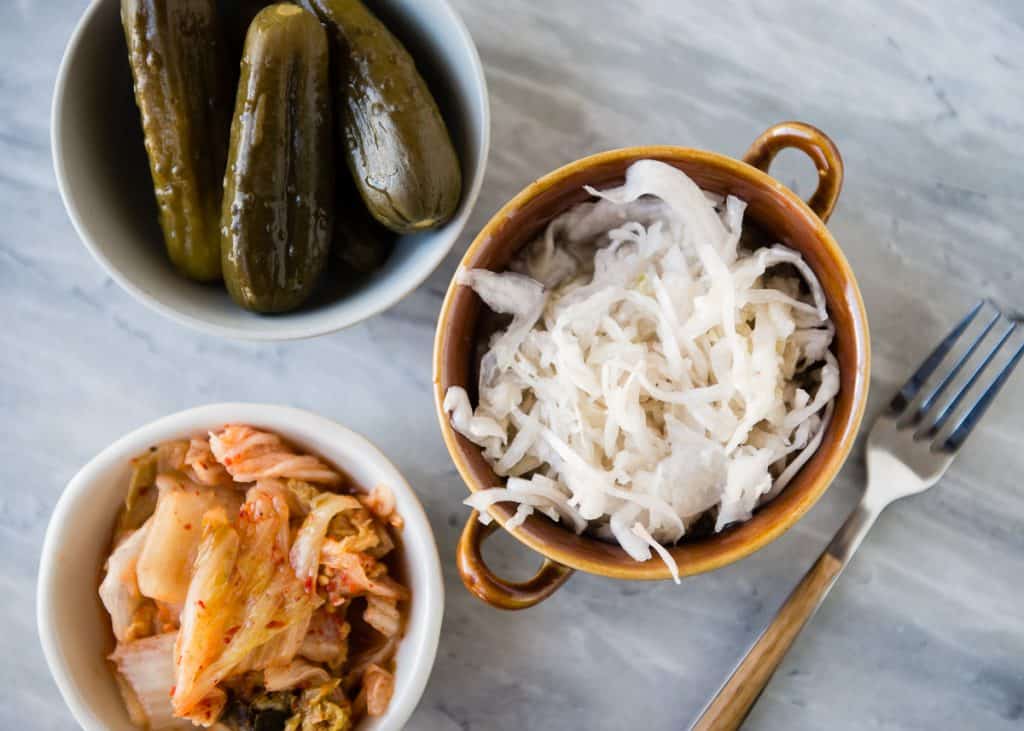 1. Shelf-Life
Probiotics have a shorter shelf life than some other supplements and should be kept refrigerated in order to ensure maximum potency. Consider the fact that they may have spent some time out of refrigeration during transport, time at the store, and even in your home, and you may have a probiotic supplement that's considerably less potent than what it says on the label.
Of course probiotic foods have a shelf life too, but considering that fermentation was traditionally used as a means of extending shelf life, you'll find that yogurt will last longer than milk, and sauerkraut will last longer than a head of cabbage, and so on.
2. The Milk Matrix
Consuming your probiotics through food may help the bacteria survive through the digestive tract. The components in dairy, or the "milk matrix" as it is sometimes called, help protect the beneficial bacteria from stomach acid so they are able to make it to the colon.
The same goes for the matrix in plant-based probiotics such as tempeh, sauerkraut, and kimchi.
3. Cost
Supplements are expensive! Yogurt may be more affordable, and much tastier. Buying kombucha every day would certainly add up, but when you can easily make your own at home that will likely have less sugar and more live probiotic bacteria than store bought, why would you not?!
And if you want to try your hand at making your own lacto-fermented vegetables, you'll find that they're easy and inexpensive too.
4. Taste
Probiotic drinks and foods taste fantastic! I love starting my day with yogurt or milk kefir in a smoothie or topped with granola and fruit.
When I'm in the mood for a refreshing drink, I'll reach for kombucha or water kefir. I love cooking up tempeh, which is made with fermented soy beans, and using miso (fermented soy bean paste) to flavor sauces and broths.
It's totally possible – and delicious – to include probiotic foods with every meal. You probably need to add kimchi or sauerkraut to your buddha bowl. Just sayin'.
For an Overall Healthy Diet
Food contains nutrients like protein, vitamins, minerals, healthy fat, fiber, etc. Consuming a balanced diet which includes leafy greens, whole grains, and fruits and veggies is a great way to feed yourself, while taking in a good source of probiotics and the prebiotic fibers that gut bacteria loves to eat.
What's your favorite way to add probiotics into your day?
14