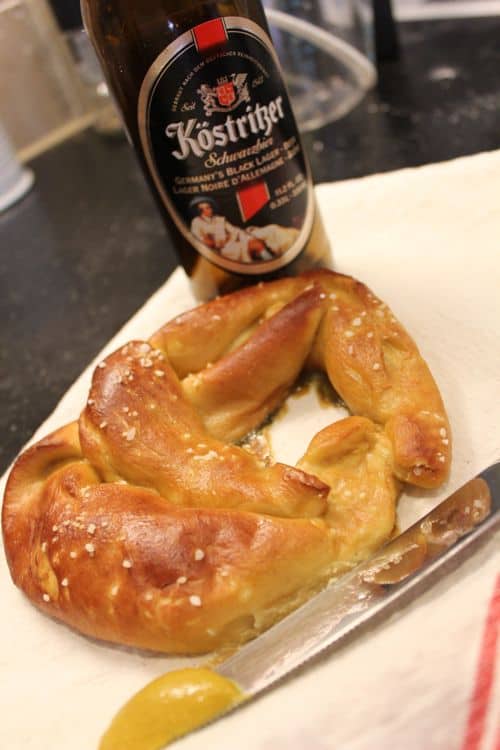 Part of my gift to Mark for Father's Day was yummy food all weekend. Pretzels with mustard and German beer. Oh yeah.
But first, we feasted on challah French toast and bacon for breakfast – though our power went out in the middle of cooking. Thus annoying me greatly. We plowed through a bag of popcorn during our movie theater escape to see Super 8. Because nothing says Happy Father's Day like time away from the kiddos, right?
The eating continued with grilled sausages and roasted red peppers for dinner. And for "dessert," I made homemade pretzels for Mark to savor with beer from around the world that I got at World Market. (We aren't really total boozers, I promise.) The pretzels were insanely good. And relatively easy – especially if you're a lucky duck who owns a KitchenAid Mixer. I do not. Sad.
So I got a major arm work out kneading dough for about 10 minutes. Fortunately Caroline helped me with the rolling. I have got to get a rolling pin. We have to bust out a wine or beer bottle every time rolling is required. Embarrassing.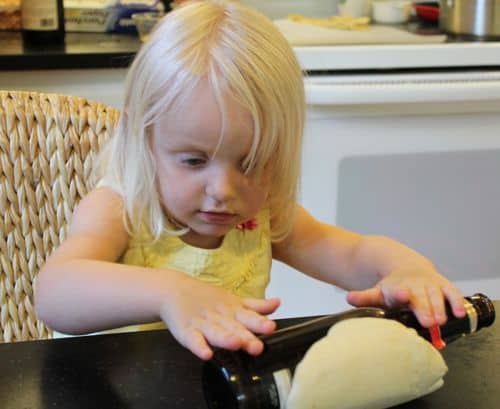 Here's a quick peak at Mark's gift from the kiddos. Caroline helped cut up some old art projects that were headed to the recycle bin, and she Modge Podged them onto a cigar box picked up at Goodwill. Henry cheerfully donated wheels from one of his cars for cufflinks. And I got the G (for Gerber) Scrabble tiles at the craft store.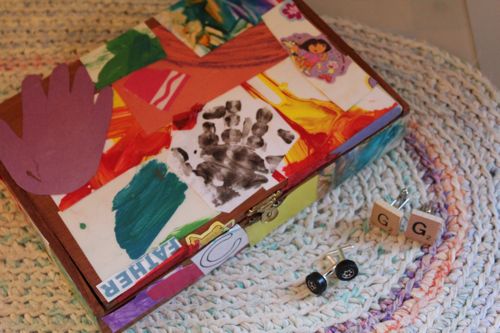 Homemade Pretzels
Ingredients:
1 1/2 cups warm (110 to 115 degrees F) water
1 tablespoon sugar
2 teaspoons kosher salt, plus more for topping the pretzels
1 package active dry yeast or 2 1/4 teaspoons
4 1/2 cups unbleached all purposed flour
Half a stick of unsalted butter, melted
Vegetable oil, for pan
10 cups water
2/3 cup baking soda
1 large egg yolk beaten with 1 tablespoon water
Directions:
I found that my tap water didn't get hot enough, so heat the water on the stove and until it reaches temp. Then combine water, sugar and kosher salt in a large bowl and sprinkle the yeast on top. Let it sit uncovered for 5 minutes – it will start to get foamy on top. Add the flour and butter and turn out onto floured surface and knead dough for about 10 minutes. (This is the part that would be MUCH easier with a mixer.)
Wash the bowl and oil it with vegetable oil. Put the dough back in, cover with plastic wrap, and let it sit for 50-60 minutes. It will roughly double in size.
Combine 10 cups of water and baking soda and bring to boil. Also turn the oven on to 450 degrees F. Line 2 baking sheets pans with parchment paper.
While the water is heating up, divide the dough into 8 equal pieces. Oil your work surface and roll out each piece to about 24 inches. I had a hard time getting the dough to stretch out; it kept wanting to snap back into shape. What worked best was rolling each piece out flat then cutting it in half or in thirds with a knife. Then reattach at the ends to one make a longer piece.
Make a U-shape with the rope, holding the ends of the rope, cross them over each other and press onto the bottom of the U in order to form the shape of a pretzel.
Place the pretzels into the boiling water, 1 by 1, for 30 seconds. Remove them from the water using a large flat spatula. Put them on the baking sheet, brush with the beaten egg yolk and water mixture and sprinkle with the pretzel salt. Bake for 12 to 14 minutes. Cool on a rack for a few minutes before serving. Makes 8 pretzels.
2