Looking for a quick and easy grab and go snack that's also super healthy? A protein bar should do the trick, right? Well, not so fast. While it's true that protein bars can make for a nutritious snack and are often better than some of the alternatives out there, many (many!) protein bars aren't much better than candy bars. So, let's get into some label reading and break down what you should be looking for when you choose a healthy protein bar.
Quick story – a few years ago there was a well-meaning but horribly misguided effort to overhaul the snack situation in my office. They got rid of all the cookies and sugary snacks and replaced them with protein bars. Because they're healthier, right? But when I got my hands on them and looked at the label I thought, good grief, these aren't even food!
The person responsible for the switch had single-track thinking and was after something that was high in protein and low in sugar, so had sourced these jaw-breakingly chewy artificially-sweetened globs of refined protein product. And I – with two nutrition degrees under my belt – didn't recognize half the ingredients. Needless to say, I would rather have just had a cookie.
What to Look For in a Protein Bar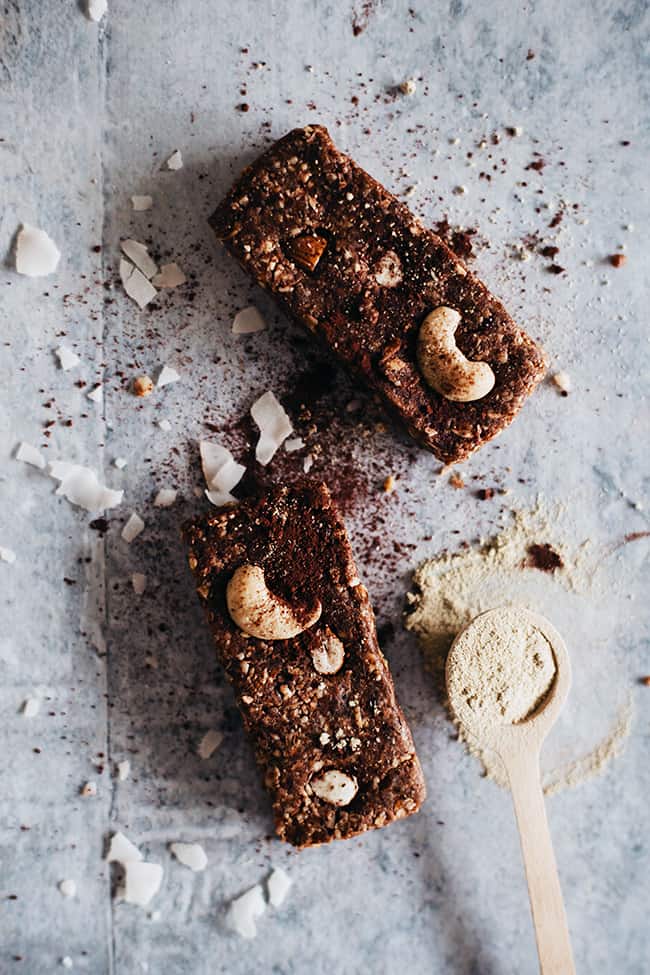 First things first, what is the bar made of?
When you're reading the label, don't even look at the protein and fat content until you've read the ingredient list and are sure that the bar is made of real food; recognizable ingredients that are actually good for you.
Things like oats, seeds, nuts and nut butters, whey protein isolate, or pea protein, for example. As a general rule of thumb, the fewer ingredients the better.
Next check your sugars.
A lot of protein bars are packed with sugar, and more often than not they're under different names. Remember that brown rice syrup, maltodextrin, agave, dehydrated cane juice, honey, maple syrup, and anything that ends with –ose (such as fructose or maltodextrose) is sugar. And sugar is as sugar does. If sugar (or any of the afore mentioned analogues) is in the top three ingredients, consider that a red flag.
A good rule of thumb is to choose a bar with no more than 10 grams of sugar per bar (and 1 serving should = 1 bar).
If the bar contains a lot of fruit, such as dates and apricots, then the sugar content will naturally be a big higher, which is totally okay since that sugar is naturally occurring, so long as the fiber content is also higher (look for 4 or more grams per bar).
Be mindful that those "sugar free" or low sugar protein bars are often sweetened with sugar alcohols, which can be hard on the digestive tract. They can cause abdominal discomfort, bloating, gas, and diarrhea when consumed in large amounts, and if you're sensitive to FODMAPs you'll definitely want to steer clear.
And of course, protein!
Exactly how much should a good protein bar contain? To be honest, it's more about the ratios than the exact amount of protein. And by that I mean the ratios of protein to fat, protein to overall calories, and protein to carbohydrate.
It also depends on the size of the bar. A smaller bar may have less protein but fewer calories, and may end up being a better choice than a larger bar with 30+ grams of protein but over 300 calories.
And be mindful that an energy bar and a protein bar are not the same thing.
Energy bars are intended to fuel or aid recovery from endurance sports, in which a 4:1 ratio of carbohydrates to protein is optimal. For a protein bar you're looking for more like a 1:1 ratio.
At the end of the day, I recommend that people aim to get their protein from whole food sources, like eggs, nuts, tofu, and dairy, over protein bars. But the right bar – being mindful of the ingredients – can definitely make for a good snack in a pinch. Here are some to try: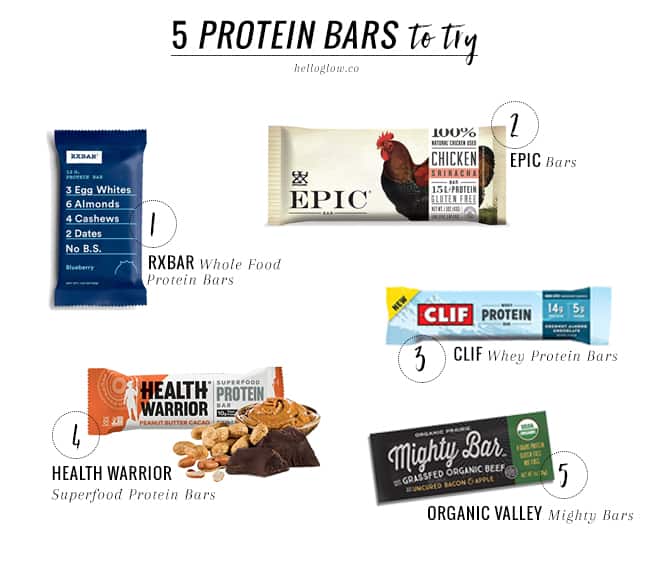 RXBAR Whole Food Protein Bars // These bars have real food ingredients, are relatively low in sugar, and have 12 grams of protein per 200 calories.
Epic Bars // For paleo folks, Epic bars are made from grass-fed animal protein and have about 13 grams of protein per 150 calories.
Clif Whey Protein Bars // Clif whey protein bars start listing sugar at ingredient #4, but they do have recognizable ingredients and 14 grams of protein per 260 calories and only 5 grams of sugar.
Organic Prairie Mighty Bars // Mighty Bars, made from grass-fed beef, have 8 grams of protein for only 80 calories.
Health Warrior Superfood Protein Bars // Health Warrior chia protein bars have 10 grams of protein per 190 calories and are made from chia seeds, oats, quinoa, and peas.
(Note that nutritional values for each of these bars will vary depending on the flavor you choose.)
5