We all know that breakfast is the most important meal of the day, but how many of us really treat it that way? When you're rushing to get out the door, sometimes a cup of coffee seems like the only thing you have time for. But you can have a protein-packed breakfast that's quick, convenient, and healthy too–just as quick as that cup of coffee! Here are some of our favorite options: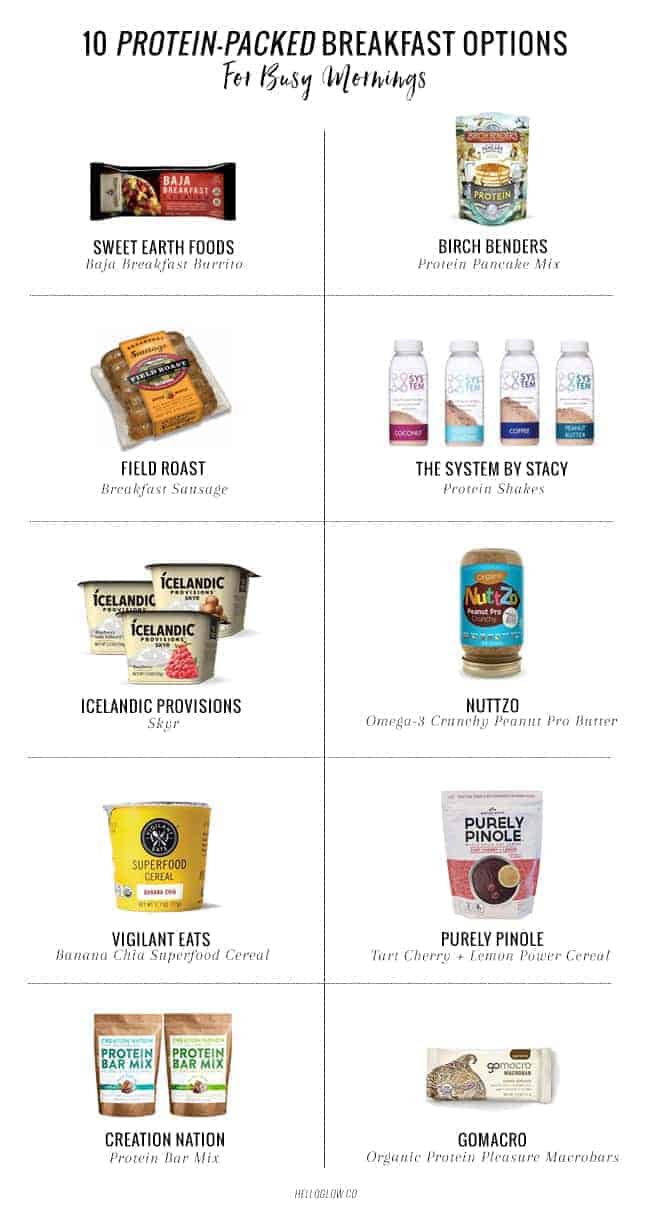 Sweet Earth Foods Baja Breakfast Burrito // Even if you think you don't like tofu, you will love these savory vegetarian breakfast burritos.
Birch Benders Protein Pancake Mix // Birch Benders makes pancake breakfasts doable even on a weekday–just add water, fry them up in a skillet, and get 16 grams of protein to start your day off right.
Field Roast Breakfast Sausage // Two of these apple maple breakfast links contain 10 grams of protein. Perfect for serving with those pancakes!
The System By Stacy Protein Shakes // When you're really in a rush, these shakes are a great solution–just mix one up and take it with you.
Icelandic Provisions Skyr // If you like Greek yogurt, you'll love skyr. It's thick, creamy, and loaded with protein–and Icelandic Provisions skyr comes in all kinds of fun flavors too.
Nuttzo Omega-3 Crunchy Peanut Pro Butter // Peanut butter + banana is a classic busy morning breakfast, and Nuttzo adds some healthy Omega-3s to the mix for good measure.
Vigilant Eats Banana Chia Superfood Cereal // Gluten-free, vegan, and super convenient, these cereal cups are a great on-the-go breakfast.
Purely Pinole Tart Cherry + Lemon Power Cereal // Pinole is a protein-rich ancient grain; think of it like cream of wheat, but with more nutritional punch.
Creation Nation Protein Bar Mix // Mix up a batch of these protein bars and have a quick breakfast ready and waiting for you all week long.
GoMacro Organic Protein Pleasure Macrobars // Peanut butter + chocolate. Is there anything more to say?
0