Please tell me I'm not the only one who has been anxiously awaiting the season where scarves, sweaters and a thermos of something hot can be officially added back into my daily wardrobe…and please tell me I'm not the only one who now finds the word "pumpkin" suddenly irresistible, no matter my attraction to the flavor throughout the rest of the year?
Everyone, it's time. Let's officially welcome in the fall with open arms, shall we? Say hello to a foodie face mask inspired by one of my personal fall favorites: pumpkin bread.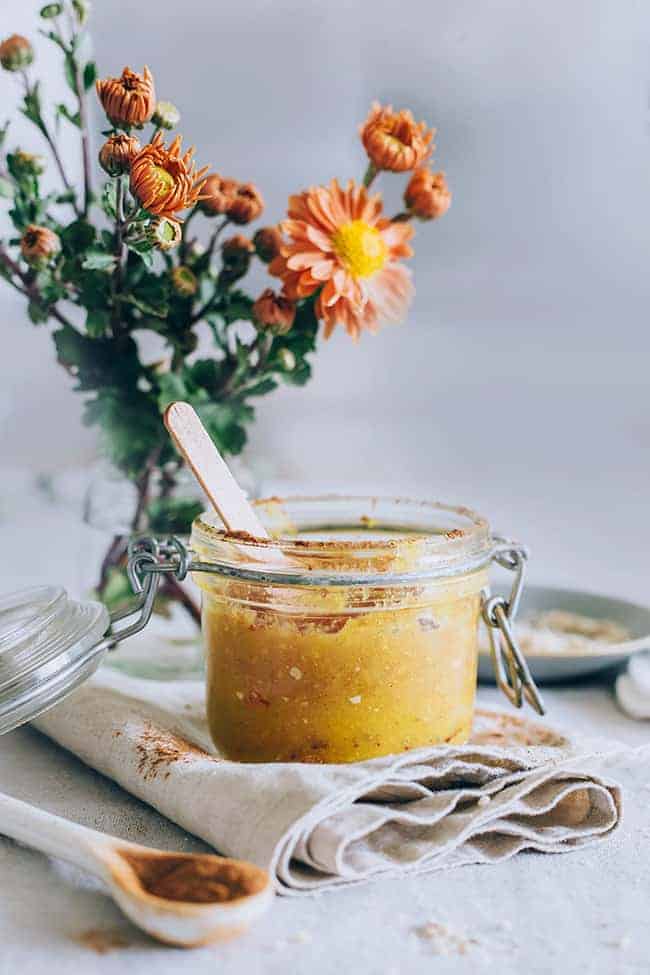 Several years ago when health concerns pushed me to change to a gluten-free diet, I thought my days of pumpkin-filled baked goods were over. Then I stumbled onto a pumpkin bread recipe that not only fit my dietary needs, but was also easy to make and incredibly delicious, quickly sending it to the top of my go-to recipe list for holiday get togethers and general fall-time snacking.
It was magical, but it soon dawned on me that many of the ingredients I enjoyed in each delicious slice of bread could actually be just as comforting (and admittedly much more healthy) for the outside of my body as the inside.
Let's take a closer look…
Our star of the show here is undoubtedly pumpkin, but not just because it's a fall favorite! As our foundational ingredient, pumpkin is packed with vitamins and minerals that help moisturize dry skin, repair sun-damage, and maintain a healthy level of oil production. Plus pumpkin contains natural enzymes that break down dead skin cells, encouraging new cell growth and leaving you with a softer, brighter complexion.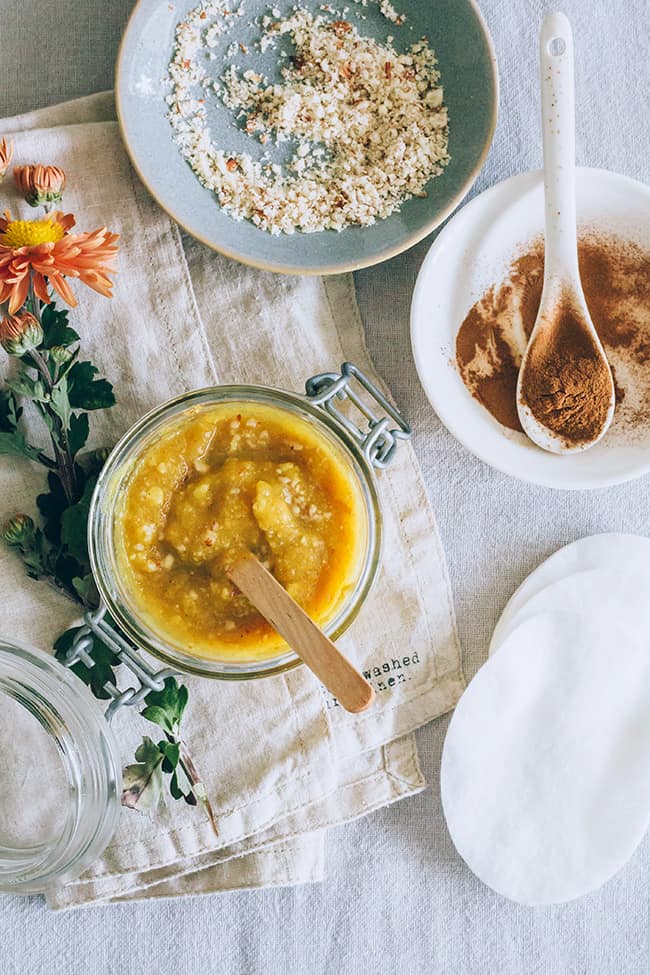 Next we add in a little almond meal, a mild exfoliator that removes dead skin while providing its own moisturizing and anti-aging elements to the mask. A little note of caution, if you are making your own almond meal for this recipe, be sure to grind it to a very fine consistency as large pieces may scratch the skin.
And finally, the heavenly smelling spices. Combining cinnamon to cleanse and disinfect, nutmeg to reduce inflammation, and ginger to treat blemishes and reduce scarring, this beautiful blend is a powerful ally in the fight to keep your skin smooth and clear.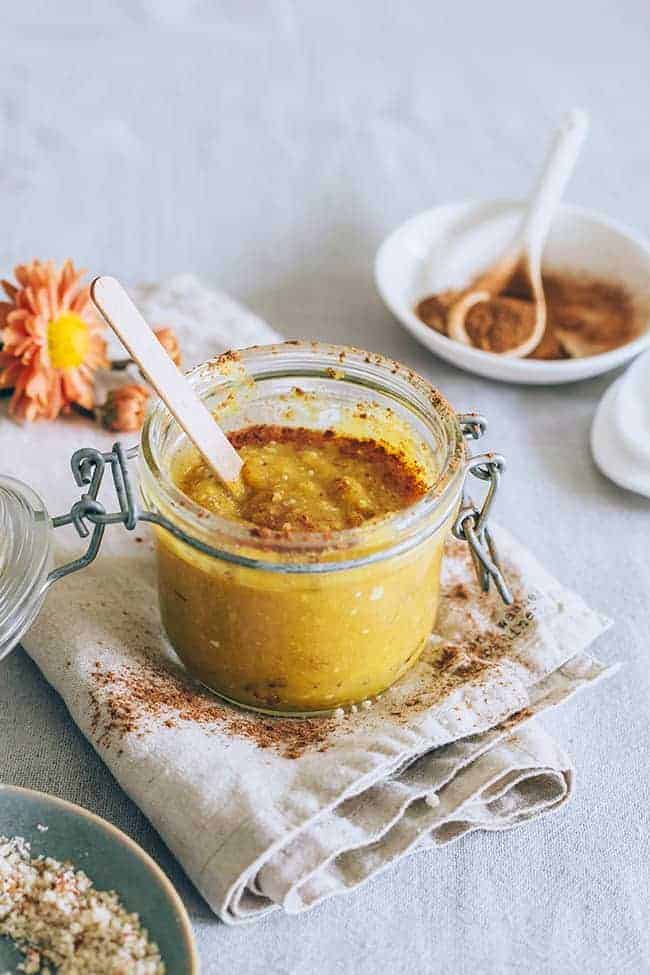 With just five ingredients, all the aromas of a slice of pumpkin bread and none of the time waiting by the oven, why not mix up this simple, naturally wholesome recipe that will make your skin just as excited for the flavors of fall as your taste buds?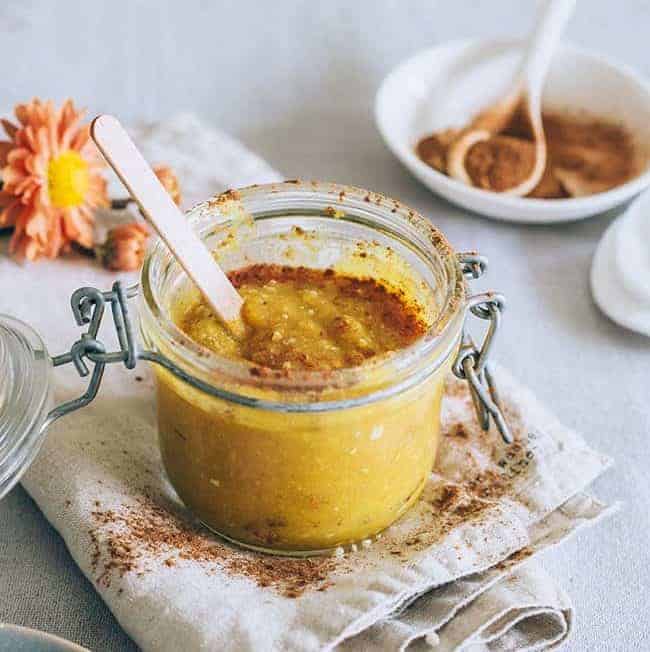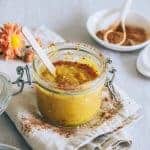 Print
Pumpkin Bread Foodie Face Mask
It's time to welcome in the fall! Enjoy the delicious smells and delicious beauty benefits of the flavors of fall with this pumpkin face mask.
Instructions
Mix all the ingredients together until they are completely combined.

Remove any makeup and wash your face thoroughly.

Apply the mask to your entire face (and neck if you like) with your fingers, spreading it on with a gentle, circular motion.

Sit back and relax as you let the ingredients work their magic for 15-20 minutes.

Wash the mask off with warm water and a soft washcloth.
Notes
Feel free to

apply your usual serums and moisturizer following the mask.
Store remaining mask in the fridge to use up within a few days.
9