This is a sponsored post written by me on behalf of Deep River Snacks. All opinions are 100% mine.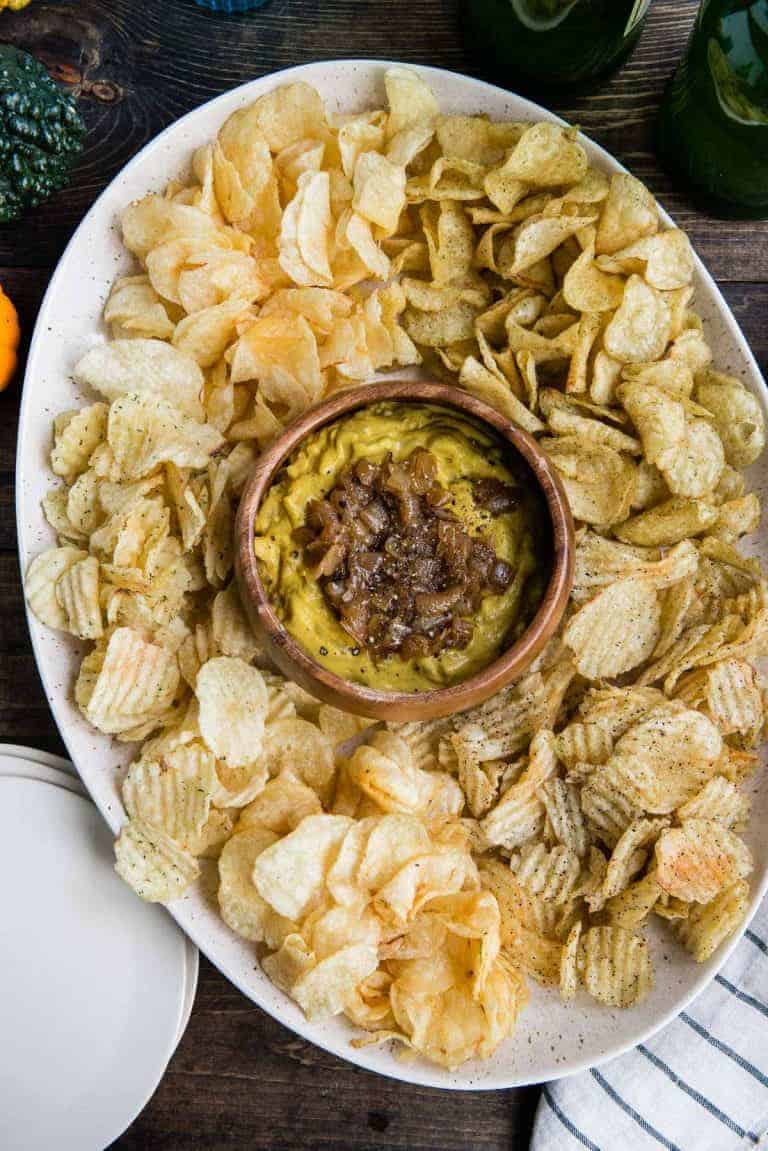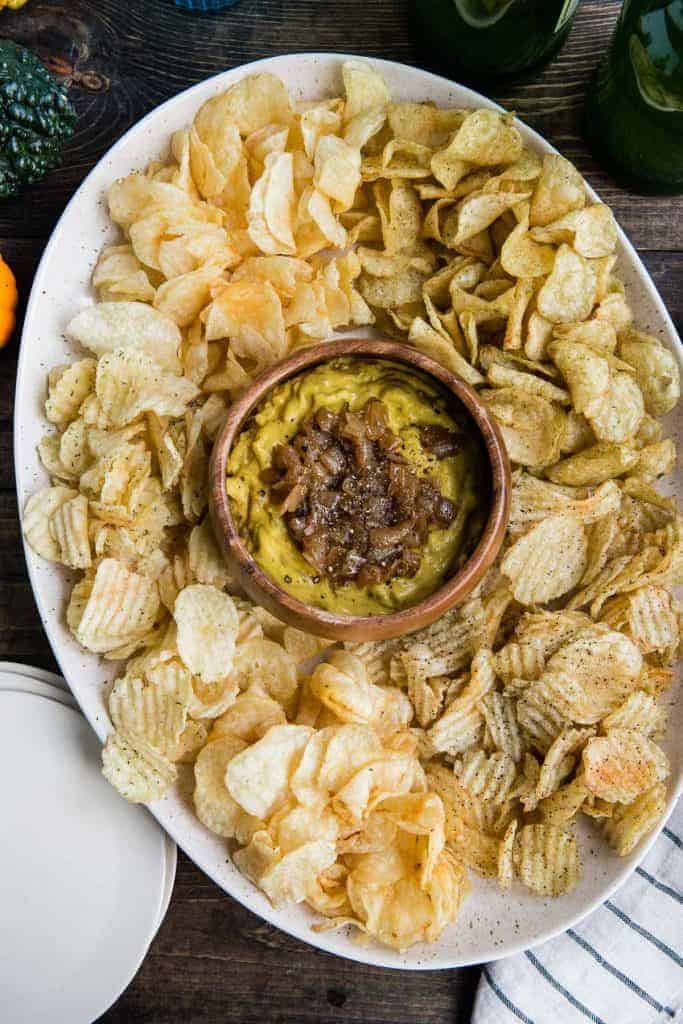 Every once in awhile you come across a company whose values and mission align with your own, and that's how I feel about Deep River Snacks of Deep River, Connecticut. Besides having the most delicious chips on the market (probably even the world!), they also "Give a Chip®." What does that mean? It's pretty awesome, actually. Let me explain.
Deep River Snacks "Gives a Chip"
The founder of Deep River Snacks, Jim Goldberg, has a son who was diagnosed with both Primary Sclerosing Cholangitis and Crohn's disease. As a result, Mr. Goldberg decided to start raising awareness as well as funds to help aid his son's and others' health issues by donating 10% of Deep River Snacks' net profits to charity every year. Each charity partner is chosen based on the personal experience of a Deep River Snacks employee whose family or friend has been affected in some way. Those charities are listed on the back of each chip and snack bag. (Learn more about Deep River Snacks' charity partners.)
Giving back is personal for this company. And it's personal for me as well. I have a child with autism. One of the Deep River Snacks charity partners is The Doug Flutie, Jr. Foundation for Autism which helps families have the resources and services needed to create independence for individuals on the spectrum and their families. I support this with all my heart and am thankful for companies like Deep River Snacks who give back to the community.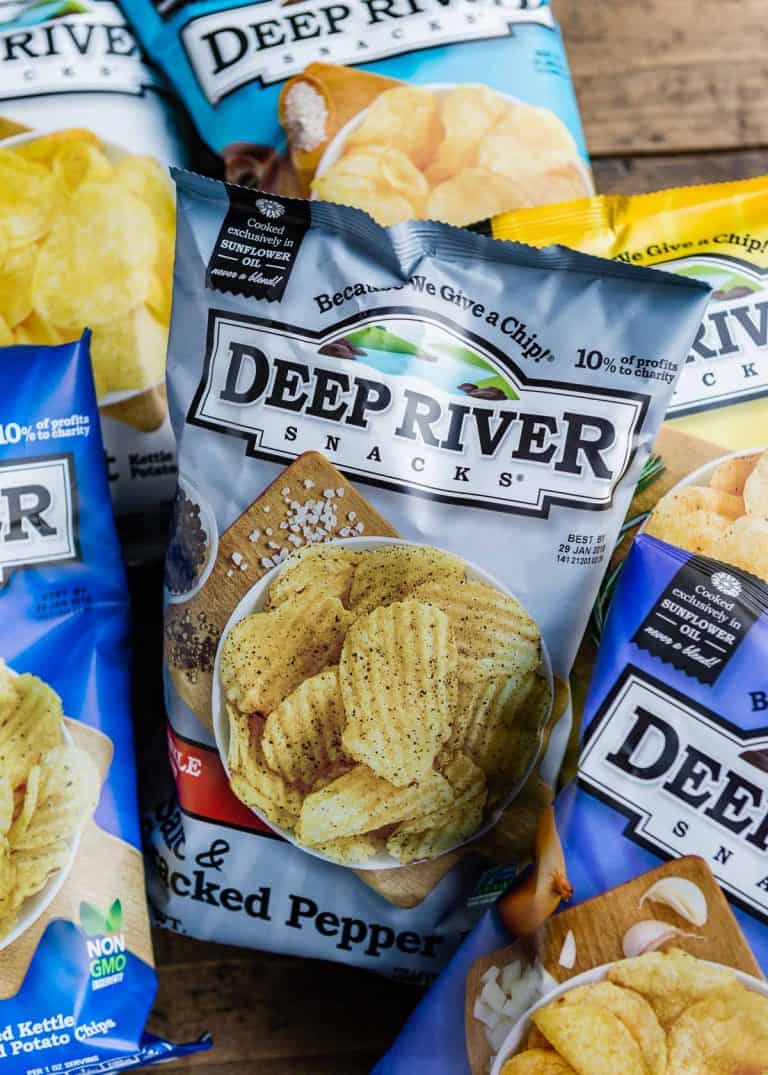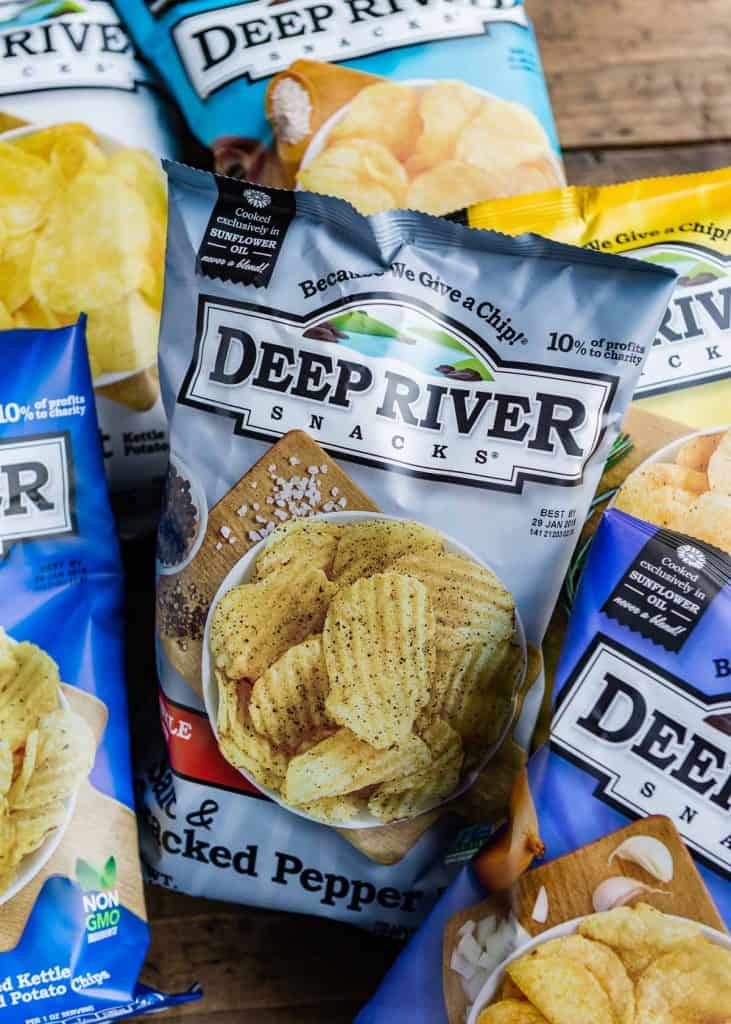 Deep River Snacks' all natural kettle chips are also of the highest quality and made with simple, non-GMO ingredients, no MSG, no gluten, are cooked only in sunflower oil, and made with organic and allergy-friendly ingredients. Of the dozen or so unique flavors, it's difficult to choose a favorite. We've sampled them all, including the new Black Truffle. My kids were so excited for the organic HONCHOS tortilla chips and picked a favorite flavor of kettle chip – Sour Cream and Onion (x2) and Sweet Maui Onion. (I guess we love onions in our family!) I was immediately smitten with the Salt & Cracked Pepper and Ninja Ginger, and my husband loves the Aged Cheddar Horseradish. You can see all of the mouthwatering flavors here.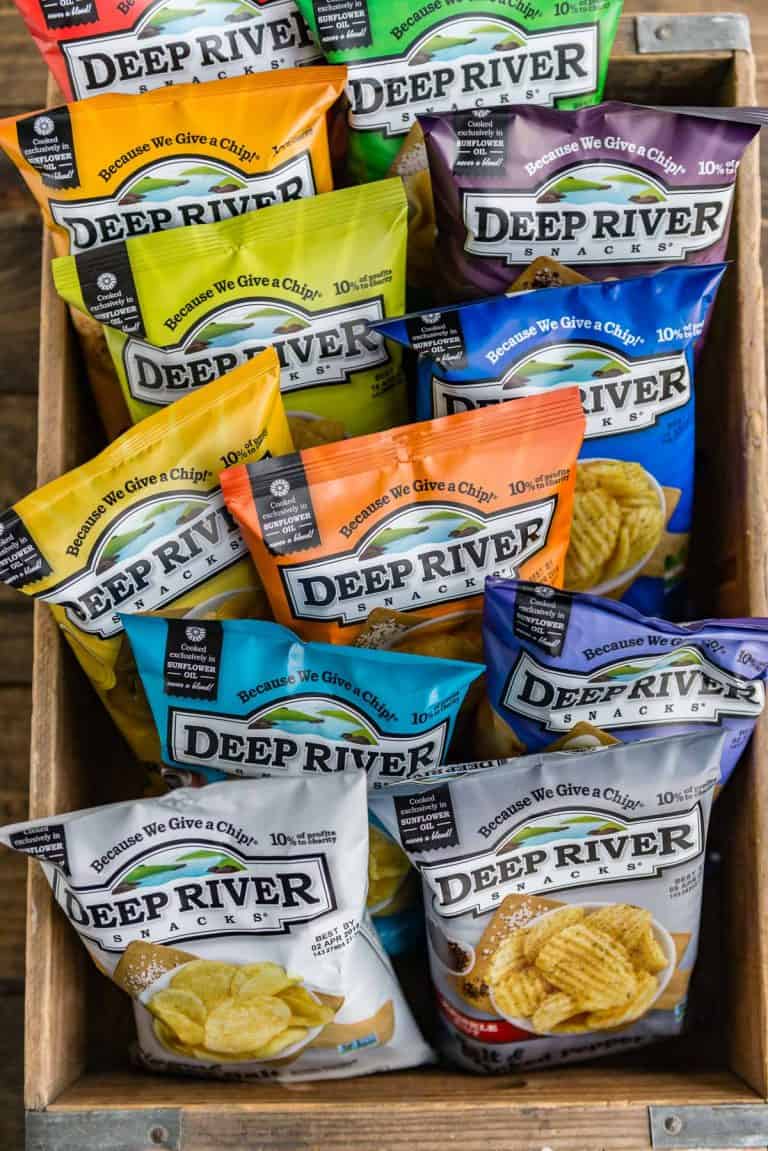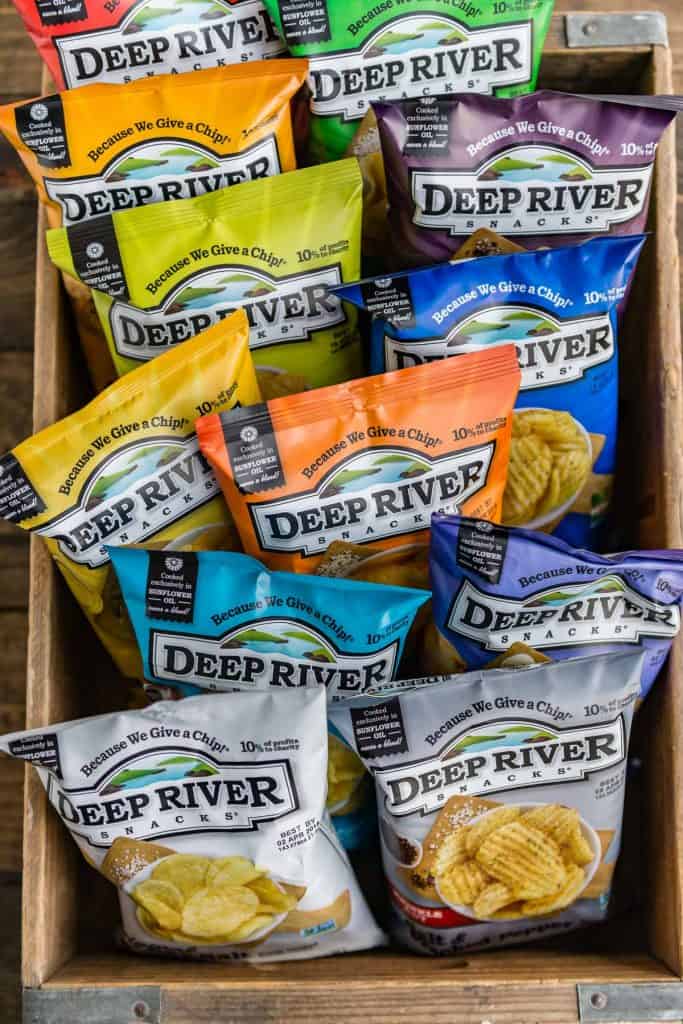 A Match Made in Heaven – Pumpkin Caramelized Onion Dip + Kettle Chips
With the holidays coming up, I wanted to create a dip that would complement Deep River chips and be equally delicious. Onion dip is probably my favorite chip dip of all time, especially if we're talking sweet, deeply flavored caramelized onions.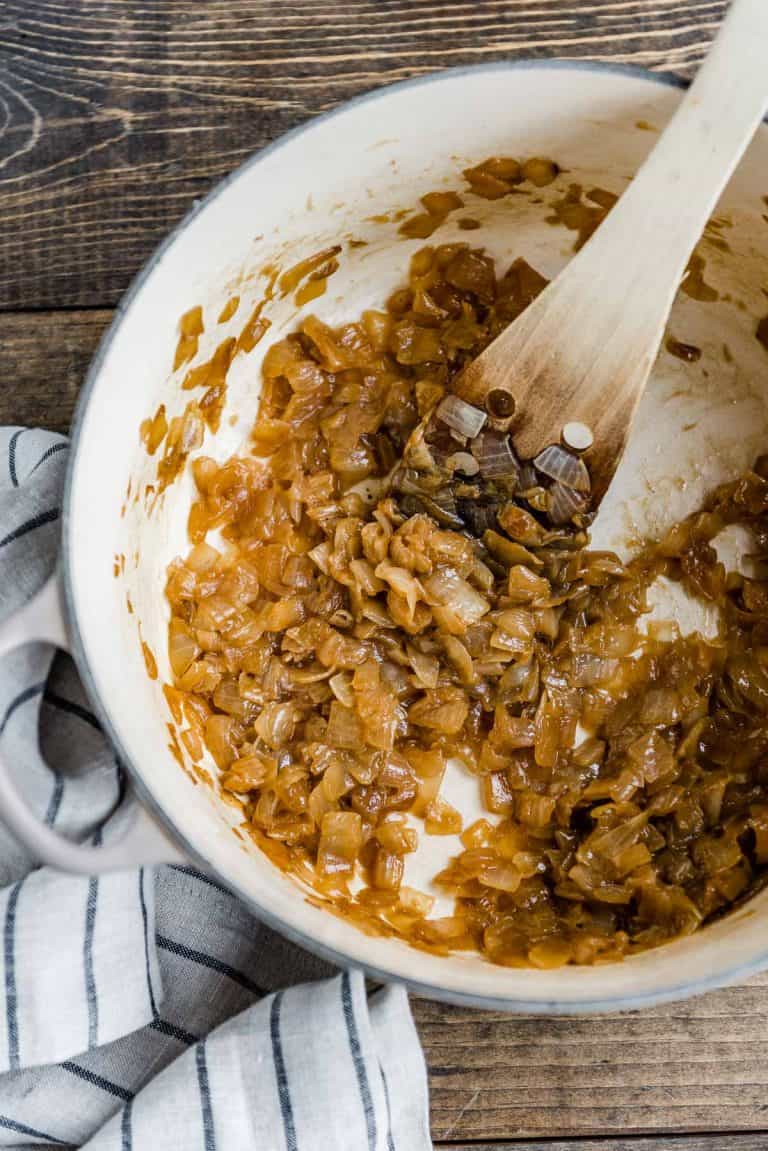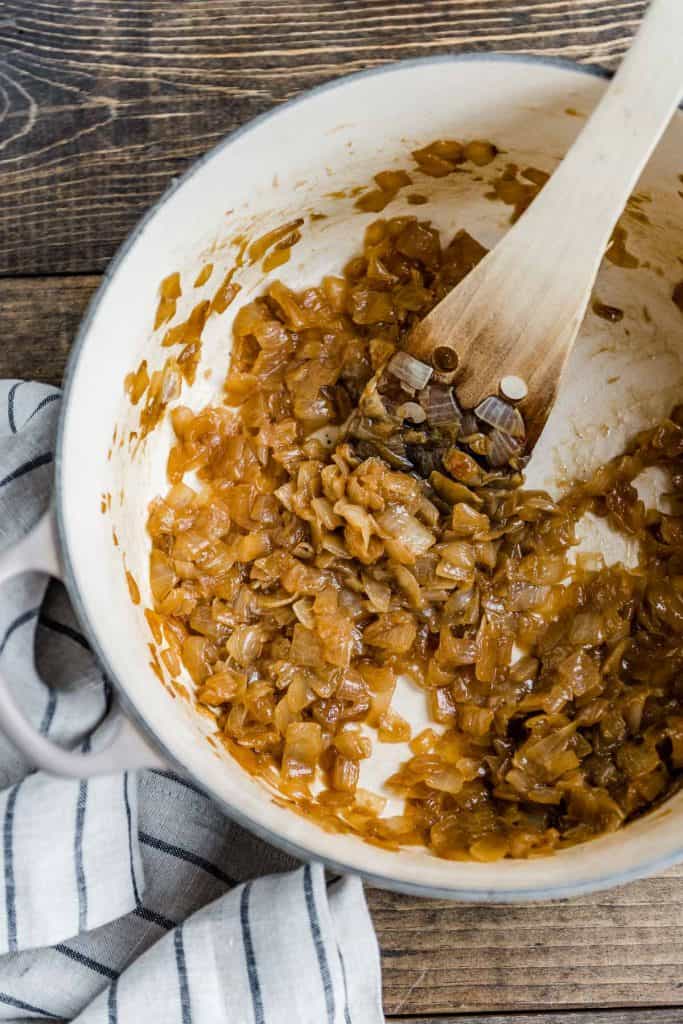 For a fun seasonal twist, I wanted to add in pumpkin puree, sage, and a pinch of freshly grated nutmeg, all of which go splendidly with caramelized onions. My recipe is also dairy-free, made with a cashew cream base; but it can easily be made with sour cream, creme friache, or even Greek yogurt. The dip can be served at room temperature, but it's even better warmed up a bit. It's well worth the effort for this golden-hued pumpkin caramelized onion dip – it ticks off all the boxes of sweet, tangy, and savory. Perfect for chip-dipping, and made with healthy ingredients too!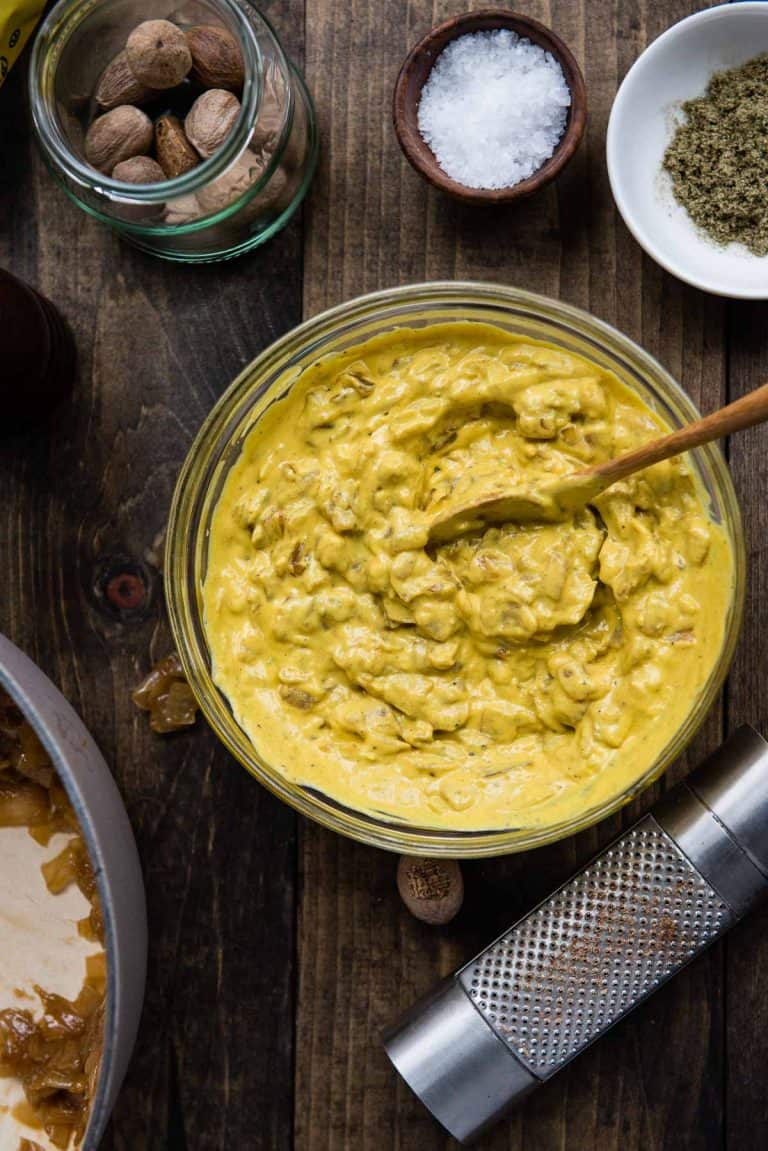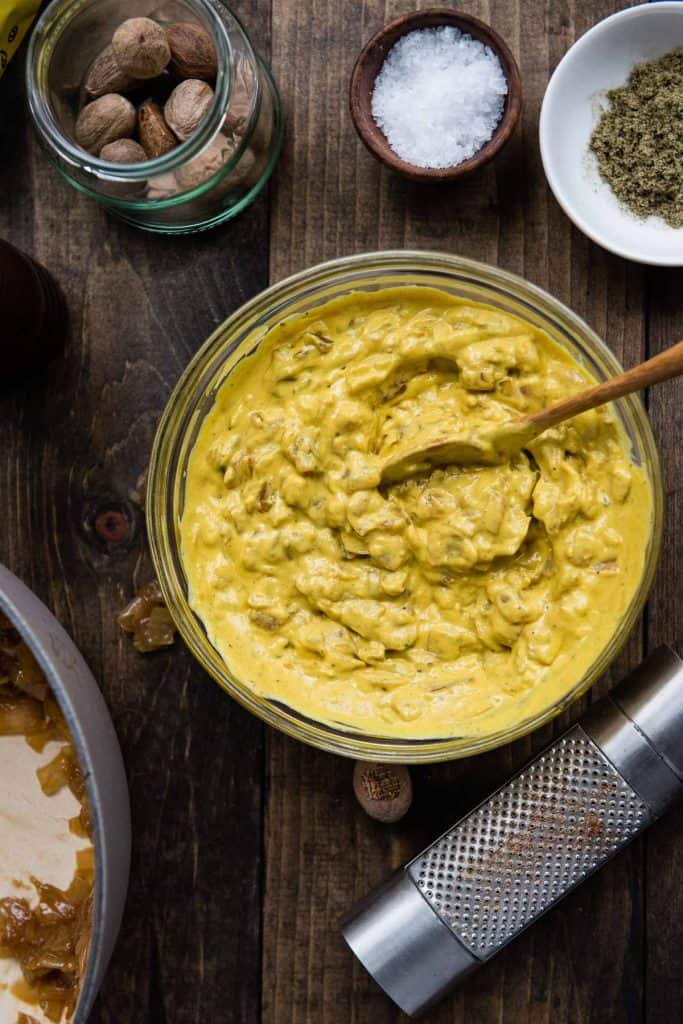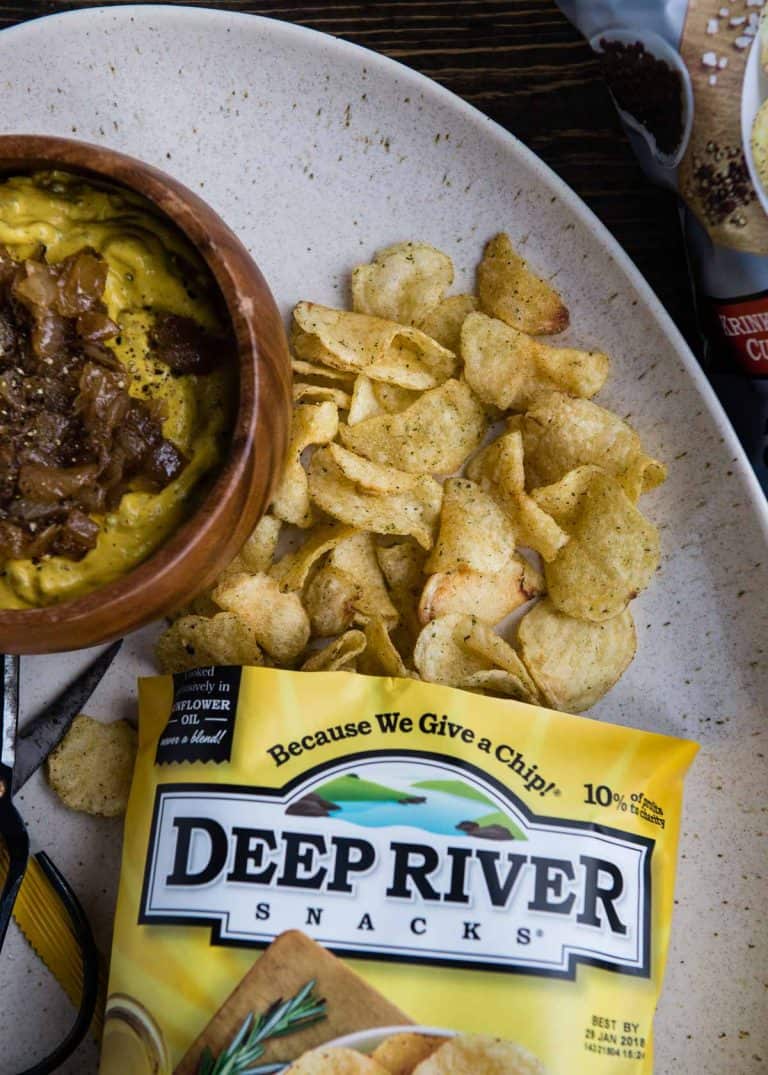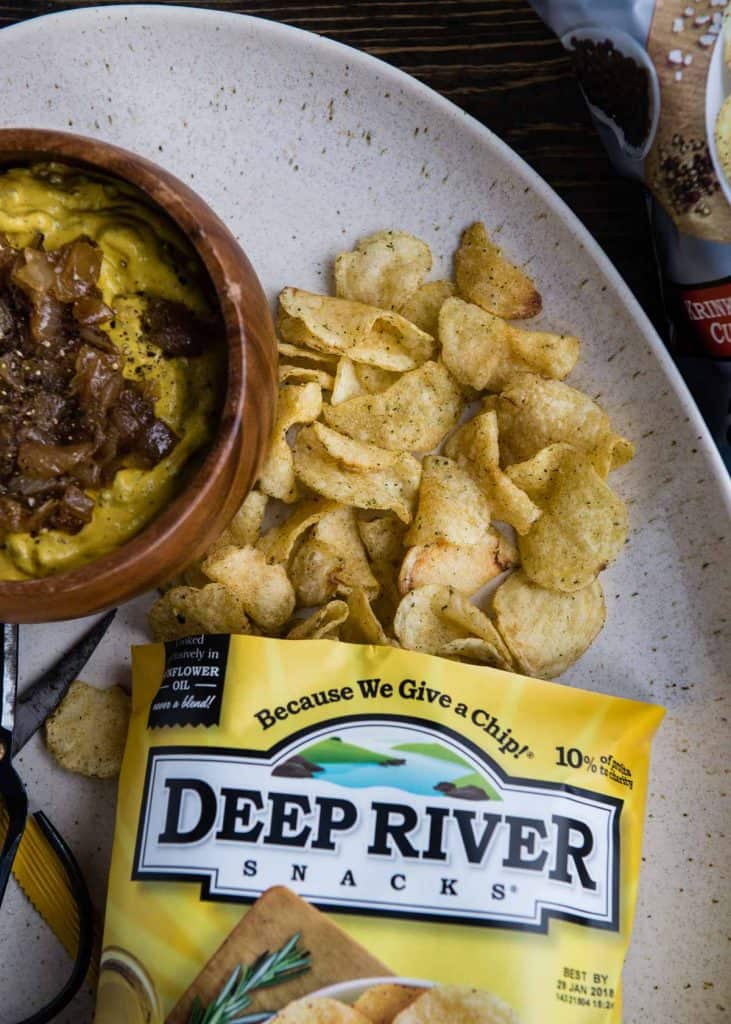 The Deep River Snacks kettle chips are sturdy, which is very important when dipping, am I right? Of all the flavors we sampled, I really loved the dip with the Rosemary and Olive Oil and Salt and Cracked Black Pepper Chips, but it was also amazing with the Original, Sea Salt Vinegar, Sour Cream and Onion, and new Black Truffle chips as well. And who am I kidding? I could eat this caramelized onion dip on any chip and be perfectly content. I can't wait to make this to take to parties and other get-togethers. I think it would be a welcome addition to any snack or appetizer spread.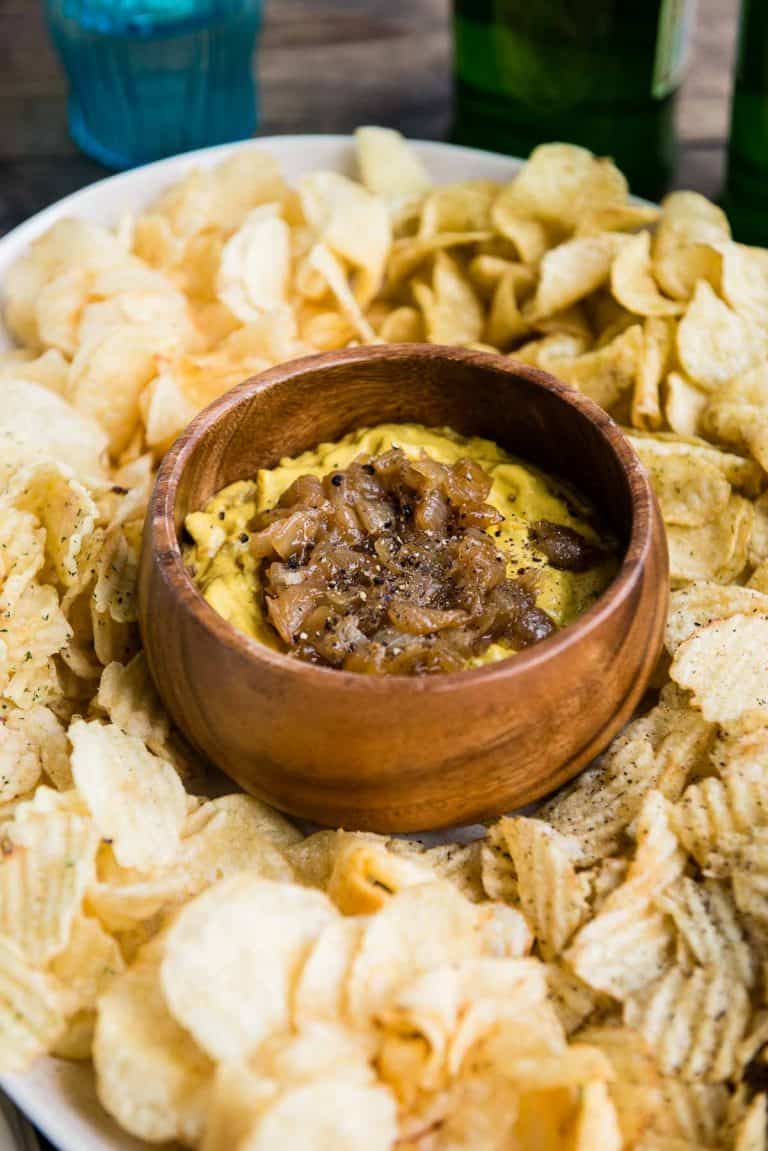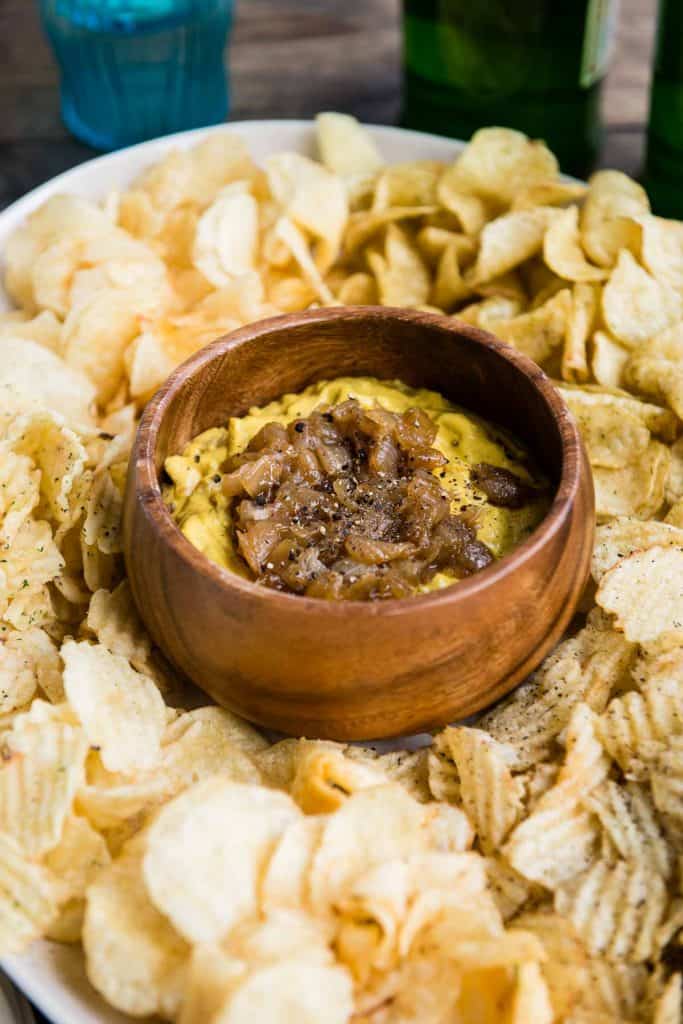 I think we can all agree that it's important to support companies who give back as well as making quality products. Follow along with Deep River Snacks on social media (@DeepRiverSnacks) to learn more and see how you can help. And if you're looking for Deep River Snacks kettle chips, they can be found at Walmart, online at Amazon and at these retailers: https://www.deepriversnacks.com/find-us/; you can also get a coupon offer when you sign up for their mailing list.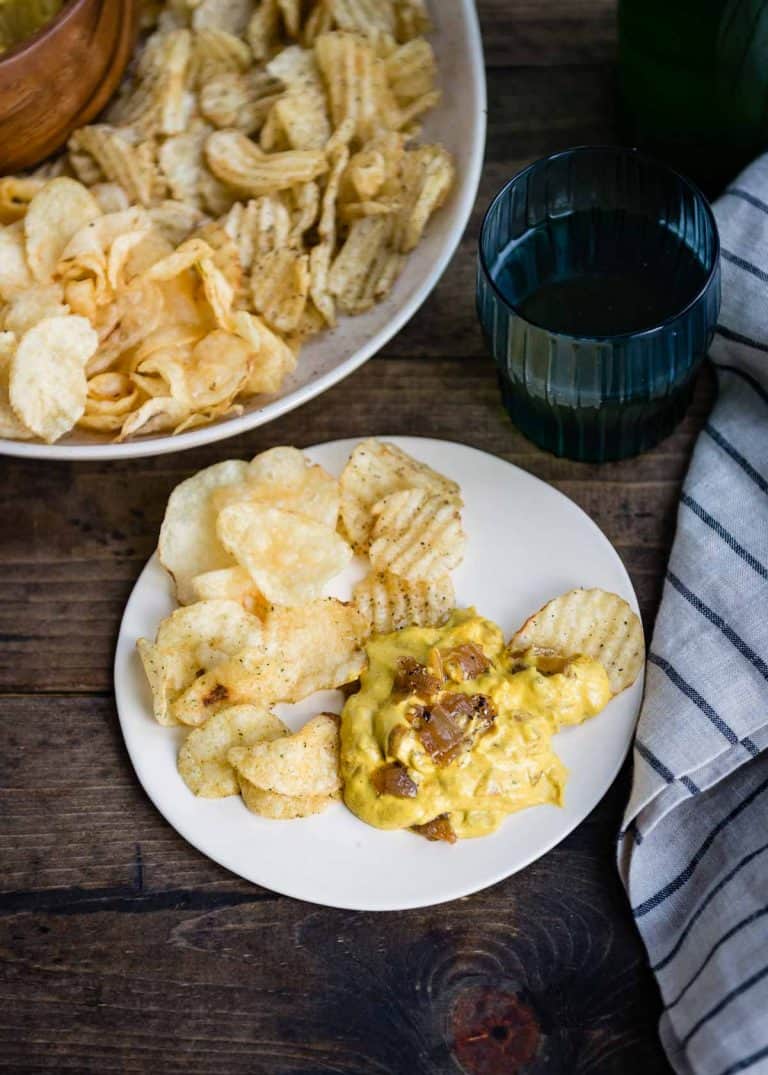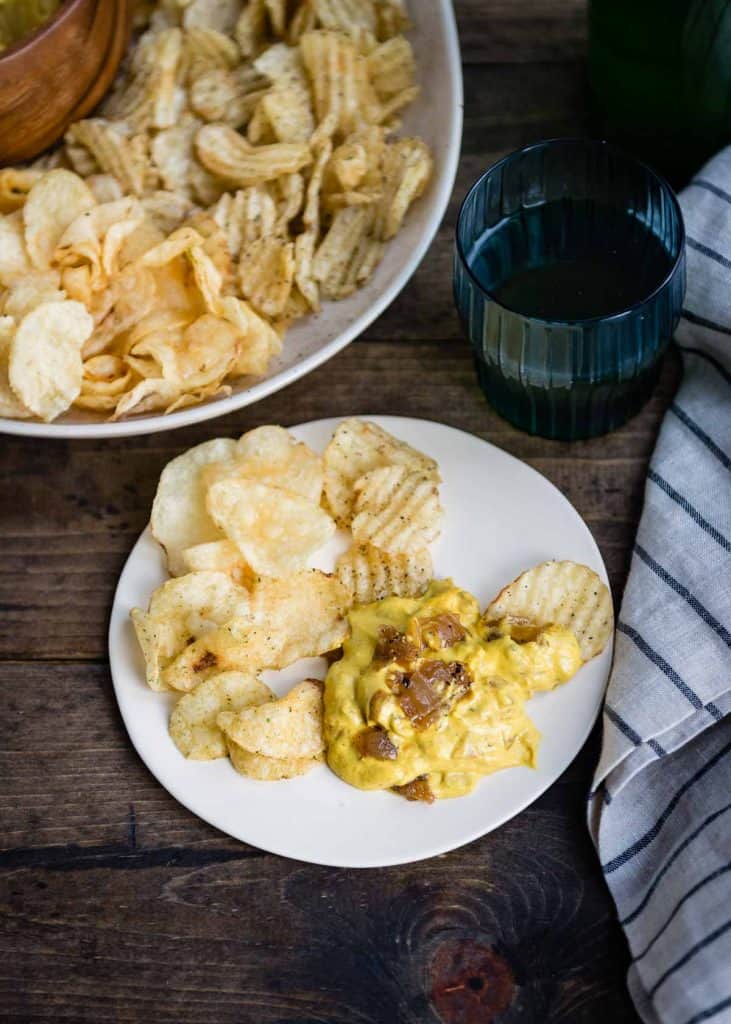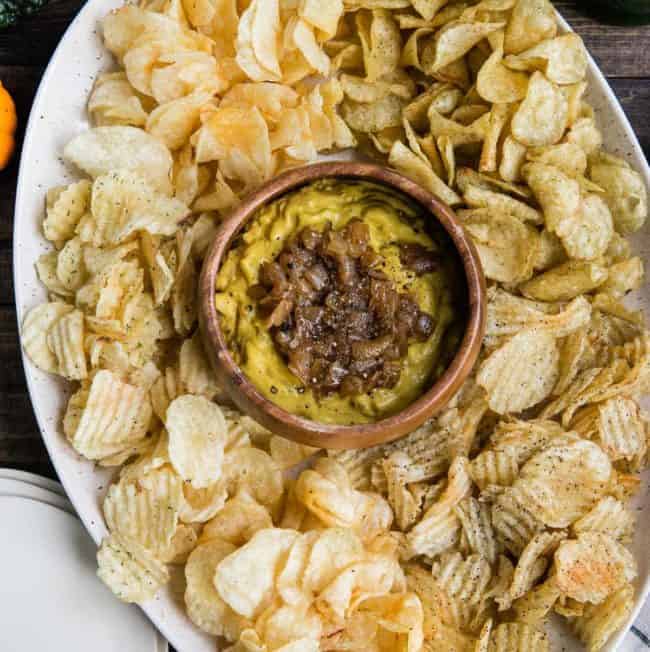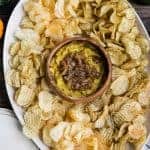 Print Recipe
Pumpkin Caramelized Onion Dip
A sweet and savory dip made with pumpkin puree, sage, and caramelized onions. 
Equipment
Skillet

Blender

Serving bowl
Ingredients
2

tablespoons

olive oil

2

large onions

diced

Sea salt and black pepper

1

cup

raw cashews

soaked overnight and drained, see notes

1/4

cup

water

plus more if needed

2

teaspoons

apple cider vinegar or lemon juice

1/2

cup

pumpkin puree

fresh or canned

1

teaspoon

dried rubbed sage or 1 tablespoon fresh sage

minced

Pinch

fresh grated nutmeg

plus more for garnish

Deep River Snacks kettle chips

for serving
Instructions
Heat a large skillet over medium high heat. Add the olive oil and let heat for 10-20 seconds, until shimmering. Add onions to the pan and season with a little salt and pepper. Saute for 5-7 minutes, or until onions start to soften a bit. Cover pan and reduce heat to medium low. Cook, stirring occasionally for 45-60 minutes, or until onions are golden. (To speed up the caramelization process, add 1 cup of water to the pan and bring to a simmer. The water will evaporate leaving the onions very soft and they will caramelize in about half of the time.)

Meanwhile, place the pre-soaked cashews, water, vinegar or lemon juice, and a pinch of salt into a blender jar. Blend, stopping to scrape down sides as needed. If the mixture is too thick and chunky, add a little more water. It should be the consistency of yogurt or sour cream. Add the pumpkin puree, sage, and nutmeg. Blend again until very smooth.

Transfer to a serving bowl. Stir in the caramelized onions, reserving about 1/4 cup for the garnish on top. Taste and add more salt, if needed. Transfer to a serving bowl.

Top the dip with reserved onions, and a sprinkle with freshly grated nutmeg and freshly ground black pepper. Serve at room temperature or warmed up with Deep River Chips. (Recommended flavors: Original, Salt and Cracked Pepper, Rosemary and Olive Oil, Sea Salt Vinegar, Sour Cream and Onion, or Black Truffle.)
Notes
3/4 cup sour cream, creme fraiche, or Greek yogurt can be substituted for the cashews, water, and vinegar/lemon juice.
Butternut squash puree can be substituted for the pumpkin
15