This post is sponsored by Danone, but all opinions are my own.
Savory just isn't in my vocabulary when it comes to breakfast. But so many options on the sweeter side – donuts, cereal, muffins – are loaded with sugar.
This pumpkin yogurt bowl, made with low fat, low sugar and low carb Greek yogurt, is the perfect way to start the day – and get my pumpkin spice fix. The protein keeps me full and my energy steady all the way to lunch.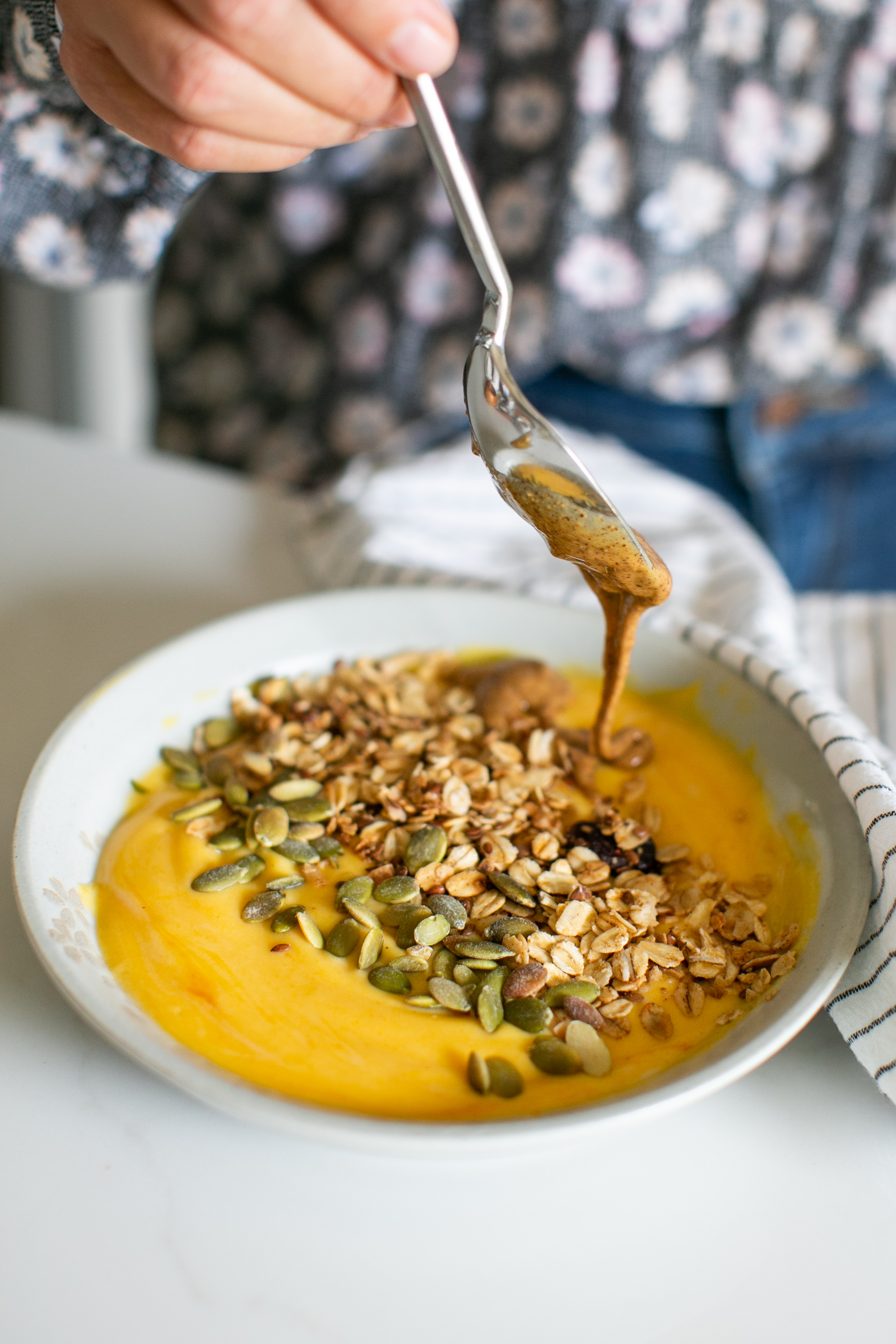 I love getting into a routine where I don't have to think 'what am I going to eat?' for each and every meal. First thing in the morning is way too early for heavy decision making and complicated recipe making.
So I make a batch of granola and keep low sugar yogurt on hand and happily eat the same breakfast every morning. Maybe I'm crazy, but there's comfort in the consistency of enjoying my yogurt bowl and coffee while catching up on Twitter and Instagram. I know, I should be meditating or something but nobody's perfect!
Pumpkin spice granola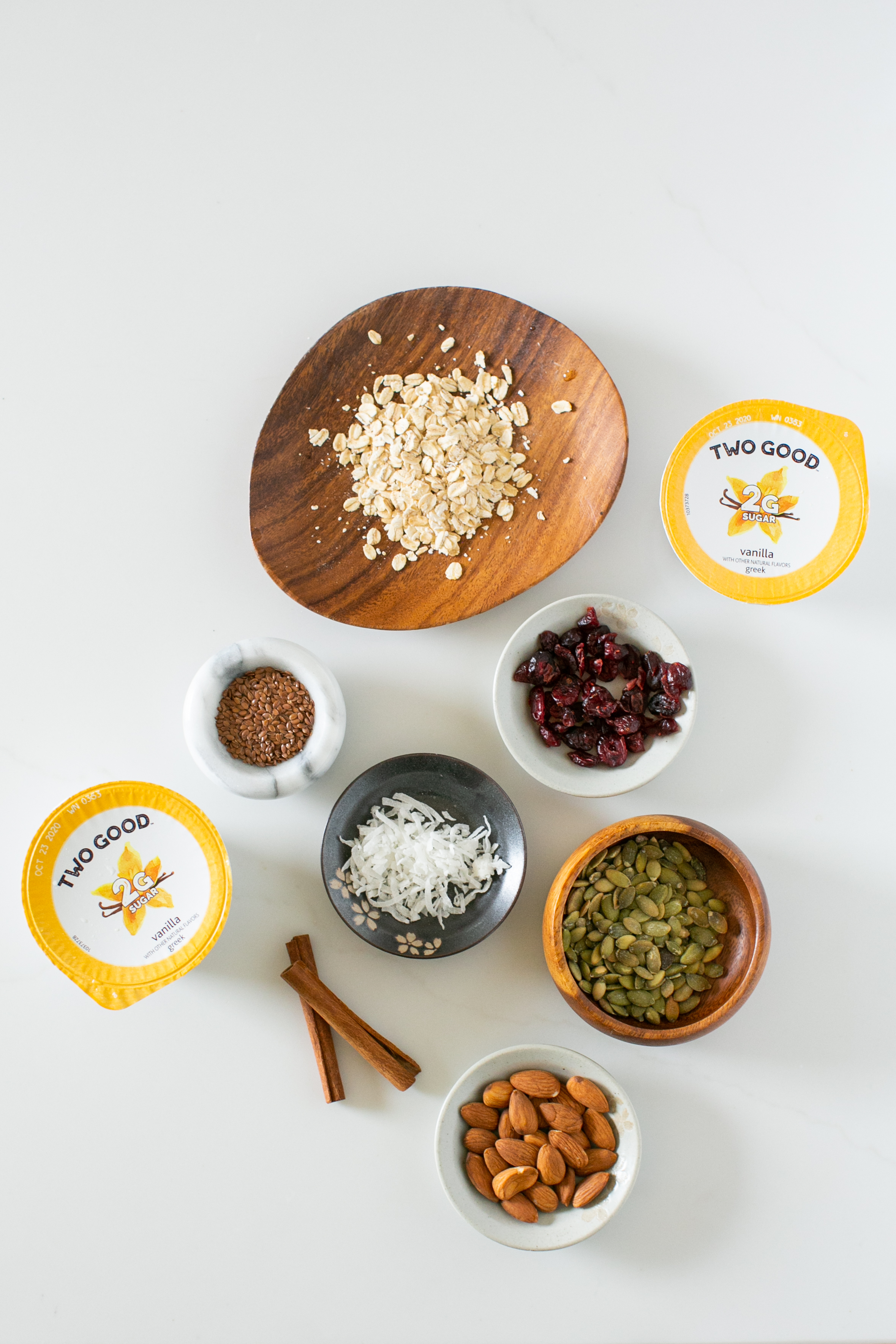 I always forget how easy it is to make your own granola. A couple minutes of prep and a bit of baking and voila! you have enough granola for several weeks.
The pumpkin spice granola is loaded with superfoods and good fats. I used almonds and flax seeds, but you can use any combination of nuts that you like or have on hand.
A bit of coconut oil binds everything together and gives the granola a cluster-like texture. Maple syrup and a few dried cranberries add a touch of sweetness without turning the granola into a calorie bomb.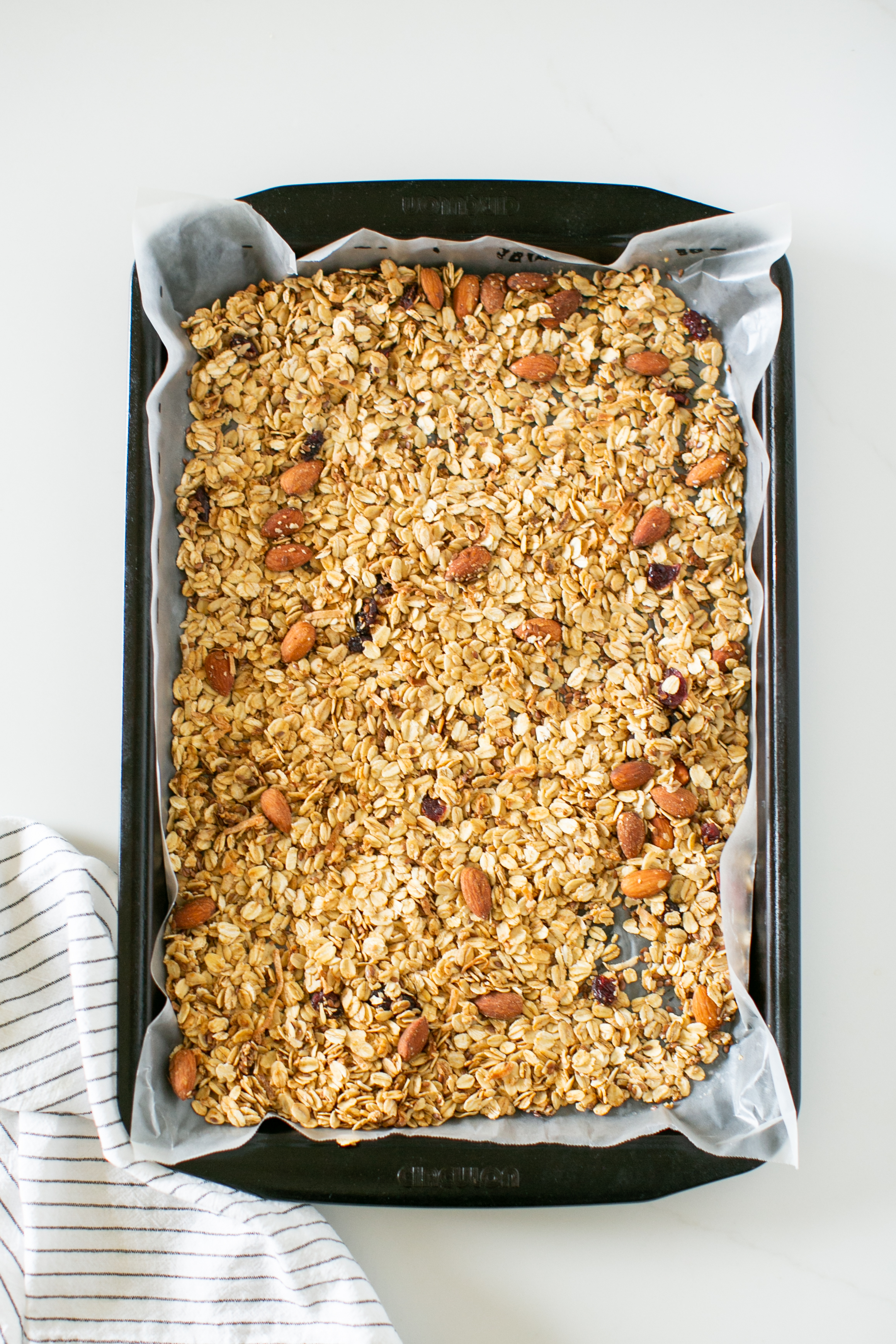 Pumpkin Yogurt Bowl
The yogurt aisle has become a bit overwhelming, but Danone's Two Good™ Greek Yogurt gets rid of all of the added sugar that I don't need. There's only 2 grams of sugar and 80 calories in a 5.3 ounce snack cup – but you'll still get 12 grams of protein!
How is that possible? Their slow-straining process removes most of the sugar from milk that's used to make yogurt, leaving you with way less sugar but keeping the creamy taste you love.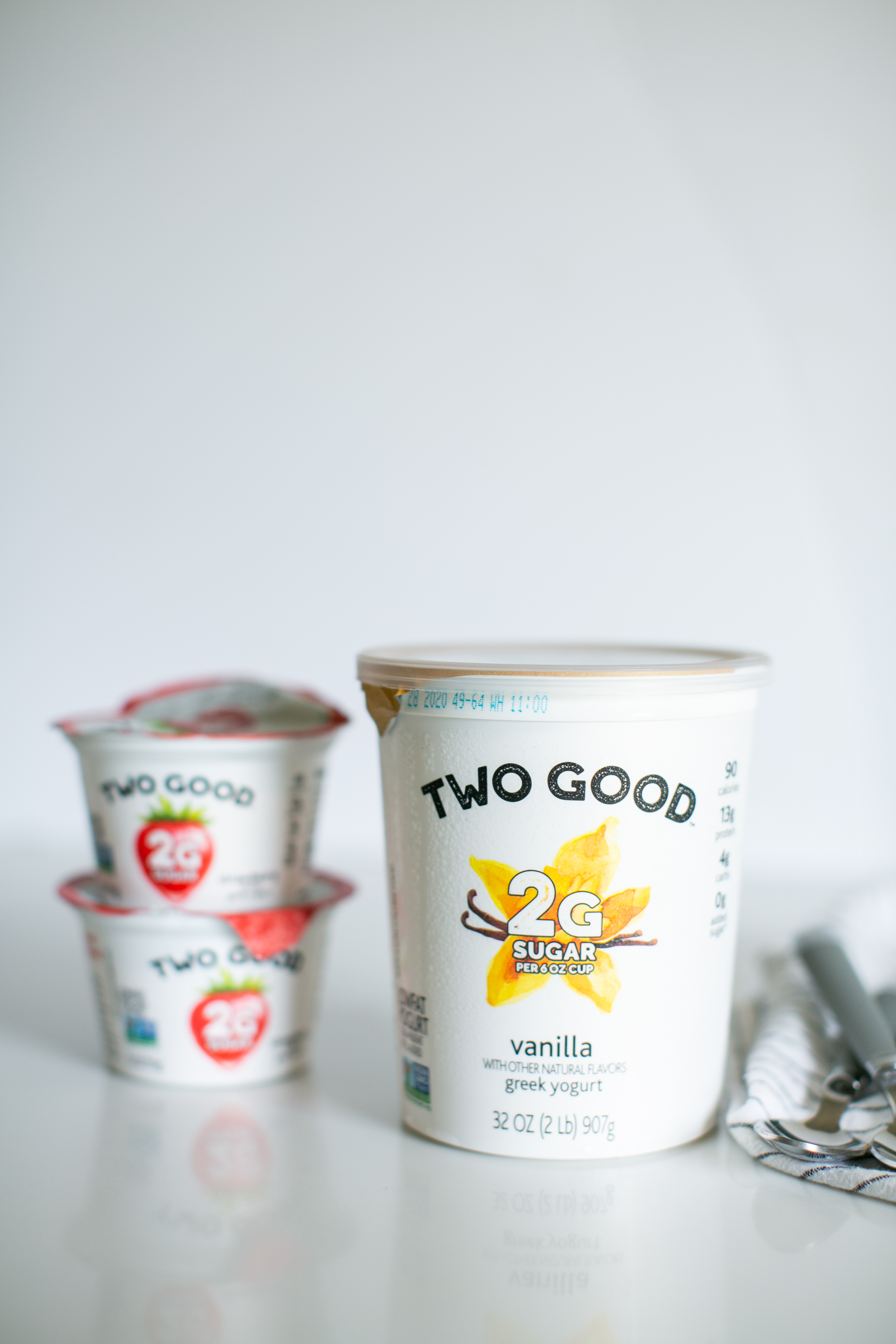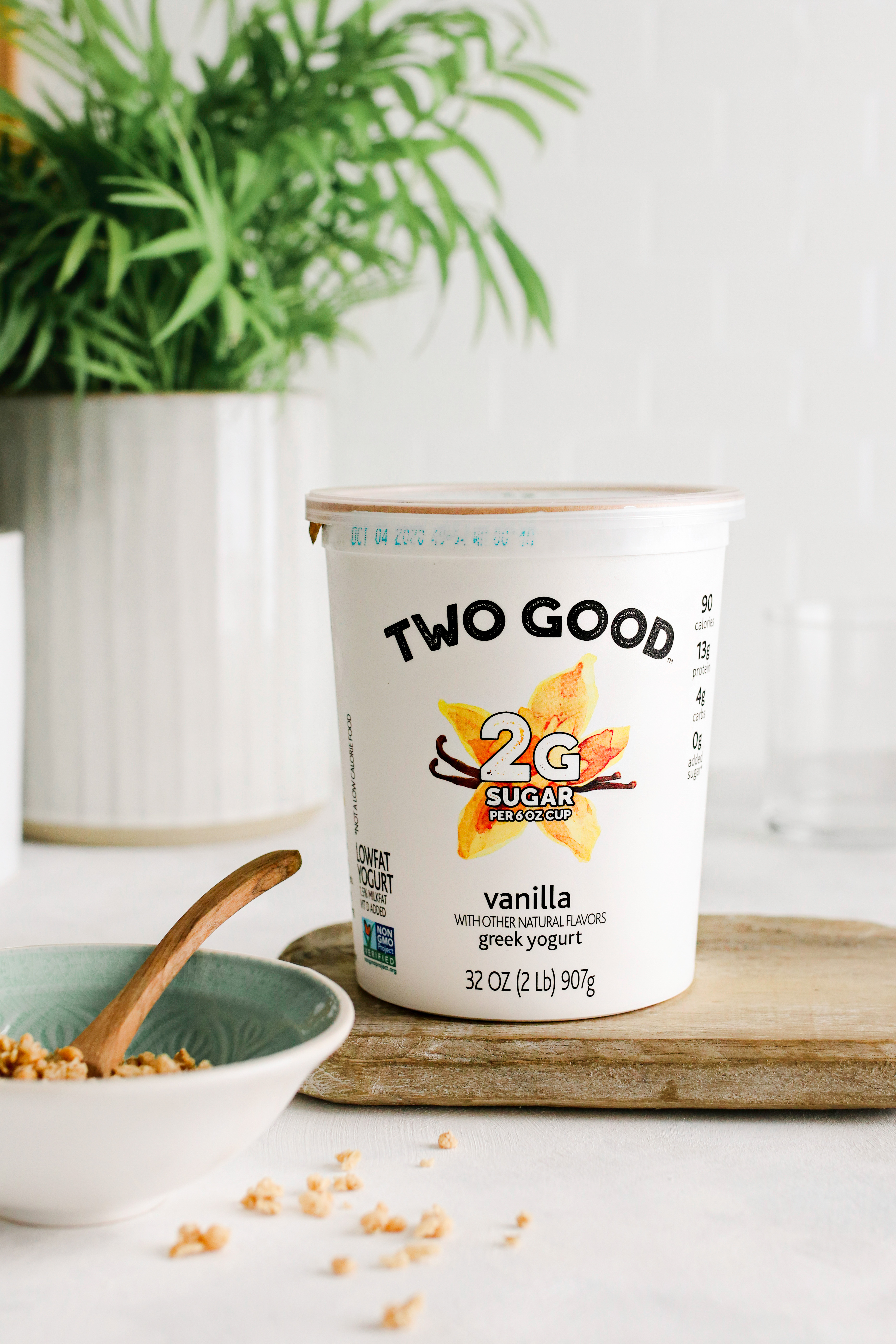 I pick up a strawberry 4-pack for easy afternoon snacking and a vanilla flavored quart-size for making meals like this yogurt bowl recipe.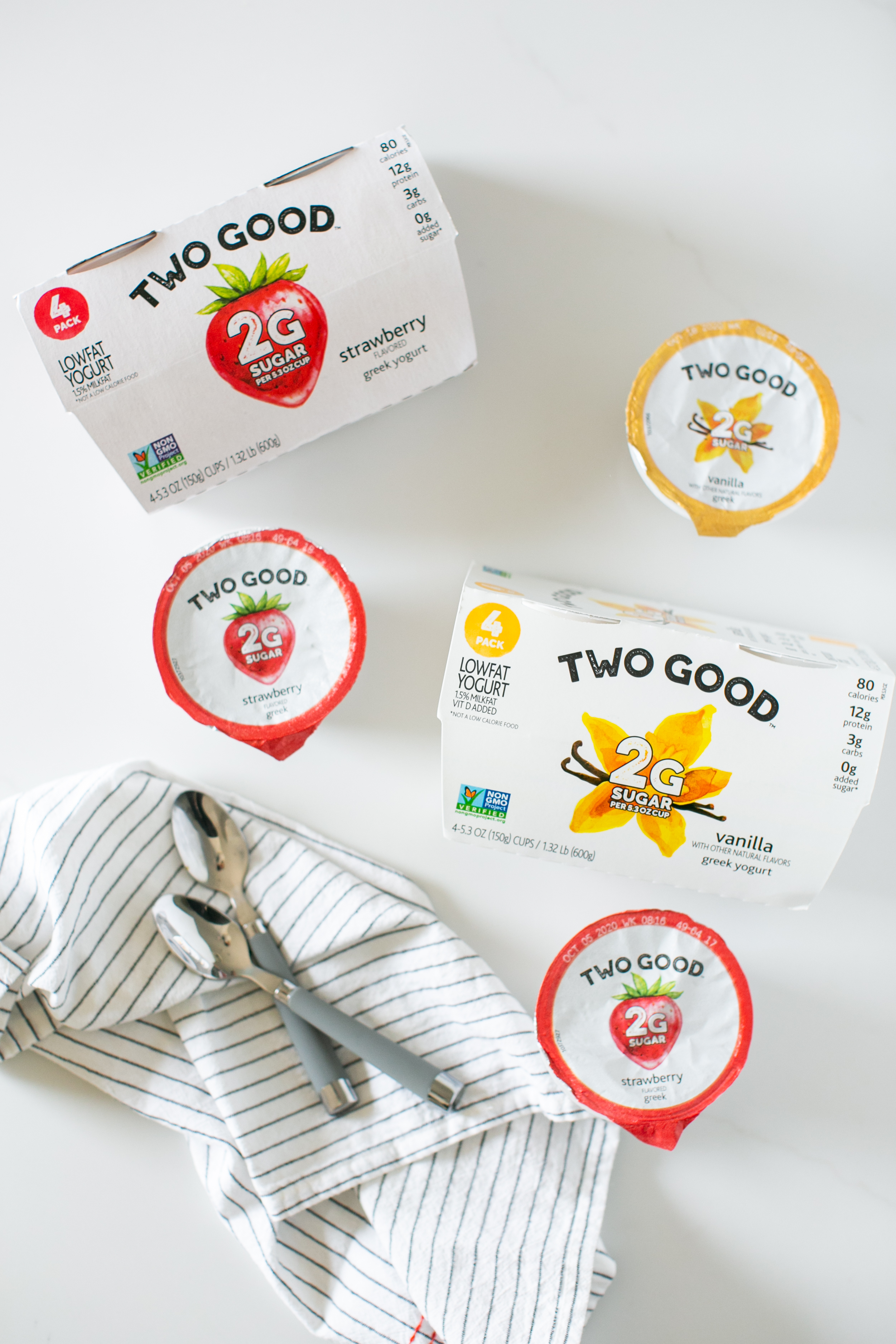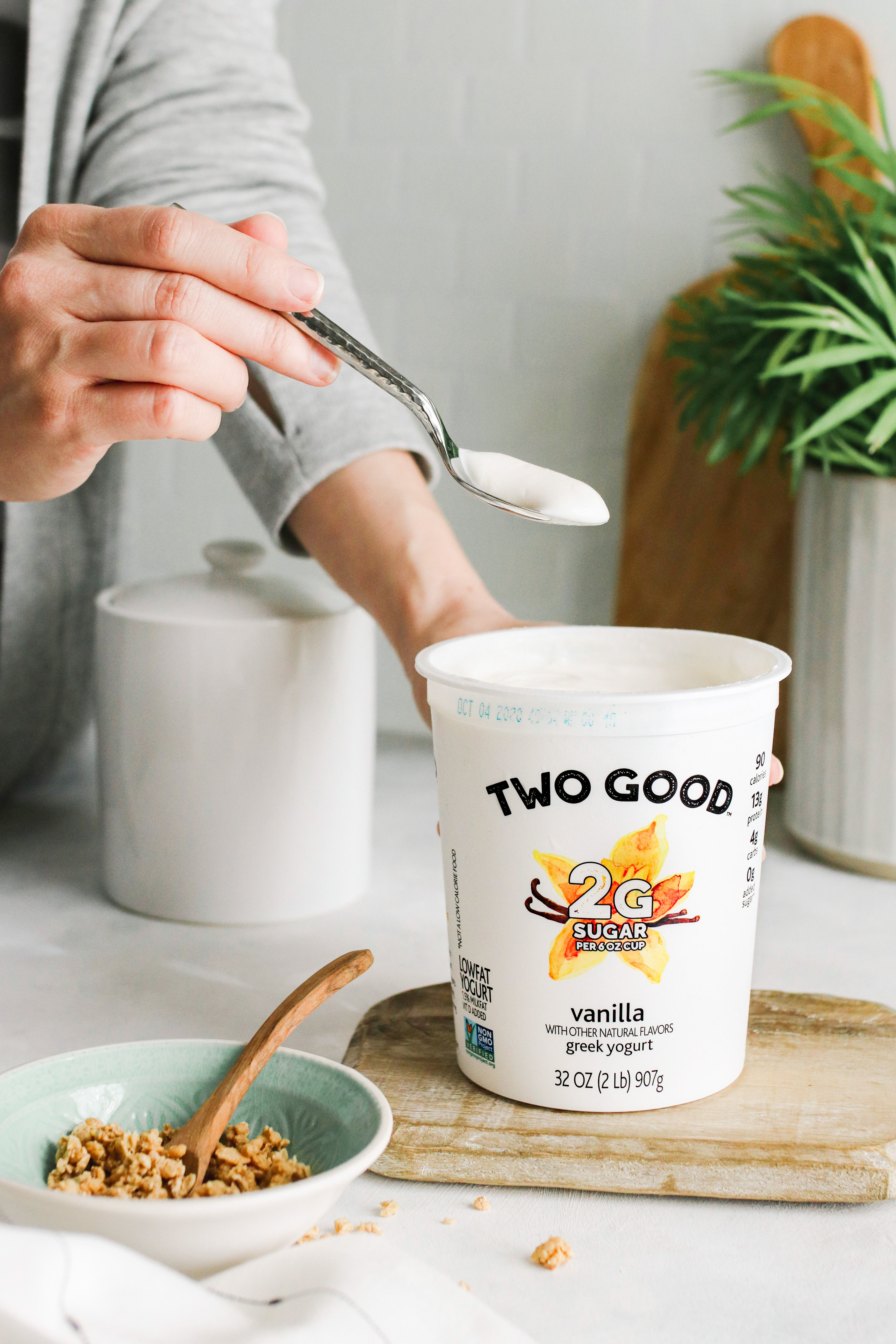 One thing I love about Two Good yogurt is their commitment to reducing food waste and hunger. Their Two Good 1 for 1 promise is a especially awesome. When you buy Danone Two Good Yogurt, an equal amount of food goes to someone in need. How awesome is that??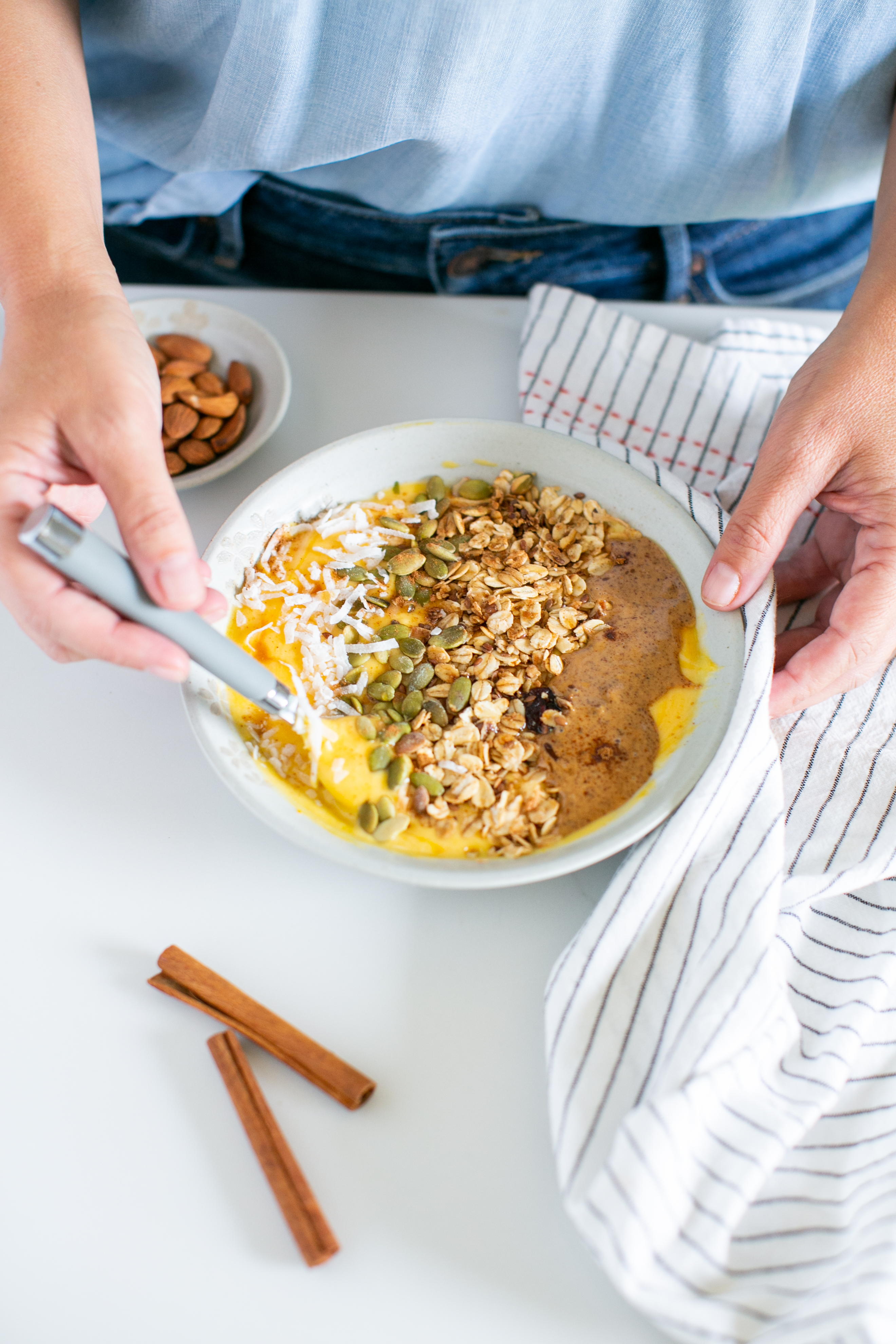 This breakfast bowl comes together super fast. I like to stir in some pumpkin puree; it still tastes great and makes a really pretty color that I enjoy eating.
Add your toppings and you're good to go:
granola
nut butter
pumpkin seeds
shredded coconut
maple syrup (optional)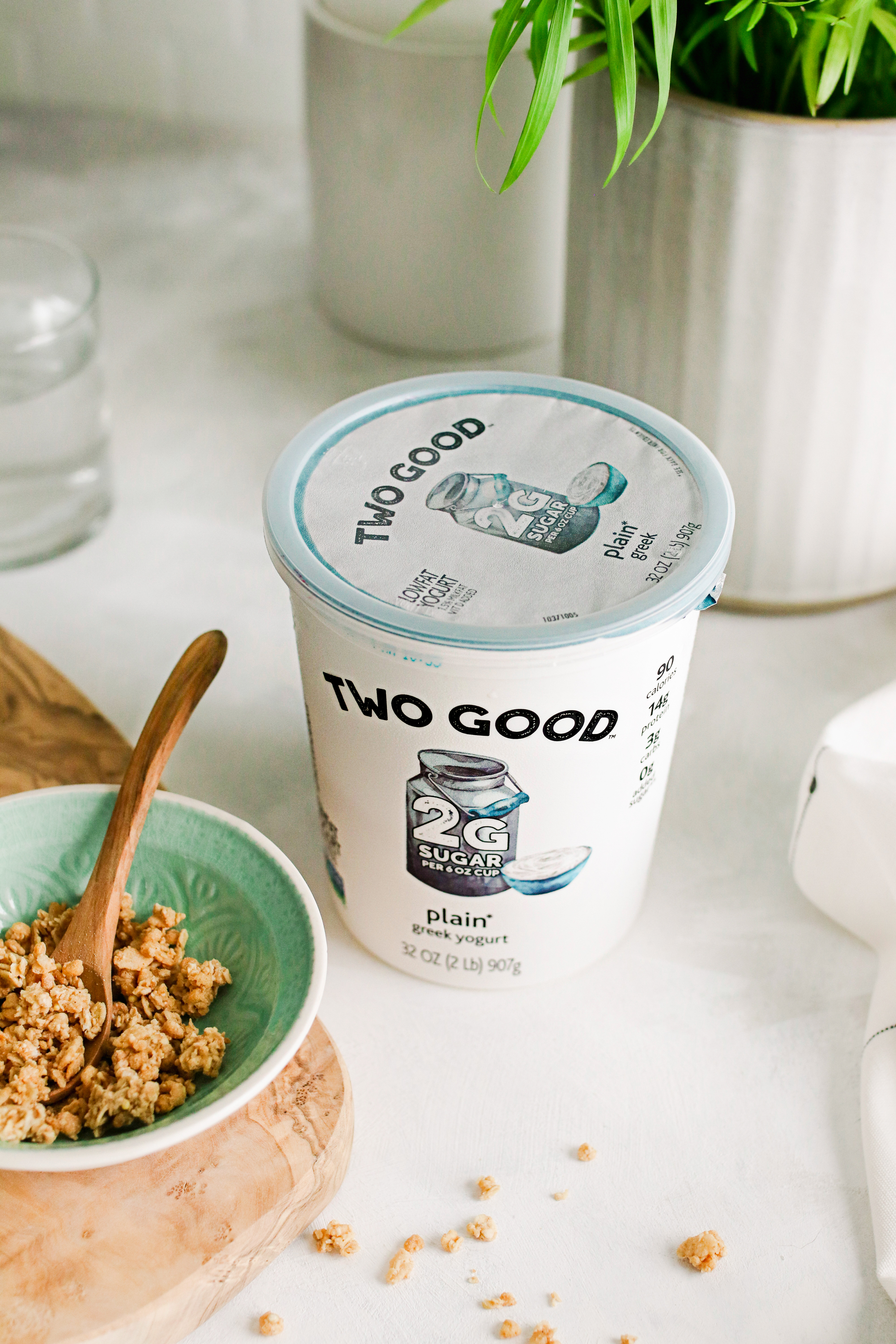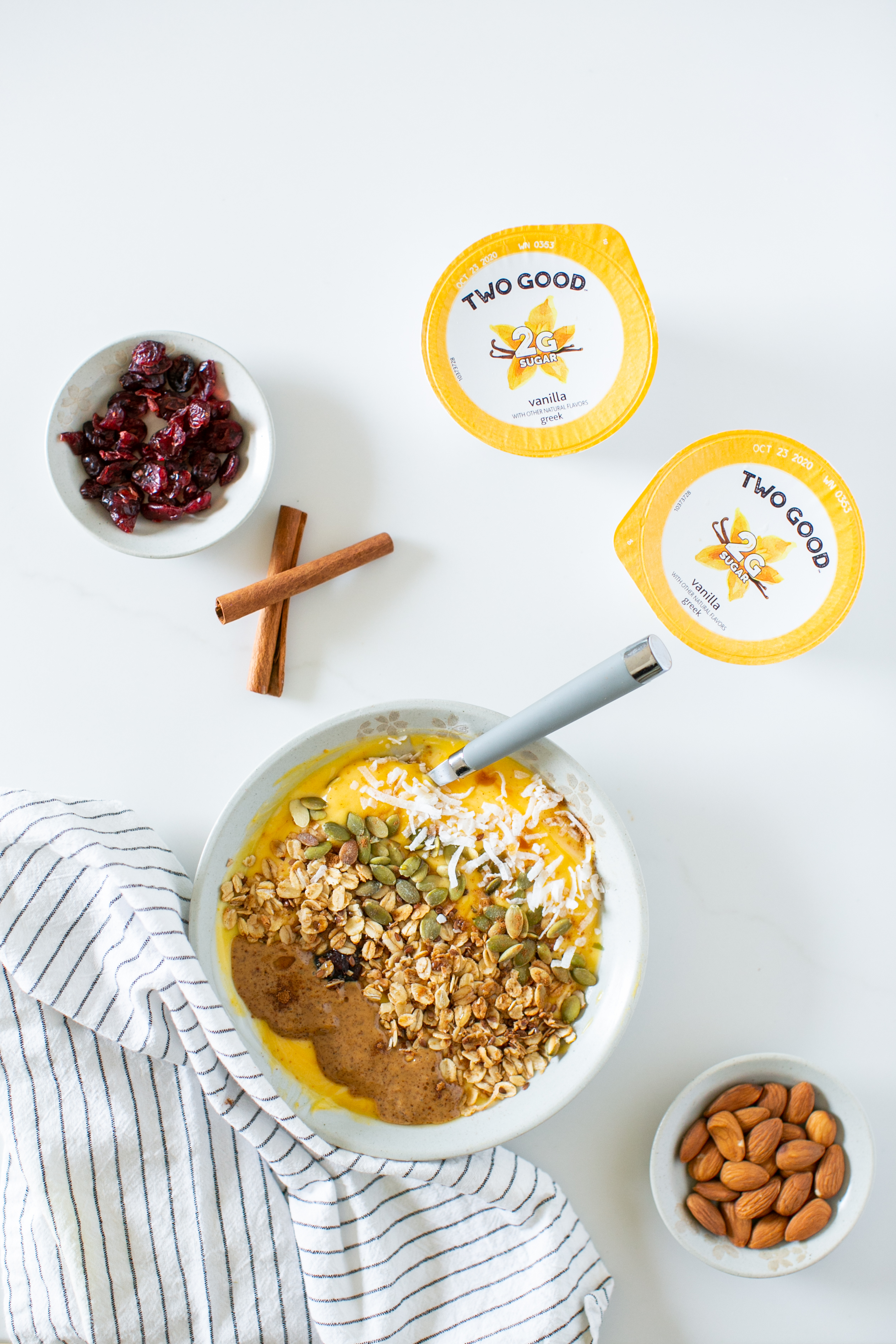 Love breakfast bowls?
We do too! Try this
quinoa bowl
for a beauty boost or this
breakfast bowl
if savory is more your speed. Show us your creations on Instagram with #helloglow.
Pumpkin Spice Granola Yogurt Bowl
Ingredients
For the granola
2

cups

rolled oats

1/2

cup

raw nuts and seeds of choice (walnuts, almonds, flax)

1

tsp

dried cranberries

2

tbsp

unsweetened desiccated coconut

1

tsp

pumpkin pie spice

2

tbsp

melted coconut oil

1

tbsp

pure maple syrup 
To assemble
1

cup

canned pumpkin

2

tbsp

nut butter of choice

1/2

tsp

pumpkin pie spice

Toasted pumpkin seeds

maple syrup, optional
Instructions
Preheat the oven to 180C/350F and line a baking sheet with parchment paper.

Add the oats, cranberries, coconut, nuts and pumpkin spice and mix to combine.

Drizzle the coconut oil and maple syrup and toss to lightly coat all the ingredients.

Transfer the oats mixture onto the baking sheet, spread into an even layer and bake for 20 minutes, until golden.

Remove from the oven and set aside to cool.

Divide the yogurt into the serving bowls, stir the pumpkin puree into each bowl then top with 2-3 tbsp of granola.

Garnish with pumpkin seeds and pumpkin spice, add 1 tbsp of nut butter to each bowl, drizzle some extra maple syrup and serve.
10