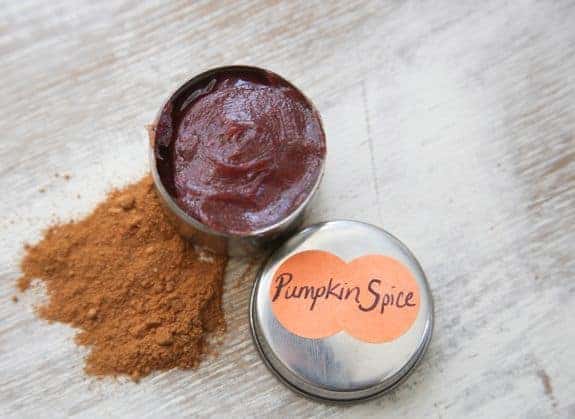 Let the pumpkin spice madness begin! It feels like the first day of September is now the beginning of fall and I, for one, can't wait. With cozy scarves and warm drinks, this is my favorite time of year. I have been meaning to make my own lip gloss forever and when I finally got around to it the other day I couldn't resist adding some pumpkin spice flavor!
Pumpkin Spice Homemade Lip Gloss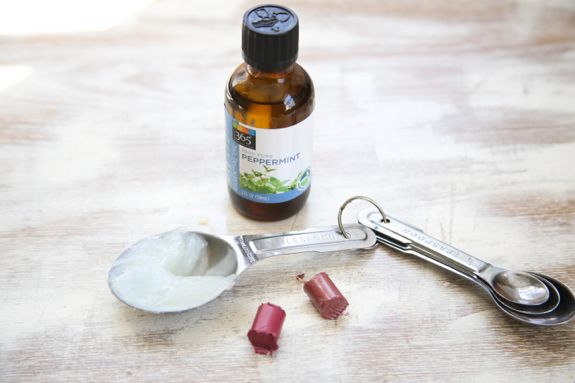 You'll need:
2 tablespoons petroleum jelly
1/4 teaspoon pumpkin spice mix
Pinch of cinnamon
small piece of lipstick (optional)
lip gloss container – you can get these a health food store or a craft store
Melt the petroleum jelly and lipstick (if using) in a microwave safe container. The lipstick adds a little bit of color to the gloss, but if you you're a fan of clear gloss, feel free to skip adding lipstick. Do this in 15 second increments, stirring with a toothpick to ensure that they're well-blended. When it is completely liquified add the spice mix and mix thoroughly. Pour into lip gloss container and refrigerate for 20 minutes to set. Lip gloss will keep indefinitely if kept in container with lid.
If pumpkin spice isn't your thing, you can add an essential oil like peppermint instead. I love that tingle that peppermint gives on the lips, plus I swear it plumps my lips a little too, especially when combined with a little bit of cinnamon.
For an all natural alternative, you can make a super moisturizing lip balm with just a few simple ingredients. However, unlike the lip gloss, the balm isn't as travel-friendly. It's still one that I like to keep on my bedside table as a nightly lip treatment, though! It's packed full of moisturizing oils like cocoa butter, coconut oil, and vitamin E to keep lips super soft.
Pumpkin Spice Lip Balm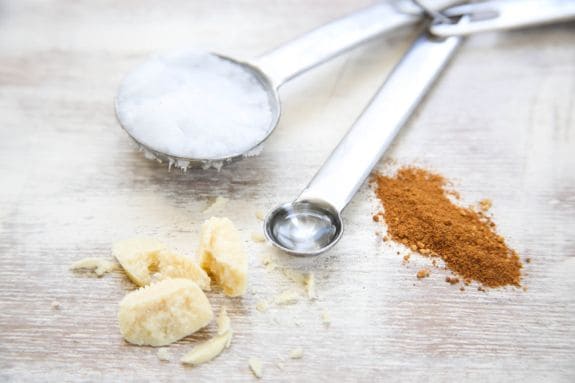 You'll need:
2 Tbsp coconut oil
1 Tbsp grated cocoa butter
1/4 teaspoon pumpkin pie spice
1/4 tsp vitamin E oil
small pinch of cinnamon
lip gloss container – you can get these a health food store or a craft store
Melt the coconut oil in a small microwave safe container, microwaving for short 15 second intervals until completely melted. (You can also do this in a small sauce pan if you prefer.) Add the cocoa butter and stir until melted. Microwave again if needed. Add the spices and vitamin E oil (preservative) and stir well. Transfer to a small container and refrigerate until solid. Do not put it in a tube or keep it in your pocket, as it will easily melt and leak. I've had this happen before inside a pocket and safe to say, I was a little bit devastated. Oils are so hard to get out of clothes!
Edit: To make the lip balm firmer, add a tablespoon of beeswax. That will help keep it from melting so easily. It will also add a bit of natural honey smell to the formula, depending on how much you add—I love this natural beeswax smell, so I'm all for it!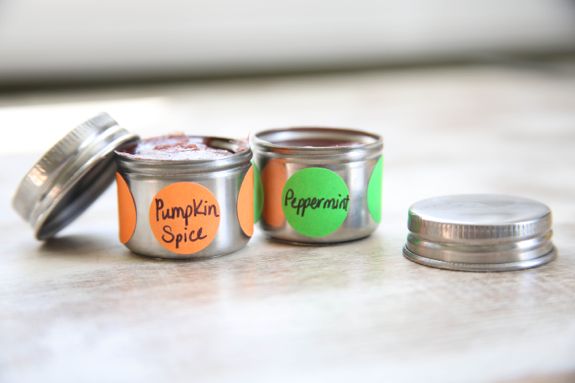 Doesn't pumpkin spice pretty much make everything better? Yay for fall! :)
18