You know those magazine stories where celebs dump out their purses and we get a peak at what they carry around with them everyday? We love those stories! For one, it's fun to see what's in someone else's purse. It feels a little…verboten? And of course, whenever we read them, we come away with some new products to try out.
Our Must-Have Purse Essentials
In that vein, we asked our contributors to answer: what are the three essential items you never leave home without?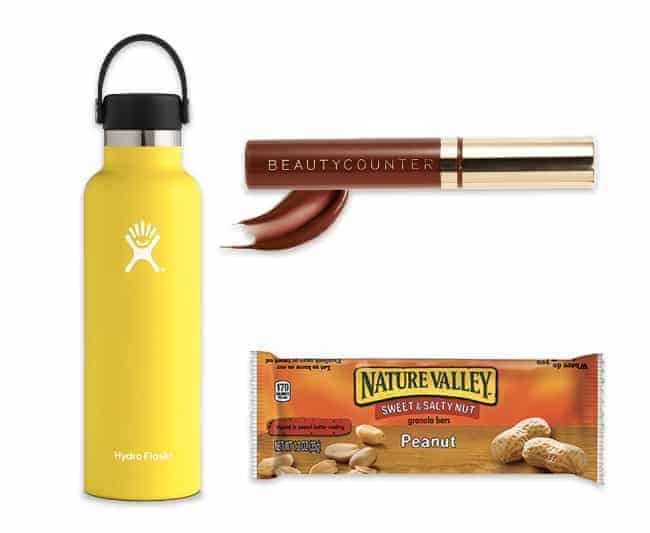 1. Water bottle: "Hydration, always. The Hydro Flask comes with a BPA free cap and it's available in all sorts of colors."
2. Beautycounter lip gloss: "I keep the Sienna color in my purse at all times. It works even better than lip balm for dry lips."
3. Snacks: "Our whole family loves these bars so I always stash 1 or 2 in my purse for snack emergencies."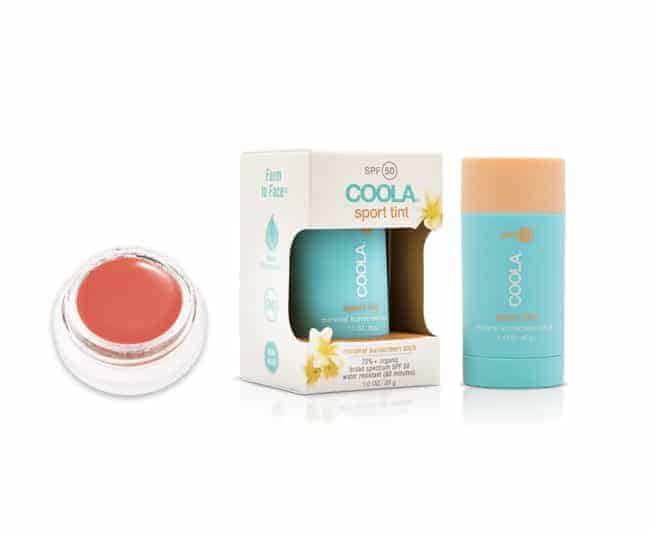 1. Coola Tinted Mineral Sunscreen: "My super fair skin can only handle 20 minutes in the sun before it starts to burn, but most sunscreens melt and run into my eye within minutes. This sunscreen is awesome because it's thick enough to stay put, even in the hot weather, plus it's tinted so it blends right in with my makeup."
2. RMS Beauty Lip2Cheek: "It doubles as both a lip shine and a blush so you can add a touch of color in a pinch without weighing down your bag. Plus it's nontoxic and made with only organic ingredients that actually help nourish and rejuvenate skin."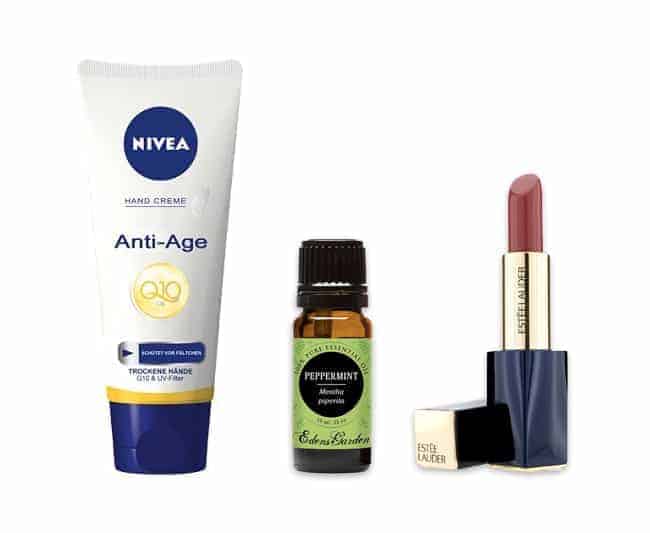 1. Estee Lauder Red Lipstick: "It's very resistant! My shade is Rebellious Rose."
2. Nivea Hand Creme: "It keeps my very dry hands hydrated."
3. Peppermint Essential Oil: "The smell is lovely, it calms my mind, and helps me concentrate."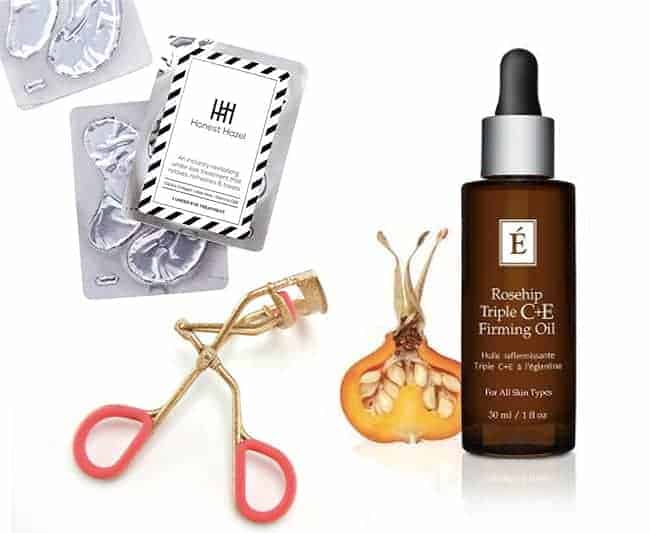 1. Honest Hazel Collagen Eye Gels: "Perfect for de-puffing tired eyes!"
2. Eminence Rosehip Triple C + E Firming Oil: "This is my go-to overnight facial oil for glowy skin."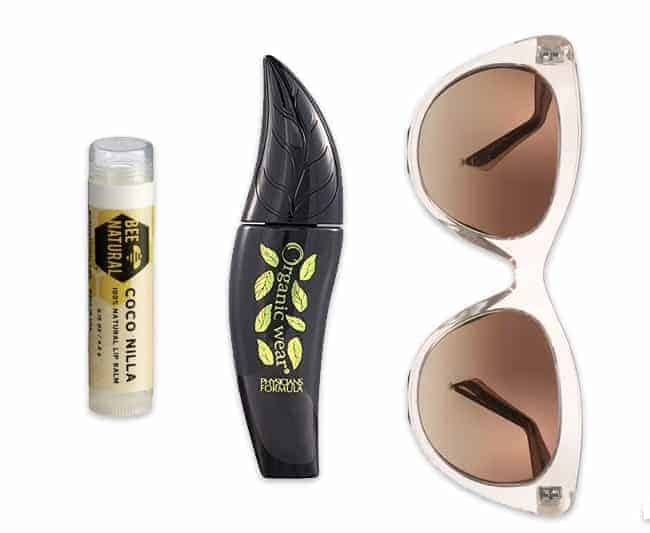 1. Bee Natural Lip Balm: "Lip balm has always been on my list of essentials. For the past year or so, I've been alternating between the Pomegranate and Coco Nilla flavors from Bee Natural."
2. Mascara: "Mascara was the first beauty product I bought when I was maybe 13 and it's still my go-to product. These days I apply it after using an eyelash curler."
3. Sunglasses: "I have a few pairs in rotation but one of them is almost always somewhere in my bag".
1. Kari Gran Lip Whips: "I hate the feeling of lipstick (and the fact that so many brands contain lead and other heavy metals is pretty terrifying!), but sometimes you need a little more than lipgloss and Kari Gran lip whips are the perfect combination of both–but organic, eco-friendly, and made without parabens. I love the Suji Red shade."
2. Chimes Ginger Chews: "No matter where I'm going, I always have a handful of Chimes Ginger Chews in my purse. I suffer from crazy motion sickness that hits me without warning and ginger is the best natural remedy for calming nausea."
3. Herban Essentials Essential Oil Towelettes: "I have a toddler, so wet wipes are a must-have. Herban Essentials towelettes are made with essential oils instead of artificial fragrances. I love the variety pack because I get strangely excited to see which scent I'll pull out when I need one. And they smell so good!"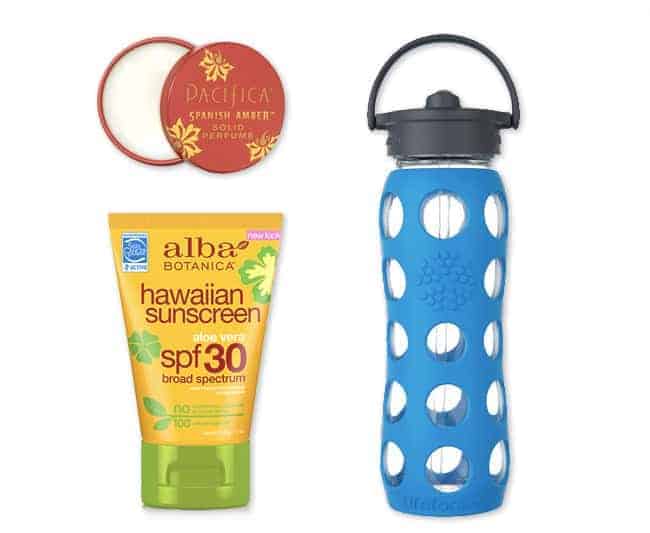 1. Pacifica Solid Perfume: "I'm in love with all of Pacifica's products. I always have the small tin of Spanish Amber in my purse."
2. Lifefactory Water Bottle: "I'm a stickler for keeping hydrated and I love these water bottles. I've always got water in my bag wherever I go."
3. Alba Botanical Hawaiian Sunscreen: "I hate most sunscreen because it makes my skin feel like it can't breathe, especially on my face. But sunscreen is non-negotiable. I got a sample of this one time and loved it so much it's the only one I use on my face."
0