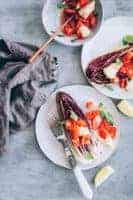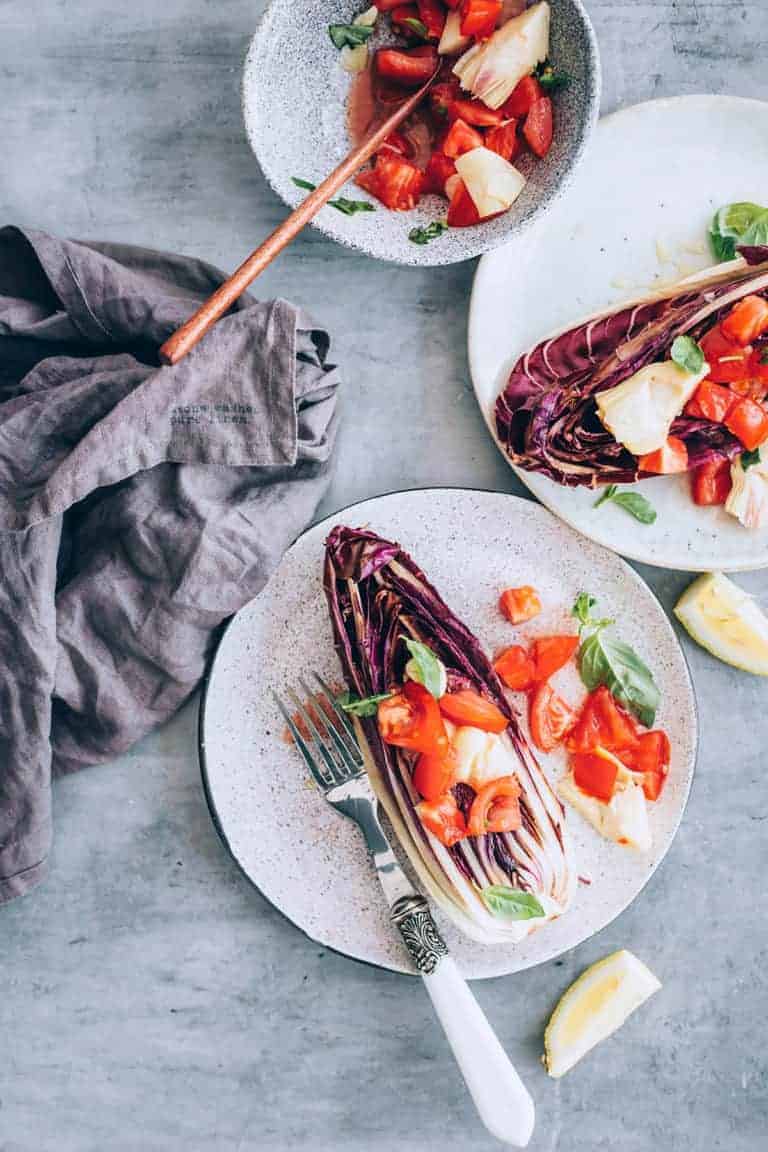 Radicchio, Artichoke & Heirloom Tomato Salad
Yield 6 servings
Reprinted from The Plantpower Way: Italia by arrangement with Avery Books, a member of PenguinGroup (USA) LLC, A Penguin Random House Company. Copyright © 2018, Julie Piatt and Rich Roll
Ingredients
¼ cup olive oil
¼ cup balsamic or apple cider vinegar
2 teaspoons Celtic sea salt, plus more to taste
½ teaspoon freshly cracked black pepper
3 heads of radicchio, halved
4 heirloom tomatoes, sliced into quarters
1 cup artichoke hearts in a jar
Juice of 1 lemon
1 bunch fresh basil, finely sliced
Instructions
In a medium shallow serving dish, whisk together 2 tablespoons olive oil, the vinegar, salt, and pepper. Set aside
With metal tongs, hold each radicchio half over an open flame or place it on a gas grill barbecue. Grill it for about 5 minutes, until the leaves blacken around the edges and the colors brighten. Remove from the heat and place in the dressing, turning it over to coat the radicchio well.
In a small bowl, place the tomatoes and the artichoke hearts and toss well in the remaining 2 tablespoons of olive oil, the lemon juice, and salt to taste.
On individual plates arrange a radicchio half in the center. Add the tomato mixture on top and garnish with fresh basil. Pour some of the remaining marinade over the radicchio.
Courses Salads
Recipe by Hello Glow at https://helloglow.co/radicchio-salad-plantpower-way-italia/