When you see a chic, pulled-together mom at Target, don't you just want to stop her in the checkout lane and grill her about where she shops? Well, I do. That's what we're doing today with Alexa of the wonderfully stylish and charming blog, The Short and Sweet of It. She was kind enough to share her style secrets, yay! (And how cute is her daughter Mila?)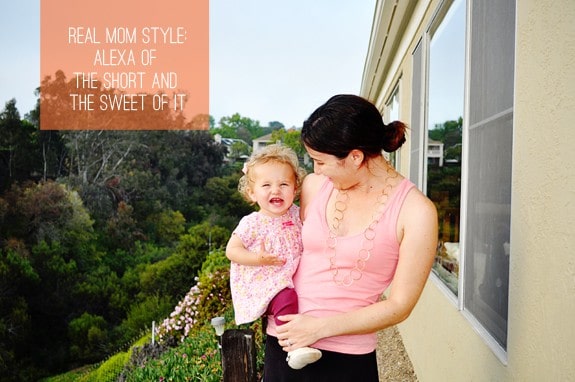 My outfit: tank top: vintage style tank from J. Crew. Gold chain necklace from Banana Republic, black maxi skirt: Macys, gold flip flops: Target
Mom staple that you always wear
Flats (or flip flops) and a cotton maxi dress or maxi skirt, with a tank. In all honestly, a mom staple is yoga pants and a t-shirt. But if I'm going out the maxi never steers me wrong.
Key pieces in your closet
Cotton dresses (either short or maxi)…there's nothing like a one-item outfit. Different colored t-shirts with flair. At the risk of sounding all "Office Space" on you, I have to say, finding simple cotton t-shirts with a little added flair is key. I have some with buttons, others are v-neck and some have cute, frilly sleeves. I'm not really rocking cute, patterned blouses these days unfortunately and as a mom on the go, you want something easy, but that also makes you feel kind of hot.
Color palette that you stick to
I love grays, whites and pinks together. I think the look is so classy and feminine. I'm crushing pretty hard on the bright colors these days too…but I think the grey, white, pink combo is ever lasting.
Final touches to complete your outfit: Throw on a gold necklace and a gold pair of sandals and you can never go wrong.
Last thing you bought that was worth the splurge: My green skinny jeans from J. Crew (see below). They are so comfy and so fun!
This summer I'll be wearing: Blue linen shorts from Forever 21, Vintage cotton tanks from J. Crew, short cotton dresses from Target, and flip flops!
Favorite places to shop: H&M, J. Crew, Urban Outfitters, Target
Fashion Picks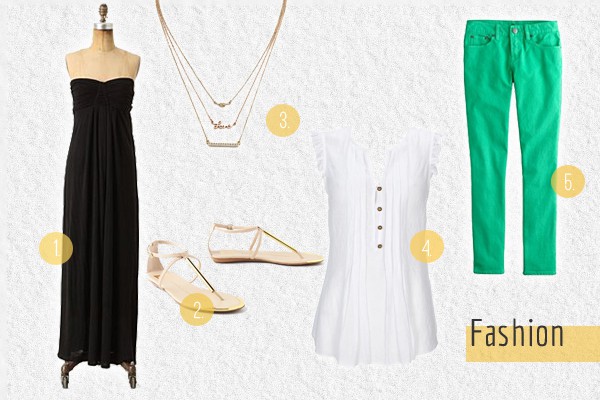 1. Anthro 2. JewelMint 3. Anthro 4. Wallis 5. J. Crew
T-shirt: Simple white cotton tee with frilly short sleeves from H&M
Summer dress: Strapless maxi dress from Anthropologie. I adore it to pieces.
Accessory: I rarely wear jewelry these days, but I love my diamond pendant necklace that was made out of my Oma's wedding ring. It's for special occasions.
Bag: Anthropologie brown over the shoulder. (A Christmas gift from my sweet husband)
Jeans: J. Crew Green Skinnies!
Kid's Clothing Brand: H&M
Beauty Picks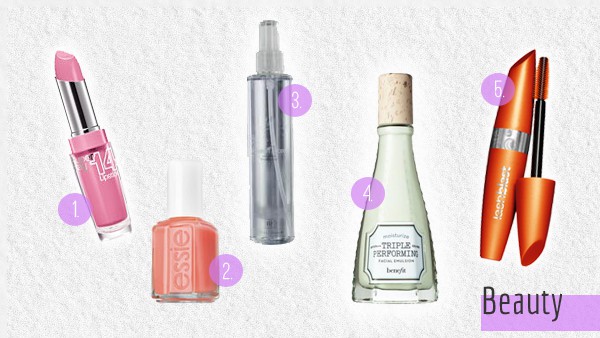 Lipstick: Maybelline Perpetual Peony
Mascara: Covergirl
Perfume: What? Just kidding…sort of. I hardly have an occasion to wear perfume these days. But I do a body splash spritz of Dream More Body Mist from Banana Republic.
Nail polish: Essie Tart Deco
Favorite beauty product: Benefit Triple Protection Daily Moisturizer. I swear it gives me face such a nice glow I don't have to wear foundation!
Life picks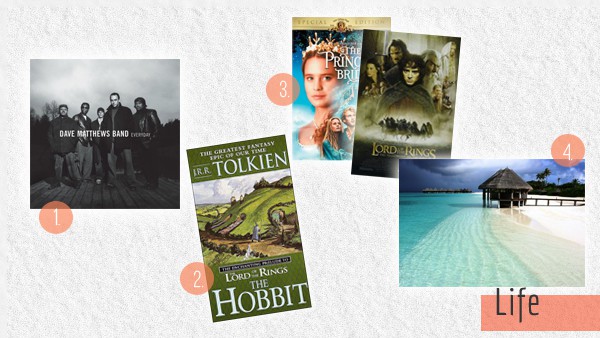 Music: Dave Matthews Band. I can't help it. His songs will always remind me college and being young and carefree and honestly what's better than that?
Book: I'm such an avid reader I honestly can't choose. For sentimental value, I'm going to say The Hobbit. My mom read it to me when I was little and the effect it had on my imagination was overwhelming.
Film: Oh, tough call. I've always had a soft spot for The Princess Bride, I'm such a J.R.R Tolkien nerd that I pretty much have to watch all three Lord of the Rings movies once a year, and I'm a sucker for weird French films: one of my favorites is Red by Krzsztof Kieslowski.
Getaway: Matt and I haven't been anywhere together since Mila was born, but we are planning a trip this year somewhere that is scenic, quiet, fun and serves copious amounts of alcohol. Any thoughts?
Hangout: Playtime at La Jolla Rec Center, days at the beach, dinner at the Prep Kitchen and nights out with our sweet friends, who are the best in the world!
Well, now I"m off to get some green skinnies. :) Thank you so much Alexa! Don't forget to drop by The Short and Sweet of It! – Stephanie
0