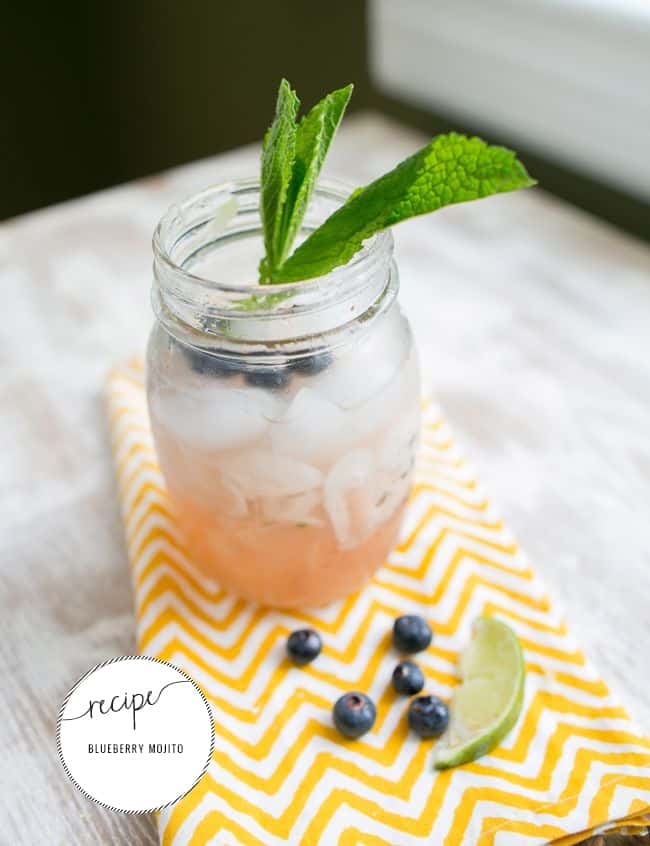 My hubby considers himself to be a mojito expert. He has been known to rate restaurants by how good their mojito cocktails are (yes, this is usually when I roll my eyes). So I was nervous to try one a home! But I love mint and thought it would be fun to add blueberries to the mix. I'm a sucker for anything berry related. A bonus to adding the blueberries (besides the extra tastiness) is the pretty blueish purple hue it turns the drink. Very 4th of July festive!
Blueberry Mojito
adapted from New York Magazine
Ingredients:
8 blueberries
Handful of fresh mint leaves
3 ounces club soda
2 ounces light rum
1/2 ounce simple syrup
lime wedge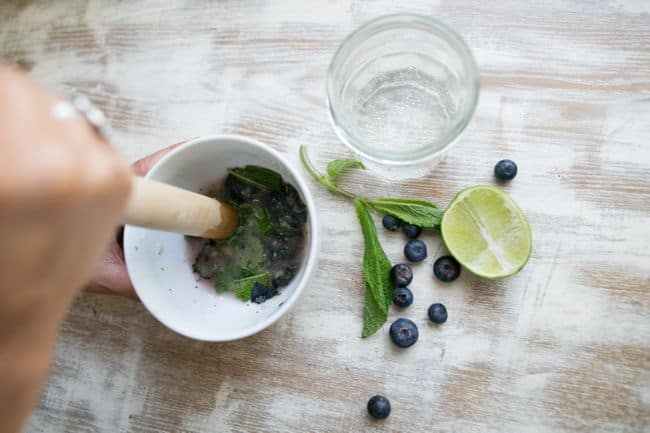 Muddle the blueberries and mint in a small bowl with a splash of soda until they've released their juices. Pour the berries into a shaker (I use a red Solo cup) and fill with ice. Add the rum, simple syrup and squeeze of lime. Give it a good shake then strain into a glass filled with ice. Add club soda on top. Garnish with mint and blueberries.
Want more patriotic party ideas? Try these red, white and boozy cocktails!

1. Frozen boozy bomb pop drink – Simply Fresh Cooking | 2. Uncle Sam-Tini – Babble | 3. Blueberry mojito – Hello Glow | 4. Snow cone drinks – Kirbie's Cravings | 5. Cocktail cooler popsicles – Endless Simmer | 6. Summer sangria – Eat. Drink. Love | 7. Blueberry bliss – Carla's Confections | 8. Blackberry gin & tonic – Nutmeg Nanny | 9. Watermelon blueberry cooler – Tasty Trials.
0