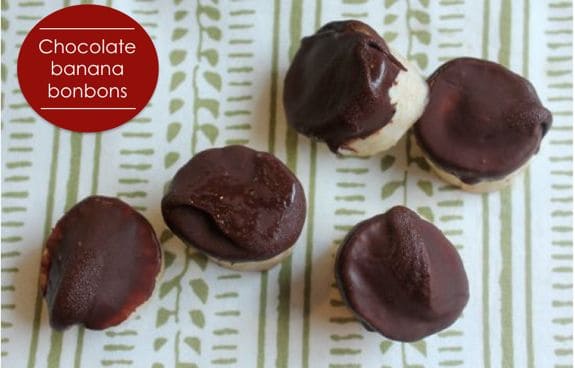 I apologize for going MIA on Friday. For the past three weeks! Every Thursday I find myself needing to tune out the computer and do other fun stuff – like say, laundry. :)
Growing up my grandmother used to freeze bananas on Popsicle sticks and savoring that frozen treat after a long day of swimming is one of my favorite summer memories. Genius, right? So easy, cheap – and healthy! – and yet we thought we were having a gourmet dessert.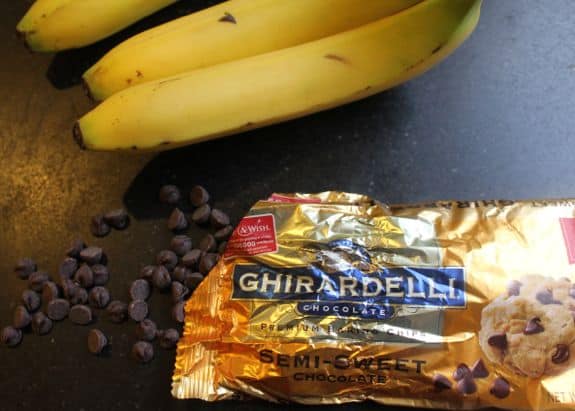 This weekend I found a recipe for mini sized frozen chocolate banana treats and had to try it. They did not disappoint! You can satisfy those sweet snack cravings without going overboard.
I had to fight off little hands in order to save a few for a photo. And next time I'm going to dip in peanut butter before the chocolate!

Chocolate Banana Bonbons
Recipe adapted from Clean Eating
Ingredients
2-3 bananas, cut into 1/2 inch thick pieces

1/4 cups chocolate chips. I highly recommend Ghirardelli chips.

Directions
Melt chocolate chips in the microwave in 30 second intervals. Stir in between. You don't want the chocolate to burn.

Dip one end of the banana pieces into chocolate. Place chocolate side up on parchment paper-lined baking sheet.


Put baking sheet in freezer for at least an hour.

Eat right away or put in freezer bag.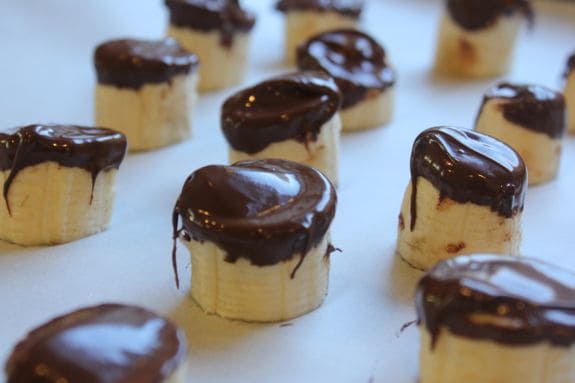 0