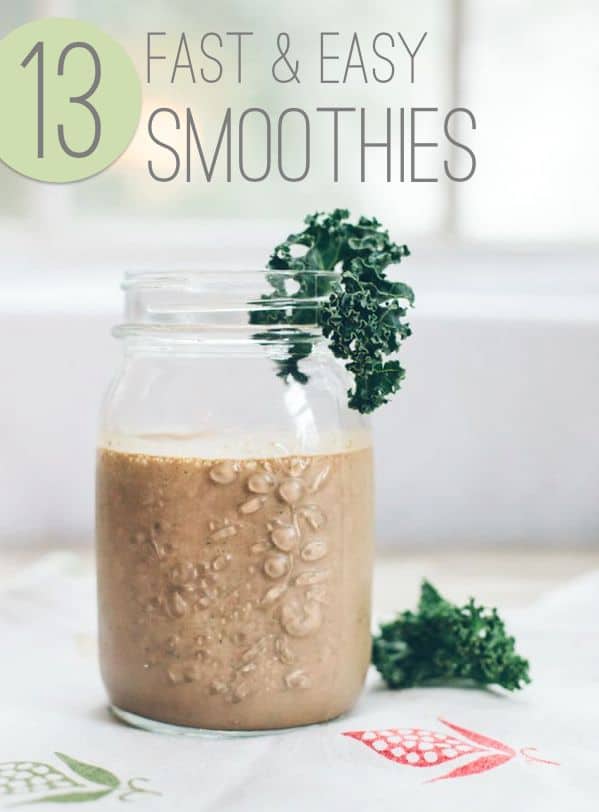 The hubby and I have a deal. I make the kids' lunches every day, and he fixes my breakfast. So when I roll out of bed there's a yummy smoothie waiting. Which is perfect since he dashes out of the house insanely early, usually before the chaos of getting 3 kids dressed and ready begins. Left to myself, I end up scarfing down the kids' leftovers, a terrible habit any time of day. Instead I'm getting tons of vitamins (especially vitamins A and K for those dark circles) and antioxidants.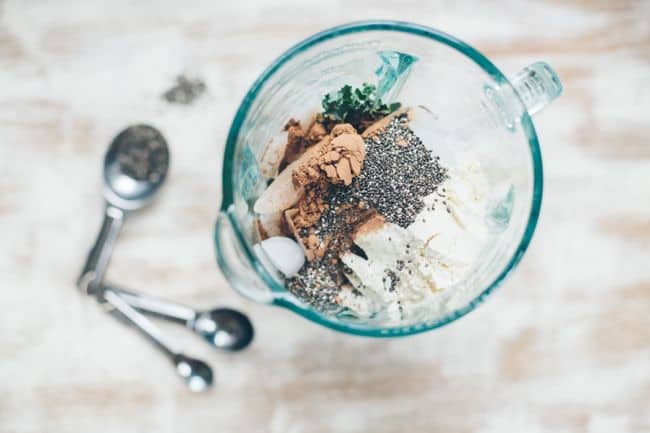 I'm totally late to the chia seed show, but better late than never. I love that they don't have to be ground up like flax seeds – that was a major roadblock. Who has time to grind seeds? And these guys have tons of fiber to keep you feeling full. And don't get me started on the chocolate and coconut milk. The result is so much more creamy (and decadent tasting) than a typical fruit shake.
Chocolate Coconut Chia Smoothie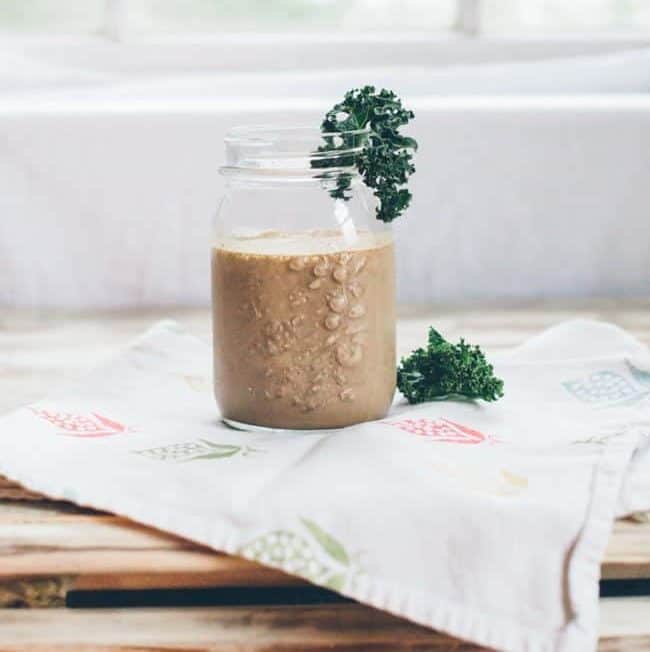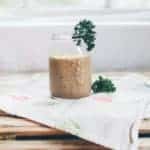 Print Recipe
Chocolate Chia Smoothie
A creamy (and decadent tasting) smoothie with plenty of fiber to keep you full.
Ingredients
1

cup

ice

1

cup

coconut milk

1/4

cup

cocoa powder

2

tbsp

chia seeds

2

scoops

protein powder (I like the chocolate flavored kind)

1/2

banana, frozen

handful

kale
Instructions
Add all ingredients to blender and blend until smooth. Enjoy!
12 more fast, healthy smoothies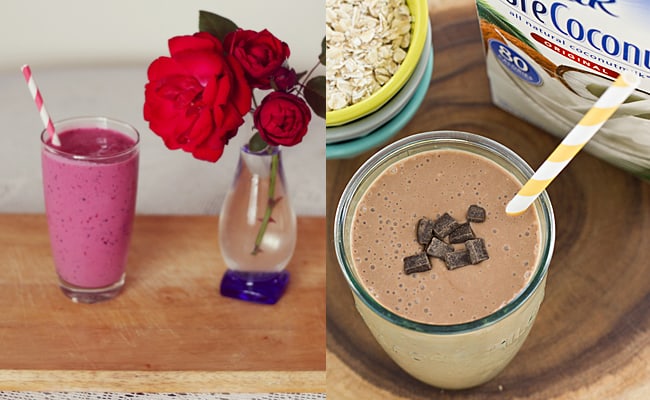 1. Berry smoothie – Here Comes the Sun. This berry smoothie is a great way to bring fruit into the diet of those who don't like them, or even to replace a meal.
2. Chocolate Banana Peanut Butter Smoothie – So simple, you don't even need a recipe! A small frozen banana, a tablespoon each of cacao powder and peanut butter, and enough milk to blend is all you need.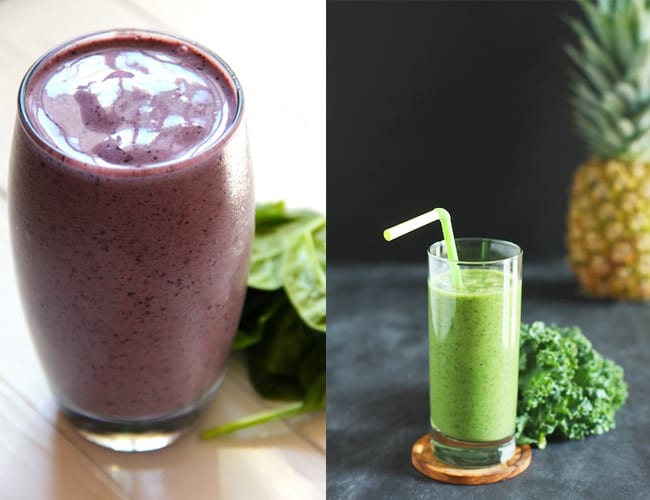 3. Blueberry spinach smoothie – Alaska from Scratch. An easy way to convince anyone to eat spinach: with the delicious taste of fruit covering it!
4. Pineapple smoothie – Set the Table. Great for kids and adults alike, this smoothie is made with pineapple, mango and almond milk.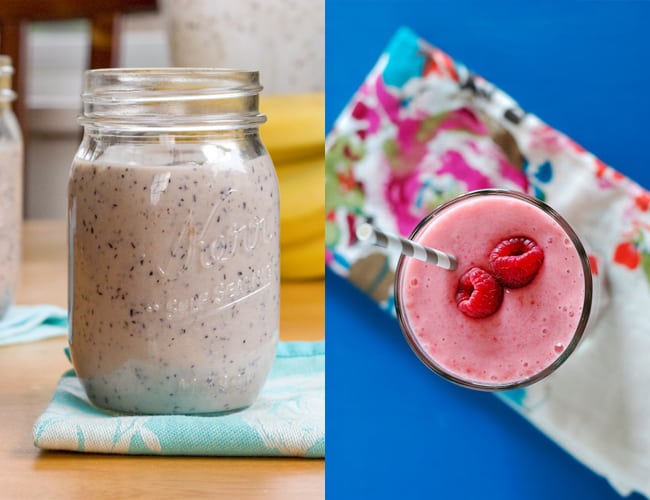 5. PB blueberry banana smoothies – PDX Food Love. Filled with energy, this smoothie is a great way to replace a whole meal. Plus it's ready in about 30 seconds.
6. Raspberry smoothie – Call Me Fudge. Raspberries, strawberries and bananas can be quickly turned into a smoothie, with the aid of milk and honey.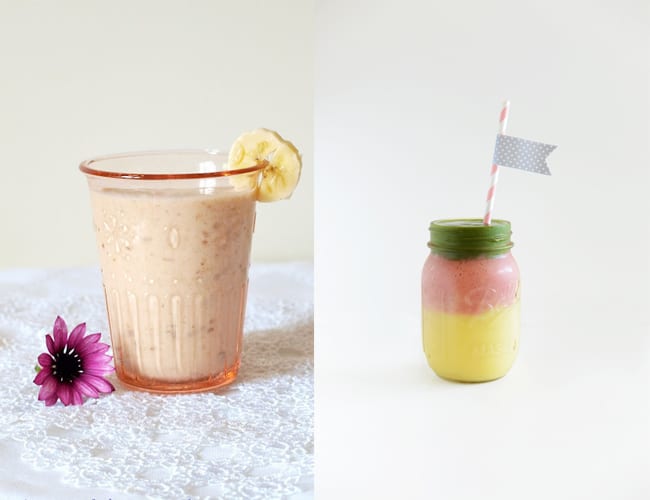 7. Breakfast banana date smoothie – Happiness Made From Scratch. Smoothies are a great breakfast replacement – and you can even eat them on the go! This one has all the ingredients to make you want one every morning.
8. Stoplight mango green smoothie – Minimalist Baker. A three color smoothie is so exciting for kids! Make it by pouring layers of delicious smoothie on top of each other.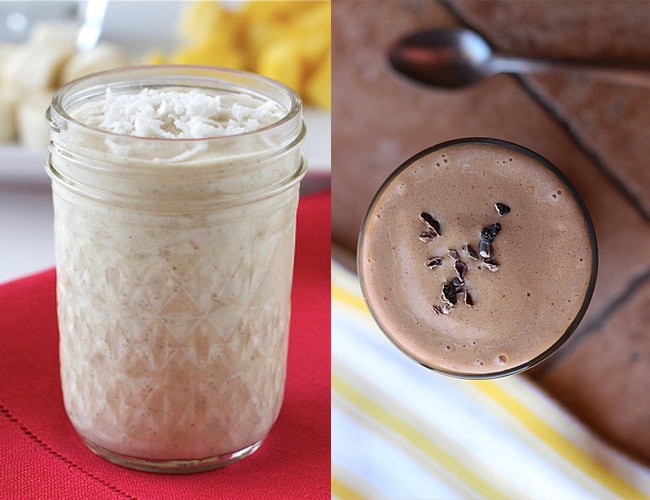 9. Mango banana breakfast smoothies – Offbeat & Inspired. This smoothie comes in tropical flavor, perfect for summertime. And it's a good way to practice clean eating!
10. Fantasy melted chocolate ice cream – Oatmeal With a Fork. All the delicious taste of melting ice-cream, with none of the guilt! This healthy version is made with almond butter and cocoa powder.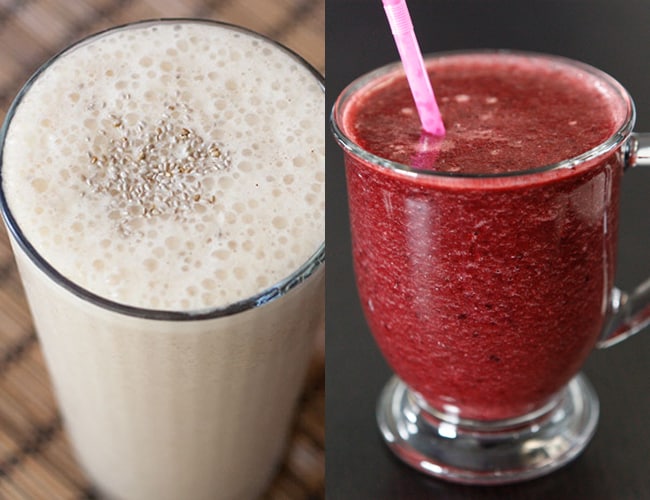 11. Morning protein smoothie with Brazil nuts – The Vedge. Vegan and filling, this is the perfect smoothie for breakfast or when you need an energy boost.
12. Apple cherry smoothie – Amazing Paleo. Not only does this have an amazing color, but it also tastes like cherry candy! Except there's no sugar inside, other than from the fruit.
14