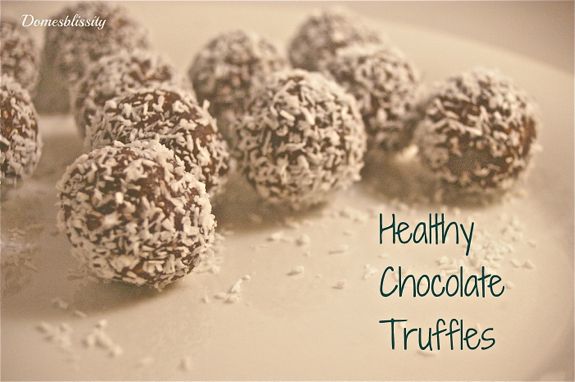 I'm Anne from Domesblissity. I'm a stay at home Mum of a 7-year-old girl and a 5-year-old son here in Australia. I love to cook everything from scratch and live a frugal life while still having some style and individuality. I love making something out of nothing, especially in the kitchen, and only use seasonal, fresh, local produce.
I had Stephanie in mind when I made these Healthy Chocolate Truffles. It's been over 5 years since I was last pregnant but one of my biggest downfalls was not having any healthy snacks on hand as you're running to a crying baby or a toilet training toddler. I'm sure Stephanie will have her hands full in a couple weeks' time and this will be the ideal thing to have on hand. I'm enjoying them for a high protein, low fat snack myself while I'm trying to lose weight and going to the gym. Get the recipe after the jump!

Thanks for having me Stephanie, and I hope you get a chance to make these before you go into hospital. If I lived a bit closer or knew they'd travel well in the 2 week postal trip from Australia to the US, I'd make a batch for you.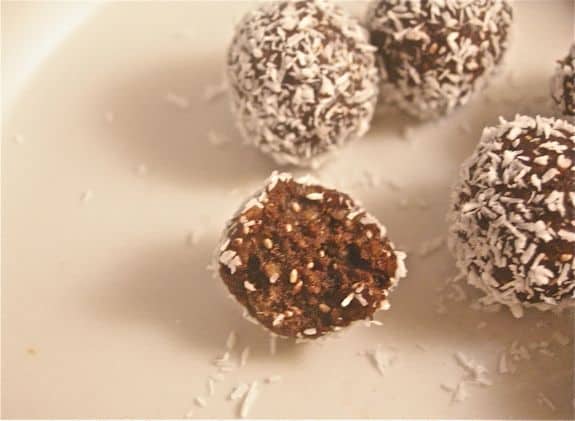 Healthy Chocolate Truffle Recipe
Ingredients:

10 dates, soaked in water to soften if not already soft

10 dried apricots (or any other dried fruit besides the dates or apricots)

1/2 Tablespoon chia seeds

1 Tablespoon cocoa powder

1 Tablespoon honey

1/2 cup walnuts (or any other nuts)

1 tsp vanilla

water, if mixture is too dry

coconut/cocoa powder/crushed nuts for rolling
Directions:
Place all ingredients in a food processor and blend until a fine crumb has formed.

Slowly add a teaspoon of water at a time, until a ball has formed.

Roll teaspoons of mixture into a ball and roll in coconut, cocoa powder or crushed nuts.

Store in fridge.

Use any kind of dried fruit, nuts or add protein powder or LSA (Linseed Sunflower Almond) mix.
_____________________________________
Darn, I wish these would make the two week trip from Australia! Thank you so much Anne. I'm always amazed at the tasty creations she whips up with a few ingredients she happens to have on hand. (Why can't I have this skill?!) Domesblissity is chock full of yummy recipes and creative ideas – check it out!
0