I'm a big fan of making cocktails with wine (then you can drink more of them, right?), so when I heard about the existence of Lillet—admittedly late in the game—I was pretty thrilled. Available in red, white and rosé varieties, it's perfect for sipping on its own. I like the white (Lillet Blanc) in the traditional French style, over ice and garnished with some citrus slices to bring out the subtle orange flavor. But a Lillet cocktail? That's genius.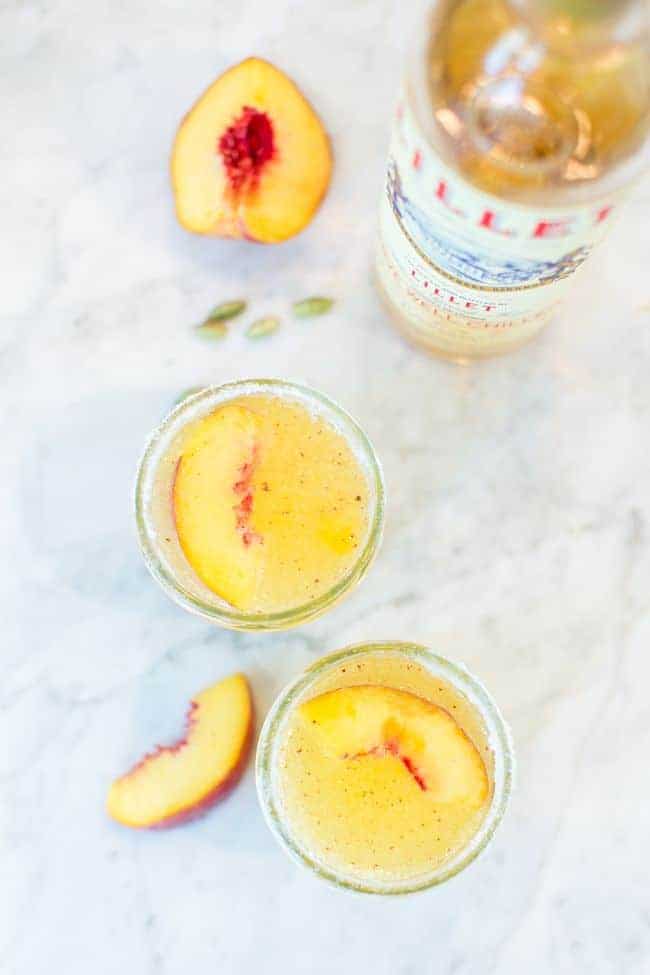 Peaches and apricots are absolutely perfect this time of year, and they're so great in so many things—smoothies, ice cream, cobblers, pies—but no one ever uses them in cocktails! Which is a shame, because they meld with so many flavors: citrus, berries, vanilla, even cinnamon. The peach and apricot juice in this cocktail serves as a sort of liaison between the orange-y flavor of the wine and the warmth of the cardamom (which is legitimately one of the best things in the whole world). It all gets topped off with some sparkling water for a refreshing fizz. It's really important that all the ingredients be chilled in this drink. Ice won't ruin it, but it's better without.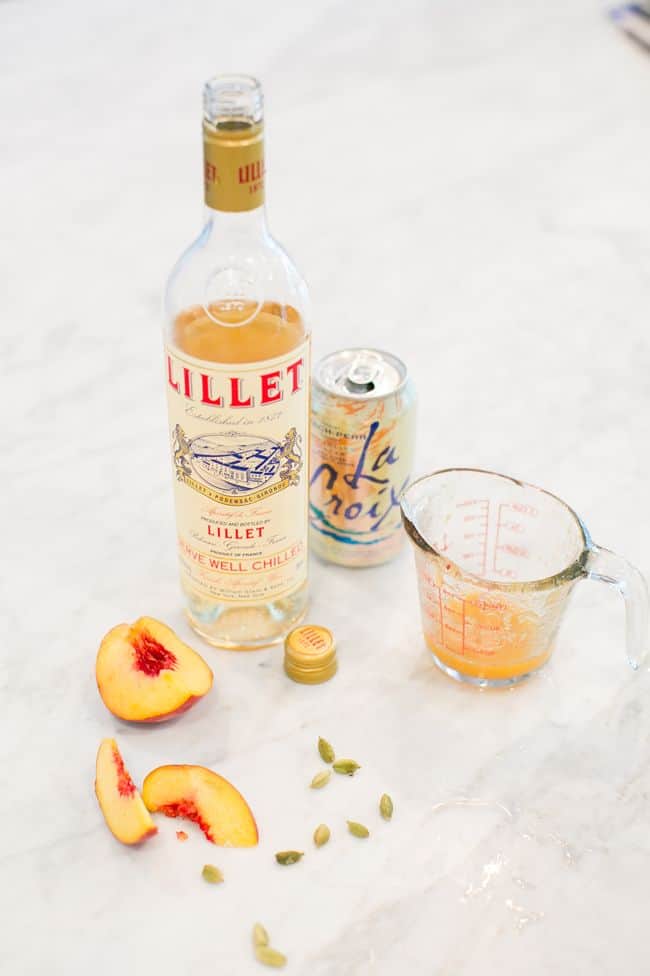 Next time you see peaches on sale, grab a bunch and juice them for drinks. Peach juice is amazing as the liquid base in smoothies, too. The recipe gives instructions to make a cup of the cardamom-infused sugar; you can scale it down following that ratio, or simply keep the rest on hand for other cocktails (or sprinkling on baked goods or oatmeal). It'll keep indefinitely in a dry, enclosed container, just like regular sugar.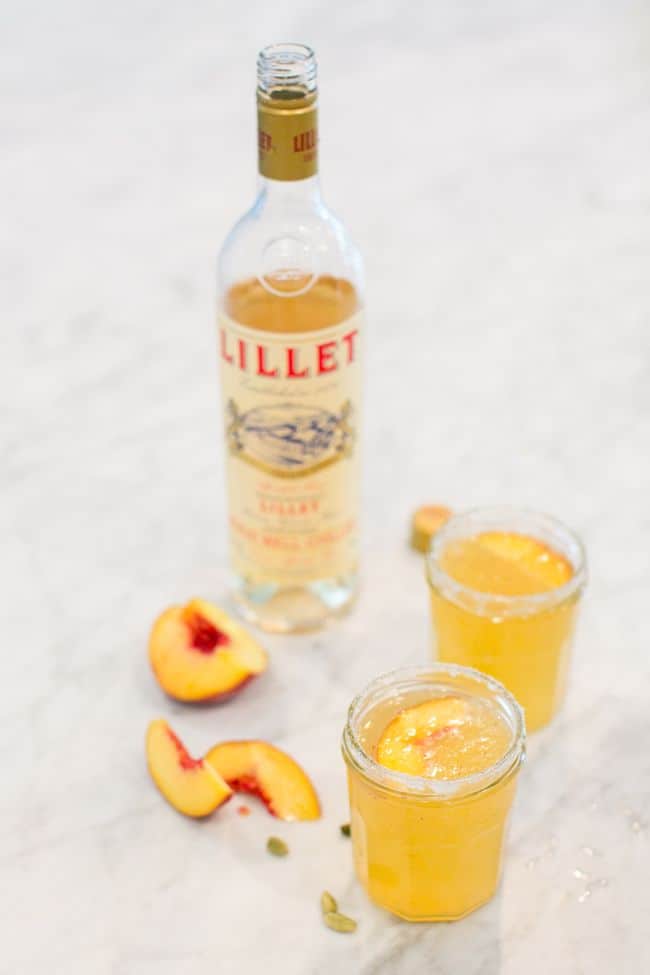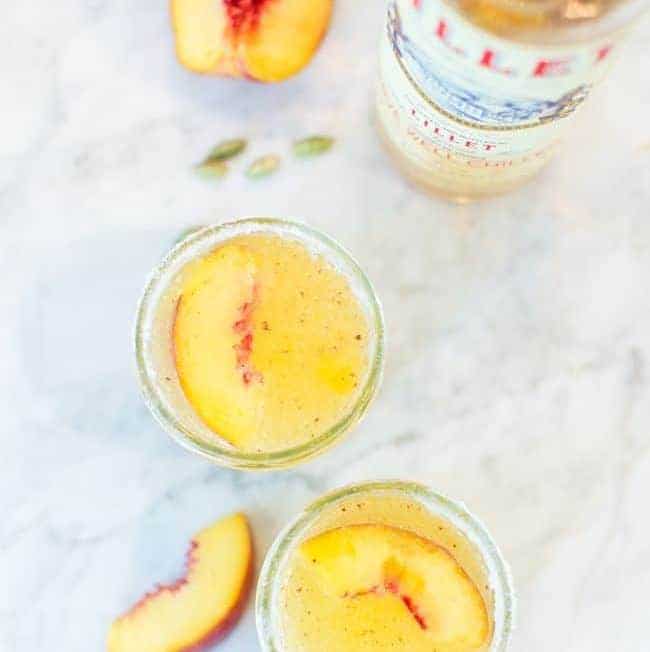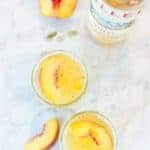 Print Recipe
Peach-Apricot Lillet Blanc Fizz with Cardamom Sugar
Peaches, cardamom sugar and Lillet blanc combine in this sweet, end-of-summer cocktail.
Equipment
Airtight container with lid
Ingredients
For cardamom sugar:
1

cup

coarse sugar

whatever you would normally use for rimming cocktail glasses

20-30

whole cardamom seeds

depending on how strong of a flavor you want
For cocktail:
3

ounces

Lillet blanc

1

ounce

peach juice

freshly juiced if possible or nectar

1/2

ounce

apricot juice

freshly juiced if possible or nectar

2 to 3

ounce

Peach-Pear LaCroix sparkling water OR Seagram's White Peach Seltzer
Instructions
To make cardamom sugar:
Mix together cardamom seeds and sugar and store in an airtight container. The cardamom flavor will get more intense the longer it sits. Start steeping the sugar a couple hours before you make the drinks, or let it sit for days (or even weeks) to let it get stronger.
To make cocktail:
Get rim of lowball glass slightly wet (using water or citrus juice), then dip in cardamom sugar. In a separate glass, mix peach juice, apricot juice and Lillet blanc; pour carefully into serving glass. Top off with LaCroix/Seagrams and serve.
Notes
If you use fruit nectar, the cocktail will be thicker and sweeter, so you may want to use a bit more sparkling water
17