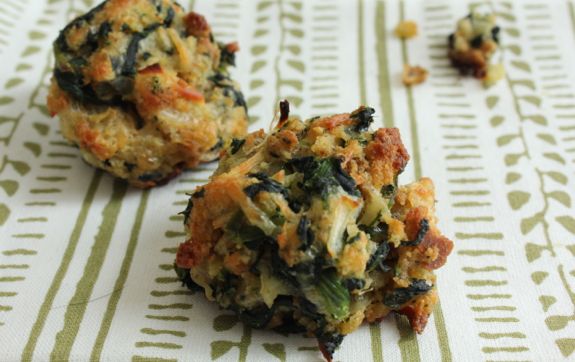 A bit o' the green in honor of St. Patrick's Day. Funny how I start thinking about how to sneak in more green food this time of year. Probably because I don't really wear green – so if I eat it, does that count?
I remembered this weekend that I haven't made these little snacks in, oh, about a year. And every time I make these somebody (nanny, babysitter, mom) goes home with the recipe. Because they can't believe how the kids are wolfing down spinach.
I'm a huge fan of sneaking in veggies – The Sneaky Chef and Deceptively Delicious are my two of my favorite cookbooks. Jessica's green eggs are another easy and yummy way to add spinach or kale.
Do you sneak food – the good kind? :)

Sneaky Spinach Balls Recipe
Adapted from Wondertime magazine
Ingredients
2 10 oz packages frozen chopped spinach, thawed
4 eggs
1/2 cup grated parmesan cheese
2 cups Pepperidge Farm Herb Seasoned Stuffing mix
10 tablespoons melted butter (1 stick and 2 tablespoons)
Note: The original recipe also calls for 1/2 teaspoon garlic powder and 1 teaspoon salt. I've omitted these because I think the stuffing mix provides plenty of seasoning and salt.
Directions
Heat oven to 350. Squeeze the water out of the spinach through a colander in the sink until the spinach is almost dry. Beat the eggs in a large bowl, then add spinach and the rest of the ingredients. Your kids will love helping to mix it all together.
Cover bowl and refrigerate until the mix holds together, about an hour. Shape into rough 1-inch balls and bake on cookie sheet until brown and crispy, about 25 to 30 minutes. Serve immediately – they are so good just out of the oven. Makes about 50.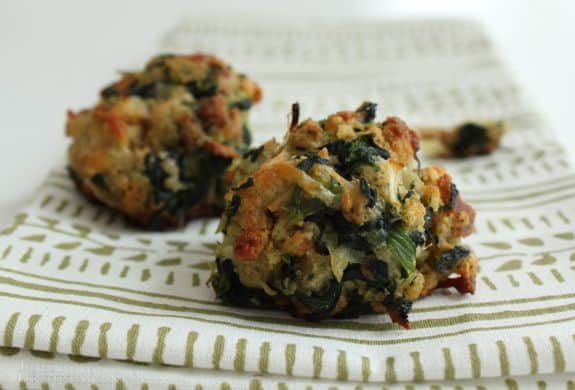 0