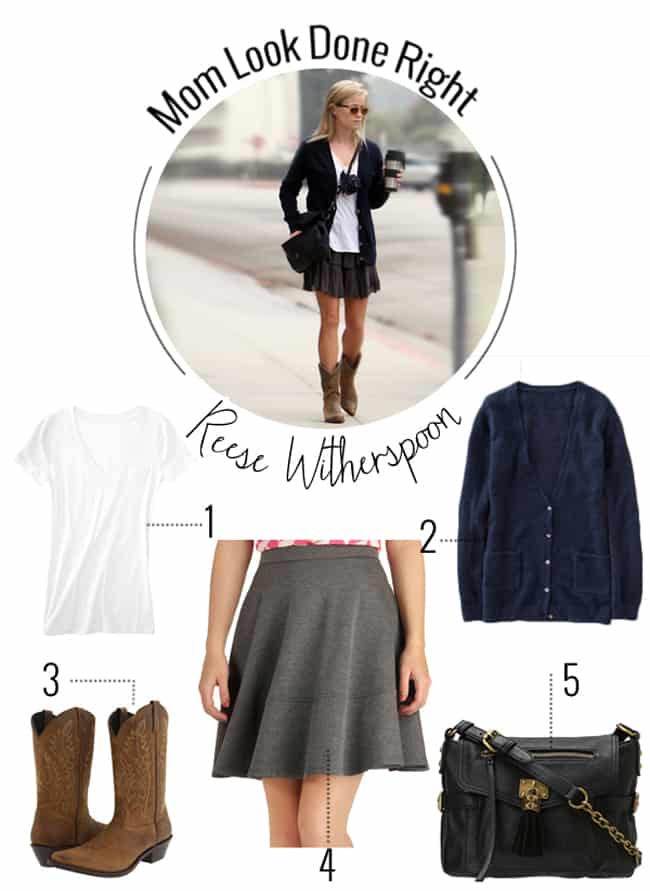 Oh goodness, you guys, Reese Witherspoon's style is so me. I could hardly choose my favorite outfits because I love them all. She looks so put together yet casual and practical. Here is what I love about Reese Witherspoon's style – she rocks the dark neutrals. I am a kindred spirit with a closet full of navy, black and brown. You can't go wrong mixing neutrals.
Another great thing about dark neutrals – it is difficult to stain them. If your toddler decides to throw juice all over your navy cardigan, guess what? No big deal. Just brush that right off and keep on going. Here are three of my favorite Reese looks, all showing us how to take dark colors from boring to stylish.
Key takeaway
Don't be scared to mix brown, black, navy, gray, etc. You know that old rule about no black with brown? Throw that out the window.
Photo Source // 1. White Tee from Target// 2. Navy Cardigan from Boden // 3. Brown Cowboy Boots from Zappos // 4. Gray Skirt  from Modcloth // 5. Black Purse from Jessica Simpson
Key takeaway
Accessories are key when wearing a mix of neutrals. Like Reese's beautiful purse here – I'm drooling over it! – and cool shades.
Photo Source // 1. Black Sweater from Kohls // 2. Slouchy Beanie from Nordstrom // 3. White Tank Top from Target // 4. Boyfriend Jeans from Gap// 5. Brown Leather Purse from Fossil // 6. Tan Moccasins from Sam & Libby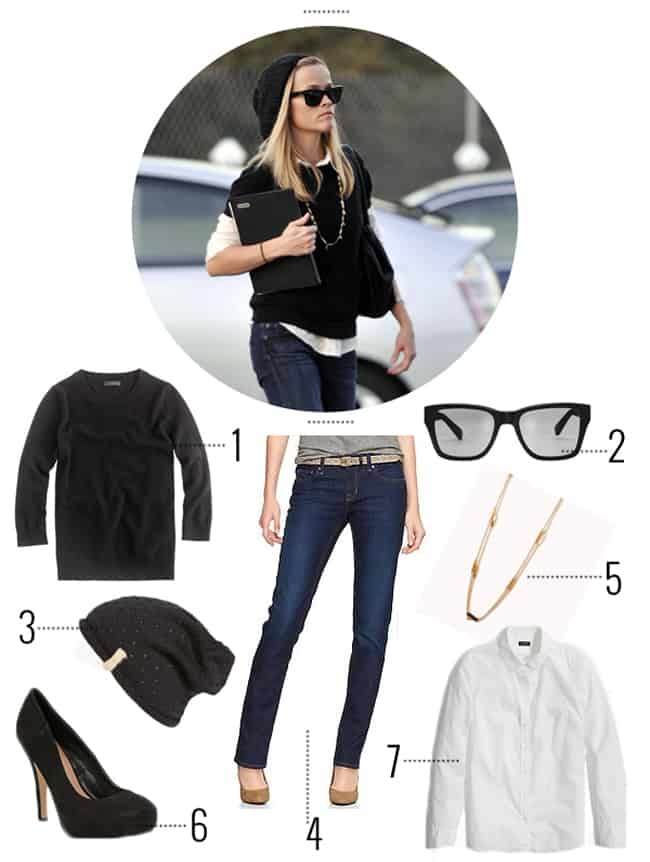 Key takeaway
Don't be afraid of the beanie! Then you only have to style the bottom half of your hair – that's 3 minutes saved right there!
Photo Source // 1. Black Sweater from J Crew // 2. Black Sunglasses from Warby Parker// 3.  Black Slouchy Beanie from Nordstrom // 4. Real Straight Jeans from Gap // 5.  Gold Necklace  from Forever21 // 6. Black Heels from Steve Madden // 7. White Button-Down from JCrew
0