Extending the longevity of a spa facial means at-home care is crucial. Taking steps to maintain your glowing post-facial skin might add a little bit of time to your skincare routine, but the results will be worth it. And bonus: if you don't have the time or money to visit the spa, this routine will still make your skin look fabulous.
Seriously—this will help you keep that "I just went to the spa" glow for days after you actually went. Who wouldn't want that? That's not even the best part; I'm pretty sure you already have all three of these things at home, so let's get started.
Using two essential beauty tools and a serum, you can treat several areas of concern. This simple 3-step method depuffs, detoxifies, rejuvenates and firms the skin.
How To De-Puff Face: A 3-Step Treatment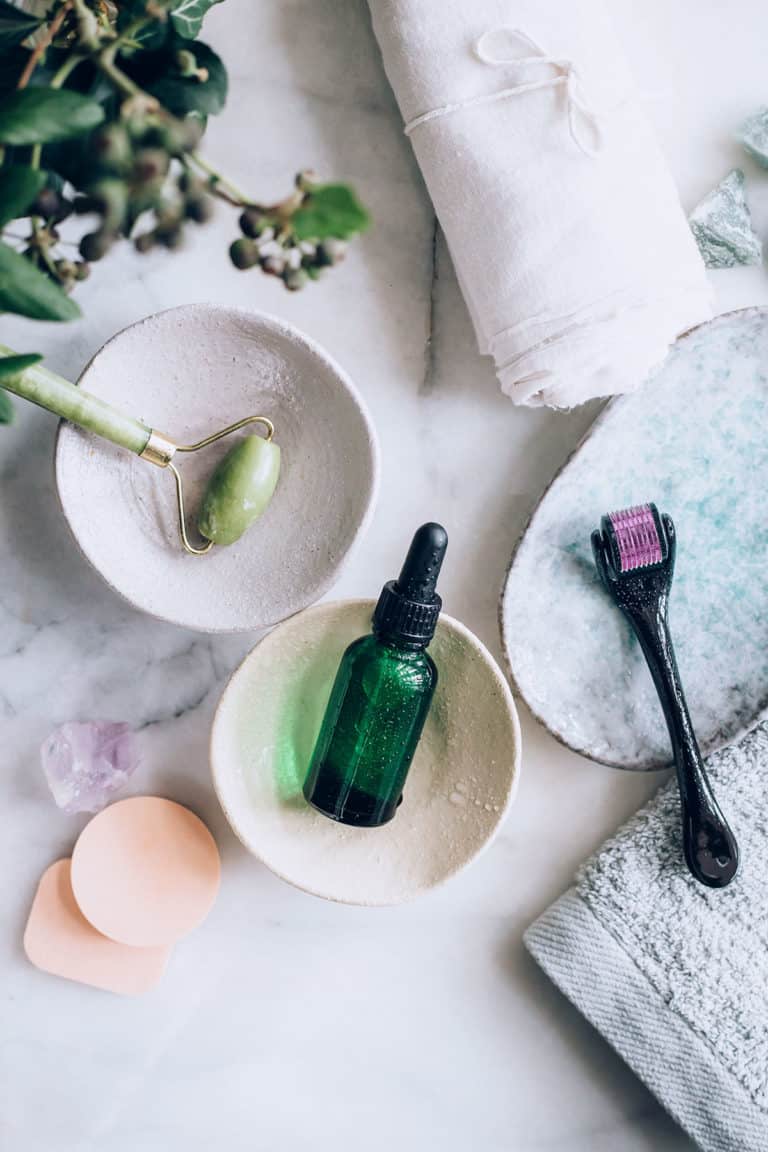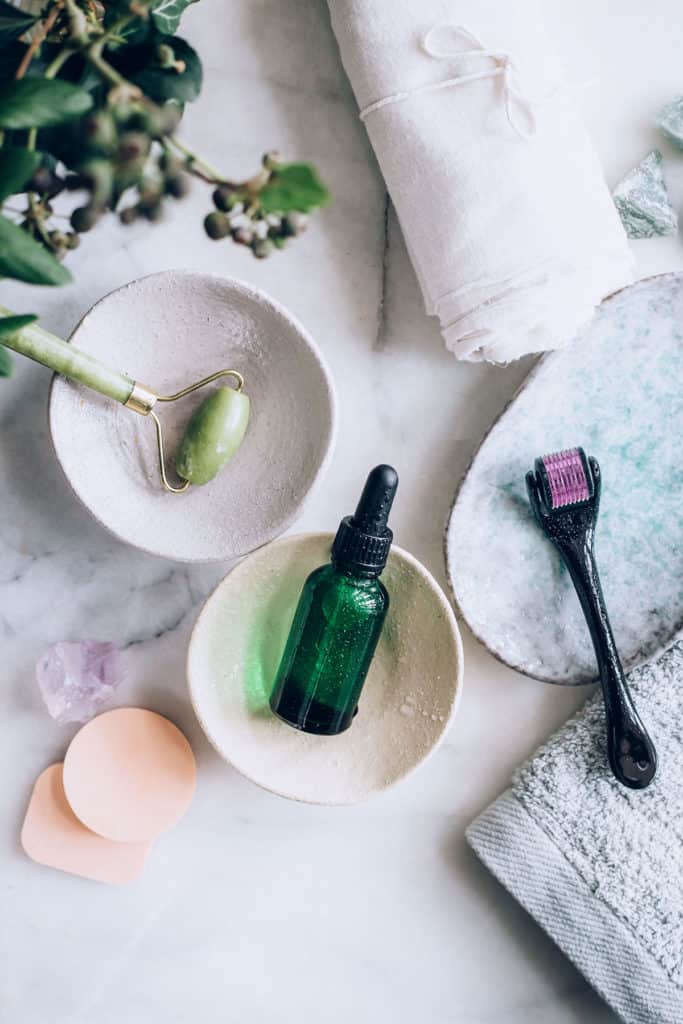 You Will Need:
Step 1: Derma Roller
On cleansed skin, first use the derma roller and gently glide over your face and neck. If you need a refresh on how to use a derma roller, see here. Once you have gone over the face and neck evenly with the derma roller, you may notice a pink or flushed complexion which is normal.
The micro-injuries you are creating stimulate blood flow, oxygen and collagen production. A small amount of micro-injury encourages the rebuilding of collagen, while being too aggressive (or unsanitary) can lead to infection and scarring.
This is definitely a situation where more is not better – if you want a more aggressive treatment, the only safe way to do this is in the hands of a Board Certified Dermatologist, an expert in all things skin. At this stage, your skin is ready to absorb anything you put on it—it's perfectly prepped to make the most of the rest of your routine for glowing, healthy skin.
Step 2: Serum
Follow with a natural face serum by warming it for a few seconds in the palm of your hand and gently apply in an upwards direction on your face and neck. Applying products in an upwards direction does two things—first, it stimulates the blood flow under your skin, prepping it for your jade roller. Second, it does that tiny little bit to help your skin fight against gravity!
At this stage, it's incredibly important to check that your chosen serum does not contain any AHAs or BHAs. Right after derma rolling, your skin has open channels and is super vulnerable to irritation – even estheticians don't recommend jumping straight into an exfoliating product after doing this procedure!
If you normally use an AHA or retinol, skip it this time in favor of a serum that contains peptides, growth factors (preferably with hyaluronic acid) or even a nourishing, anti-aging facial oil. This ensures that you're giving your skin the best chance to boost collagen and not overstimulating it with too much at once.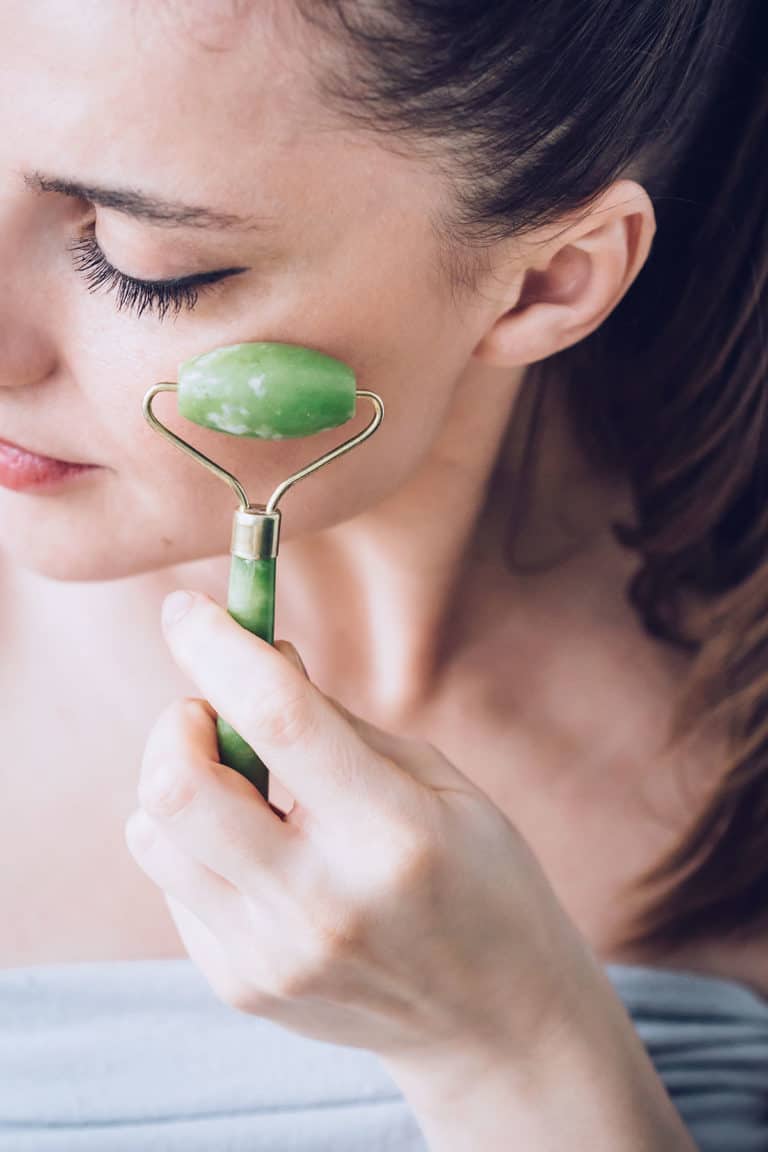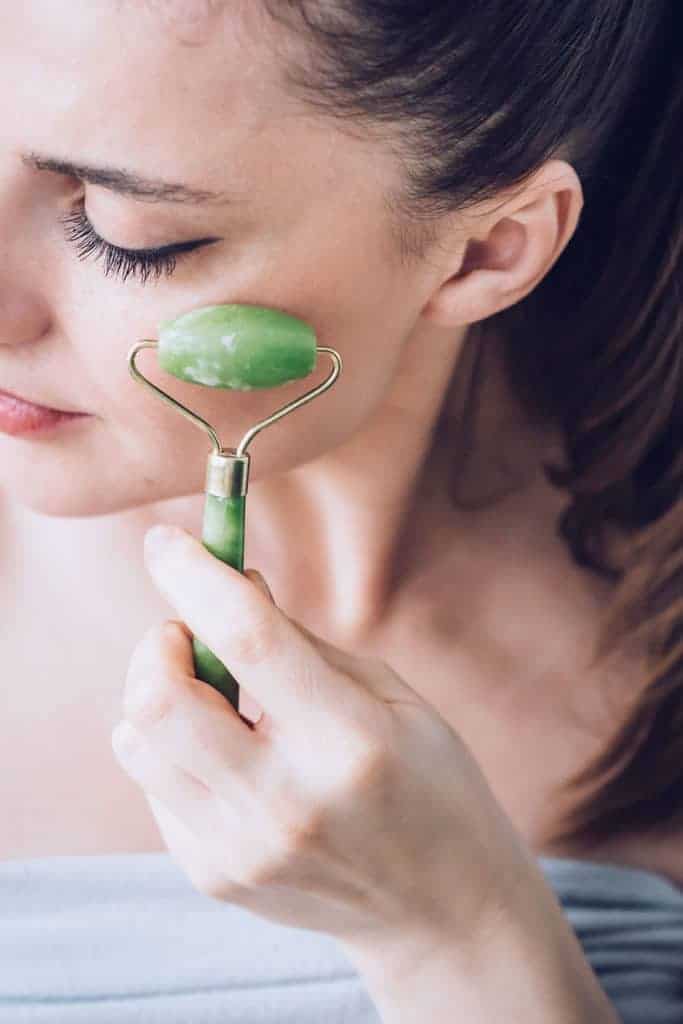 Step 3: Jade Roller
The third step is your jade roller. This tool helps with penetration and absorption of the serum, in addition to massaging the skin and muscles of the face, which lift and firm. Directions on how to use a jade roller can be found here.
Remember, you don't necessarily need to press hard with the jade roller. You're just gently pushing it in upward strokes, giving yourself a super-soothing facial massage.
One of my favorite jade roller tips is to put it in the fridge or freezer about 10 minutes before using—the cool jade really helps to bring down any puffiness and also just feels really, really good on my skin. A cold jade roller really helps to bring down any redness that might be hanging around after derma rolling too, so all you're left with is perfect, glowing skin.
And there you have it! You've just completed a mini at-home treatment that can be done 1-2 times each week. Results can include reduced inflammation, more even complexion and skin tone, firmer skin, better absorption of products and so much more. Getting the most out of your skin care is super easy with the right tools!
This post was medically reviewed by Dr. Jennifer Haley, a board-certified dermatologist with extensive experience in medical, cosmetic and surgical dermatology. Learn more about Hello Glow's medical reviewers here. As always, this is not personal medical advice and we recommend that you talk with your doctor.
109