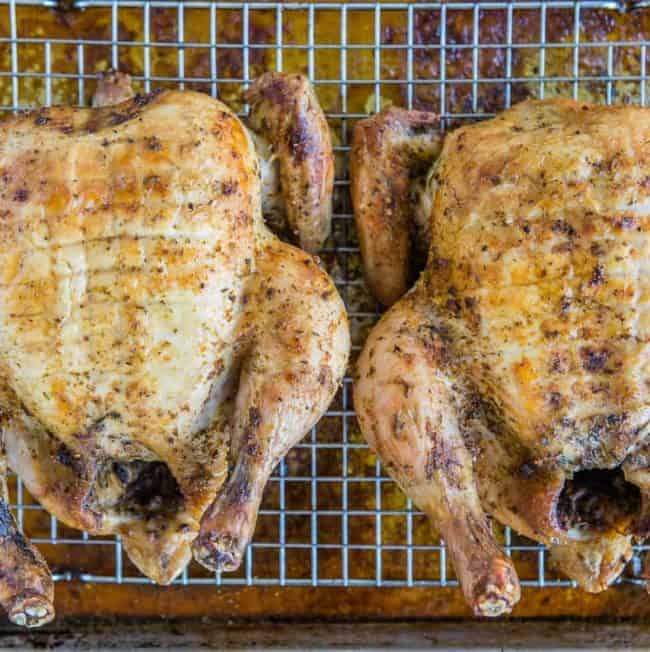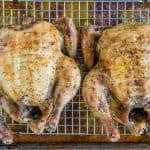 Print Recipe
Roasted Chicken
Rotisserie-style chicken times two that can be made in about an hour to use for meals throughout the whole week!
Ingredients
Instructions
Preheat oven to 400°F. Place an oven-safe wire rack on a rimmed 13 X 18-inch baking sheet. Place the chickens on the rack. Combine the sea salt, herbs, and spices together. Season the chickens inside and out with the spice mixture. Drizzle with a little olive oil and rub over the entire chickens. Turn chickens over, breast side down, on the rack. Place in oven and roast, uncovered, for 30 minutes.

After 30 minutes, remove the pan from the oven and carefully turn the chickens over so they are facing breast-side up. Roast for an additional 25-30 minutes, or until an instant read thermometer registers 165°F in the thickest part of the chicken breast and thigh. Remove from oven and let cool slightly. Carve chicken and serve with roasted veggies and brown rice on the side.

Remove the chicken meat from the bones and store in refrigerator to use throughout the week's meals. Save the bones to make stock, or discard. (See notes.)
Notes
To make chicken stock, remove as much of the meat as possible from the bones. Place into a slow cooker or large stock pot. (Both chickens should fit into a 6- or 7-quart slow cooker or pot.) Add plenty of water to cover and cook on HIGH for 8-10 hours, or overnight in the slow cooker. If using a stock pot, bring to a rapid boil, then lower heat and cook on low for 2-3 hours, or longer, if desired. Remove the bones and strain the broth through a fine-mesh sieve. Transfer to airtight containers or jars and let cool slightly before storing in the fridge. Broth can also be frozen. Just be sure to leave a little space at the top of the container for expansion.
Onion, garlic, bay leaves, thyme, rosemary, diced carrots, and celery can be added to the slow cooker or pot for an even more flavorful broth, if desired.
0