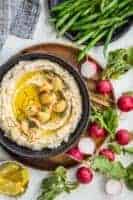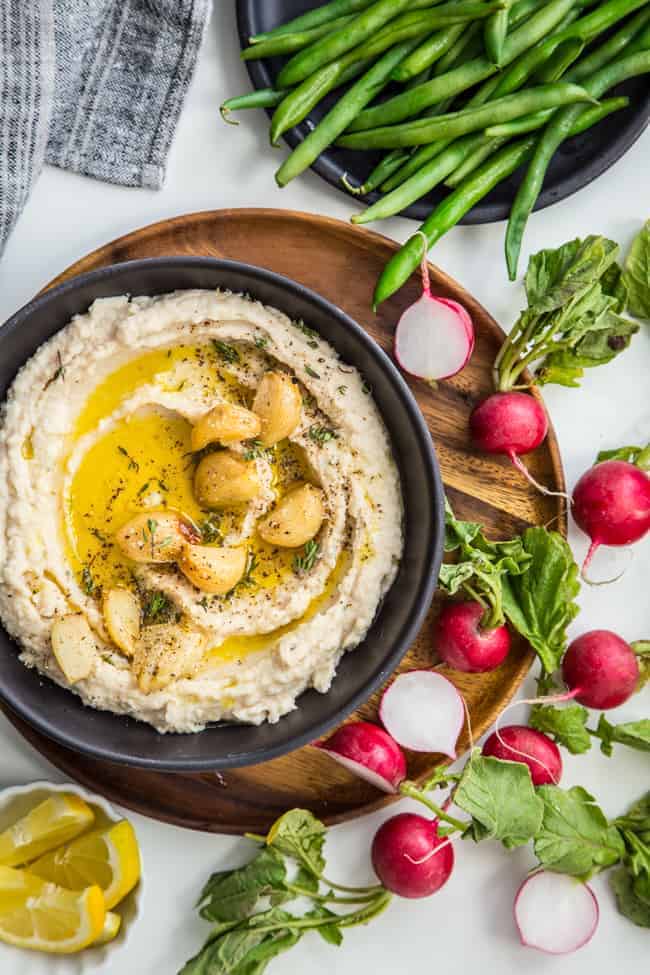 roasted garlic & herb white bean dip
Yield 10 servings
Ingredients
1 medium head of garlic
3 tablespoons extra virgin olive oil, divided
1 1/2 teaspoons kosher salt
3/4 teaspoon cracked black pepper
1-2 sprigs of fresh herbs (thyme, rosemary, or sage)
2 (15-ounce) cans white beans (Northern beans or cannellini beans), rinsed and drained
1/4 cup fresh lemon juice
Fresh vegetables or toasted baguette slices, for serving
Instructions
Preheat oven to 400°F.
Cut the top off of the garlic head, exposing the tops of the cloves. Place the garlic head cut side up on a 12-inch square piece of parchment paper. Drizzle the garlic with 1 tablespoon of extra virgin olive oil, 1/2 teaspoon kosher salt, and 1/4 teaspoon cracked black pepper. Remove the herb leaves from stems and sprinkle half of them over the garlic (more or less depending on your liking). Reserve remaining herbs for the dip. Fold up the edges of the parchment paper over the garlic head and twist shut. Wrap the entire package in heavy duty foil. Place this in a shallow pan and roast for about 30-45 minutes or until the garlic becomes fragrant. Roasted garlic should be golden and soft. Remove the roasted garlic cloves from the papery skins. Set the garlic cloves aside.
Place the white beans, roasted garlic cloves, 2 tablespoons of extra virgin olive oil, 1/4 cup fresh lemon juice, 1 teaspoon kosher salt, and 1/2 teaspoon fresh cracked black pepper in a food processor. Pulse until the mixture is smooth. Add reserved fresh herbs, if desired.
Transfer the dip to a serving bowl and garnish with additional olive oil, garlic cloves, and herbs (optional). Serve the Roasted Garlic White Bean dip with fresh seasonal vegetables or toasted whole grain baguette slices.
Recipe by Hello Glow at https://helloglow.co/roasted-garlic-herb-white-bean-dip/