As a teenager I was religious about washing my face each night. Never (ever!) would I have considered going to bed without using my Neutrogena cleanser bar and then dutifully applying toner and copious amounts of Oil of Olay with SPF.
I'm pretty sure I'm showing my age calling it 'Oil of Olay.' It was all my mom ever used, and I grew up loving that smell. These days, it brings back so many memories!
Fast forward a few years, and I now routinely commit the skin care sin of not washing my face at night. Terrible, right?
I have a host of excuses: I didn't even wear makeup today! It will just dry out my skin! Who needs to exfoliate?
Then I made this rose and chamomile face scrub with oats, honey and almond oil and am totally sold on using it every day.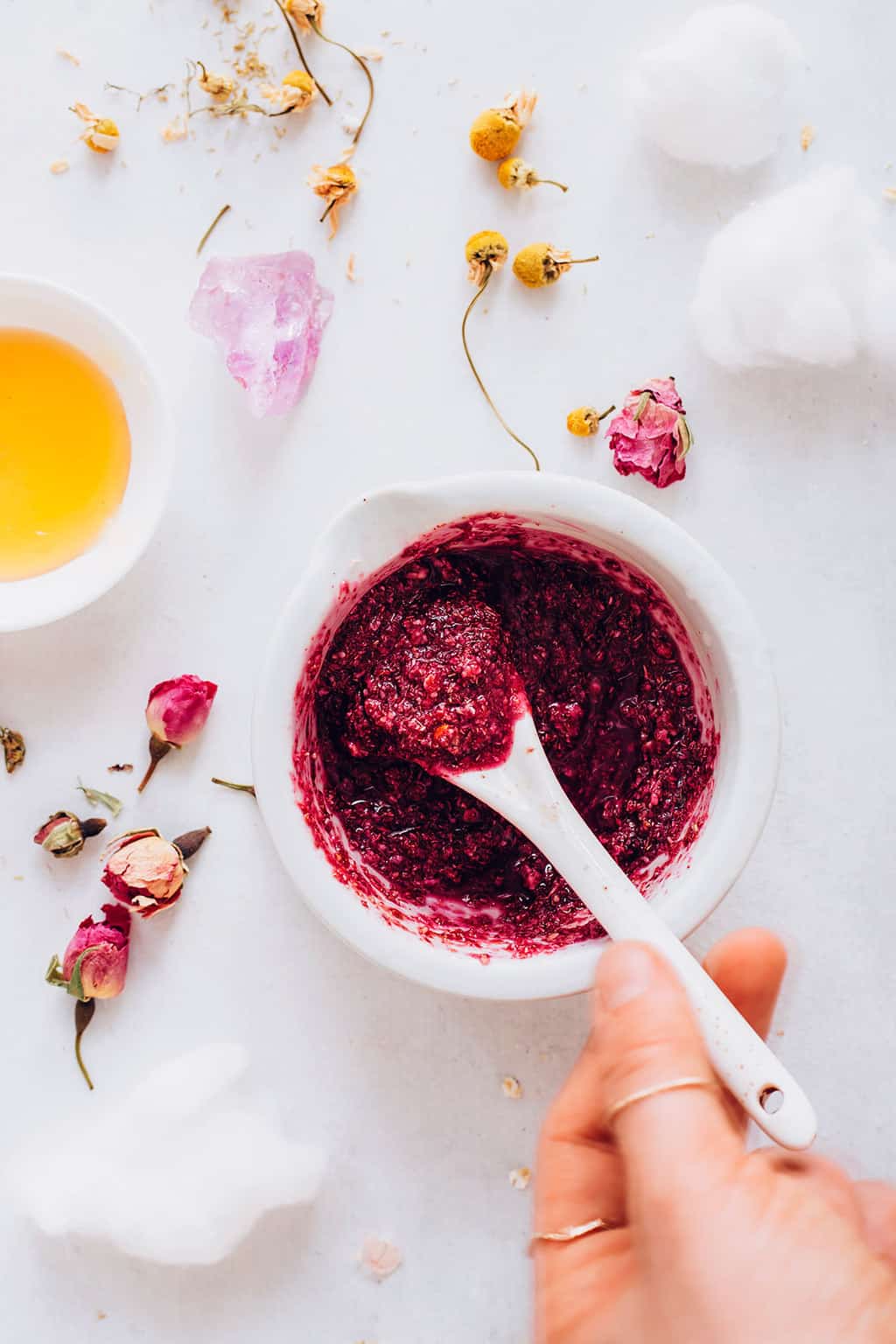 Roses have been incorporated in various cultures for thousands of years for medicinal purposes due to its anti-inflammatory properties. In addition to its anti-inflammatory properties, the skin care and cosmetic industry has embraced rose water because of its antioxidant properties and soothing properties.
Extracts and decoctions of chamomile, derived from the Anthemis nobilis plant, have been used for centuries for the treatment of inflammatory skin diseases and wound healing. Though there is limited large evidence based studies to substantiate it's non-traditional dermatologic uses, there are smaller studies revealing chamomile's benefit on improving the skin barrier function (outermost layer of your skin) as well as it's ability to stop the release of chemicals that cause inflammation in the skin.
Rose + Chamomile DIY Facial Scrub
You can find dried rose petals and chamomile in the bulk section at health food stores. And get this – it's not even expensive! A couple of tablespoons of rose, chamomile and hibiscus flowers were 80 cents at Whole Foods. I've never found anything that cheap at Whole Foods!
I chatted with a gal getting dried roses for tea and learned that they have lots of vitamin C and contain pectin, malic and citric acids. And dried chamomile is commonly used in skincare for soothing irritated, dry skin.
Oats are amazing for skin because they help to soothe it, while still providing super-gentle physical exfoliation. I'd make everything with oats if I could! It naturally moisturizes skin for a healthy glow.
Honey is another fantastic all-rounder for skin—it has therapeutic effects that have been recognized practically since the dawn of time. (No, seriously—records show it's been used in our earliest civilizations!).
Honey is antibacterial, keeping skin free of acne. It's also a powerful natural moisturizer, restoring healthy hydration in skin for that signature honey glow.
Almond oil is packed with benefits for skin. It was historically used in Chinese, Greco-Roman, and Ayurvedic Medicine to treat dry skin and related issues like eczema. It's also showing promise at reducing the appearance of post-surgery scars for skin that looks like nothing ever happened. Amazing, right?!

Supplies needed
To make
Combine the dried flowers and oats in a coffee grinder and pulse till finely ground. Transfer to sealable container and add honey and oil. If you're worried about the oil clogging your pores, you can replace it with aloe vera gel.
To use
Dip a clean spoon into the jar and put a small amount in your palm. Gently apply the scrub using a circular motion and rinse with warm water. If kept sealed and no water gets into the jar, the scrub can last indefinitely. The scrub is mild enough to use several times a week.
Rose + Chamomile Steam
With my extra flowers I tried a face steam. Heavenly!
Bring 2 cups of water to a boil and add a handful of herbs and let them simmer for 2-3 minutes. Remove from the heat and use a towel to cover your head (just don't get your face too close!) for about 5 minutes.
Be sure you have cleansed your face ahead of time. The steam hydrates skin and loosens debris in clogged pores so when you're finished it's a perfect time to follow up with the gentle scrub.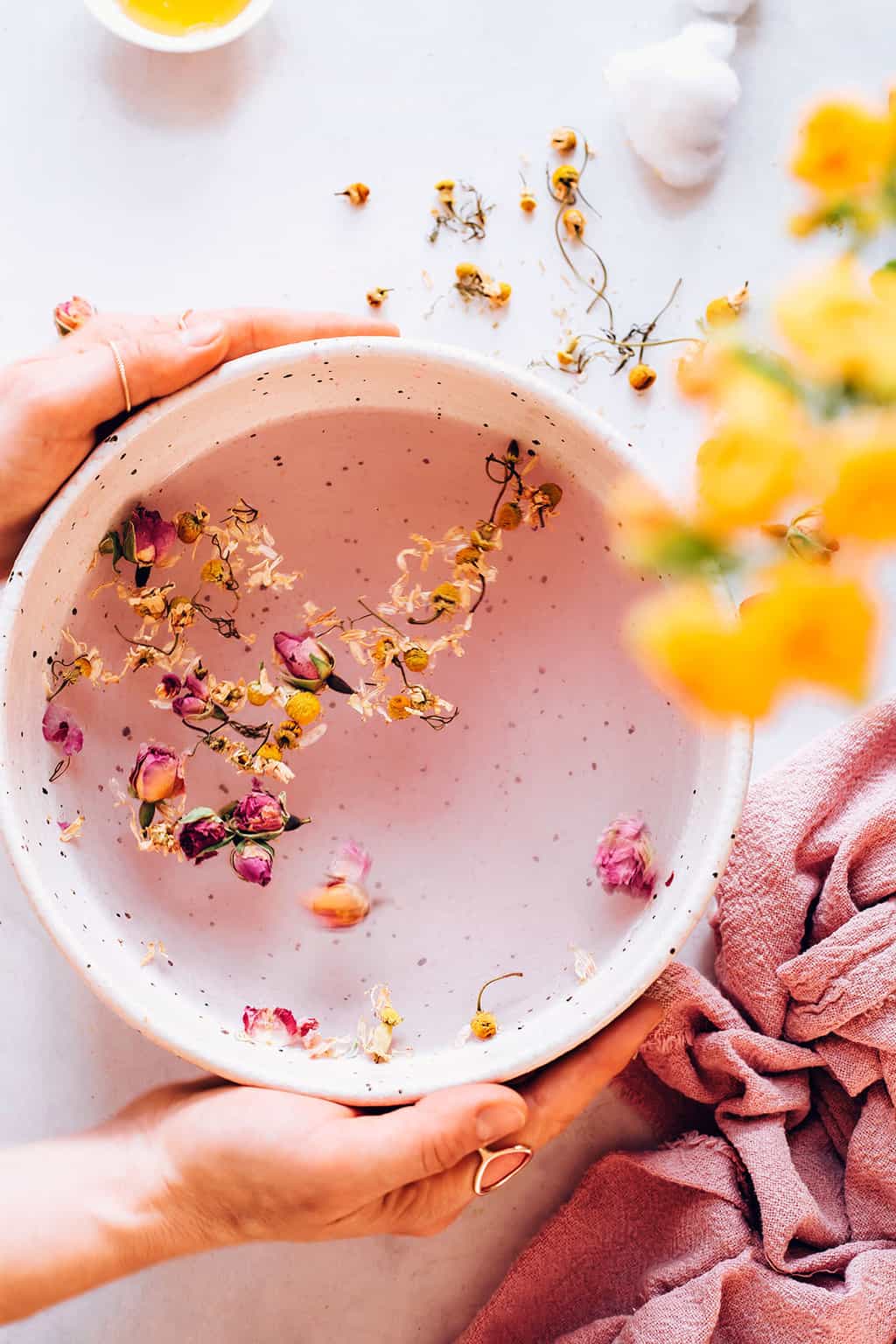 My 'mature' skin loves this – the oats and dried flowers exfoliate while the honey and oil add moisture. Sensitive skin would love this too, just make sure to test a small patch first.
Dried Herbs FAQ
Are there any other skincare recipes for dried chamomile?
Yes! Chamomile is such a wonderful ingredient to include in your homemade skincare and body care recipes. This DIY bath oil includes dried chamomile. Give this chamomile face serum a try or sprinkle some dried chamomile into your bath tub next time you want to enjoy a relaxing soak.
What dried herbs should I incorporate if I have acne prone skin?
Lavender, chamomile, geranium, basil and blue yarrow all have properties that benefit acne prone skin.
My hair is a little lackluster and could use some help? Would dried herbs help?
Dried herbs most definitely can help with blood flow, circulation, shine, and strengthening the hair. The herbs for hair include rosemary, gingko biloba, peppermint, aloe vera, and peppermint.
You can look for shampoos and conditioners with these herbs in them, or make your own hair or scalp mask. This overnight hair mask includes aloe vera gel and peppermint.
This post was medically reviewed by Dr. Rina Mary Allawh, M.D., a dermatologist who performs adult and pediatric medical dermatology, skin cancer treatment and cosmetic dermatology. Learn more about Hello Glow's medical reviewers here. As always, this is not personal medical advice and we recommend that you talk with your doctor.
Photos by Ana-Maria Stanciu
182