If there's one thing we love around here, it's a quick, no-fail beauty DIY that leaves you feeling gorgeous without all the chemicals and toxins. But I'll be the first to admit, while I go crazy for homemade soaps, lotions and scrubs, sometimes the recipe makes more than any one person can actually use (not that there's anything wrong with 12 tubes of lip balm).
So what better time to embrace DIY beauty products than during the holidays when all those extra goodies will make perfect gifts for friends and family. These quick melt and pour soaps are the ultimate homemade-beauty-product-turned-Christmas-gift. Not only are they moisturizing and luxurious, but they're so inexpensive and easy to whip up you'll wonder why you waited so long to make them.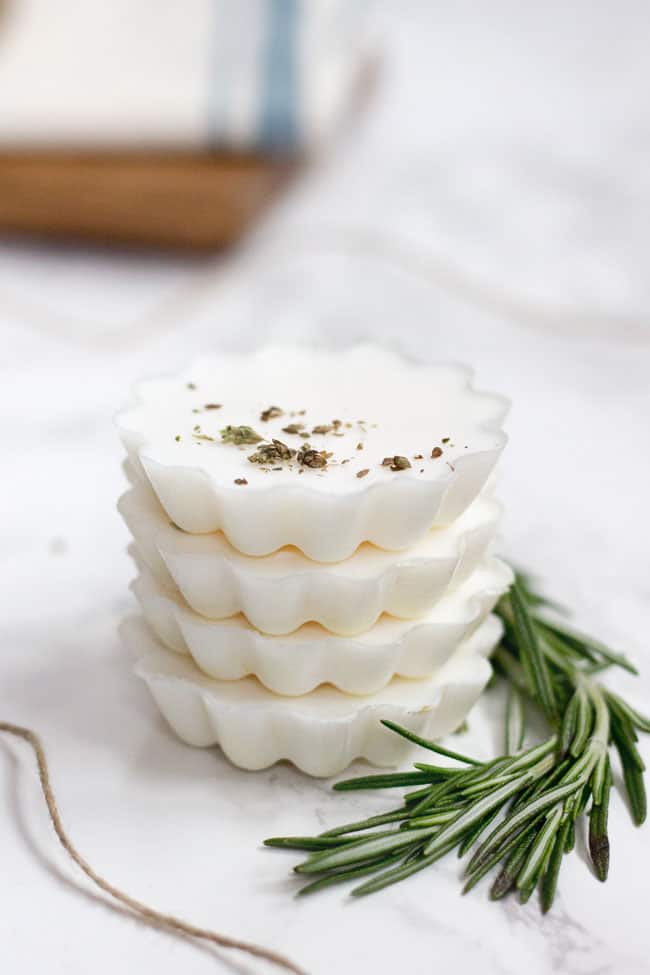 Easy Melt and Pour Soaps
I often think of homemade soap as being expensive and complicated to make. The list of ingredients typically includes everything from glycerin to lye and requires a special trip to a soap-making store. But the beauty of melt and pour soap is that all the ingredients are mixed in for you. All you need to do is chop it into small pieces, toss it in the microwave for a few seconds and then mix in a few drops of your favorite essentials oils.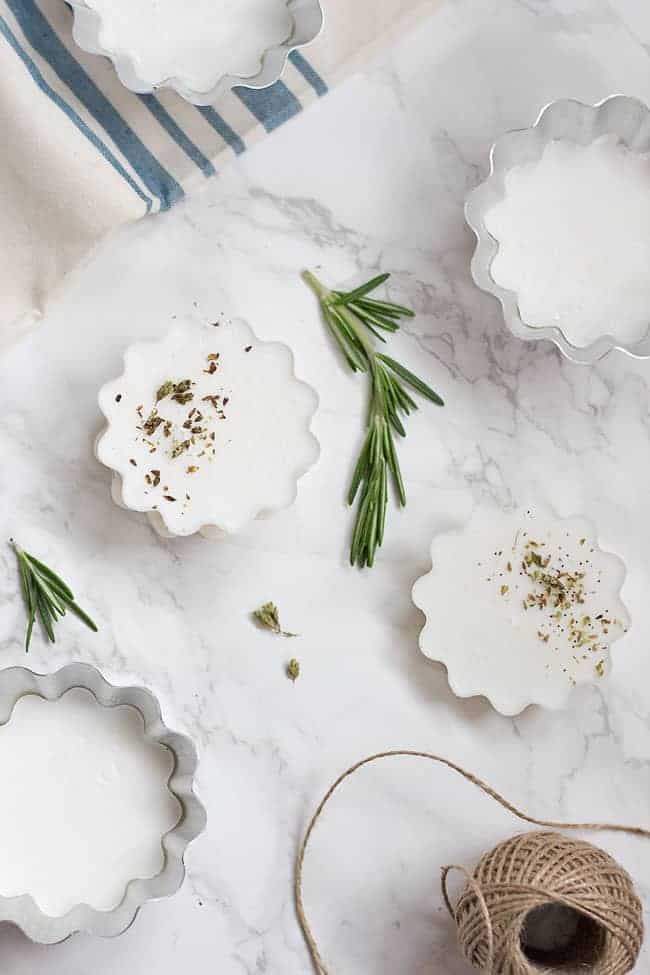 Because winter can be so tough on skin, I usually choose a rich, moisturizing shea butter soap base and add in therapeutic essential oils like rosemary and eucalyptus. Not only is it great for your skin but the essential oils may help clear your sinuses and keep your immune system humming during cold and flu season. After the soap has cooled, I sprinkle it with some soft, exfoliating herbs to remove dead skin cells and rejuvenate skin.
And in case you're still not convinced, here is a fun little video I made showing you just how easy it is to make these soaps: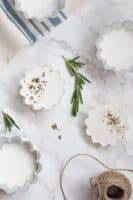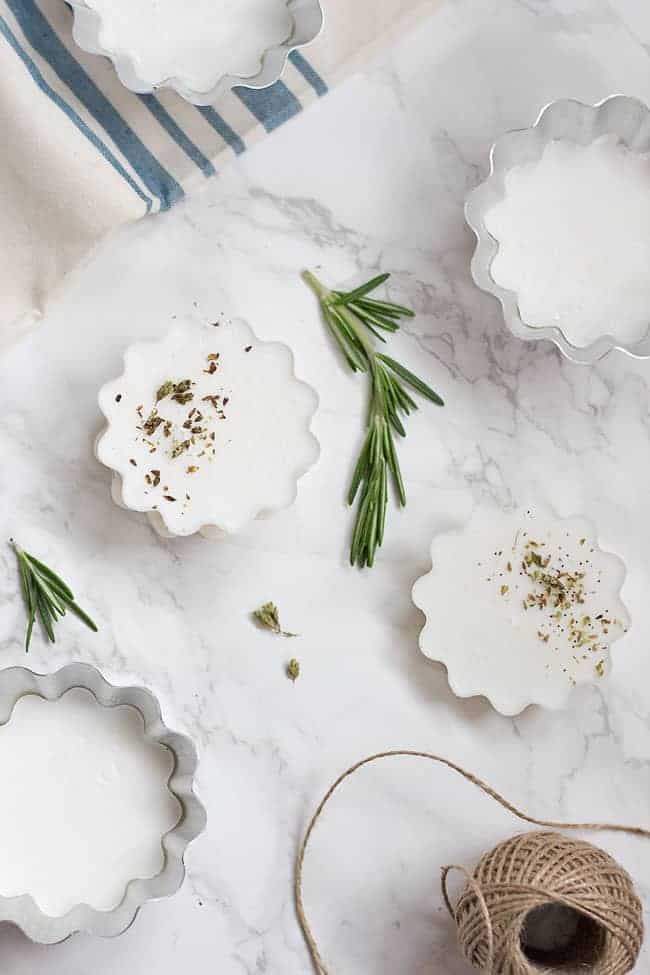 Print
Melt and Pour Soaps
Yield 12 bars
Instructions
Chop the block of soap into small chunks. Place in a ceramic bowl and microwave in 15 second intervals until completely melted (about 45 seconds).
Add 15-20 drops of essential oil and use a wire whisk to mix it all together.
If you're using metal molds, lightly coat them in non-stick cooking spray and wipe out the excess. Pour the soap into the molds and let cool to room temperature.
Remove the soap from the molds and sprinkle with herbs (if you need help releasing the soap from the molds, pop them in the freezer for 10 minutes). Stack two or three soaps together and tie them with kitchen twine.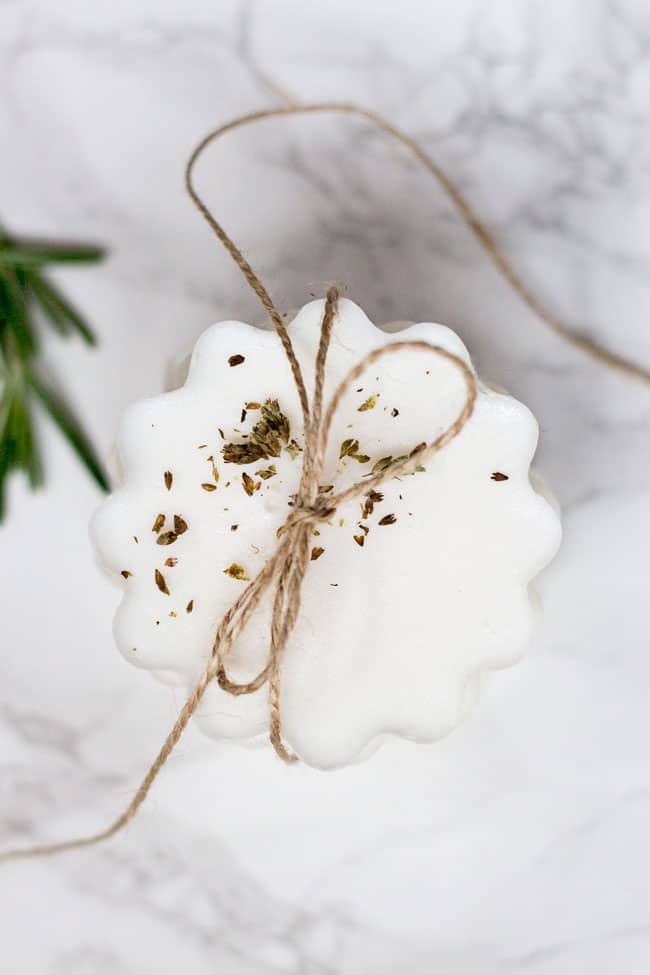 29