If there's one thing we love around here, it's a quick, no-fail beauty DIY that leaves you feeling gorgeous without all the chemicals and toxins. But I'll be the first to admit, while I go crazy for homemade soaps, lotions, and scrubs, sometimes the recipe makes more than any one person can actually use (not that there's anything wrong with 12 tubes of lip balm).
So what better time to embrace DIY beauty products than during the holidays when all those extra goodies will make perfect gifts for friends and family. These quick melt-and-pour soaps are the ultimate homemade-beauty-product-turned-Christmas-gift.
Tuck a couple away for yourself, and give the rest to the natural beauty product lovers in your life. Not only are they moisturizing and luxurious, but they're so inexpensive and easy to whip up, you'll wonder why you waited so long to make them.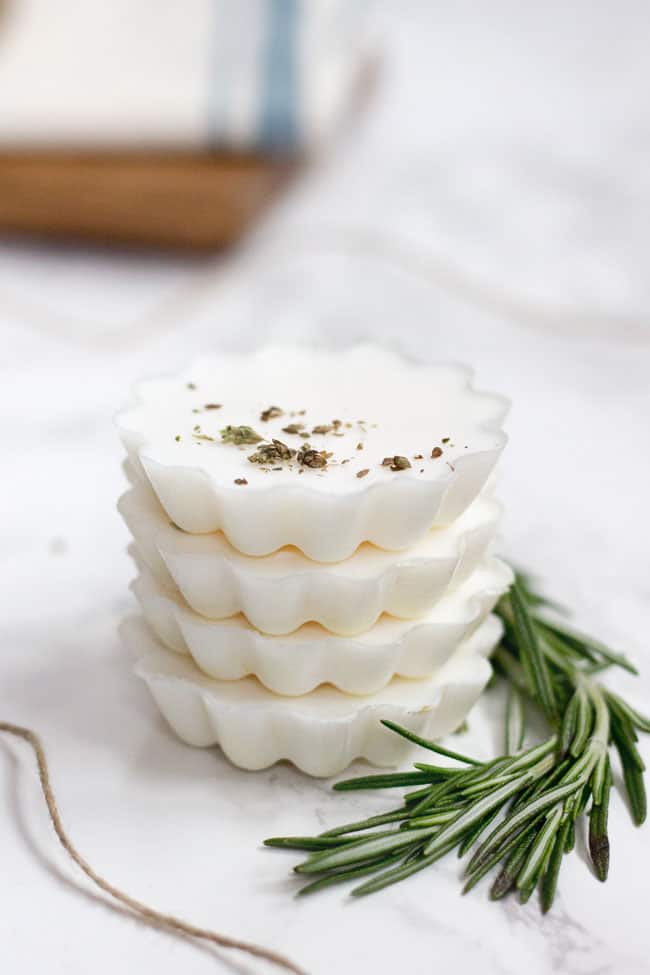 How to Use Essential Oils in Soapmaking
Essential oils are the perfect addition to homemade soap! But since they have medicinal properties and are sensitive to heat, it helps to know what you're doing; otherwise, you might damage them and decrease their effectiveness.
Just a few things to keep in mind when choosing essential oils for soap:
Essential Oil Soap Benefits
I think of essential oils as having two distinct benefits:
Aromatherapy – they smell good and have mood-boosting effects whenever you inhale them.
Therapeutic – some oils, such as lavender, tea tree, and chamomile, have proven skin benefits—whether that be antibacterial [source], itch-relief [source], or anti-inflammatory [source].
Cost and availability
Cost and availability vary widely depending on the time of year, crop yield, natural disasters, and the like. Since you typically need to use quite a bit of oil in soap, it's best to choose oils that won't break the budget and are easy to find.
Versatility
Some oils do it all (lookin' at you, lavender). Not only do they smell great and have mood-boosting properties, but they also encourage wound healing and keep bacteria at bay. Since these oils are so versatile, you don't have to use as much oil or as many different oils to reap the benefits.
1
.
Buy high-quality oils
.
Since you'll be rubbing it all over your body and inhaling its fragrance, you'll want to buy your oils from a reputable source. Look for organic, therapeutic grade, 100% pure oils that haven't been diluted or mixed with synthetic fragrances.
There are a ton of great brands on the market, but my favorites are:
-Plant Therapy
-NOW Foods
-Aura Cacia
-Mountain Rose Herbs
And avoid anything artificial or that has the words "fragrance oil" on the bottle.
2
.
Use photosensitive oils sparingly
.
Some essential oils have photosensitive properties, which means they make skin more sensitive to the sun [source]. For obvious reasons, you don't want to apply these oils to skin and then spend hours outside soaking up rays.
Photosensitive oils are any and all citrus oils, like grapefruit, lemon, sweet orange, and mandarin, as well as some less common oils, such as bergamot, angelica, and rue leaf.
If using them in skincare products, it's best to apply them at night before bed. When making soap, keep these oils to a minimum (a few drops should be fine), and always apply sunscreen before heading outside.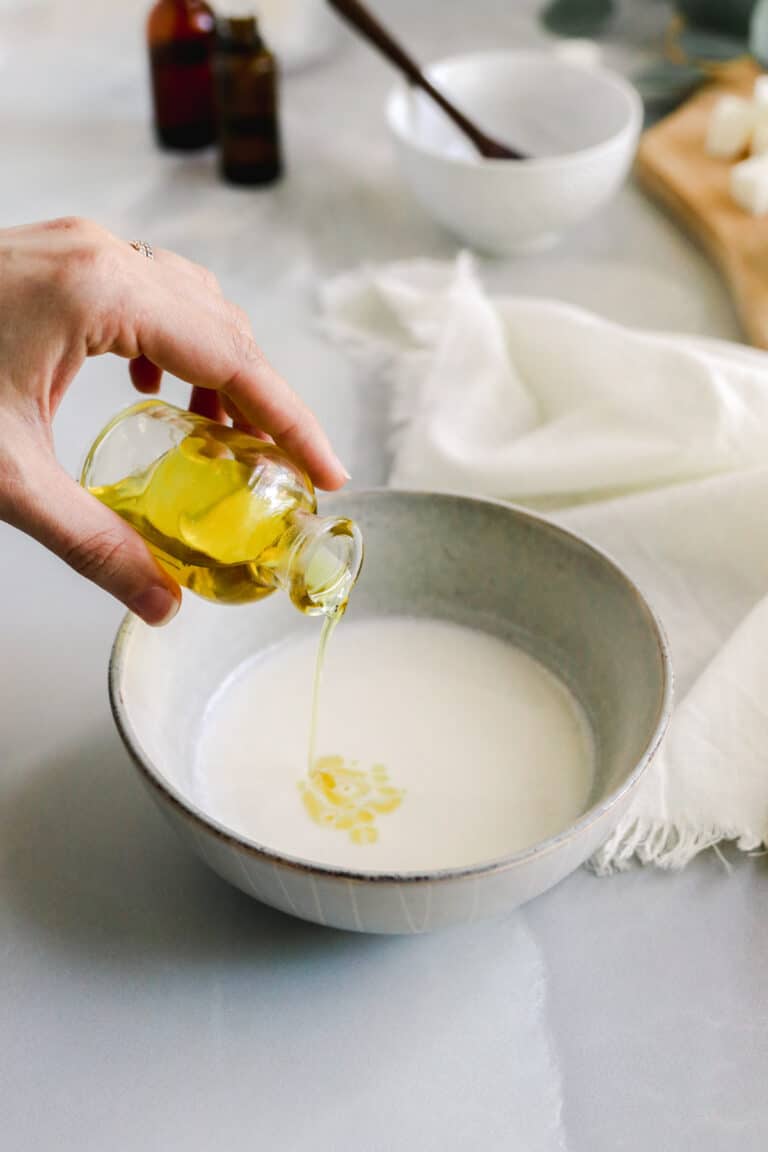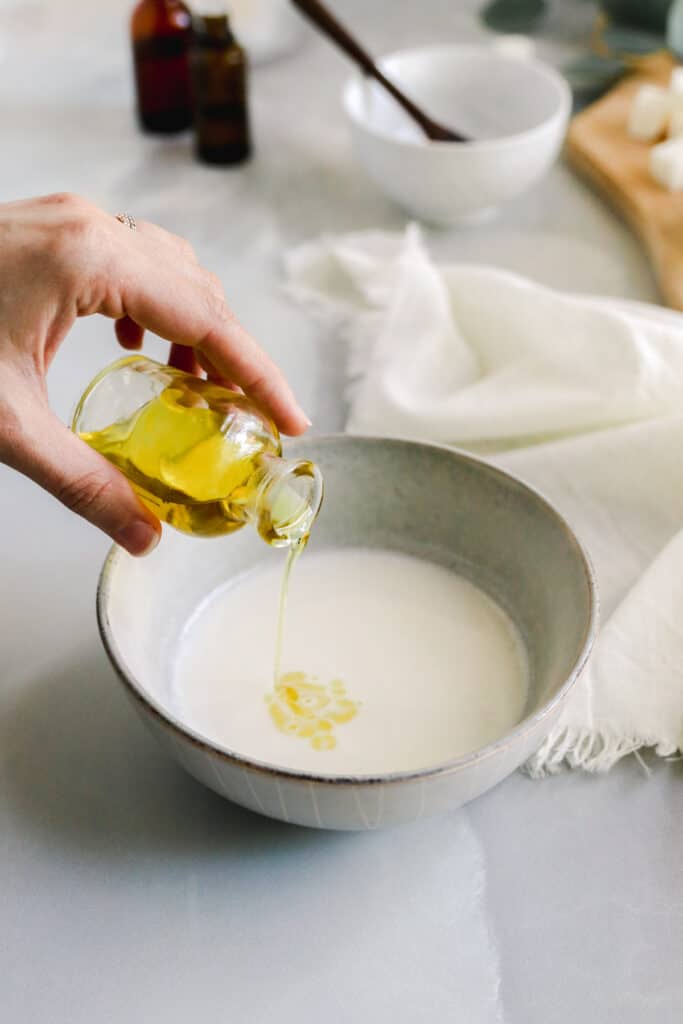 3
.
Let the soap cool before adding the oil
.
Too much heat can impact the quality of the oils. Not only does it change the chemical composition, but it can also cause the oil to evaporate more quickly, making it less effective.
Some oils start to break down at temperatures as low as 100°F, so I recommend waiting until your soap base feels almost cool to the touch (but hasn't solidified yet) before adding your oils.
4
.
Use the right amount of oils
.
Too much oil can make your soap soft, so it never really solidifies. Too little oil leaves you with a lackluster scent.
Sadly, there is no one-size-fits-all answer for how much essential oil to use in soapmaking. It depends on your soapmaking method (cold process, hot process, melt-and-pour, etc.) as well as the essential oil itself.
When it comes to melt-and-pour soap, I recommend adding oils ½ teaspoon at a time and letting the soap cool completely before testing it out. If it's not enough, you can always melt the soap down over low heat and add more oils until you get a scent you like.
5 Essential Oil Blends
You can use any essential oils you like in your homemade soap. But if you're having trouble getting started, here are a few of my favorite blends:
1. Rose + Mandarin
-12 drops rose otto
-4 drops mandarin (This is a photosensitive oil, so apply sunscreen liberally!)
-5 drops geranium
2. Lavender + Sage
-15 drops lavender
-8 drops sage
3. Vetiver
,
Cypress + Lemon
-10 drops vetiver
-8 drops cypress
-3 drops lemon (another photosensitive oil)
4. Coffee + Mint
-10 drops coffee
-8 drops peppermint
-4 drops vanilla
5. Cedarwood
,
Ginger + Orange
-15 drops cedarwood
-12 drops ginger
-6 drops sweet orange (also photosensitive)
How to Make Essential Oil Soap
I often think of homemade soap as being expensive and complicated to make. The list of ingredients typically includes things like glycerin and lye and requires a special trip to a soapmaking store. But the beauty of melt-and-pour soap is that all the ingredients are premixed for you.
Not only can you skip the protective eyewear and rubber gloves (hallelujah), but making your own soap is as easy as chopping up your soap base and tossing it in the microwave for a few seconds. Then, add in a few optional ingredients like your favorite essential oils and some herbs or flower petals. Once poured, it hardens in minutes and can be used almost immediately.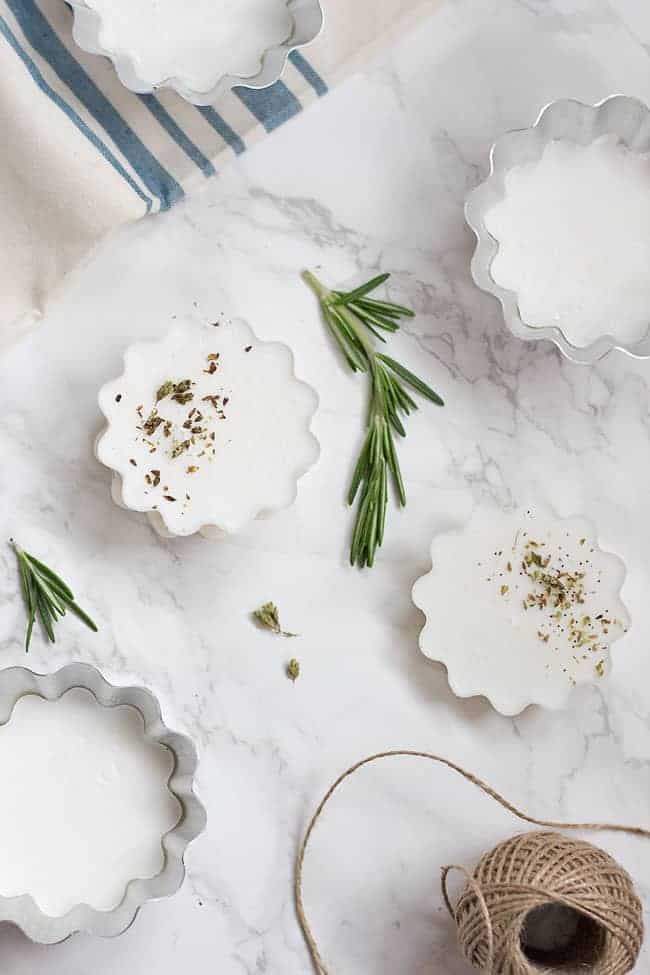 Because winter can be so tough on skin, I usually choose a rich, moisturizing shea butter soap base and add in therapeutic essential oils like rosemary and eucalyptus. After the soap has cooled, I sprinkle it with some soft, exfoliating herbs to remove dead skin cells and rejuvenate skin. Not only is it great for your skin, but the essential oils may help clear your sinuses and keep your immune system humming during cold and flu season.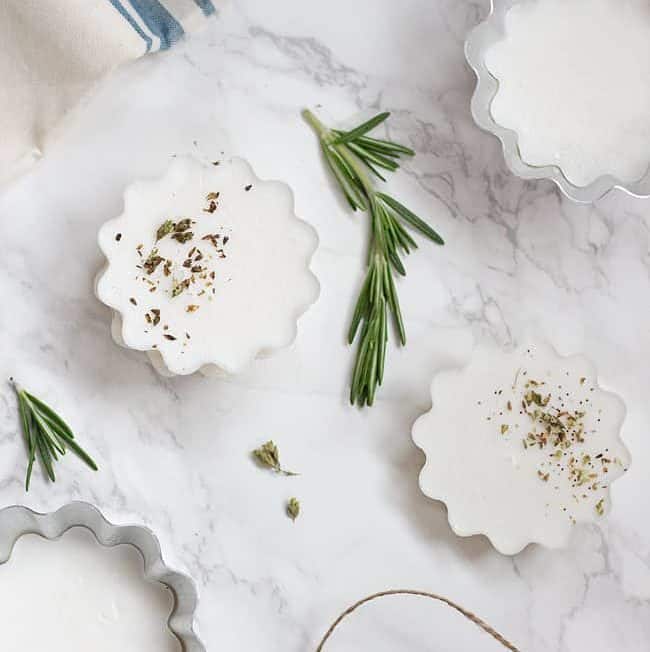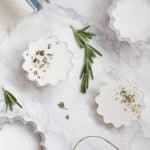 Print
Rosemary & Eucalyptus Melt-and-Pour Soap
These easy melt-and-pour soaps are made with essential oils and a moisturizing shea butter base. They're perfect for holiday gift giving!
Equipment
Small bowl

Molds

Wire whisk
Instructions
Chop the block of soap into small chunks. Place in a ceramic bowl and microwave in 15-second intervals until completely melted (about 45 seconds).

Add 15–20 drops of essential oil and use a wire whisk to mix it all together.

Pour the soap into the molds and let cool to room temperature (approximately 2 hours). [Note: If you're using metal molds, lightly coat them in nonstick cooking spray first, then wipe out the excess.]

Remove the soap from the molds and sprinkle with herbs (if you need help releasing the soap from the molds, pop them in the freezer for 10 minutes).
Notes
Feel free to use any essential oils you like for these soaps.
Once cool, stack two or three soaps together and tie them with kitchen twine.
This article was medically reviewed by Dr. Gina Jansheski, a licensed, board-certified pediatrician who has been practicing for more than 20 years. Learn more about Hello Glow's medical reviewers here. As always, this is not personal medical advice and we recommend that you talk with your doctor.
150