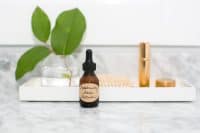 DIY Rosemary Hair Serum
Instructions
Use a funnel to pour oils and essential oils into glass bottle with dropper top. Replace the lid and shake gently to combine the oils.
To apply, put a couple of drops onto your palm and use your fingertips to smooth the oil from the middle to ends of wet or dry hair.
You can also use the oil to give yourself a weekly scalp massage. Rub a few drops between your fingertips and massage into the roots of your hair. Leave on overnight if you have dry hair.
Recipe by Hello Glow at https://helloglow.co/rosemary-hair-serum/