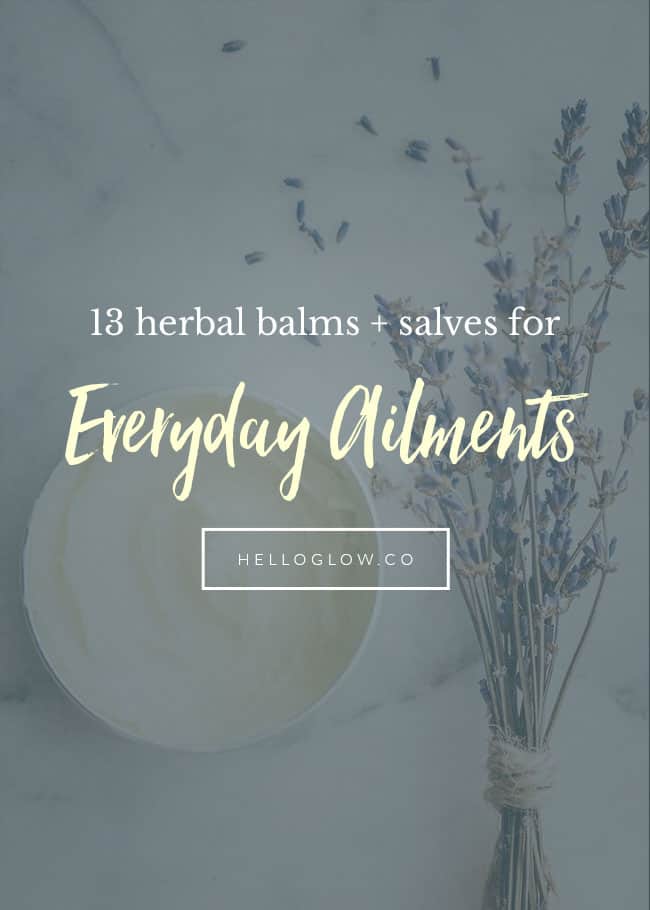 From headaches to cracked heels (so, literally, head to toe), herbal balms are a game-changer. And we promise, they're really easy to make, just as long as you're patient enough for your herbs to dry and oils to infuse. From there on, the possibilities are endless! Read more about the dos and don'ts of herbal balms here, and have a look at some of the best balm and salve recipes we found.
13 Homemade Herbal Balm + Salve Recipes
Soothe irritability and discomfort during PMS week with this hormone balancing PMS balm that uses raspberry leaf, evening primrose oil and peppermint oil.
The best essential oils for eczema, plus a healing homemade eczema balm made with raw honey, essential oils, and shea butter.
We'll show you how to make your own Egyptian Magic, our favorite skin salve for eczema, breakouts, healing, and more. Made from a combination of olive oil, honey, beeswax, pollen, royal jelly, and bee propolis, it really is magic!
Colds and allergies can make every breath you take feel uncomfortable. Relieve congestion with this DIY Breathe Easy Balm made with our favorite essential oils for congestion and respiratory ailments. Also includes a recipe that's safe for use with children.
To relieve headaches, use a combination of peppermint and dried lavender, which will keep for quite a while if stored properly.
Use this Activated Charcoal black salve recipe to make a powerful remedy that relieves bug bites and stings, and even draws out splinters.
Use this DIY Neosporin salve recipe infused with lavender, calendula and tea tree oil as your go-to first aid treatment for minor scrapes or cuts.
Winter can be brutal on your hands. If you're suffering from dryness, painful cracks, and redness, this homemade honey hand balm will help. We also swear by this kokum butter balm for repairing flaky hands and cracked cuticles.
This DIY warming muscle rub is made with a blend of cayenne pepper and ginger that soothes post-workout soreness and other aches and pains. It's a skin-warming combination of almond oil, shea butter, coconut oil, beeswax, ground cayenne pepper, ground ginger, and camphor, peppermint, clove, and eucalyptus oils.
A soothing combination of coconut oil, shea butter and essential oils to soothe itchy bites all summer long. Includes lemon balm and other oils that calm inflammation and kill bacteria.
Cocoa butter is chock full of essential fatty acids, so it hydrates the skin deeply and locks in moisture so skin stays soft and supple. Combine it with coconut oil in this easy-to-make cuticle balm that smells like a vacation in a jar. For a full-body cocoa butter balm, try this after-sun butter to rejuvenate parched, dry skin.
Infused with green tea and zinc oxide, this balm protects your lips from free radicals and sun damage. Did you know zinc oxide makes a great acne balm, too? Add it to a balm to heal wounds, regenerate cells, and bring inflammation down–all of which work well in fighting acne.
Our heels take a beating, often causing chapped and cracked areas. A heel balm is a great solution for this common problem. Lavender is both antiseptic and anti-inflammatory, plus the calming, relaxing herb helps bring on sleep when used in a pre-bedtime foot massage.
This post was medically reviewed by Dr. Rina Mary Allawh, M.D., a dermatologist who performs adult and pediatric medical dermatology, skin cancer treatment and cosmetic dermatology. Learn more about Hello Glow's medical review board here. As always, this is not personal medical advice and we recommend that you talk with your doctor.
615