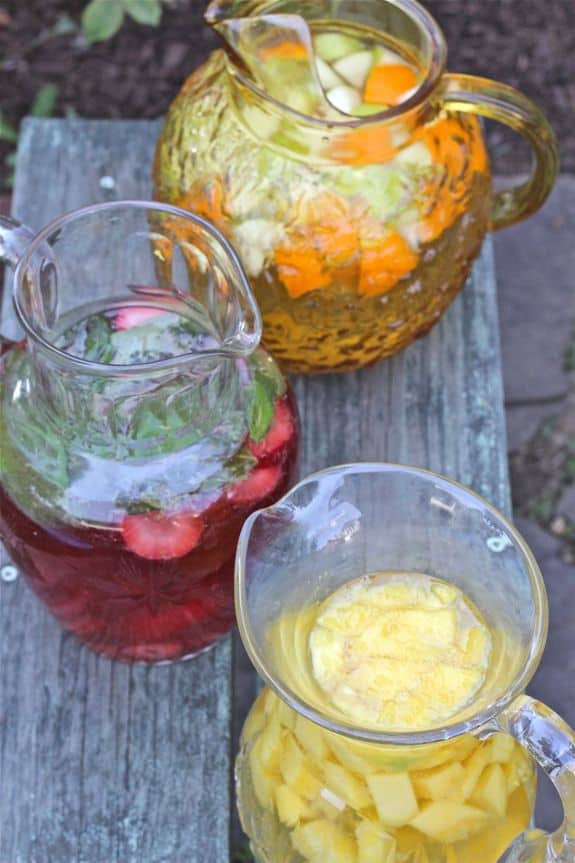 I love sangria in the summer! Last year I found the perfect red wine sangria recipe so this summer I wanted to experiment with new flavors. And now that I'm not pregnant, I can have a drink again. Yahoo! Wine was definitely something I missed the last nine months. (Does that make me sound like a lush?) Either way, I'm back in the saddle. :)
Sangria is perfect for summer entertaining because it you can make it ahead (in fact, you need to so the flavors can blend) and it easily serves a crowd. Of course, I decided to make 3 versions of sangria and the hubby was like, "are we having a party that I don't know about?" Good point. So we invited friends over and had a lovely Saturday evening. The kids ended up running around naked in the backyard while the adults chilled on the porch. Perfect.
Pineapple Mango Sparkling Sangria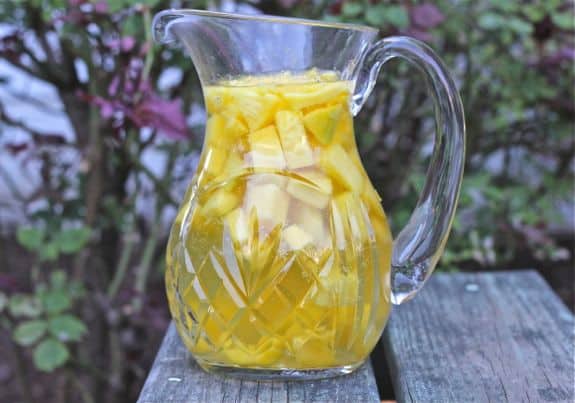 Love a sparkly sangria! Not too sweet and definitely eat the fruit – it has as a fun fizzy flavor. You'll need:
1 bottle sweet Muscat wine
2 cups pineapple, cubed
1 mango, peeled and cubed
1 bottle brut Cava
Stir together all of the ingredients except the Cava in a big pitcher. Refrigerate at least 2 hours. Just before serving, add the Cava slowly. It will fizz a bit so go slowly and stir as you go.
Strawberry Basil Rose Sangria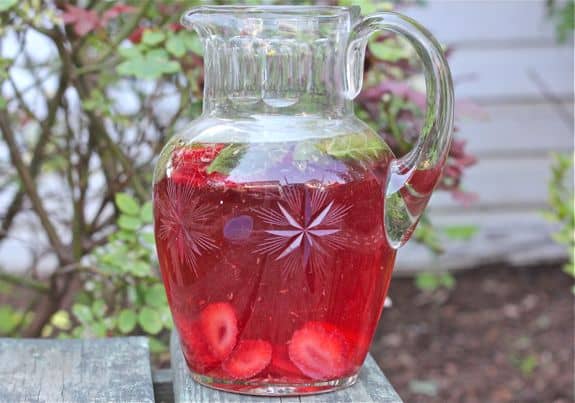 Strawberry and basil is one of my favorite combinations. It's so yummy in lemonade. I omitted the limoncello but you can add it back in if you like a sweeter sangria. You'll need:
1/2 cup limoncello
1 cup strawberries, sliced
12 basil leaves
Zest of one lemon
1/4 cup lemonade
2 bottles rose
Stir together all of the ingredients except the wine and refrigerate at least 2 hours. Stir in the wine when ready to serve.
Citrusy White Wine Sangria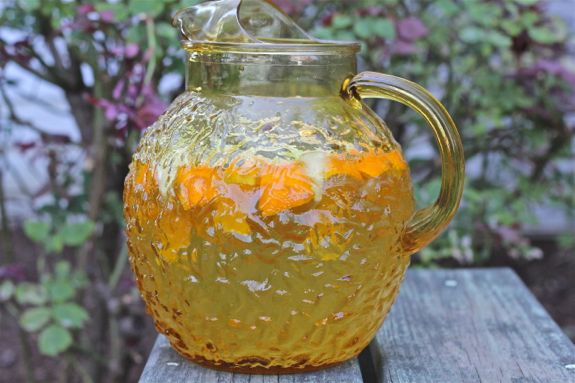 I usually prefer red wine sangria but this version might change my mind. The mint syrup adds such a great flavor. The recipe called for a full cup but I would definitely scale that back to not overpower the citrus. You'll need:
1 cup sugar
1/4 cup mint leaves
1 cup triple sec
1 orange cut into small wedges
2 apples cut into small wedges
2 bottles crisp, dry white wine
Make a simple syrup with the sugar by bringing 1 cup water and the sugar to a simmer. Add mint leaves, remove from heat, and stir. Let syrup cool and strain. In a large pitcher, mix triple sec orange and apples. When ready to serve, add wine and 1/2 cup mint syrup. Add another 1/4 or 1/2 cup of syrup to your desired level of sweetness.
Let me know if you have a favorite sangria recipe!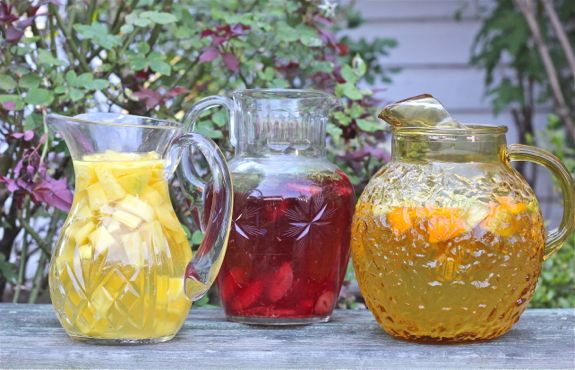 0