We absolutely adore honey here at Hello Glow. We use it as face wash, we use it as sweetener, and we even use it to fight colds. And you know who else loves honey inside and out? Your body, and the Savannah Bee Company. They're a company based on true passion, and their decades of experience growing bees has inspired and informed their amazing beauty products. These beauty products deliver real benefits derived from treasured hive ingredients– beeswax, royal jelly, propolis, and honey.
$42 Savannah Bee Company Giveaway
We've partnered with Savannah Bee Company to give 3 readers the chance to sample some of their amazing products. Each winner will receive a "honey inside and out" package, including: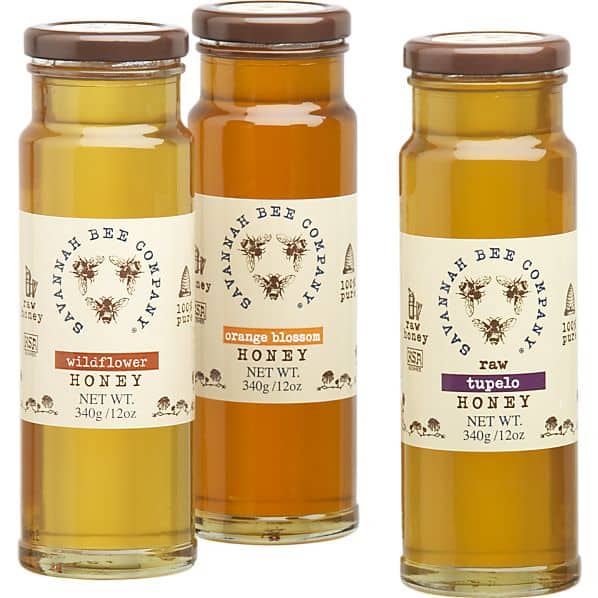 Tupelo Honey is the gold standard by which all other honeys are measured. For two weeks every spring, White (Ogeche) Tupelo Trees in the Southeastern swamps bloom with fine sunburst-shaped flowers that glisten with nectar. 3 lucky winners will receive a 12 oz jar of the Savannah Bee Company Tupelo Honey, which has buttery undertones and a mellow, clean-finishing sweetness. It's like a thick, slow-moving river of liquid sunshine. Tupelo Honey complements a variety of foods, but it's so delicious we like it best just by the spoonful! Don't judge.
Using the same wonderful honey, this body lotion is a luxurious, long-lasting everyday lotion to make your skin silky smooth! Honey naturally rejuvenates and softens your skin, and Savannah Bee Honey Body Lotion is the daily solution to your skin care needs.
Now you can bathe your skin with an everyday golden elixir! Honey is a nourishing, gentle cleanser that naturally exfoliates your skin. Savannah Bee Honey Body Wash is the perfect addition to your skin care ritual, and it smells great!
0