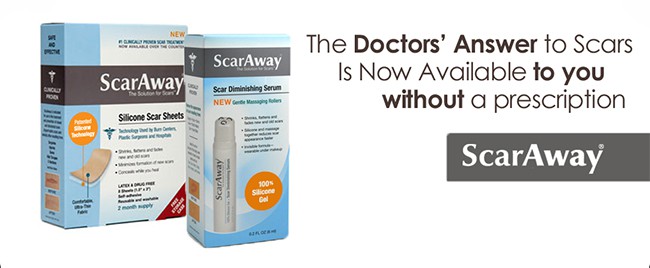 Almost everyone has a scar – there are oh-so-many causes (they usually come with a good story!). Whether you got yours from a burn, an accident or a C-section, most of us don't like the look of it. Natural scar remedies can help fade the unsightly marks, and now there's ScarAway, a new drug-free, latex-free treatment designed to help new and old scars heal and fade.
The #1 proven scar treatment, ScarAway uses the same innovative technology used by hospitals, plastic surgeons and burn centers.
ScarAway Package Giveaway ($85 value)
The combination of silicone and slight pressure works to shrink and reduce the redness of scars. Plus the discs are almost impossible to see so it conceals while it heals.
As its name implies, these sheets can be used on longer scars, such as those that are the result of a c-section. Also, their length makes them ideal for use on joints, where the extra movement requires greater adhesion.
Our friend silicone can be found here as well. The quick dry version here acts as another layer of protection for the scar. And for those of us who try to hide our scars with make-up, you'll be pleased to know that your normal products and sun tan lotion can be applied once the gel dries.
2