You know about natural and organic skincare, but what about vegan skincare products? There are some good reasons to go vegan with your makeup stash—and it's easier than you think.
With so many boutique brands springing up on the market lately, vegan skincare and cosmetics are easier to find than ever before. And the internet makes it a cinch to seek out vegan brands and do your research.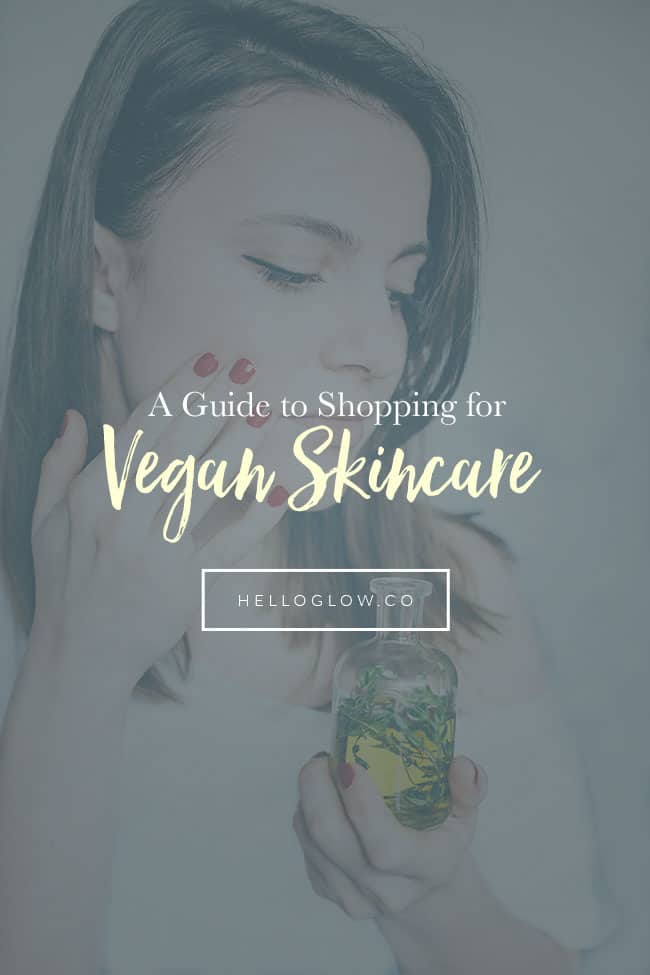 How Do I Know If A Skincare Product is Really Vegan?
When it comes to vegan skincare products, there are two things to look for.
1. Check for animal testing
First, you'll want to make sure a brand doesn't test their products on animals. In this day and age, animal testing is a choice brands make, rather than a requirement (some countries do have special laws regarding animal testing, which is why it's good to do some basic research before buying).
The best way to do this is to look for the Leaping Bunny seal on the packaging or search for a brand in the Leaping Bunny database.
I've found that brands are almost always very open about not using animal testing, but if there's nothing on a brand's packaging or website stating that they don't test on animals, there's a good chance that they do, especially if it's a big-name brand.
2. Check for animal-derived ingredients
The second part is a little more involved—you also need to make sure the ingredients in a product are not animal-derived because while the Leaping Bunny seal certifies that a product isn't tested on animals, it doesn't mean that a product doesn't contain ingredients from animals.
PETA has a really thorough list of animal-derived ingredients on their website; some common ones include honey (nope, honey is not vegan!), lactic acid, collagen, lanolin, beeswax, gelatin, and propolis. Others are lesser known, which means you might dismiss them while reading the label – albumin (derived from egg whites), allantoin (uric acid from cows), guanine (from fish scales), biotin (from milk), caseinate (milk protein) etc.
If you read through that list, you might think, "How can I possibly remember all these?!" Well, the easiest way to buy vegan skincare products is to buy natural products with short lists of straight-forward ingredients. Instead of buying a drugstore moisturizer with dozens of unpronounceable ingredients you'll need to research, use something simple like jojoba oil.
DIY Vegan Skincare
And, of course, you can make your own vegan skincare too! It doesn't even have to be complicated—pulverized oats or rice are fantastic exfoliators and coconut oil has a multitude of uses for just about everything from washing your face to shaving your legs. And making vegan lip balm is a cinch.
To get you started, we've rounded up some of our favorite vegan skincare products below: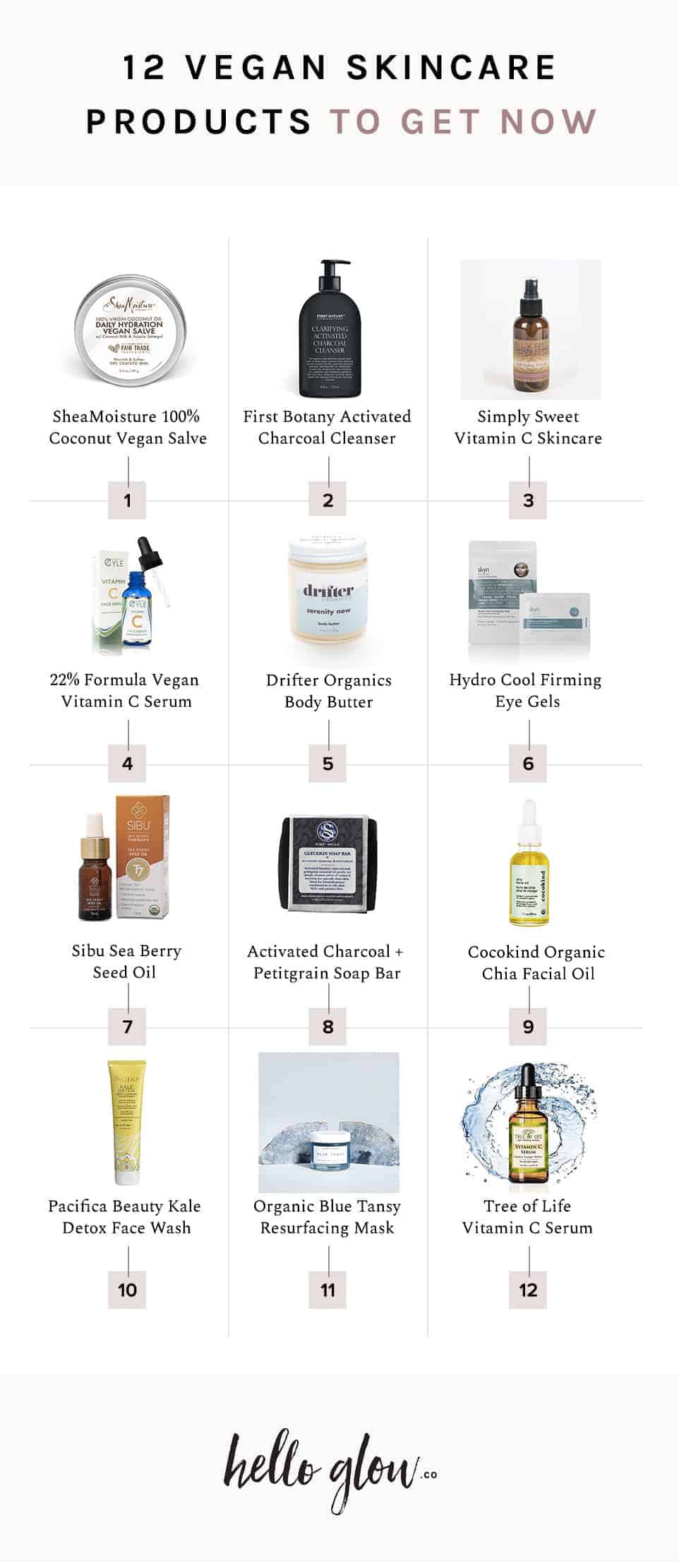 1. SheaMoisture 100% Coconut Daily Hydration Vegan Salve // Rich, hydrating and barely scented, this vegan salve from SheaMoisture is perfect for dry areas, such as your elbows, hands, heels or lips. You can use it every time, everywhere.
2. First Botany Activated Charcoal Cleanser // Combat acne and blemishes, fade dark spots, and improve the overall look and feel of your skin with this cleanser. Activated charcoal draws chemicals, bacteria and other impurities from the skin, helping achieve a flawless complexion.
3. Simply Sweet Vitamin C Skin Care // This affordable anti-aging toner repairs and protects with Vitamin C, leaving your skin smoother, softer, and younger-looking.
4. CYLE 22% Formula Vegan Vitamin C Serum // Brighten the skin, fight wrinkles and aging signs with this vegan Vitamin C, ferulic and hyaluronic acid serum from CYLE.
5. Drifter Organics Serenity Now Body Butter // Lavender, palmarosa, helichrysum and frankincense essential oils scent this body butter for a calming experience whenever you apply it.
6. skyn ICELAND Hydro Cool Firming Eye Gels // The cooling under-eye gel patches help firm, tone and depuff the delicate under eye skin in just 10 minutes.
7. Sibu Sea Berry Therapy Sea Berry Seed Oil // Made with pure sea buckthorn seed oil, Vitamin E and Omega 7, the SIBU oil is ideal for problematic skin, nourishing and brightening it even when it's inflamed or irritated.
8. Soapwalla Activated Charcoal & Petitgrain Soap Bar // Velvety, blemish-free skin is no longer a dream with this activated bamboo charcoal soap bar that cleans and soothes.
9. Cocokind Organic Chia Facial Oil // Beneficial for any skin type, this chia facial oil from Cocokind provides deep hydration and glowing skin through Omega-3, phytonutrients and antioxidants.
10. Pacifica Beauty Kale Detox Deep Cleansing Face Wash // Cleanse and remove makeup, toxins and impurities from the skin with this kale, seaweed and coconut face wash for oily and blemish-prone skin.
11. Herbivore Botanicals Organic Blue Tansy Resurfacing Mask // This clarifying mask from Herbivore Botanicals is formulated with blue tansy and aloe, to improve the quality of skin affected by blemishes or uneven texture.
12. Tree of Life Vitamin C Serum for Face // The Vitamin C serum helps give your skin a brighter, healthier look through moisture retention, for a youthful glow.
This post was medically reviewed by Dr. Jennifer Haley, a board-certified dermatologist with extensive experience in medical, cosmetic and surgical dermatology. Learn more about Hello Glow's medical review board here. As always, this is not personal medical advice and we recommend that you talk with your doctor.
8