I've been having a serious case of pregnancy insomnia of late. And with a baby due in the next 8-9 weeks, I'm pretty sure my dark eye circles are here to stay.
While still holding out for a make-up miracle, here are 5 morning tricks I use to fake looking awake. So easy and you'll be out the door in less than 5 minutes.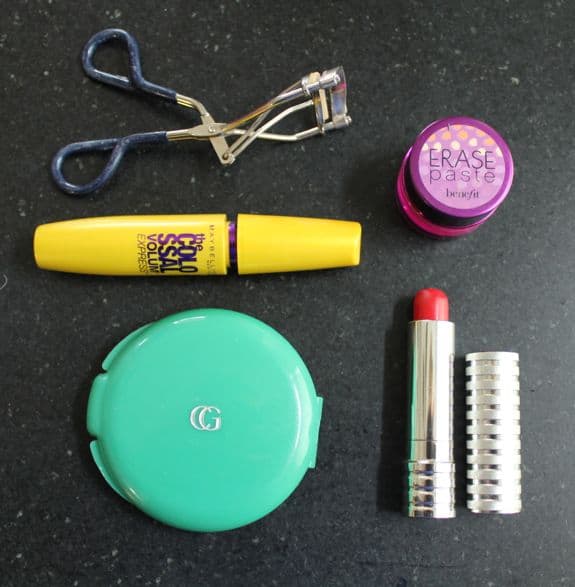 1. Moisturize
This somewhat goes without saying, but start the day by giving your face some much needed moisture. I start with a (very) light application of coconut oil just out of the shower.
2. Attack the bags
Erase Paste is truly my "don't leave home without it" product. Lightly apply concealer under the eyes and on lids. Just dab with your fingertips – be gentle with this skin area. Then a little powder helps set it. Don't powder all over or it will make you look old – just under the eyes and maybe on your nose.
3. Open your eyes
After Gwyneth Paltrow's make-up artist said to always use an eyelash curler I promptly added it to my routine. Curling the lashes and adding a coat of black mascara goes an amazingly long way. I'm not terribly loyal to any mascara and end up picking a brand on impulse. Any recommendations?
4. Bright lips
Bright lipstick instantly makes your whole face light up. Plus you feel "done up" without much effort! I'm currently on a search for a long-lasting lipstick because I hate reapplying every 5 minutes. Once I find that I'll start on world peace.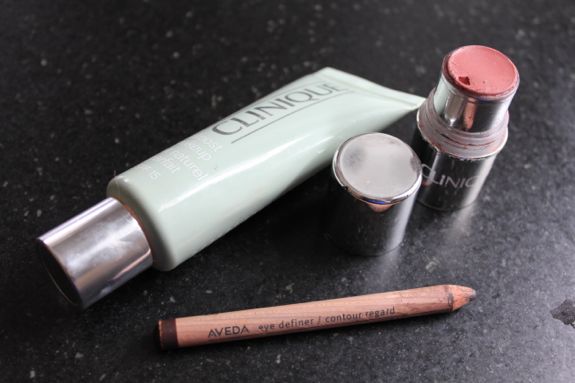 5. Rosy cheeks
If you have an 30 seconds, add some blush to your cheeks. It brightens your complexion. I love this Clinique creamy blush that I can easily apply and blend with my fingertips.

Bonus: Skip the black eyes
Switch to brown eyeliner and you'll look years younger! I just learned this from Allure magazine and was so happy since I have used brown for years. Line the upper lid only to easily wake up the eyes. I use Aveda because it does not go on in a harsh line that I then have to soften and blend. Who needs the extra step?

What tricks do you use to hide the all-nighters? Share your make-up must-haves!

0