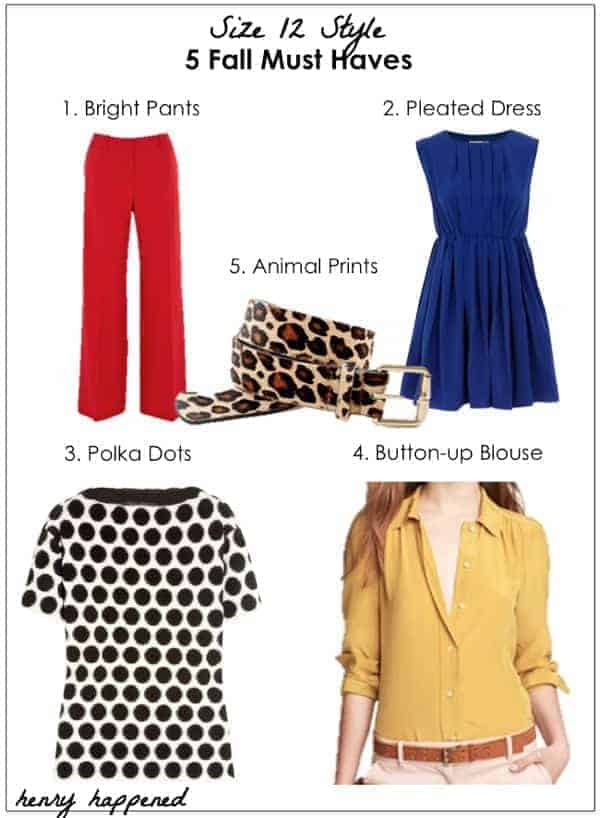 Yay for fall fashion. I love this time of year when I get to pack away flip flops and swimsuits and bring out cozy sweaters. But it's too easy to use fall as a time to hide under big, bulky layers. Here are 5 fall must haves for the curvy crowd.
1. Bright pants
Brightly colored pants everywhere! But I recently tried on a pair of red skinnies and I'll need my legs to grow another foot or so before venturing out in those. Fortunately, options (like these red pants) exist for those of us with hips. Skip cropped or tapered styles and stick with flared or wide leg. Balance the bold color with a neutral top (like gray or navy) and add height with heels.
2. Pleated dress
Pretty pleats are making a lady-like comeback. I love the easy elegance of this cobalt dress that can go casual or more glam for the holidays.
3. Polka dots
I'm so happy about this trend – not just because I already have 3 polka dot shirts – but because it's such a cheerful print. So much more fun than boring black. Splurge on a shell and add color with cardigans or jackets.
4. Button-up blouse
I'm generally not a fan of anything that needs to be tucked in but silky blouses look great paired with a tweedy jacket. Look for small prints or solids to not overwhelm your shape. So pretty and feminine with work pants or dark jeans.
5. Animal prints
Take your pick – leopard, cheetah, snakeskin. Just remember that a little of this print goes a long way. Use it to draw attention to specific areas, like a great belt at your waist.
Bonus purchase: Sequins! There's no point in being boring!
0