Seasonal changes provide the perfect opportunity to not just reevaluate your skin's needs, but focus on some concentrated skin goals. Skin boot camp, if you will! I love to use weather and the change in temperature, humidity and daylight to redirect my daily regimen. But before I pull out my lighter moisturizer for summertime, or my serum for winter, a 5 day intensive exfoliation and hydration routine is the best possible jump start for healthier skin.
Our skin can get accustomed to the same products used over and over again, preventing real, noticeable changes. Select a week (preferably each quarter of the year) and follow this program to see a boost in radiance and texture. I recommend each recipe to be applied at nighttime to clean skin, followed with appropriate moisturizer or serum for your particular skin type.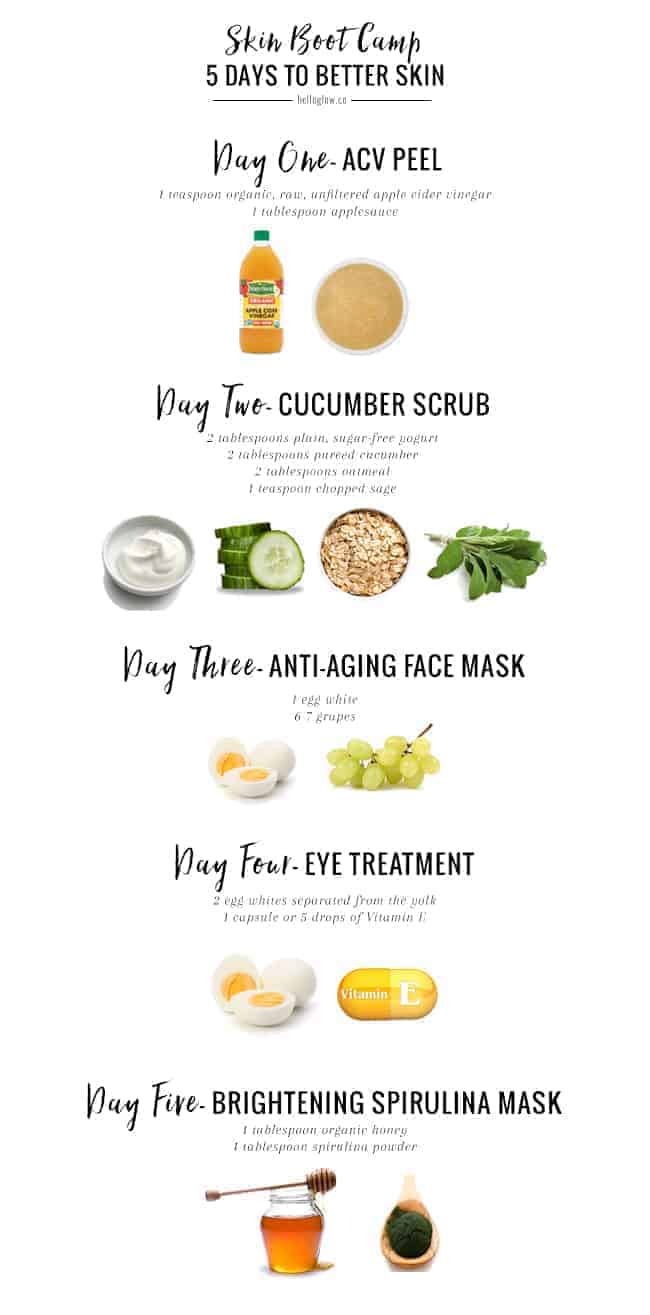 Day One – ACV Peel
Combining apple cider vinegar with apples ups the dose of gentle, natural acids that clear away dead skin cells. Apples are a potent source of malic acid, which boosts immunity, detoxifies metals from our bodies, and contributes to overall healthy skin.
1 teaspoon organic raw unfiltered apple cider vinegar
1 tablespoon applesauce, preferably organic or homemade
Combine the apple cider vinegar with the applesauce and stir until well-mixed. With clean hands or a brush, apply the mask to your face, avoiding the eye area. Let sit for 10-15 minutes and remove with a soft cloth and cool water. I recommend this mask at night or before a shower, as the apple cider scent tends to linger!
Day Two – Cucumber Scrub
Since Day 1 was a chemical exfoliant, follow the next day with this gentle physical exfoliant. This recipe is two-in-one, both a scrub and leave-on mask.
2 tablespoons plain sugar-free yogurt
2 tablespoons pureed cucumber
2 tablespoons oatmeal
1 teaspoon chopped sage
Combine all of the ingredients and massage into clean, damp skin. Relax with mask on for 15 minutes, then rinse.
Day Three – Anti-Aging Face Mask
With skin freshly exfoliated the two previous days, it's time to hit those fine lines and pigmentation with this grapeseed facial mask.
Combine the grapes and the egg white in a blender, and blend thoroughly, crushing the seeds, which contain nourishing grapeseed oil. Once the mixture becomes frothy, use a facial brush to apply the mask to your face and neck in upwards strokes. Leave on for 15 minutes, then rinse thoroughly.
Day 4 – Eye Treatment
We aren't quite done with those egg whites yet! Egg whites have been known to reduce the appearance of fine lines, while antioxidant rich vitamin E fights free radicals. Both ingredients target needs of the eye area.
2 egg whites separated from the yolk
1 capsule or 5 drops of vitamin E oil
Beat the egg whites until they're frothy and then mix in the vitamin E. Apply the mixture with your fingertips or a makeup brush to the under-eye area, careful not to ignore the outer edges of the eyes where expression and squint lines form. Leave on for 10 minutes before rinsing thoroughly.
Day 5 – Brightening Spirulina Mask
Our final day hits all of our skin needs with spirulina's 18 different amino acids, resulting in enhanced skin tone and dewy complexion.
Mix the two ingredients together to form a paste. Apply with fingertips or a facial brush to your face and neck. Leave the mask on for 20 minutes and then rinse off with warm water and a wash cloth.
After this intensive 5 day boot camp your skin will be well on its way to a healthier complexion!
12